For Immediate Release
Alice Collins for Jennifer Wood Media, Inc.
Wellington, FL — February 22, 2018 — Ashley Holzer, who switched nationalities a year ago to ride for the USA instead of Canada, heard the American anthem ring out after she topped the FEI Grand Prix CDIW, presented by NetJets. Holzer and Havanna 145's victory came under the lights, marking the opening day of week seven of the 2018 Adequan® Global Dressage Festival (AGDF) at Palm Beach International Equestrian Center (PBIEC) in Wellington, Florida.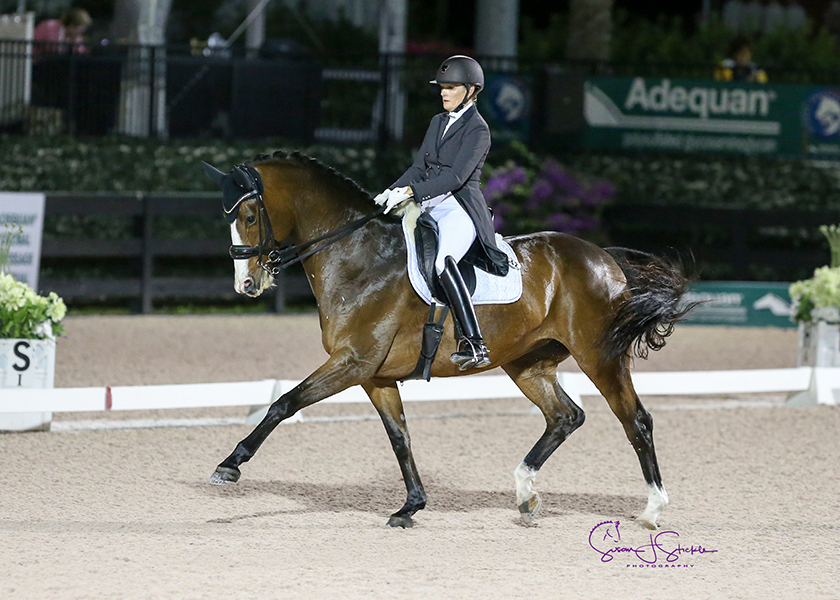 The charming, bouncy mare is only 11 years old and their winning 72.826% represents a new personal best for the pairing who have only been at international grand prix since April of 2017.
"She's an incredible mare; she always fights for you," said Holzer, who will now contest the showcase freestyle class on Friday night. "People always told me that when you get a mare that's amazing, they're really amazing. I've had a few mares who weren't so amazing, so I didn't really believe them, but she has changed my mind. She's a huge trier; every day I get on and have a great ride."
When Holzer and owner Diane Fellows went to try the daughter of Hochadel almost a year ago at the previous rider Jessica von Bredow-Werndl's barn in Germany, the plan was for Fellows to ride her.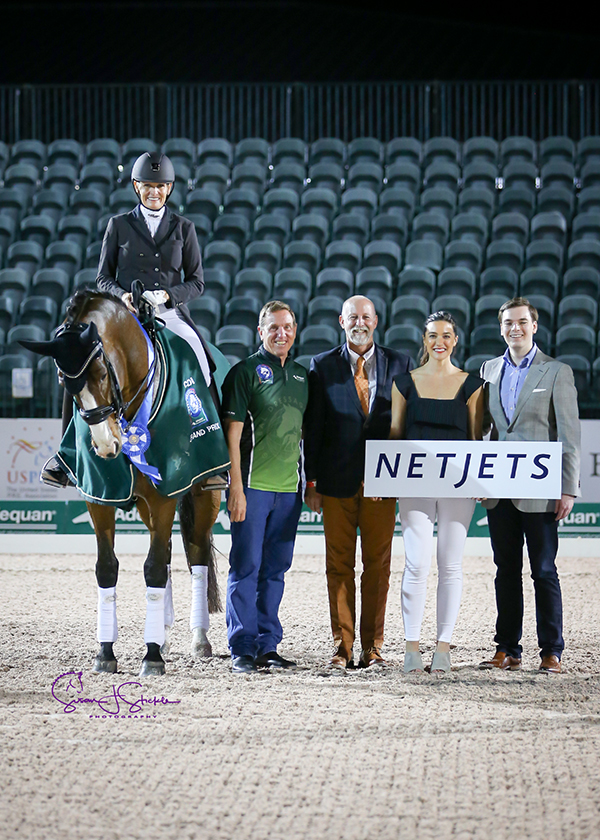 "When we tried her it was for Di," said Holzer, "and Di said she had to have her because she was like riding a dream, but I told her she didn't really need a fancy grand prix horse. She suggested I ride her for a few years, and then she takes over. Havanna has exceeded every expectation in the short time we've had her."
At 11, there is still plenty of time for the horse to gain ring experience, but her potential is already evident.
"She's so green, but she just keeps trying for you. I came into the piaffe and she got a bit stuck, but she's so smart that I asked her to move a little forward and stay in piaffe, and she said, 'OK'. At the end I thought, 'My horse rocks!'" added Holzer, who hopes to make it into the top eight to join the American squad in Europe ahead of selection for the FEI World Equestrian Games (WEG) on home soil in Tryon in September.
However, Holzer has a few more aces up her sleeve as she will shortly debut three brand new grand prix horses, all of whom she plans to campaign in Europe this summer.
 "It's amazing to me that at my age [54] I can still get on and go round this ring and have the best, most fun time. I watched [American winter Olympics skier] Lindsey Vonn's speech when she had finished her last downhill race and she said she can't keep going because her body can't take it, and she was crying. I thought to myself, 'Wow, how lucky am I that I get to keep going?' I feel very fortunate and everything felt pretty nice tonight."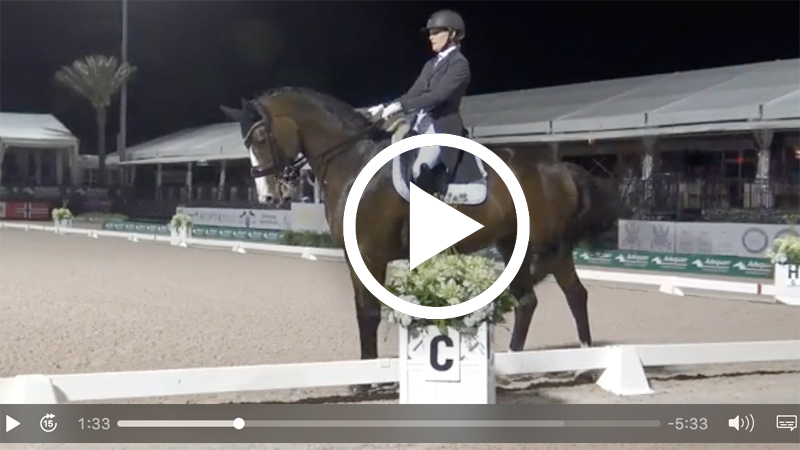 Watch the winning test here!
Loxahatchee-based Shelly Francis finished 1.1% adrift with Doktor, while Canada's Brittany Fraser posted her third plus-70% grand prix test score at this year's AGDF on the 13-year-old All In to finish third.
It was extremely tight at the top in the Grand Prix CDI3* class presented by Chesapeake Dressage Institute, with home rider Olivia LaGoy-Weltz on the 14-year-old Lonoir (by De Noir x Loran), coming out on top. The rider, who trains with Debbie McDonald, had been trending on over 74% mid-way through the test, but mistakes in the canter zig-zag produced a smattering of twos from the judges, bringing the score down.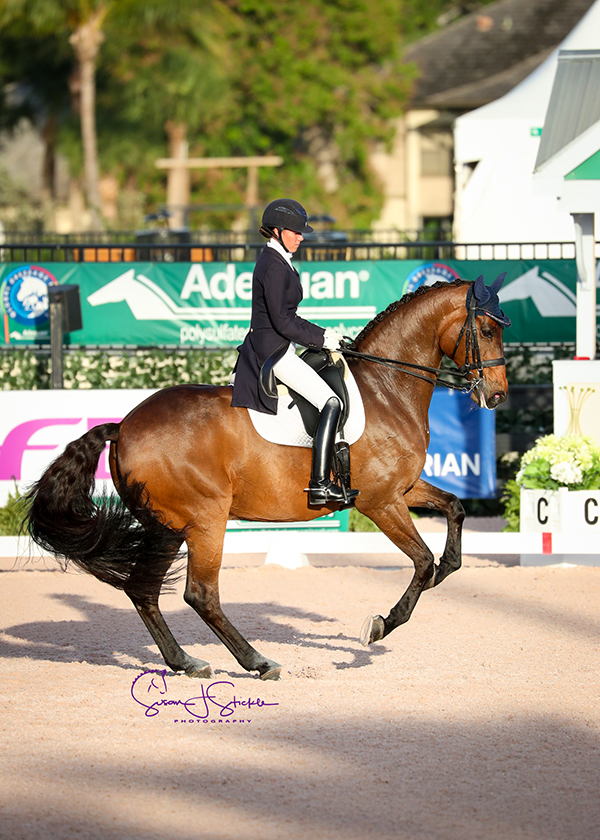 The fact they finished with 71.652% was testament to LaGoy-Weltz's sensitive, quick-thinking riding that rapidly refocused her horse's attention. Second-placed Arlene 'Tuny' Page was only 0.2% behind riding Woodstock — particularly impressive given that she was riding with a fractured heel. Canada's Jill Irving was the third and final rider over the 70% barrier, finishing with 70.609% on Degas 12.
Irving had further reason to be cheerful when fellow Canadian Brittany Fraser rode her horse Soccer City to a 70.392% unanimous victory in the Prix St Georges CDI1*. The 11-year-old gelding by Sir Donnerhall x Weltmeyer is being competed by Fraser while Irving concentrates on her two grand prix horses, Degas 12 and Arthur.
Heather Blitz (USA) bolstered Praestemarkens Quatero's thus-far stunning record, having won nine of his 10 FEI small tour starts. The latest was a 72.255% victory in the Prix St Georges CDI3*, presented by Wellington Regional Medical Center. Imported three years ago, the Quaterback x Rohdiamant nine-year-old stallion is proving remarkably consistent at the 2018 AGDF under Blitz, 49.
Competition in week seven of the AGDF continues tomorrow with a full schedule of eight CDI classes, including the "Friday Night Stars" FEI World Cup Grand Prix Freestyle, presented by NetJets, under the lights at 7pm. The AGDF runs through March 31. For more information and results, visit www.globaldressagefestival.com.
Results
Place, rider, nationality, horse, horse information: judge E%, judge H%, judge C%, judge M%, judge B%, total
FEI Grand Prix CDIW (qualifier for GP Freestyle), presented by NetJets
E, Jane Weatherwax (USA); H, Katrina Wuest (GER); C, Mike Osinski (USA); M, Peter Storr (GBR); B, Elisabeth Max-Theurer (AUT)
Ashley Holzer (USA) on Havanna 145, Diane Fellows' 11yo Hanoverian mare by Hochadel x Rodgau: 70.109, 73.696, 73.696, 74.022, 72.609, 72.826%.
Shelly Francis (USA) on Doktor, Patricia Stempel's 15yo Oldenburg gelding by Diamond Hit x Renoir I: 71.848, 73.913, 72.5, 70.652, 69.457, 71.674%.
Brittany Fraser (CAN) on All In, her own 13yo KWPN gelding by Tango x Damiro: 69.783, 73.587, 69.13, 70.978, 70.761, 70.848%.
J. Rizvi (USA) on Breaking Dawn, her own 17yo KWPN gelding by Akribori x Ronald: 69.783, 72.5, 69.348, 69.891, 71.63, 70.63%.
Yvonne Losos De Muñiz (DOM) on Foco Loco W, her own 13yo Belgian warmblood gelding by Sierappel x Wendekreis: 67.935, 71.848, 70, 69.783, 67.826, 69.478%.
Megan Lane (CAN) on Zodiac MW, Deer Ridge Equestrian's 14yo KWPN gelding by Rousseau x Amethist: 66.413, 71.63, 66.63, 70.435, 66.957, 68.413%.
Jill Irving (CAN) on Arthur, her own 13yo KWPN gelding by Jazz x Contango: 67.935, 69.13, 66.413, 64.239, 70.109, 67.565%.
Jacqueline Brooks (CAN) on D Niro, Brookhaven Dressage Inc.'s 19yo Swedish warmblood gelding by D-Day x Napoleon 625: 63.37, 65.978, 67.174, 66.413, 62.065, 65%.
Photo Credit: ©SusanJStickle. These images may only be used in relation to this press release and with credit.