For Immediate Release
Alice Collins for Jennifer Wood Media, Inc.
Wellington, FL — February 11, 2018 — It was an all-American podium in the Grand Prix Special CDI3*, presented by Wellington Equestrian Realty. It was spearheaded by Katherine Bateson Chandler riding Alcazar on the final day of week five of the Adequan® Global Dressage Festival (AGDF) at Palm Beach International Equestrian Center (PBIEC) in Wellington, Florida.
The top three were unaltered from the grand prix, but the winner of that class, Shelly Francis, had to settle for second place on this occasion. It was extremely close between the top two, with just 0.17% separating them. Uncharacteristic mistakes in Francis and Danilo's test curtailed their usually high score to 69.298%. Anna Marek and Dee Clair — who at 10 was the youngest horse in the field — were third with their highest yet international grand prix score, 68.085%.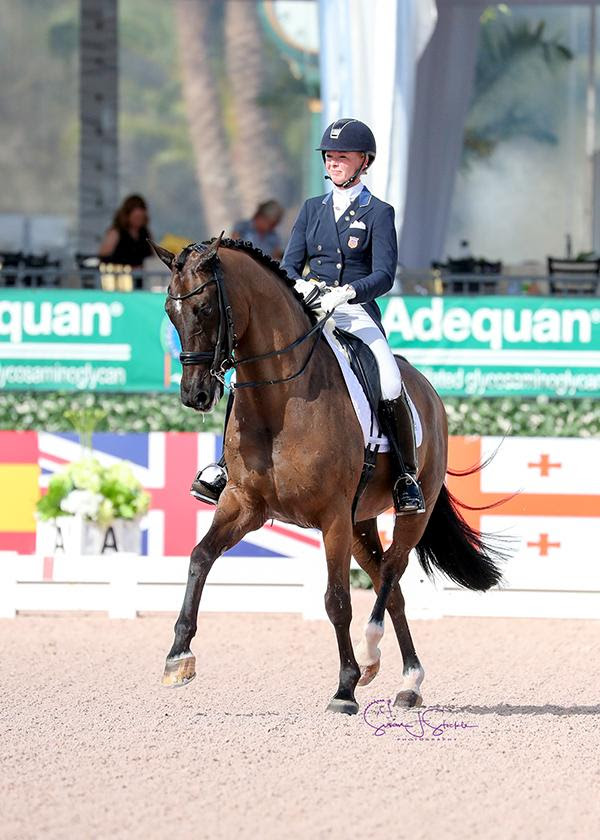 Bateson Chandler and the 13-year-old Alcazar, who is owned by Jane Forbes Clark and survived a colic operation in July 2016, were recording their first win since topping the CDI4* freestyle class at last year's AGDF. The pair spent the summer, as they do each year, at British Olympic gold medalist Carl Hester's barn in Britain, with Bateson Chandler even lending Alcazar to Hester for him to win the British national grand prix champion title on him in September.
"I was second in the grand prix on Thursday, and that always makes you dig a little deeper," said Bateson Chandler, 42. "It's been a long journey with 'Lonzie'. I've been riding him since he was six and he's been a fun horse to bring to grand prix. The biggest thing we're always striving for as riders is to find that positive tension in the ring. You get negative tension or not enough tension and I'm finding that I'm starting to get there now with the positive tension — but it takes years."
Although Forbes Clark was able to watch her horse win, Bateson Chandler's trainer, Carl Hester, had to fly home before the special on Sunday.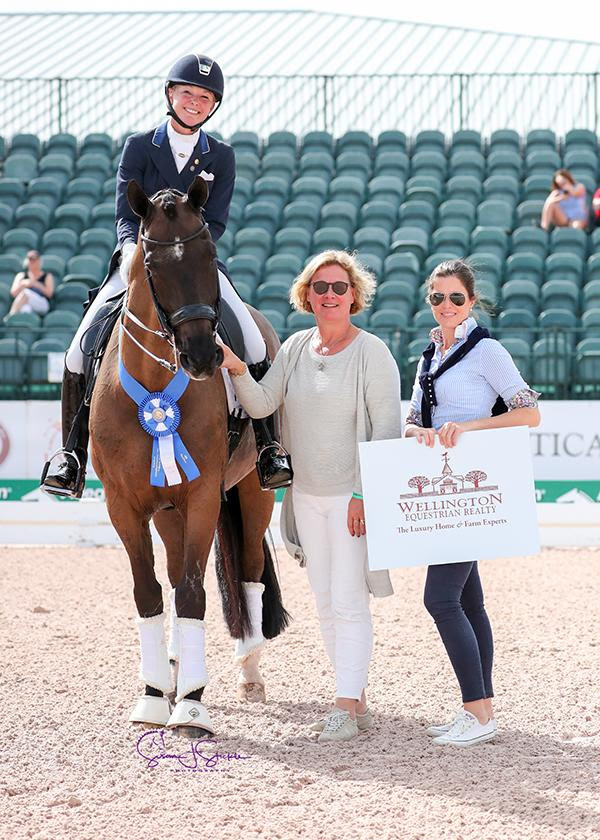 "They changed the schedule so I ended up being a bit on my own today, but he gave me my marching orders — to make sure Lonzie is in front of the leg, to not go too fast — and to win!" Said Bateson Chandler. "Carl is my go-to guy; I'm lucky to have him as a very good friend as well as a trainer. I whine to him a lot and he's my sounding board; he's so cool and sensible, and always has the right answers that makes sense. He gets it because he's had his own ups and downs over the years and knows how it is to be both at the top and the bottom. I can't thank him enough."
The next stop for the pair is the Palm Beach Dressage Derby, which runs March 1-4 during AGDF week seven.
"I'll probably do the two other shows after that at Global, too," she added. "Then we'll go back to Carl's in April for the summer and make a plan with him from there. I would love to make the World Equestrian Games team, of course — that's everybody's goal this year — but we've also had a lot of fun doing Nations Cup teams. And now Lonzie's getting quite consistent, I think he makes himself a good candidate. It's pretty exciting for the future."
Jennifer Baumert (USA) made it a clean sweep of the week's small tour CDI3* classes by winning the Intermediate I Freestyle, presented by Rowan O'Riley. She rode Elizabeth 'Betsy' Juliano's 13-year-old Handsome, by Hochadel, to 75.958%.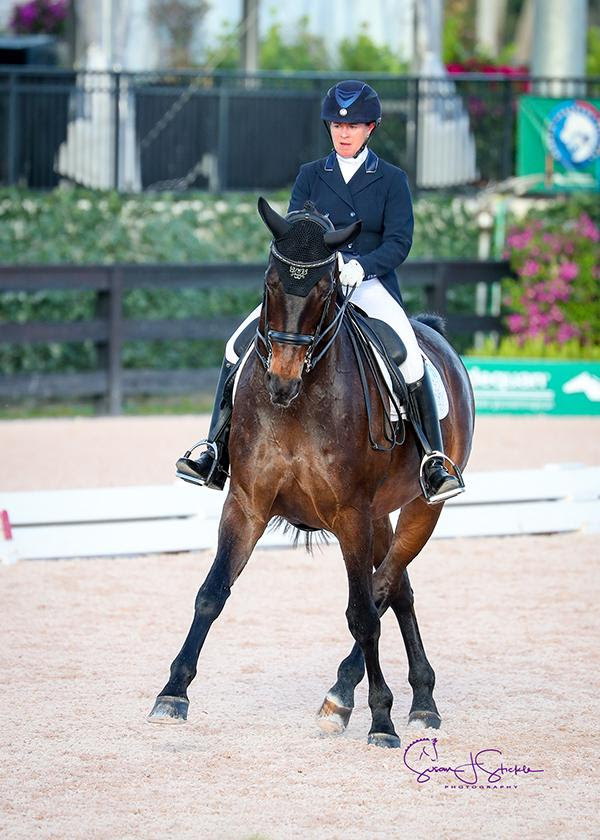 They have not been beaten in their last six competitive starts. And all 14 of the international tests in their career — which began a year ago — have been at the AGDF. Their test featured inventive lines, including both sets of flying changes on a steeply curving line. Baumert finished almost 5% clear of second placed compatriot Yvonne de Haan, who scored 71.125% on Winter. Canada's Tom Dvorak finished third, riding Cyrus to 71%.
It was the first-drawn rider in the 17-strong Intermediate I CDI1* who clinched the winner's sash: American rider Tina Konyot coaxed 69.657% out of the nine-year-old Diamantino II. This was only the fifth international test for the PSD Partners LLC's son of Desperados, and his first win. It was another son of Kristina Sprehe's stallion Desperados who clinched second: Germany's Michael Klimke partnered the eight-year-old Harmony's Diabolo to 68.676%. Third place went to the Norwegian rider Alexandra Gamlemshaug Andresen, who scored 68.235% on her own nine-year-old Empire B, by Sting.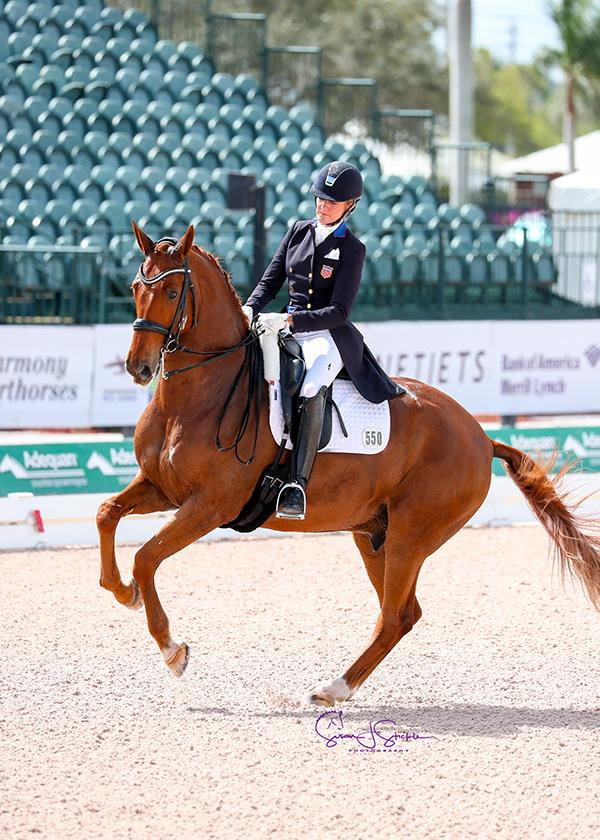 This concludes the action in week five of the AGDF, a 12-week dressage circuit that continues through March 31 at the Palm Beach International Equestrian Center. For more information and results, visit www.globaldressagefestival.com
Results
Place, rider, nationality, horse, horse information: judge E%, judge H%, judge C%, judge M%, judge B%, total
FEI Grand Prix Special CDI3*, presented by Rowan O'Riley 
E, Vincenzo Truppa (ITA); H, William Warren (USA); C, Mariette Sanders van Gansewinkel (NED); M, Hans-Christian Matthiesen (DEN); B, Ulrike Nivelle (GER)
Katherine Bateson Chandler (USA) on Alcazar, Jane Forbes Clark's 13yo KWPN gelding by Contango x Ferro: 68.298, 69.681, 69.894, 68.83, 70.638, 69.468%.
Shelly Francis (USA) on Danilo, Patricia Stempel's 14yo Hanoverian gelding by De Niro x Andiamo: 68.936, 70.319, 69.574, 68.936, 68.723, 69.298%.
Anna Marek (USA) on Dee Clair, Diane Morrison's 10yo KWPN mare by Sir Sinclair x Rolls Royce: 67.66, 67.447, 68.723, 68.191, 68.404, 68.085%.
Megan Lane (CAN) on Zodiac MW, Deer Ridge Equestrian's 14yo KWPN gelding by Rousseau x Amethist: 68.723, 68.404, 65.851, 67.872, 68.83, 67.936%.
Kiichi Harada (JPN) on Egistar, Haruka Nakada's 15yo KWPN gelding by Cobochon x Kaiserstern xx: 65.426, 65.106, 65.106, 65.745, 67.021, 65.681%.
Julio Cesar Mendoza Loor (ECU) on Chardonnay, his own 13yo Oldenburg gelding by Comic Hilltop x Northern Baron: 64.043, 65.319, 63.191, 64.255, 63.191, 64%.
Jessica Jo Tate (USA) on Faberge, Elizabeth Guarisco's 15yo Westfalian gelding by Florestan I x Brentano II: 65.213, 63.723, 63.085, 62.979, 63.511, 63.702%.
Belinda Trussell (CAN) on Tattoo 15, her own 15yo Westfalian gelding by Tuareg x Ramiro's Son: 65.957, 63.404, 63.085, 63.085, 62.766, 63.66%.
Photo Credit: ©SusanJStickle. These images may only be used in relation to this press release and with credit.