For Immediate Release
Alice Collins for Jennifer Wood Media, Inc.
Wellington, FL – January 25, 2018 – Laura Graves and Verdades ensured an electric start to week three of the 12-week 2018 Adequan® Global Dressage Festival (AGDF). The American duo won the FEI World Cup Grand Prix, presented by US P.R.E. Association, in emphatic style, scoring 79.63% at the Palm Beach International Equestrian Center (PBIEC) in Wellington, Florida.
The score would have been over 80% — achieved twice by them in this test at the 2017 AGDF — but for a leap into canter from passage just before the final halt. Graves' riding received nines from all five judges, and the 16-year-old gelding by Florett As was bursting with energy.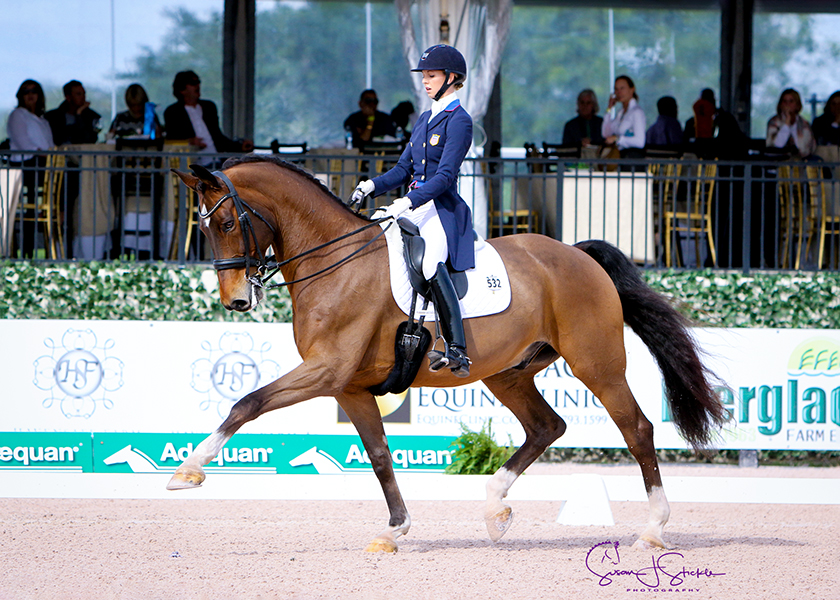 "This is my first show out this season," said Graves, 30. "I was super pleased with my horse, so for the first time back in almost six months to pick up where we left off and I think maybe improving some things, is just fantastic.
"I normally wait until the last show of the season to try something new, but this year I decided to try it at the first show. 'Diddy' gets so hot on the final center line so I tried bringing him back a little more but he got even hotter, and when I touched him with my leg he over-reacted," she explained.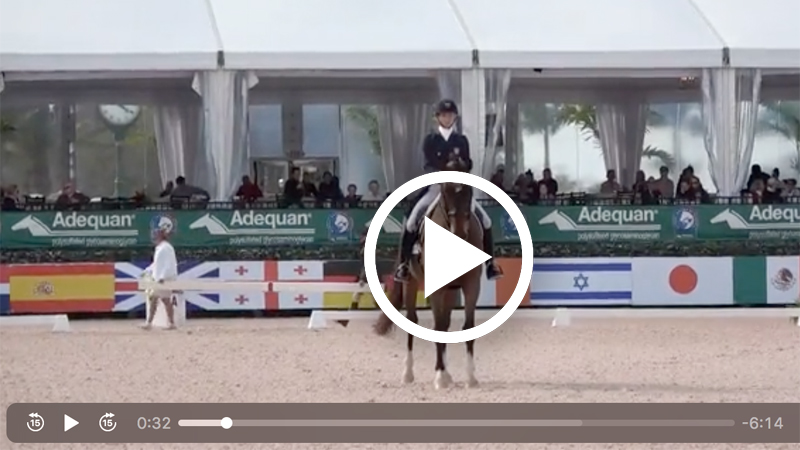 Click here to watch  Graves and Verdades' winning ride! 
Graves and Verdades — who was awarded the title of 2017 Adequan®/USDF Grand Prix Horse of the Year — are fourth on the world rankings and she is gunning for the FEI World Cup Dressage Final in April and the FEI World Equestrian Games (WEG) in Tryon in September. She also praised the scale of the AGDF.
"It's amazing to see two full grands prix going here today, and really impressive to see so many Americans scoring well. Everyone has our eyes on Tryon and another team medal."
Graves' coach Debbie MacDonald had another reason to be cheerful when another of her students, Adrienne Lyle, captured the FEI CDI3* Grand Prix, presented by Horseware Ireland, on the same day.
Not only did the 11-year-old Salvino post a new international grand prix high score of 74.543% at just his fourth CDI under the USA's Lyle, but in the meantime the rider also logged a new career best CDI grand prix score. She was awarded a nine for the final halt and for her riding from judge Janet Foy of the USA.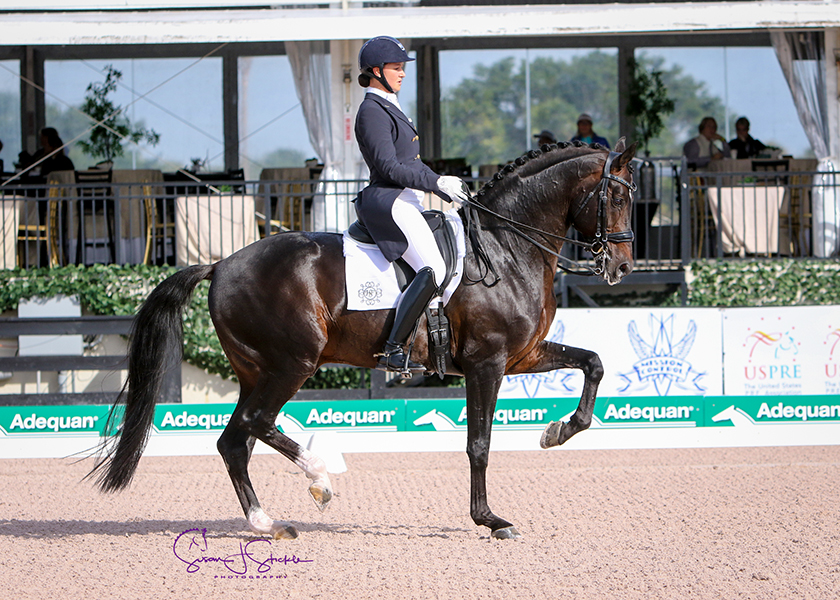 The charming Sandro Hit x Donnerhall stallion — now owned solely by Elizabeth 'Betsy' Juliano — was found in Spain, and his only FEI records before teaming up with Lyle were in young horse classes.
"We hadn't been in the ring since Aachen [in July]," said Lyle. "We've been home in Idaho and then training down here. We debated a little about doing a national show as I felt it had been a long time out of the ring, but so far he's been really good — he's solid in his mind that way. He got a little hot going around the ring, but in a good way.
"I was really pleased with his energy and his effort and we're getting to a place now where he can maintain the whole package reliably," she continued. "He's the best horse I've ever sat on quality-wise. He's got an incredible ability to collect but can also relax; he's got all the parts you need. If he understands what you want, he does it for you every single time."
Foy, who was presiding from C, said: "The greenness lost Salvino a few marks, but it was a really, really fun test to watch and Adrienne rode it beautifully; you don't see the aids. And there are lots of areas where the 7.5s could be nines in the future."
Lyle and Salvino will participate in the CDI5* show (February 8-11), and the pair are crafting a new freestyle routine, with the year's major competition aim being the WEG on home soil.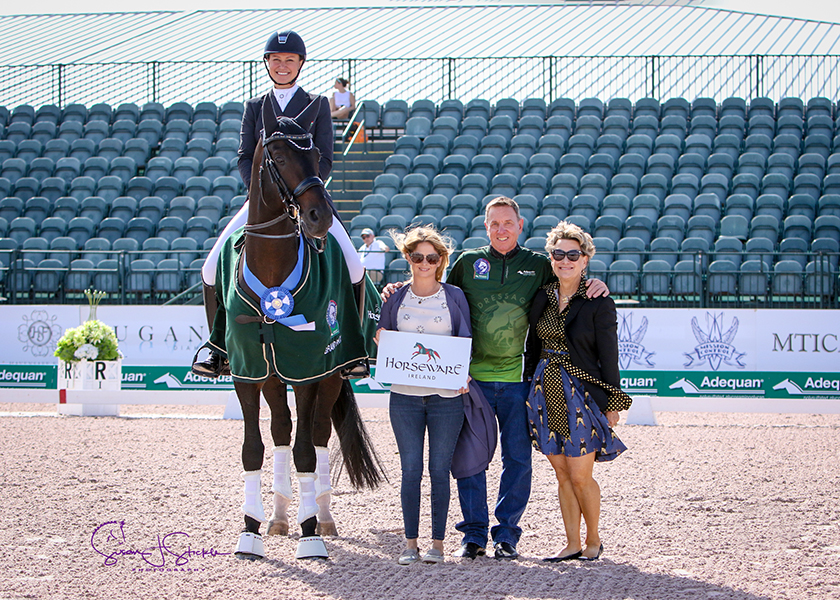 The 3* produced two WEG qualifying scores, for Israel's Sahar Daniel Hirosh on Whitman — who scored 66.522% — and Japan's Rio Olympics duo of Kiichi Harada and Egistar, who chalked up 66.261% on the pair's first visit to the AGDF. The Phillipines' Ellesse Tzinberg also achieved a qualifying score on Triviant 2 in the FEI World Cup class, of exactly 66%.
Competition at AGDF continues tomorrow with a full schedule of classes, including the Friday Night Stars FEI World Cup Grand Prix Freestyle under lights at 7pm, as well as both 1* and 3* FEI Prix St Georges contests.
Also on Friday evening during the break of the freestyle, Olympian Andreas Helgstrand will give a masterclass for spectators with Danish team member Mikala Münter and American under-25 rider Kerrigan Gluch riding PRE horses. The AGDF runs through March 31. For more information and results, visit www.globaldressagefestival.com.
Results: FEI Grand Prix CDIW, presented by US P.R.E. Association
Place, rider, nationality, horse, horse information: judge E%, judge H%, judge C%, judge M%, judge B%, total
E, Magnus Ringmark (SWE); H, Henning Lehrmann (GER); C, Irina Maknami (RUS); M, Trond Asmyr (NOR); B, Janet Foy (USA)
Laura Graves (USA) on Verdades, her own and Curt Maes' 16yo KWPN gelding by Florett As x Goya: 79.457, 79.457, 81.304, 79.674, 78.261, 79.630%.
Tinne Vilhelmson Silfven (SWE) on Paridon Magi, Lövsta Stuteri's 15yo Swedish warmblood gelding by Don Primero x Napoleon 625: 74.457, 71.957, 74.891, 72.391, 76.196, 73.978%.
Shelly Francis (USA) on Danilo, Patricia Stempel's 14yo Hanoverian gelding by De Niro x Andiamo: 74.348, 74.348, 73.261, 73.913, 73.478, 73.87%.
Ashley Holzer (USA) on Havanna 145, Diane Fellows' 11yo Hanoverian mare by Hochadel x Rodgau: 74.565, 72.065, 69.674, 70.761, 72.717, 71.957%.
Brittany Fraser (CAN) on All In, her own 13yo KWPN gelding by Tango x Damiro: 71.957, 73.37, 69.13, 72.935, 68.696, 71.217%.
Yvonne Losos De Muñiz (DOM) on Foco Loco-W, her own 13yo Belgian warmblood gelding by Sierappel x Wendekreis: 69.457, 71.087, 70.217, 70.109, 70.217, 70.217%.
Belinda Trussell (CAN) on Tattoo 15, her own 15yo Westfalian gelding by Tuareg x Ramiro's Son: 67.826, 70.543, 70, 71.087, 71.522, 70.196%.
Megan Lane (CAN) on San D'Or, Deer Ridge Equestrian's 12yo Westfalian gelding by Sandro Hit x Cocktail: 70.652, 69.13, 70.326, 68.913, 67.065, 69.217%.
FEI Grand Prix CDI3*, presented by Horseware® Ireland
E, Susanne Baarup (DEN); H, Mariano Santos (ESP); C, Janet Foy (USA); M, Henning Lehrmann (GER); B, Irina Maknami (RUS)
Adrienne Lyle (USA) on Salvino, Elizabeth Juliano's 11yo Hanoverian stallion by Sandro Hit x Donnerhall: 75, 73.152, 75.109, 74.891, 74.565, 74.543%.
Shelly Francis (USA) on Doktor, Patricia Stempel's 15yo Oldenburg gelding by Diamond Hit x Renoir I: 73.261, 72.285, 73.478, 73.587, 69.457, 72.413%
Megan Lane (CAN) on Caravella, her own and Cathy & Kelsey Lane's 17yo KWPN mare by Contango x Riverman: 69.457, 73.261, 70.543, 73.043, 72.609, 71.783%.
Yvonne Losos De Muñiz (DOM) on Aquamarijn, her own 13yo KWPN mare by United x Gribaldi: 69.783, 70.543, 70, 68.804, 69.457, 69.717%.
Jill Irving (CAN) on Degas 12, her own 16yo Hanoverian by De Niro x Regazzoni: 70.652, 68.37, 67.826, 67.5, 68.37, 68.543%.
Michael Klimke (GER) on Royal Dancer 33, his own 12yo Hanoverian gelding by Royal Blend x Le Primeur: 68.152, 69.348, 69.13, 66.957, 67.935, 68.304%.
Sahar Daniel Hirosh (ISR) on Whitman, Jane Suwalsky's 15yo KWPN gelding by Rhodium x Saluut: 67.065, 66.304, 66.957, 65.326, 66.957, 66.522%.
Kiichi Harada (JPN) on Egistar, Haruka Nakada's 15yo KWPN gelding by Cobochon x Kaiserstern xx: 64.891, 67.174, 67.065, 66.087, 66.087, 66.261%.
Photo Credit: ©SusanJStickle. These images may only be used in relation to this press release and with credit.