For Immediate Release
Alice Collins for Jennifer Wood Media, Inc.
Wellington, FL — February 8, 2018 — Laura Graves dominated the Grand Prix CDI5* (the qualifier for the freestyle), presented by CaptiveOne Advisors, on a sweltering day in week five of the Adequan® Global Dressage Festival (AGDF) at Palm Beach International Equestrian Center (PBIEC) in Wellington, Florida. The American rider, who is ranked fourth in the world, came close to the magic 80% once again on Verdades, scoring 79.543% — 6% more than Tinne Vilhelmson-Silfvén in second place. Graves and the 16-year-old gelding by Florett As are unbeaten in their three starts this year, all of which have been at AGDF.
"At the last show it was much cooler; we have to gauge our horses' stamina when it comes to warmer weather and I maybe underestimated how fit my horse is," said Graves, who trains with Debbie McDonald. "It was warm today but there wasn't even a second where he felt like he was tired. That was nice to know as we're going in to Tryon [FEI World Equestrian Games] this year and it's going to be at least this warm, so knowing he can handle it is a nice feeling."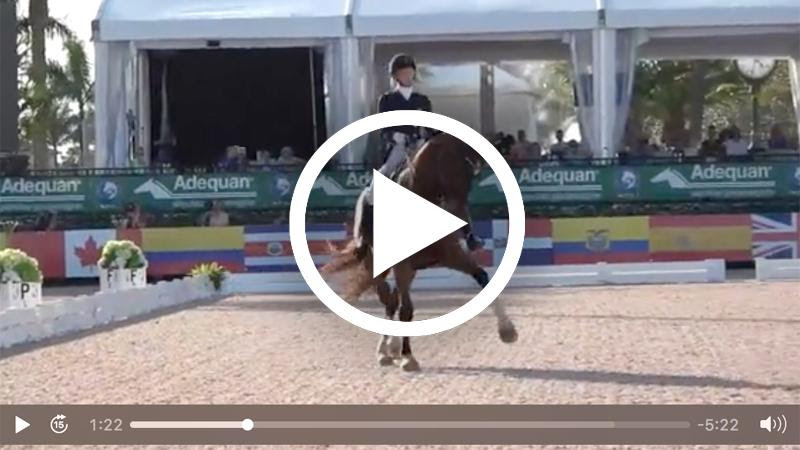 Their score was trending over 81% mid-way through the test and, had it not been for a slightly-less-than-perfect line of two-time changes, it would probably have stayed north of 80%.
"I felt a bit of a hop behind in the twos. But the trot tour felt amazing and he's a super fun horse," said Graves, 30. "I'm learning that even when he's that hot, I still have to put my leg on. It's amazing to ride a horse every day who never says no."
Graves is grateful of the opportunities to compete in an electric atmosphere, and views each outing as a chance to train for major championships.
"He can be difficult to settle in an atmosphere, but I embrace all these opportunities because we can't create them at home, so every chance to train in a difficult situation puts you a little bit ahead of the game. We are so lucky to have this atmosphere because otherwise we would always be playing catch-up to the Europeans who have a lot of opportunities to show in these big environments," she concluded.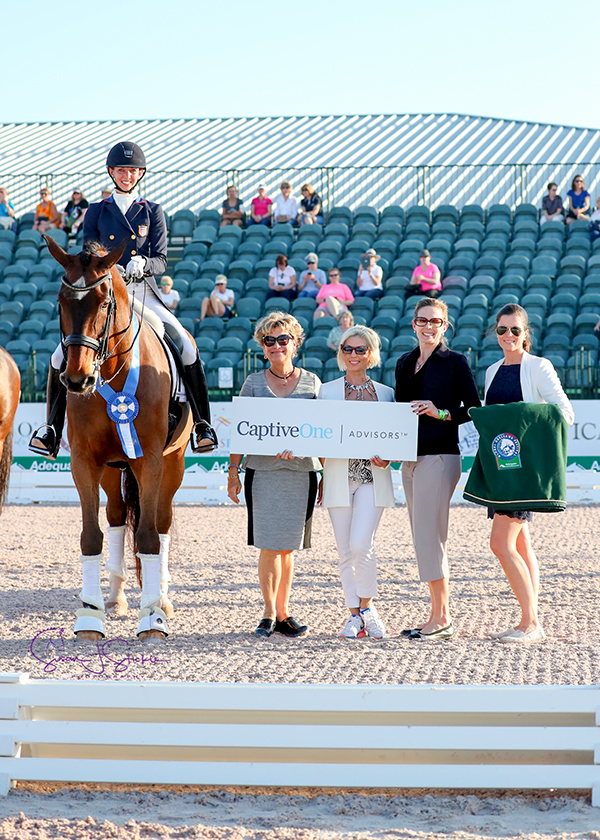 Graves will debut her new freestyle and floorpan, which is designed with an extremely high degree of difficulty, tomorrow evening under the lights at Friday Night Stars.
Swedish rider Vilhelmson-Silfvén, who is no stranger to the AGDF circuit, also felt that the heat had adversely affected her horse Paridon Magi's performance.
"The feeling was not as great as at the last show two weeks ago, but I was still impressed that he went in there and did everything. Perhaps I didn't make him hot enough beforehand," she said.
Ashley Holzer, who now rides for the US having previously carried the Canadian flag, was delighted to find herself on the podium after an energetic performance on Diane Fellows' mare Havanna 145, an 11-year-old by Hochadel.
"I'm amazed to be in this company," she said. "Mine is a green grand prix horse and it was so hot that I had to change the warm-up. But she came out lit up; she's a goer and a real team player. I think she was a little tired in her body, but not in her mind."
It was the final rider in the Grand Prix CDI5* (to qualify for the special), presented by CaptiveOne Advisors, who clinched the win in a class where the form-book was upturned. The favorites, Adrienne Lyle and Salvino, had a big problem in the first piaffe, which prompted a smattering of ones from the five judges and dropped the pair out of podium contention. American rider Olivia LaGoy-Weltz capitalized on the open door, scoring just shy of 72% to win the class by 1.15% on her own Lonoir.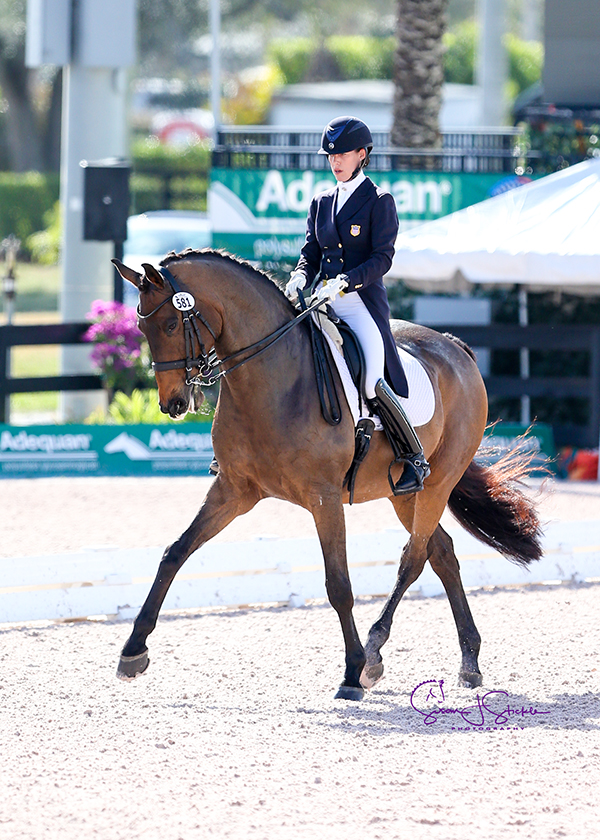 "We've been working on adding in more brilliance but keeping the consistency — and we definitely got the brilliance today and I had a lot more horse than I was expecting in there," said LaGoy-Weltz, referring to a couple of tension-related wobbles, including Lonoir stopping and gawking in the walk. "He was hot and bottled up on me, which is why we missed the twos.
"The judge said to me afterwards, 'If you hadn't had those mistakes, imagine where the score would have been'."
LaGoy-Weltz has been riding the now 14-year-old gelding by De Noir since the end of his seven-year-old year, when he was just learning how to do a single flying change.
"He was by some standards a bit backwards for his age and he's been a bit tricky, but he's a cool horse and I've really enjoyed working with him," she added.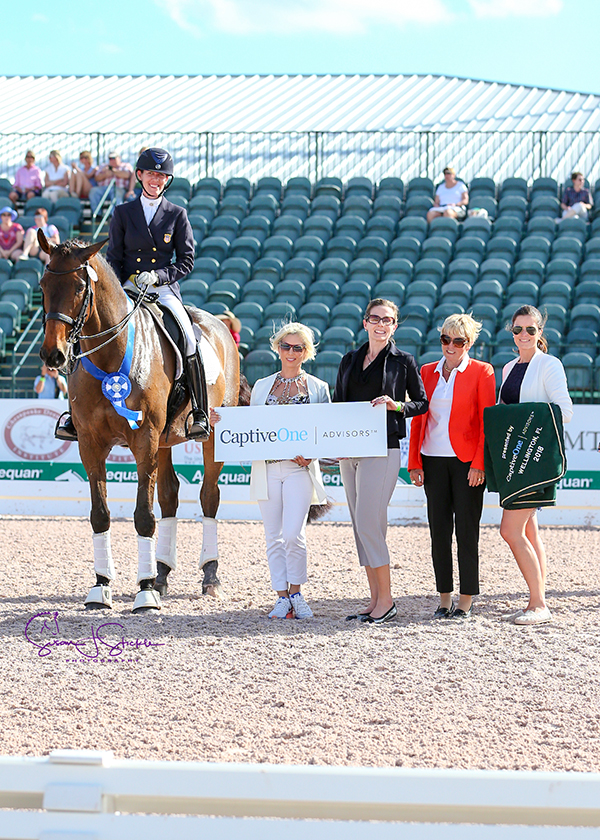 Spain's shooting star, the 20-year-old Juan Matute Guimon, filled second on Quantico Ymas (70.804%), with Canada's Brittany Fraser finishing third on All In (70.761%). It was a closely fought battle; only one percentage point split the second to seventh place contestants in the class.
The final two riders in the FEI Grand Prix CDI3* (to qualify for the special) sponsored by Wellington Equestrian Realty, provided the top two placings in a class of 15, where the top four were all Americans. Shelly Francis and Patricia Stempel's firecracker Danilo scored 72.87% — the unanimous winner for all five judges. Last-drawn Katherine Bateson gave her a run for the money on Alcazar, and their 69.935% was good enough for second. Anna Marek and Dee Clair filled third with 66.739%.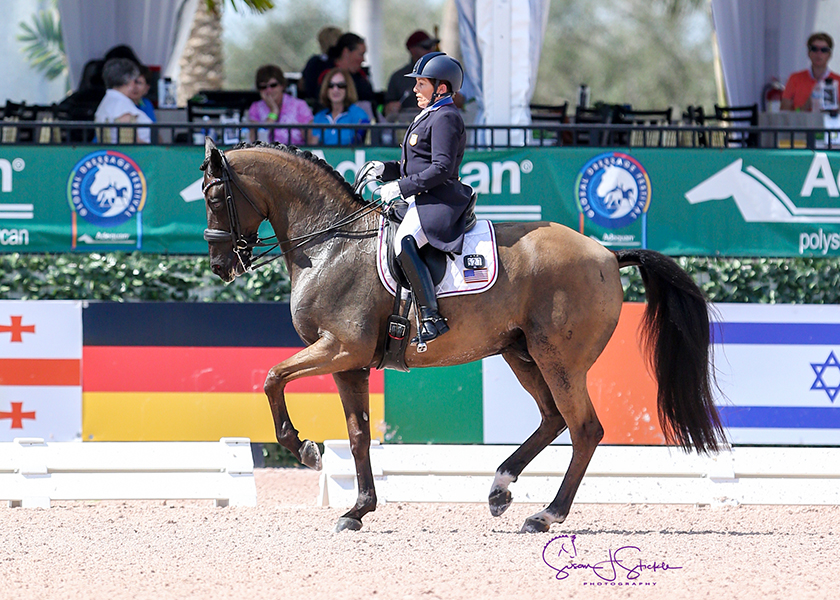 In the morning's FEI Young Riders PSG Team test, Canada's Vanessa Creech-Terauds — daughter of Diane Creech — triumphed with Louise Leatherdale's nine-year-old mare Fleur De Lis L, by First Dance. It was a welcome birthday present for Creech-Terauds, who turned 18 the previous day. This 69.755% victory represented the duo's fourth consecutive win after they were unbeaten in all three of their starts at Devon CDI in the fall.
The jam-packed fifth week of the 2018 AGDF continues on Friday with eight CDI classes, including junior, young rider and amateur divisions, culminating in two showcase freestyle classes, with the 5* class wrapping up the day under the lights. The 12-week circuit continues through March 31 at the Palm Beach International Equestrian Center.
Results
Place, rider, nationality, horse, horse information: judge E%, judge H%, judge C%, judge M%, judge B%, total
FEI Grand Prix CDI5* (for freestyle), presented by CaptiveOne Advisors
E, Hans-Christian Matthiesen (DEN); H, Katrina Wuest (GER); C, Janet Foy (USA); M, Vincenzo Truppa (ITA); B, Susan Hoevenaars (AUS)
Laura Graves (USA) on Verdades, her own and Curt Maes' 16yo KWPN gelding by Florett As x Goya: 79.457, 80.435, 79.348, 81.087, 77.391, 79.543%.
Tinne Vilhelmson Silfven (SWE) on Paridon Magi, Lövsta Stuteri's 15yo Swedish warmblood gelding by Don Primero x Napoleon 625: 72.174, 74.565, 74.022, 75.652, 71.087, 73.5%.
Ashley Holzer (USA) on Havanna 145, Diane Fellows' 11yo Hanoverian mare by Hochadel x Rodgau: 70.652, 72.826, 69.891, 71.739, 69.457, 70.913%.
Shelly Francis (USA) on Doktor, Patricia Stempel's 15yo Oldenburg gelding by Diamond Hit x Renoir I: 70.87, 71.739, 70.326, 69.13, 72.065, 70.826%.
Chase Hickok (USA) on Sagacious HF, Hyperion Farm Inc.'s 19yo KWPN gelding by Welt Hit II x Cocktail: 68.587, 72.283, 71.087, 71.196, 69.022, 70.435%.
J. Rizvi (USA) on Breaking Dawn, her own 17yo KWPN gelding by Akribori x Ronald: 67.391, 69.022, 67.391, 70, 68.696, 68.5%.
Yvonne Losos de Muñiz (DOM) on Aquamarijn, her own 13yo KWPN mare by United x Gribaldi: 64.022, 65.435, 64.348, 66.196, 62.935, 64.587%.FEI Grand Prix CDI5* (for special), presented by CaptiveOne Advisors
E, Ulrike Nivelle (GER); H, Mariette Sanders van Gansewinkel (NED); C, Katrina Wuest (GER); M, Susan Hoevenaars (AUS); B, Vincenzo Truppa (ITA)
Olivia LaGoy-Weltz on Lonoir, her own 14yo Danish warmblood gelding by De Noir x Loran: 71.413, 74.13, 71.739, 70.543, 71.957, 71.957%.
Juan Matute Guimon (ESP) on Quantico Ymas, Juan F Matute's 12yo Hanoverian gelding by Fighting Fit x Constant: 71.087, 70.326, 69.891, 70.543, 72.174, 70.804%.
Brittany Fraser (CAN) on All In, her own 13yo KWPN gelding by Tango x Damiro: 71.304, 71.304, 72.609, 69.13, 69.13, 70.761%.
Jill Irving (CAN) on Degas 12, her own 16yo Hanoverian by De Niro x Regazzoni: 72.065, 69.783, 70.543, 70.326, 70.217, 70.587%.
Megan Lane (CAN) on Caravella, her own and Cathy & Kelsey Lane's 17yo KWPN mare by Contango x Riverman: 72.935, 71.087, 69.674, 70, 69.022, 70.543%.
Adrienne Lyle (USA) on Salvino, Elizabeth Juliano's 11yo Hanoverian stallion by Sandro Hit x Donnerhall: 71.304, 69.457, 68.152, 70.978, 69.783, 69.935%.
Arlene Page (USA) on Woodstock, her own 15yo Danish warmblood gelding by Havel x Contango: 69.13, 68.804, 72.174, 68.152, 70.87, 69.826%.
Michael Klimke (GER) on Royal Dancer 33, his own 12yo Hanoverian gelding by Royal Blend x Le Primeur: 66.413, 66.413, 64.022, 68.478, 67.174, 66.5%.Photo Credit: ©SusanJStickle. These images may only be used in relation to this press release and with credit.