When people think of the voice of dressage, they think of the one and only Nicho Meredith. Meredith is a pillar in the AGDF community- as the premier sports announcer he keeps things running smoothly, always making competitors feel comfortable and encouraged when they go into the arena.
This week, we connected with Nicho to find out more about his role at AGDF, his background, and what he likes to do when he isn't at a horse show!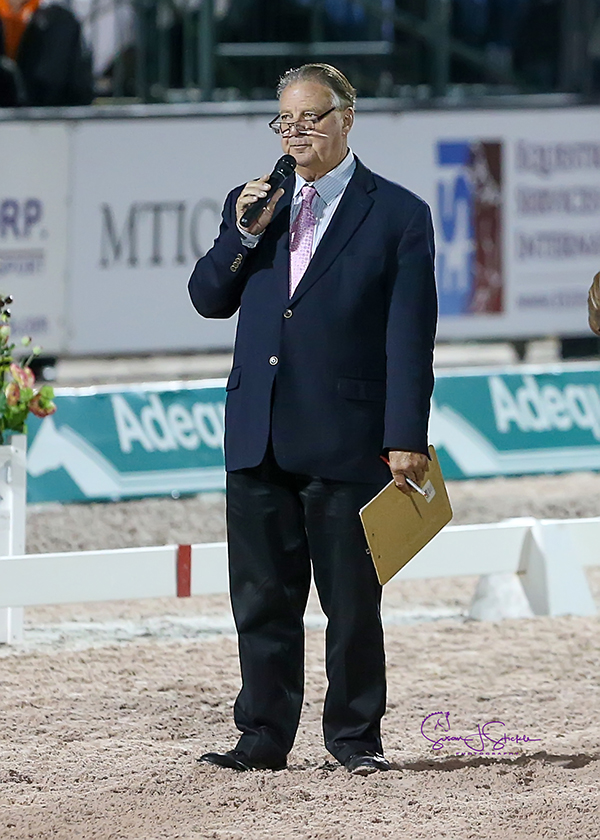 How did you originally get involved with announcing?
N: I had just come back to England on vacation from University in Salzburg, Austria. There happened to be a horse trial at our farm, and someone asked if I would take the microphone and announce – from that experience, I got offers from several people to announce at their own horse trials! There was no pay in England for announcers but travel expenses, lodging, and food were covered, so I was in!!
Because I can speak fluently in several languages (six of them) I was also asked to do some of the European and World Championships.
What is your equine background?
N: I have ridden all my life, I started with Pony Club and also fox hunted.  While in the British Army I played polo, and did some cross country as well as show jumping.
You are incredibly well known for your ability to make riders feel comfortable going into the show ring. Why is this important to you?
N: I feel that the role of the announcer is to keep the show running smoothly and on time. It is important that if there are any foreseeable problems, that I snip them in the bud before they become an actual problem. I also like to inject a little humor when I can to help the riders relax, and so their horse can be relaxed and put in a good test.
What is your favorite AGDF memory?
N: My favorite memory at AGDF will ALWAYS be working with Lloyd Landkamer, one of the most generous people I knew with the biggest heart.  Another wonderful memory was watching Laura Graves and Verdades get their first 80% in the Grand Prix.
What are 4 things that people may not know about you?
N: This is difficult – I do not know really what people do NOT know about me!
Maybe that Opera is the most important thing to me.
I cannot live without cats in my life!
I love to gamble, at which I am extremely bad!
Also, not everyone knows that I was adopted.
When you aren't working, what do you like to do that is non-horse related?
N: When not announcing or installing sound systems into people's barns, I listen to Met Opera Radio on SiriusXM and I play online poker.
We are so grateful for all of the hard work Nicho puts in to helping the show run smoothly. The next time you see him out and about at AGDF, be sure to say "hi!"
(Photo courtesy of Sue Stickle).