Did you miss the freestyle action Friday night? We hope not, but just in case… We've got you covered with some fast freestyle forensics straight from the top three riders themselves!
This week, we welcomed back two of our top three from the AGDF 1 Grand Prix CDI-W Freestyle to the winners circle- and added first place finishers Laura Graves (USA) and Verdades into the mix.
Graves was the last ride of the evening on her 2016 Olympic Bronze Medal mount, whom she fondly calls "Diddy." The duo danced to their highest score ever at the Adequan® Global Dressage Festival, captivating the audience and earning an impressive 84.675%.
Click here to watch Laura Graves and Verdades' winning ride here!
Graves commented, "I came up with this floor plan leading up to Normandy, and it was because I absolutely had to! I was thrown into this fish tank very unexpectedly that year, and the freestyle I had taken to nationals was not intended to qualify for me for anything. When it became real, I had to sit down and study all of the floor plans of the other top riders in the world, I looked at things that would add to a recipe, and I looked at the things that my horse could do that other horses couldn't do.
We are actually looking at a new floor plan going into the CDI 5*, so we are changing it up a bit this year. We are working with the floor plan creator that will be used in the World Cup Final."
Graves' music was created by Terry Gallo, and is from the movie Rudy, a football classic about a Notre Dame underdog. Gallo knew the music, and was reminded of Graves' and her unique story.
In regard to improvements from last year, Graves explained, "My horse is very clever, and what used to maybe be some super strong things, now he's too quick to guess what is happening which is why we are changing his floor plan. He may not be the most talented physically, but he'll try anything. That's what's amazing about him. Keeping him a little bit more on my aids, giving him something fresh to work on this year, it's going to be good for him."
Week one winners Tinne Vilhelmson Silfvén and Lövsta Stuteri's Paridon Magi remained at the top of their game this week, earning a freestyle score of 79.05% after putting in a beautiful ride to the Queen medley by Cees Slings.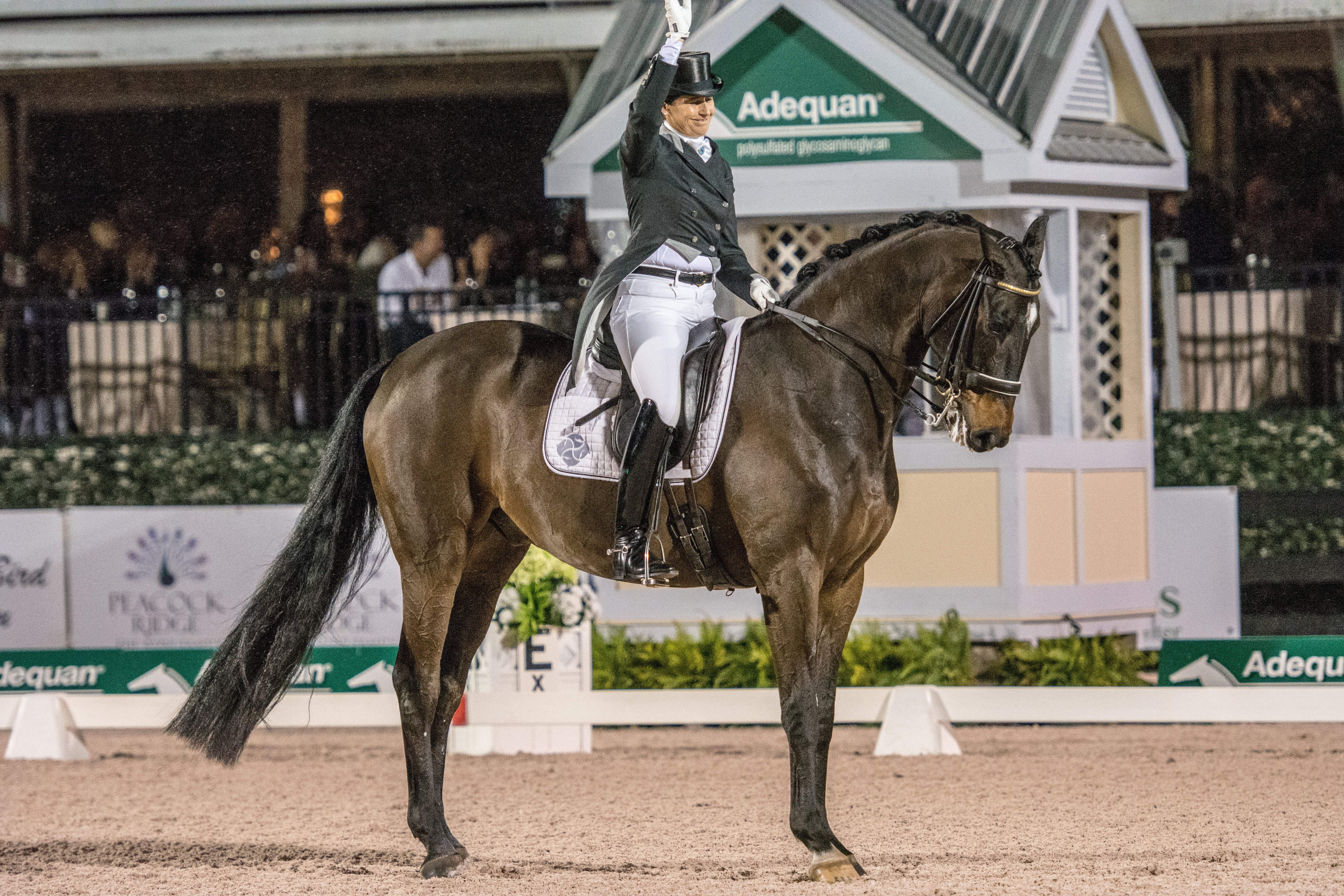 When asked about the creative process of freestyle creation, Vilhelmson Silfvén stated, "I am trying to be smart  and do a freestyle that really suits Magi. He's a very fun horse to do a freestyle on because you can do difficult things, and it's the high degree of difficulty that makes a difference. I like to have that degree of difficulty system, and we really kept that in mind while making the test."
Shelly Francis (USA) and Patricia Stempel's Danilo were also back on their A-Game  Friday evening, receiving a 76.15% overall after riding to a freestyle created by Marlene Whitaker.
Francis noted, "Marlene and I worked together to create choreography that would start off making it easy for Danilo because I didn't want him to be too afraid going into an electric atmosphere. We chose this music because he is very sensitive to too much thumping, and for some reason he likes this and doesn't get all crazy when he hears it.
 We've increased the difficulty now that he is getting to be a bit sharper in the ring. It's very different from anybody else's music. I think sometimes the judges go 'what the heck is that!' But on the other hand, it starts to look nice if the horse goes well too."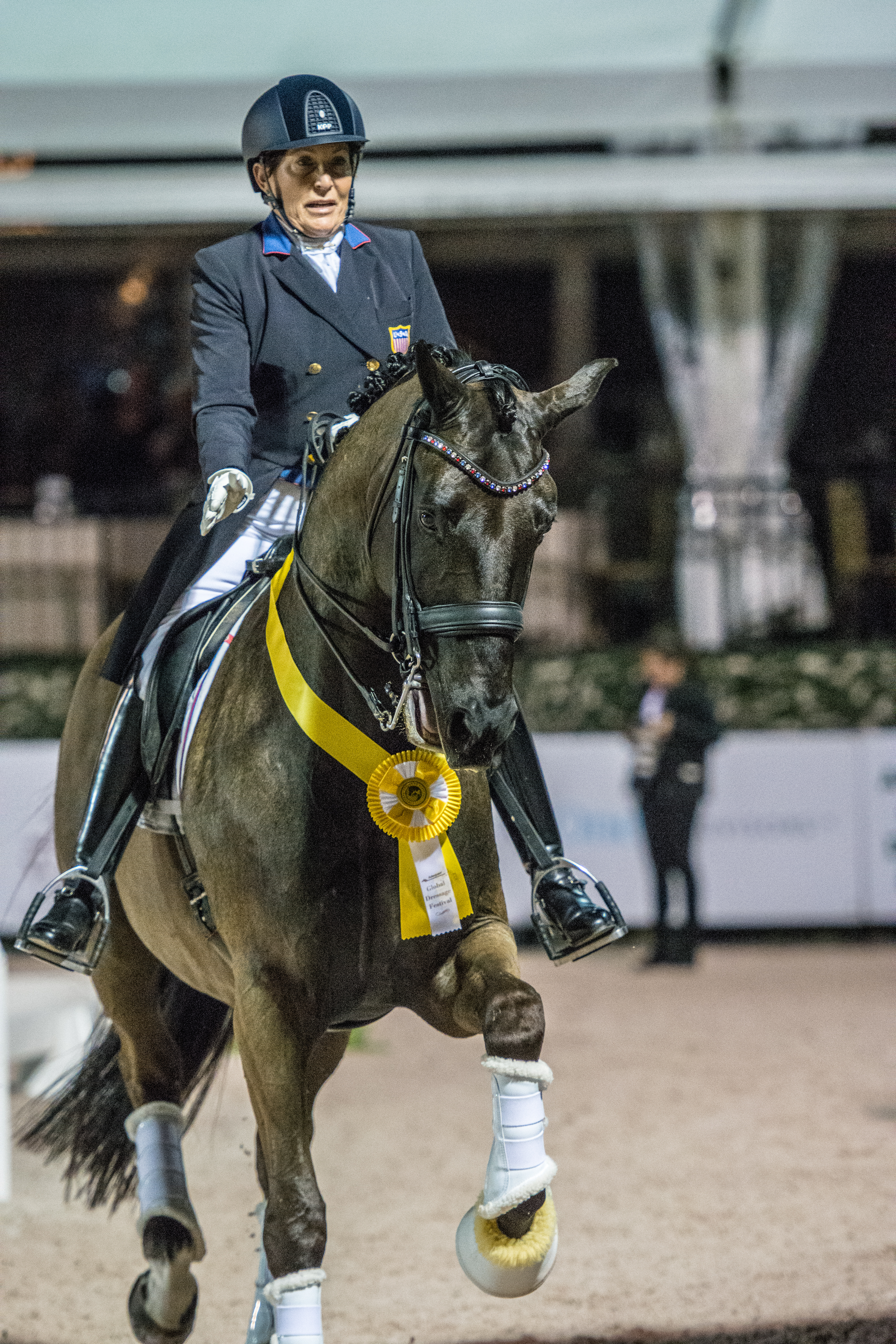 Of Francis' A Cappella performance, Graves' joked, "Shelly's music sounds a bit like her when she sings!"
Be sure to join us for the next Friday Night Stars competition on February 9, to watch more horses and riders dance under the lights in Equestrian Village.