For Immediate Release
Alice Collins for Jennifer Wood Media, Inc.
Wellington, FL — March 16, 2018 — Olivia LaGoy-Weltz (USA) and Lonoir chalked up their fifth win from six starts at the 2018 Adequan® Global Dressage Festival (AGDF) by taking the Grand Prix Freestyle CDI4*, presented by Havensafe Farm. Their resounding score of 76.6% in week 10 of AGDF at Palm Beach International Equestrian Center (PBIEC) in Wellington, Florida, was a personal best for the pair, whose previous high freestyle score was 74.425%, achieved in Aachen in July 2017.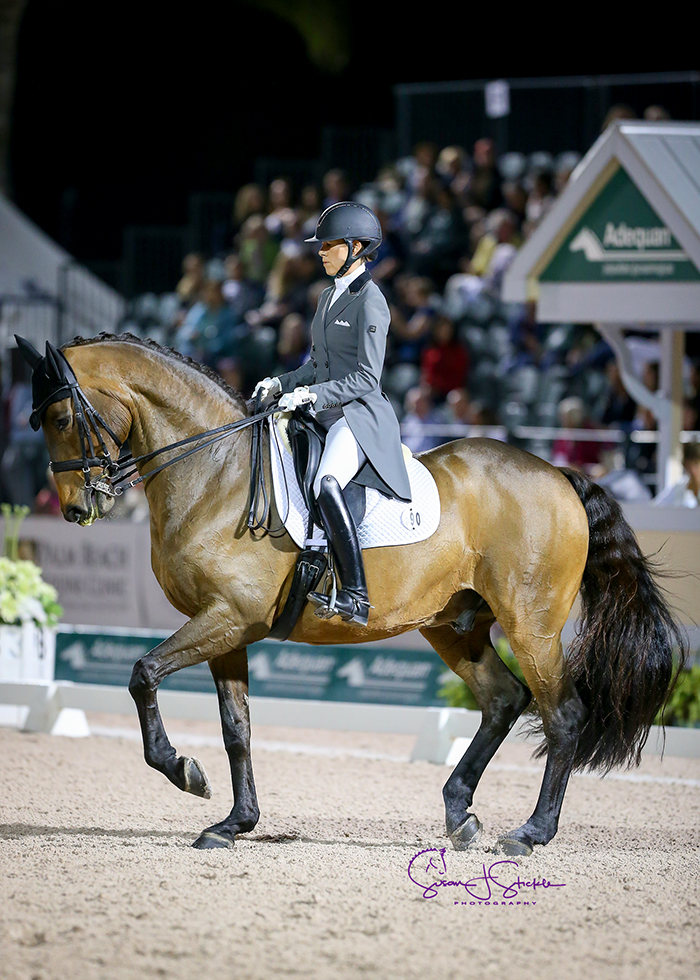 "I was really happy with him, especially as he was epically airborne last time we were in this setting, so I'm thrilled we kept our feet on the ground," said LaGoy-Weltz of her own 14-year-old Danish warmblood gelding by Le Noir. "When he's waiting for me and on the same page, it's a pretty cool feeling and there's a lot available there — even more than we're showing now."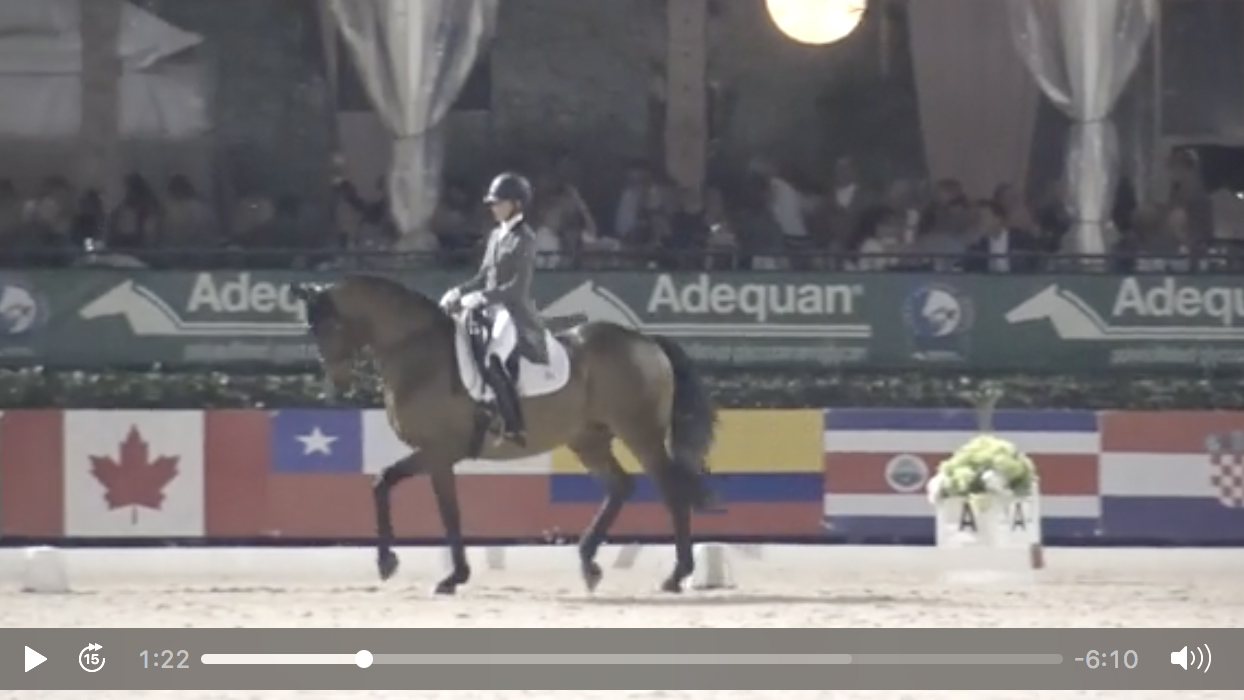 Watch their winning test!
LaGoy-Weltz upgraded her music last year, adapting an existing small tour freestyle soundtrack.
"We hadn't used it a whole lot, so I asked Terri [Gallo] if we could grow it. I like the music — it's called 'Ain't Misbehaving', which is somewhat fitting. Though we are working on something new as he's a much 'bigger' horse now, it seemed to work for tonight, so we're not in a huge hurry," she added. "This one is not overly complicated as it was designed as a starter one, so we'll have more challenging stuff in the next one. And we'll highlight the flow and power that he's so good at."
Second-placed Arlene 'Tuny' Page (USA) finished second on Woodstock, logging their second best ever freestyle score of 75% exactly.
"He's matured a lot in the last three months," said Page, who rode to music from the movie Amistad that she used with her former grand prix horse Wild One. "We had a super rough start as he's very sensitive with wind, but at every show this season he's developed more.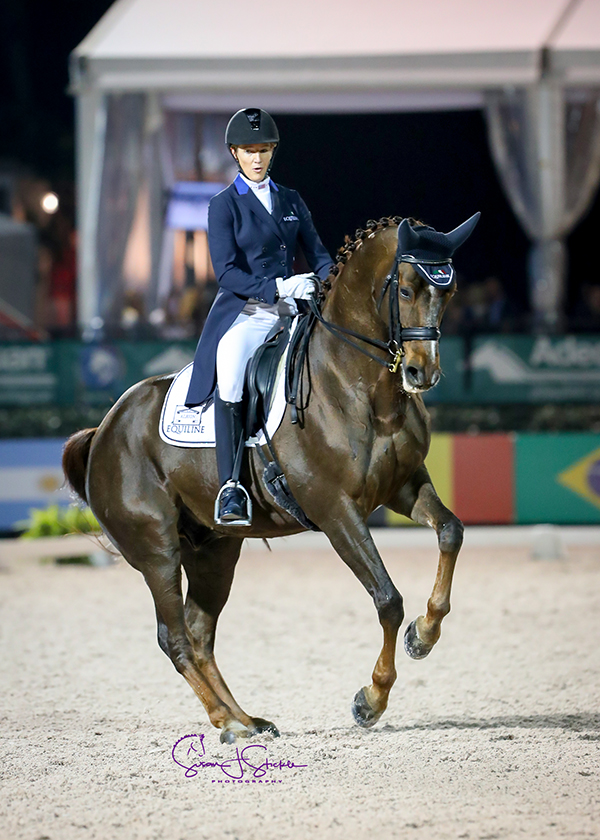 "This was only ever starter music, but I knew one day I'd have another horse who it would suit, and Marlene Whitaker is a flipping genius and she reworked the music to suit Woodstock," said Page.
The test is a technically demanding one, which Page designed two years ago with the intention of maximizing the difficulty.
"It's full of difficult things in difficult sequences; the idea was to layer complicated sequences one after the other. I'm actually comfortable riding it now, and Woodstock is a horse with a lot of alacrity and sensitivity, though he can be a scallywag. It's nice riding the freestyle because he never anticipates — because I rarely practice."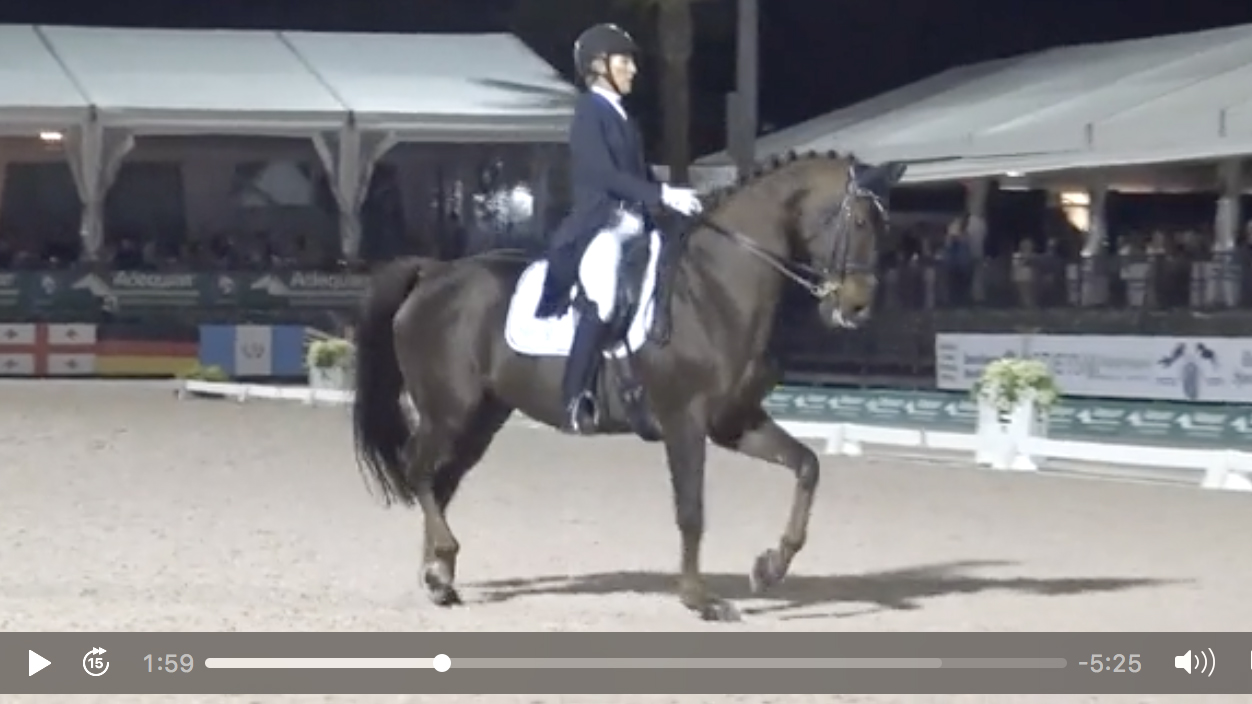 Click to watch their test!
Juan Matute Guimon, Spain's 20-year-old riding star, was once again on the "Friday Night Stars" podium, finishing third on his father's Don Diego Ymas, a 15-year-old by Don Frederico.
"Last time we had a few miscommunications," said Matute, who was riding to music put together by his mother and a floorplan he designed with his double Olympian father. "But today he felt rather good, the piaffe felt better and I was pleased with the overall performance. My horse perhaps doesn't have the highest quality of gaits, but we know how to fight with what we've got — and dressage is about trying to reach the full potential with what you've got."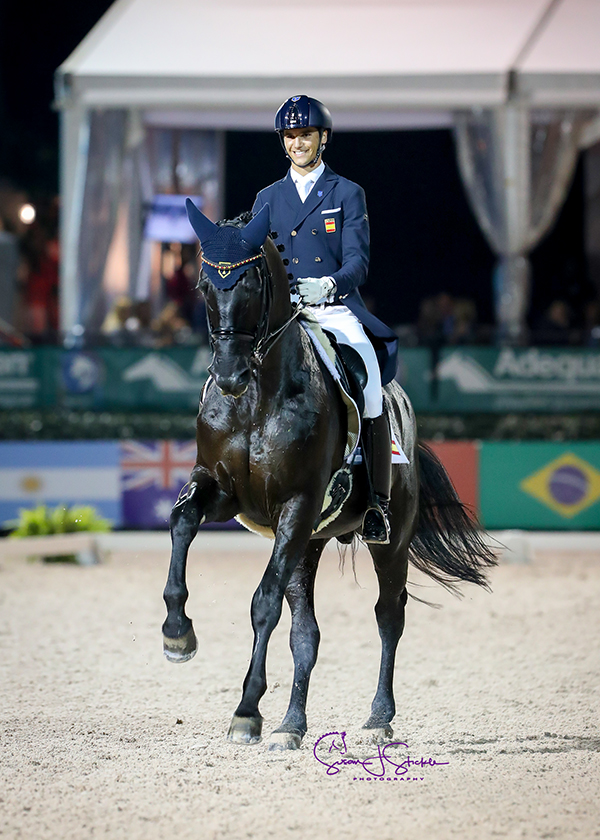 Judge Janet Foy, who was presiding from C, said: "Having judged these guys over the season, there has been so much improvement. It's really exciting to be able to sit there as judges and give eights and nines. All three of these top tests were so clear and focused, so we could really enjoy watching and judging."
Canada's long-time, much loved combination of Jacqueline Brooks and D Niro bowed out of competition at AGDF, taking their final salute at the venue which has been so much part of the pair's journey together. They finished sixth with 70.6%, and the 19-year-old grey gelding — fondly known as Goose — will now return to Canada. Familiar faces on the AGDF circuit since 2012, the crowd showed their appreciation for this popular duo with a standing ovation.
Elizabeth 'Betsy' Juliano, whose Havensafe Farm sponsored the class, said: "It's been a privilege to be involved with the AGDF from the beginning; it's unique in that it's an excellent facility with excellent management and ample opportunity to show. As you could see from the appreciation for Goose tonight, we are all one family, regardless of nationality. The performances tonight were spine-tingling — really a thrill."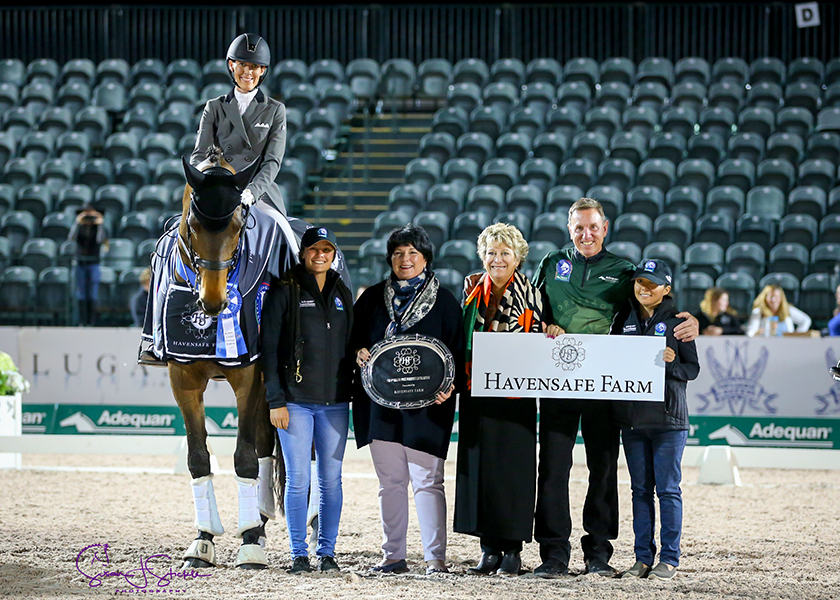 Beatrice 'Trixi' Marienau secured back-to-back wins, having also triumphed in the grand prix. She also took the winner's sash in the Grand Prix Freestyle CDI3*, presented by The Dutta Corporation. Riding the equal oldest horse in the class, 19-year-old Gribaldi gelding Stefano 8, she posted 72.1% — the only plus-70% of the class.
The German-born 47-year-old American is an unlikely dressage winner, having formerly showjumped, then become a cowgirl on a ranch, before finally turning to dressage — despite what she terms "ring-phobia" that requires her to meditate before each test.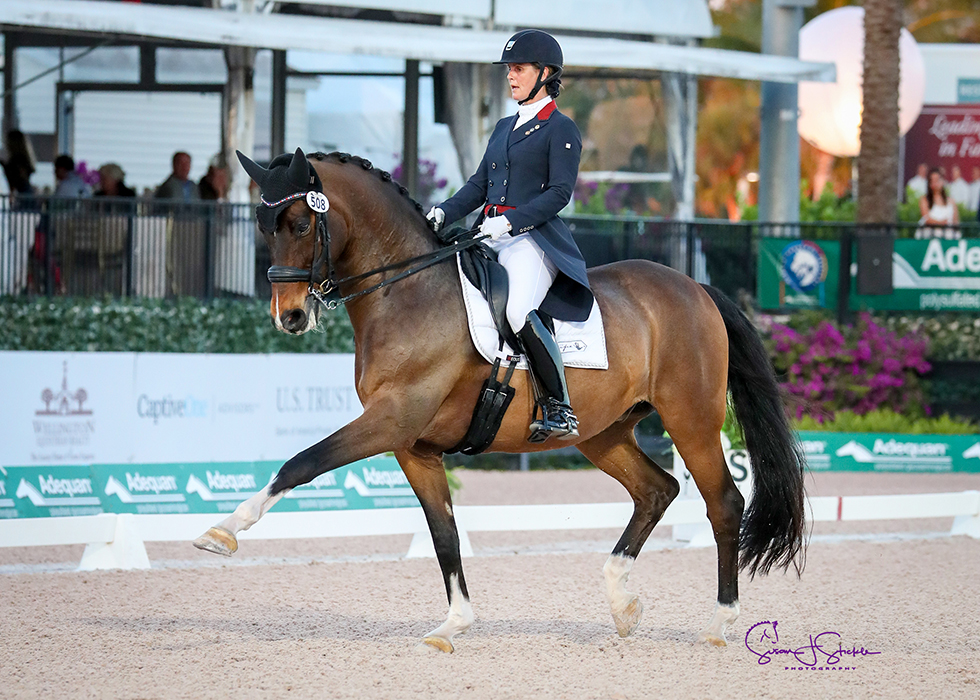 Their double win in week 10 was a first for Marienau, who has only two previous wins in the five years they have been competing together at international grand prix. Their winning freestyle score is their second highest ever, and their best for two years.
"He's a firecracker, and I appreciate every day I have with him," said Marienau, who bought 'Fino' in 2012. "I feel his age sometimes, so in the training we really work a lot on the suppleness so he can come through with the beautiful exercises that he knows how to do. Tonight I asked him to dance for me, so he did.
"He was already a trained grand prix horse but in the beginning the switch from a man to a woman rider was difficult, so we took our time and have been working with Lilo Fore ever since. I only rode my first grand prix in 2011, so Fino has done so much for me, including going to the Festival of Champions and onto my first Nations Cup team, which was a big dream of mine," she added.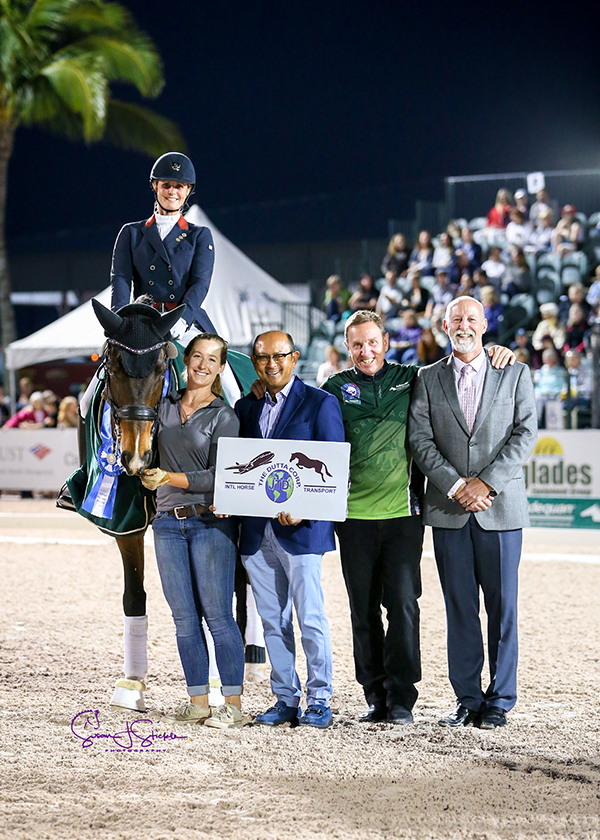 James Koford (USA) was second on Sherry Koella's 11-year-old home-bred colored Friesian sport horse mare, Adiah HP (69.555%), with Canada's Jill Irving finishing third on her own Jazz gelding Arthur with 69.12%.
Tina Konyot (USA) and PSD Partners LLC's Desperados gelding Diamantino II led the huge Prix St Georges CDI1* class, which was sponsored by Horseware Ireland. Of the 26 entries, the top three all broached 70%, with Konyot posting 70.343 — bolstered by her high score of 73.088% from the judge at C, Janet Foy.
This was the horse's second win in his nine small tour FEI starts, having kicked off his CDI career in January of this year. This was the first time he had scored north of 70%. American Lauren Asher (Honnerups Event) and Germany's Michael Klimke (Harmony's Diabolo) tied for second  place, posting 70.098%.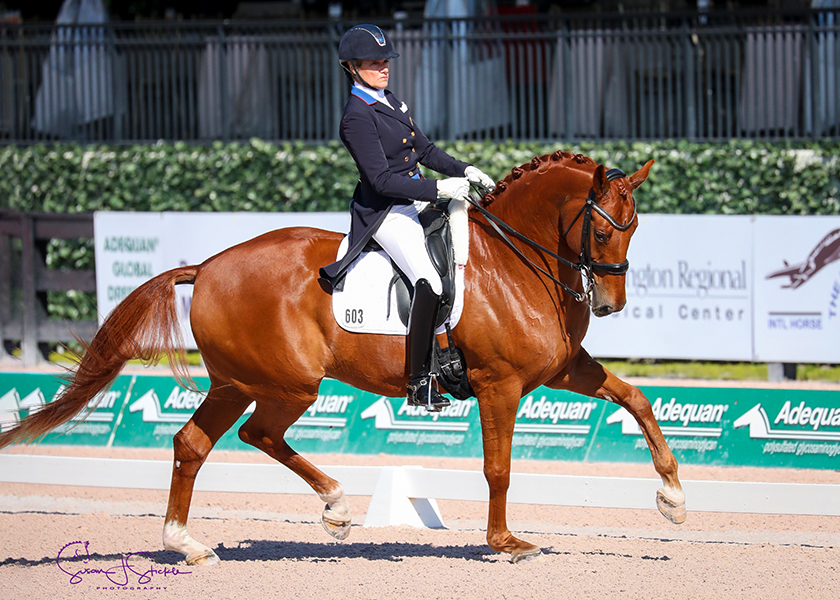 Action in week 10 of the 2018 AGDF continues on Saturday with a full schedule of 11 international classes, including pony, junior and young rider divisions as part of the sixth annual Florida International Youth Dressage Championships, as well as young horse and amateur classes. This week at AGDF is the biggest dressage show ever held outside Western Europe. The AGDF runs through March 31. For more information and results, visit www.globaldressagefestival.com.
Results
Place, rider, nationality, horse, horse information: judge E%, judge H%, judge C%, judge M%, judge B%, total
FEI Grand Prix Freestyle CDI4*, presented by Havensafe Farm
E, Christoph Hess (GER); H, Lee Tubman (CAN); C Janet Foy (USA); M Kurt Christensen (DEN); M, Gabriel Armando (ARG)
Olivia LaGoy-Weltz on Lonoir, her own 14yo Danish warmblood gelding by De Noir x Loran: 77.75, 74, 77.125, 77.5, 76.625, 76.6%.
Arlene Page (USA) on Woodstock, her own 15yo Danish warmblood gelding by Havel x Contango: 73.125, 76.375, 76.75, 73.75, 75, 75%.
Juan Matute Guimon (ESP) on Don Diego Ymas, Juan F Matute's 15yo Hanoverian gelding by Don Frederico x Wolkenstein II: 73.875, 73.75, 73.25, 73.25, 73.5, 73.525%.
Katherine Bateson Chandler (USA) on Alcazar, Jane Forbes Clark's 13yo KWPN gelding by Contango x Ferro: 73.375, 72.75, 73.125, 70.625, 72.75, 72.525%.
Jessica Jo Tate (USA) on Faberge, Elizabeth Guarisco's 15yo Westfalian gelding by Florestan I x Brentano II: 72.375, 67.5, 71.5, 71.625, 70.375, 70.675%.
Jacqueline Brooks (CAN) on D Niro, 19yo Swedish warmblood gelding by D-Day x Napoleon 625: 71, 68.875, 71.25, 70.875, 71, 70.6%.
Devon Kane (USA) on Sir Galanto, Diamante Farms' 13yo Hanoverian stallion by Stedinger x De Niro: 60.125, 72.625, 69.625, 68.75, 68.625, 67.95%.
Ellesse Tzinberg (PHI) on Triviant 2, her own and Sennett Tzinberg's 18yo KWPN gelding by Olivi x Saluut: 67.5, 68.5, 66.75, 69, 67.125, 67.775%.
Photo Credit: ©SusanJStickle. These images may only be used in relation to this press release and with credit.