For Immediate Release
Alice Collins for Jennifer Wood Media, Inc.
Wellington, FL – January 21, 2018 – The second and final para-equestrian dressage show (CPEDI3*) of the 2018 Adequan® Global Dressage Festival (AGDF) concluded at the Palm Beach International Equestrian Center (PBIEC) in Wellington, Florida, with the USA's riders winning every grade.
In the day's most heavily subscribed class, the Grade I freestyle — the riders with the most severe impairments — Margaret 'Gigi' McIntosh improved on her second places over the previous two days to win the class with 75.287%.  The judge at M, Portugal's Carlos Lopes, awarded McIntosh and her own Heros, a 14-year-old Danish warmblood by Blue Hors Hertug, over 79%.
He said: "The degree of difficulty was high, the horse was steady and responding to her aids with good activity and showing good medium walk, which has improved over this week. The music was also very good for her and it all fitted together. It was all fluent and I gave 8.5 for the music and choreography."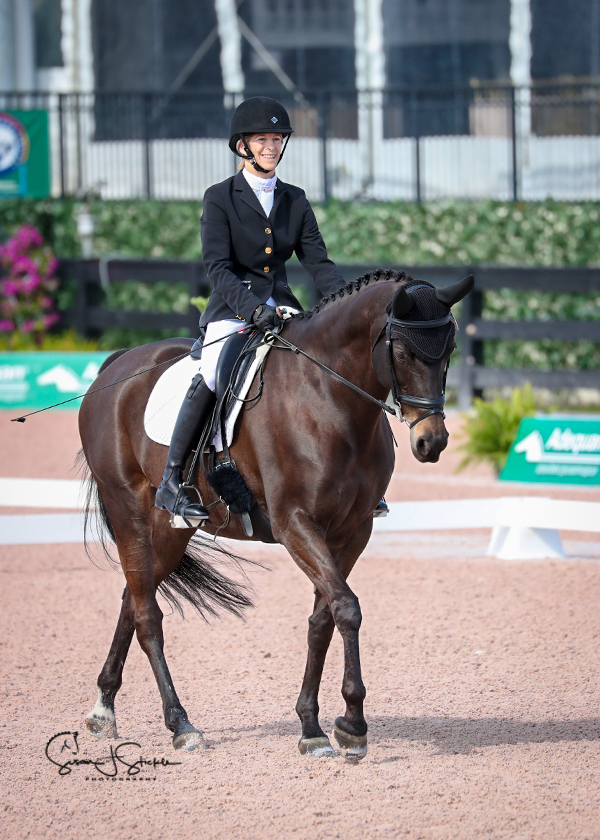 The mare was sourced by USEF Head of Para-Equestrian Coach Development and High Performance Consultant Michel Assouline's wife Mette, and McIntosh also credits her trainer Missy Ransehousen for the giant strides taken with the horse.
"She loves the music; I think somewhere in a past life, she was an old disco diva," said McIntosh, who suffered a broken neck in a fall in 1999, a year after riding round the Rolex Kentucky Three-Day CCI****, which left her partially paralyzed. "I am so lucky I have been able to get a lot of my function back, and to be able to continue with my riding has been priceless."
Michel Assouline was delighted with the American riders' progress between the boards.
"I'm on a mission to help them and I think the biggest difference we saw this week was team cohesion," said Assouline, who is based in the UK but spends 10 days a month in the U.S. "We've had a strong improvement of scores from the first CPEDI, too. The scores are confirming and although we don't yet have the depth of some of the European countries, we now have four of five combinations who are starting to be consistently in the mid-70s."
One of those, three-time Paralympian Rebecca Hart, dominated the Grade III classes with a new horse, relegating the multi-awarded Canadian rider Lauren Barwick into second place in all three tests. Hart rode El Corona Texel, Rowan O'Riley's nine-year-old KWPN gelding, who was formerly a Belgian young horse champion, to 74.444% in the freestyle.
The combination, who are new to each other, are unbeaten in all six of their Adequan® Global Dressage Festival starts of 2018 and were riding through their music program for only the second time.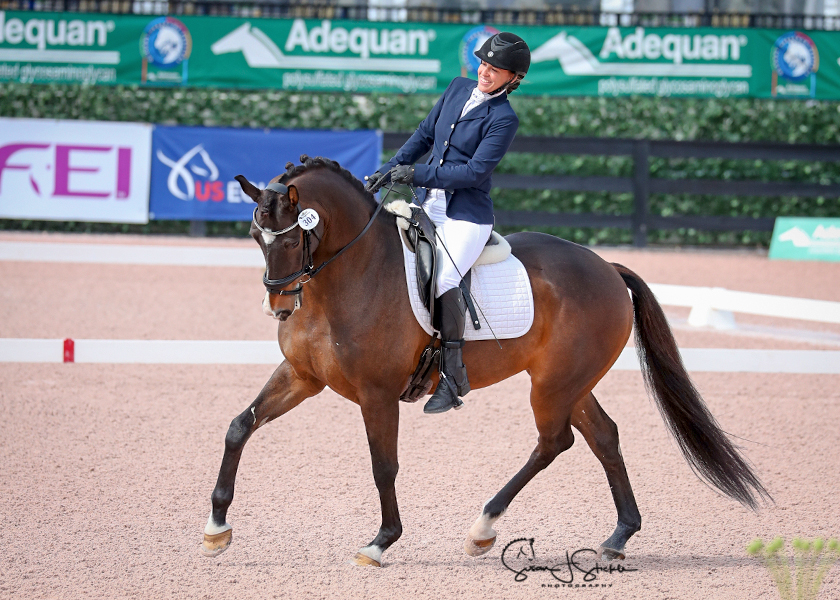 "It was an excellent show," beamed Hart, who was born with a rare genetic disease. "We've only had him for about five months, but we brought him home and he's transitioning into his para life really nicely. He's got a lot of passion in the ring so we're building the trust with each other. This weekend has given us a lot of confidence for the future."
The day's highest score was posted in the Grade IV freestyle, with Angela 'Annie' Peavy logging 75.333% on Royal Dark Chocolate, a 10-year-old Oldenburg mare by Royal Doruto, owned by Rebecca Reno.
"She's been a great girl at this show," said Peavy, who is partially paralyzed on one side due to a stroke before birth. "I've had 'Coco' for a year and at each show she feels more and more trustworthy."
The locally-based rider trains with Heather Blitz and, like all the high-scoring winners from this show, has her sights set on the FEI World Equestrian Games in Tryon in September.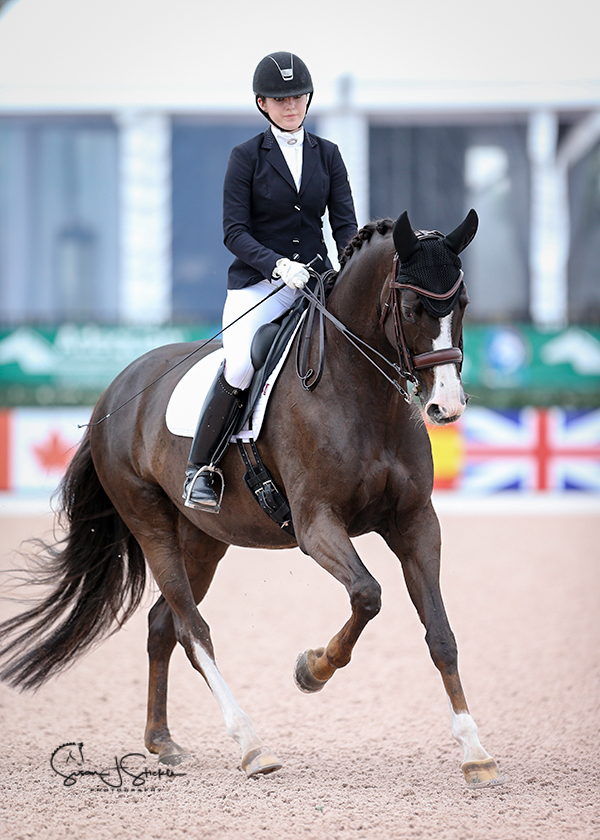 Alanna Flax-Clark (USA) and Captain Moonlight TG, Sara Schmitt's 11-year-old Welsh pony, posted 67.167% to top the uncontested Grade II, while Mary Jordan (USA) led the Grade V freestyle on and Rubicon 75, a 13-year-old chestnut gelding by Royal Hit who is in Wellington for the AGDF for the third year running.
On Saturday, teams from the United States and Canada competed in two tests – the FEI Team Test on Friday and the FEI Individual Test on Saturday – which each counted 50% toward the overall team score. The U.S. Para-Equestrian Dressage Team, presented by Deloitte won with a total team score of 414.754%, over Canada who scored 406.638%.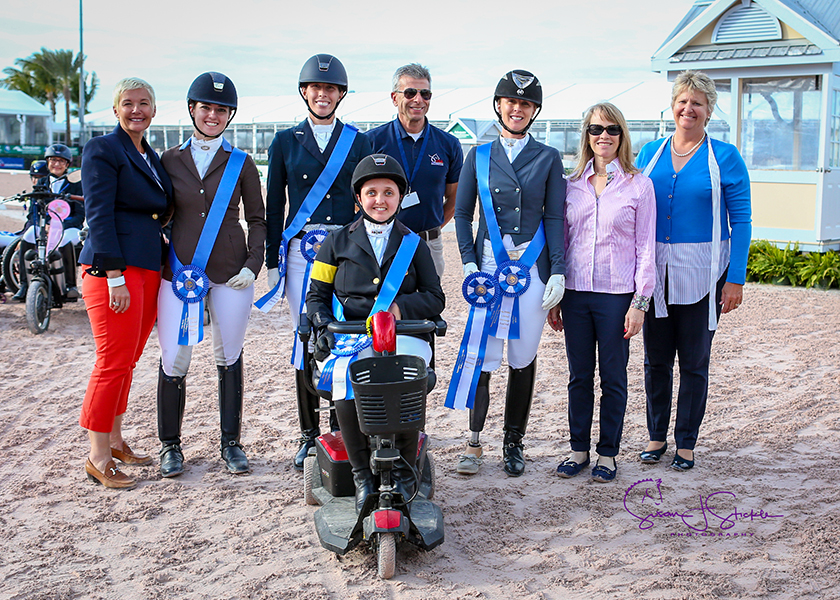 This concludes the second of 12 weeks of competition at the 2018 Adequan® Global Dressage Festival, which runs through March 31. Next week sees a CDIW as well as national classes taking place January 24-28. For more information and results, visit www.globaldressagefestival.com.
Photo credit: ©SusanJStickle. These images may only be used in relation to this press release and with credit.