AGDF Title Sponsor Adequan®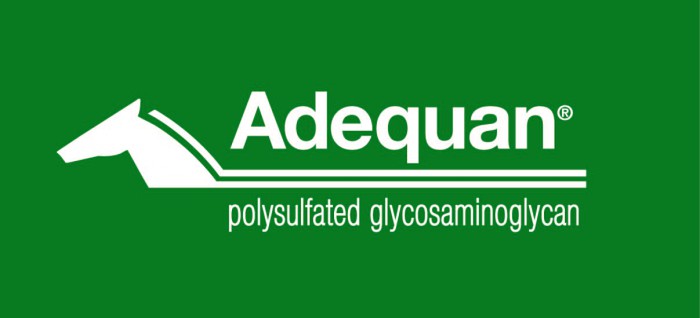 The philosophy of Adequan® to act quickly relates not only to the action of its joint health products but to identifying opportunities to be front and center with its valued equestrian customers. As the title sponsor of the 2016 Adequan® Global Dressage Festival, Adequan® has taken a sure- footed lead to support one of the world's largest international and national dressage circuits.
In addition, they are the weekly title sponsor of Week 3 of the 2016 Winter Equestrian Festival which hosts the $130,000 Adequan® Grand Prix, CSI 3* and also the title sponsor of the Young Jumper Championship classes for 6 & 7 Year Olds for the circuit.
Allyn Mann, Director of the Animal Health Division at Luitpold Pharmaceuticals Inc., comments, "We have a very good relationship with Equestrian Sport Productions and Mark Bellissimo. Adequan® has been sponsoring WEF for several years in a very strong way." In March 2012 Mann was very impressed when he visited the new dressage facility with Mark and Meg Krueger of Equestrian Sport Productions. "It was exciting to see the vision and how it would impact the dressage world on a global basis. Adequan® has been a strong advocate of the United States Dressage Federation for the last seven years. We were trying to find a place to hang our hat on the competitive side of the dressage world, and we both agreed that this could be a great opportunity for our business and another way to give back to the equestrian community," he explained.
Title sponsorship is quite a coup for this impressive new facility which encompasses almost 60 acres with four outdoor arenas with world-class footing, a VIP hospitality venue and grandstands, 200 permanent stalls, and one of the world's largest covered arenas. Offering more than $700,000 in prize money, the Adequan® Global Dressage Festival will be one of the richest circuits in the world, drawing top competitors in the sport.
For full prescribing information, please visit www.adequan.com