Jennifer Wood Media, Inc.
Wellington, FL – March 26, 2020 – Adequan® Global Dressage Festival announces that the $15,000 Lövsta Future Challenge/Young Horse Grand Prix series and the $10,000 Summit Farm Future Challenge/Young Horse Prix St. Georges series, both slated to hold finals during the final week of the 2020 AGDF, have been postponed until the first week of the 2021 AGDF due to the cancellation of the final two weeks of the circuit because of coronavirus. After a highly successful inaugural season of 10 qualifying weeks, the horse and rider combinations have been determined for the Finals.
"While we are disappointed to have to cancel the last two weeks of AGDF and postpone these series finals, we look forward to hosting them as a kick-off to the 2021 AGDF," said AGDF Director of Sport Thomas Baur. "We were thrilled to see how popular both of the series were and that so many riders, trainers, and owners appreciated the opportunity afforded for their up-and-coming horses."
The $15,000 Lövsta Future Challenge/Young Horse Grand Prix series idea, originally set up by Tinne Vilhelmson Silfvén and Louise Nathhorst in its home country of Sweden as a talent development program, is for horses age eight to ten years old at the Grand Prix level. They competed in the FEI Intermediate II test, and the qualifiers for the final include:
AGDF 1: Pablo Gomez Molina (ESP) and Ulises De Ymas – 68.383%
AGDF 3: Michael Klimke (GER) and Harmony's Diabolo – 73.456%
AGDF 5: Susan Dutta (USA) and Don Design DC – 69.411%
AGDF 6: Jan Ebeling (USA) and Status Royal OLD – 72.353%
AGDF 7: Diane Creech (CAN) and Dublin L – 69.118%
AGDF 8: Michelle Gibson (USA) and Barland I.M. – 66.618%
AGDF 9: Alice Tarjan (USA) and Donatella M – 74.022%
AGDF 10: Ashley Holzer (USA) and Valentine – 74.044%
Wild Card: Pia Fortmuller (CAN) and Kartsevo Goldfinch – 68.162%
Wild Card: Nancy Smith (USA) and Damon's Design HW – 66.102%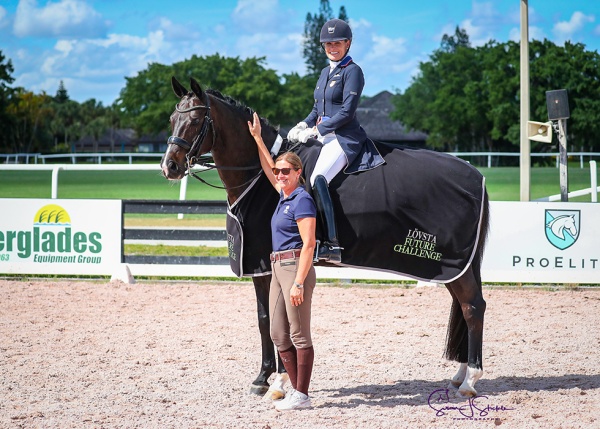 During the 2020 AGDF, Lövsta also announced the launch of a new charitable initiative to benefit the local charity, Friends of Palm Beach. Lövsta supported the charity and its mission by donating $250 for every ride in the series throughout the circuit, ending up with a total of $8,500 given to the charity.
"For us at Lövsta, sustainability has been a strong driving force," said owner Antonia Ax:son Johnson. "Our slogan is 'Save the earth. It's the only planet with horses.' To underline our commitment, we decided to support the charitable organization Friends of Palm Beach with $250 for every entry in the Lövsta Future Challenge this season. This fine group of people clean the Palm Beach beaches from trash to support the beautiful creatures of the sea and keep our beaches clean and environmentally safe. The beauty of our ocean and the beauty of our horses align."
Friends of Palm Beach is a 501(c)3 organization that cleans the beaches of Palm Beach regularly to remove incoming plastics, trash, and unnatural debris and to educate the community on the effects of this on our environment and marine life. They partner with other non-profit job placement programs to help end the cycle of homelessness while also helping to end the cycle of trash in our ocean.
The popularity of the $10,000 Summit Farm Future Challenge/Young Horse Prix St. Georges series for horses seven to nine years old was evident at the 2020 AGDF, and many of the best young small tour horses competed for a chance to qualify for the Finals.
One of the qualifiers was Pan American Games team and individual gold medalist Sarah Lockman (USA), who is also the professional rider for Summit Farm. She and Balia were multiple winners during the series and scored the highest of all the qualifiers with a 73.603% at AGDF 6.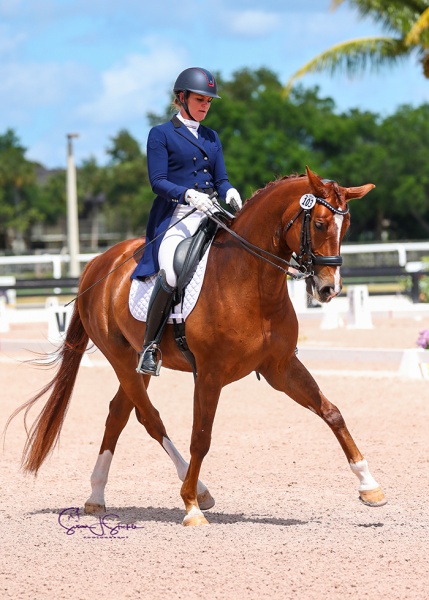 Lockman said that the series fits perfectly with the business model and goals for Summit Farm.
"We start horses young and develop them into top international horses," she said. "It's meant a lot for us to support this series that is specific to seven- to nine-year-old horses. We hope to see more of this and want provide an incentive for trainers and riders to put these top young horses out there.
"It was a great thing to offer prize money to a class outside of the CDI," she continued. "Trainers and riders can enter a horse in this series and get notoriety. In Europe, young horses get a lot of praise and press, with financial gain by showing young horses and developing them. To support that idea in the U.S. and give that incentive and reward meant a lot to us at Summit Farm. We are very proud to be a part of this series at AGDF."
The horses and riders qualified for the $10,000 Summit Farm Future Challenge/Young Horse Prix St. Georges Series Final are:
AGDF 1: Karen Pavicic (CRO) and Totem – 69.927%
Rikke Poulsen (DEN) and Furstentanz – 69.927%
AGDF 3: Shannon Dueck (CAN) and As You Wish – 73.456%
Kelly Layne (AUS) and Fernando – 73.015%
AGDF 5: Stephanie Collomb (USA) and Stormy River – 70%
Pia Fortumuller (CAN) and Frieda – 69.633%
AGDF 6: Sarah Lockman (USA) and Balia – 73.603%
Heather Blitz (USA) and Limei de Lys – 73.015%
AGDF 7: Signe Kirk Kristiansen (DEN) and Bonderman – 71.25%
Christopher Hickey (USA) and Stenagers Wyatt Earp – 70.074%
AGDF 8: Jodie Kelly-Baxley (USA) and Grayton Beach – 73.162%
Kelly Layne (AUS) and Rockpool – 70.148%
AGDF 9: Sarah Lockman (USA) and Dehavilland – 70.074%
Stephanie Collomb (USA) and Fol Amour – 68.015%
AGDF 10: Justin Ridgewell (CAN) and Jolene – 68.088%.
Stewart Underhill (USA) and Deimos 4 – 67.132%
Wild Card: Gloria Schriever (CAN) and Hilton OC – 70.368%
Wild Card: Karin Persson (SWE) and Giuliano B – 70.294%
The 2021 Adequan® Global Dressage Festival will be held on January 6-March 28.