For Immediate Release
Alice Collins for Jennifer Wood Media, Inc.
Wellington, FL – March 12, 2018 – Week nine of the 2018 Adequan® Global Dressage Festival (AGDF) produced many firsts in the national arenas during competition on March 9-11, 2018, at the Palm Beach International Equestrian Center.
Just three weeks ago, Patricia Koschel — wife of German senior team medalist Christoph — rode her first ever grand prix level test. This week, she won both grands prix classes she entered, both with over 70% aboard her long-time partner, Leuchtfeuer DE.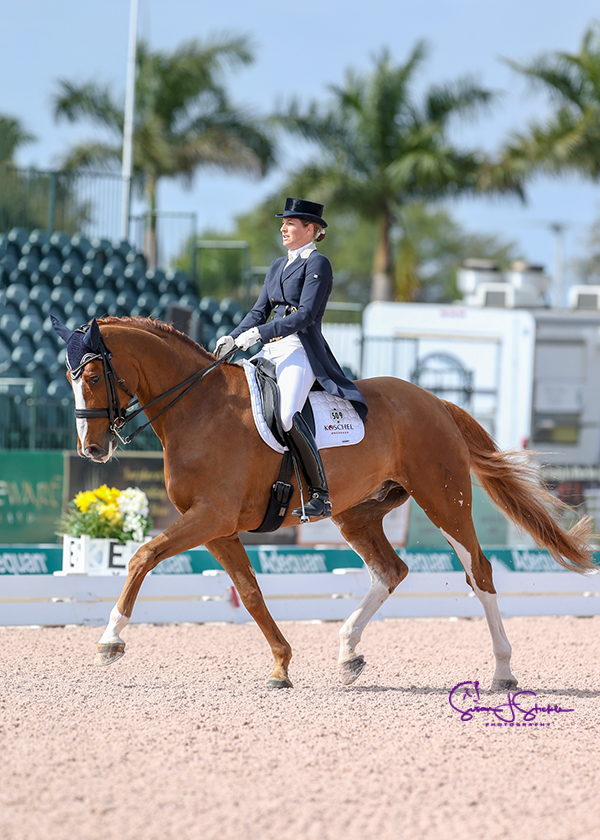 "I was a little surprised, to be honest," said Koschel, who dipped her toe in the CDI arena the previous week, but saw her scores plummet. "In my first national grand prix I got over 69% and even beat my husband, so I thought I would be ready to try international, but I was competing as an amateur over there and I was totally nervous and my horse was too. So I decided to go back in the national ring to get some more experience without the pressure and it went super well. I was a bit shocked — in a positive way. I learned so much in the first test that we decided I would ride again the next day — you can train all you like at home, but the only way you can learn to show in a nice way is in the ring."
The 47-year-old mother of two has been riding the 15-year-old gelding by Londonderry x De Niro since he was four and has racked up 70 wins with him. He is the most successful dressage horse from his recently deceased sire.
"When I got him, my goal was prix st georges as I'd never done it before. And we've gone one step at a time, up and up. I'm just a housewife with a hobby," added Koschel, who lives at the famous Kasselman stables in Germany, where the couple are in the process of putting up a new 17-stall facility. "Running a barn, often you have no time for yourself. I organize everyone else and my riding is not the focus; I'm the least trained person in the yard!"
After four seasons competing at the Palm Beach International Equestrian Center, the Koschels have made Wellington their second home, and even bought a house here last year.
"We're starting to convince everyone from home that Wellington should be on their list. We couldn't live without coming here now," she said.
Boston native Nancy Later Lavoie stepped out between the white boards for the first time on Enzo, topping the fourth level test two on the Sunday with 71.25%. Karen Barth's nine-year-old by Vivaldi has only recently partnered with Lavoie, after the previous trainer came down with ill health.
"It was one of those days when you don't care what the judges think," said Lavoie, 54. "Enzo listened to me and was right with me. We came out, we'd both had a great time and the owners were happy. Then we were even happier that the judges liked it, too.
"He's new to me and super fun. He's been a delight to be training. He has a great attitude and, even though he hadn't been in the show ring for a couple of years, he was so fabulous. He has a lot of blood and a lot of energy and is really interested in pleasing his rider; it's the perfect combo."
She continued: "He's had to get fit and get with the program to start the higher level stuff. He's been a dream, though he still needs more strength and fitness for the collected work. He loves participating and learning and I think he's an up-and-coming grand prix horse. He turns himself inside out just to make you happy, and there's nothing better than that."
Lavoie plans to return to her base in Massachusetts at the end of the season and for the talented Dutch warmblood to go with her, which will mean much longer journeys for Barth to see her horse.
"She'll have to make some trips to Boston!" added Lavoie, who trains with both Conrad Schumacher and Australian 'dressage cowboy' Tristan Tucker.
Another talented horse laid down another first in week nine's national arenas. Olympian Adrienne Lyle rode Betsy Juliano's Horizon, an Oldenburg mare by Hotline x Don Schufro, in the mare's first ever grand prix special to a staggering score of 77.979%. They may have been the only combination in the class, but they more than earned the blue ribbon for their electric performance.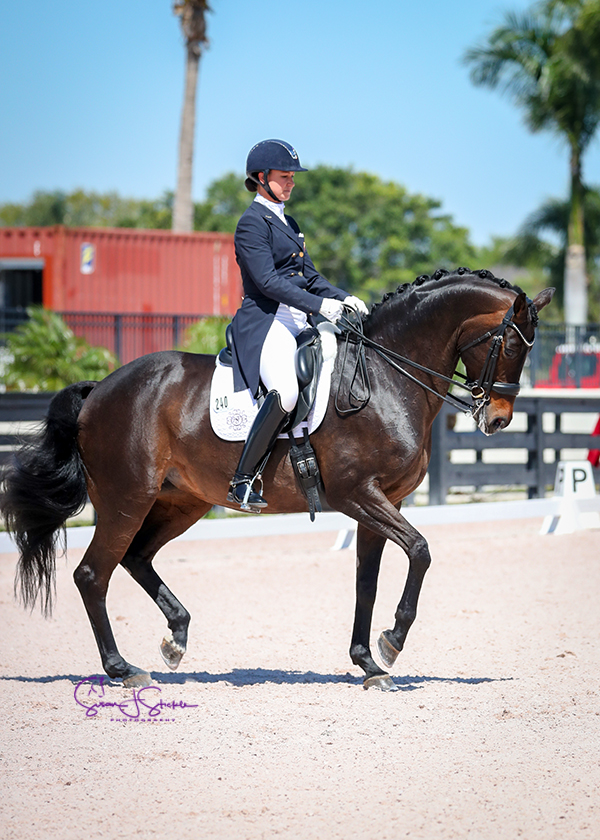 This superb performance came just a month after the horse's debut at the level, also at the AGDF, where the pair scored 72.283%.
Canadian rider Lindsay Kellock, who was manager and assistant trainer to Ashley Holzer for seven years, rode to victory in Sunday's test of choice class riding an intermediaire II. At only his third attempt at the level, Enterprise Farms LLC's 12-year-old Sandro Hit x Fidermark gelding Sebastian scored 70.368% to win the class by 5%.
"I'm so happy with the effort that the horse put in," said Kellock. "He's green at the level, but he really tried. I can feel the potential in him; he's offering more and more each time. I get the feeling he'll be a pretty good grand prix horse.
"Just over a year ago I went out on my own to work for Enterprise Farms in New York, which is when I started riding Sebastian," said the 27-year-old. "He's an amazing horse and I've taken a lot of time to get to know him and it's paying off. My goal is to bring him up to grand prix in the next few weeks and see how we go with him — with the ultimate goal being international."
Kellock is Holzer's god-daughter and still has four horses with her former boss.
"We help each other all the time still, and I credit her for everything," said Kellock. "She's such an incredible trainer. Actually I've only ever had two trainers — the other one is Jacquie Brooks who also trains with Ashley — so we're one big family."
AGDF continues with week 10 on March 14-18. The AGDF runs through March 31. Please visit www.GlobalDressageFestival.com for more information and a full schedule.
Photo Credit: ©SusanJStickle. These images may only be used in relation to this press release and with credit.