By Alice Collins for Wellington International
It was an epic and unforgettable day for 30-year-old French rider Morgan Barbançon, who capped a sensational first Wellington season of her career with wins in both the Dutta Corp CDI4* Grand Prix Special and the Beatrice Marienau Dressage CDI3* Grand Prix Special. They were the two showcase classes of the penultimate day of week 11 during the Adequan® Global Dressage Festival (AGDF). AGDF 2023, which hosts seven weeks of CDI competition over three months, runs through April 2. The wins took Barbançon's tally of victories to three in under 24 hours — all on different horses.
On Saturday, she led the four-star class on the 11-year-old Habana Libre A (by Zizi Top x United), pulling out a unanimous win on 71.702% from final draw, despite a mistake in the one-time changes on the diagonal. American ladies filled the remaining two podium steps, with Katie Duerrhammer and Paxton sealing second on 69.234% and Alice Tarjan third riding Candescent to 68.596%.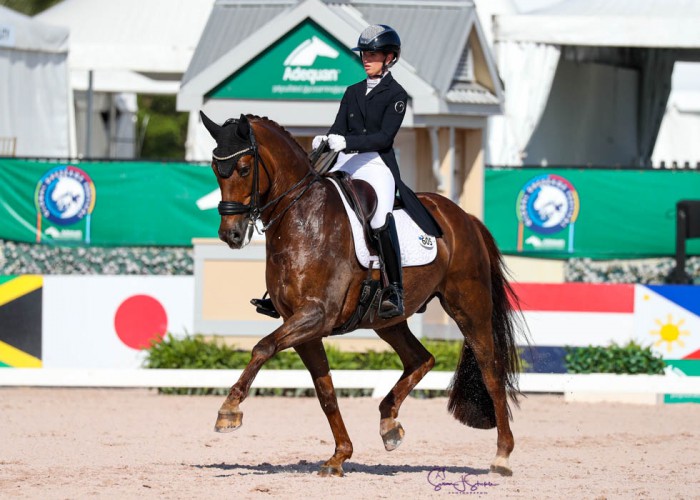 In the three-star ranks, 12-year-old Deodoro (by Damon Hill x Lauries Crusador) stepped up to earn Barbançon yet another winner's rug for her burgeoning collection, putting down an untouchable 71.596% despite the three riders placed behind her all posting personal best scores. Emily Miles (USA) and Java Dulce — winners of the qualifying grand prix class — had to settle for second this time with 70.872%. The final competitor in the class, America's Kevin Kohmann, picked up third with a 69.043% ride on Dünensee.
"I'm on cloud nine right now," enthused Barbançon, who will be back in Europe first thing on Monday morning and straight back to riding in the cold. "I'm exhausted and I gave the last bit of myself in that last test today, but it's such a good tired.
"I have no words to describe the week; four blue ribbons, two red ribbons — I can't complain," added the Switzerland-based rider, who trains with Britain's Gareth Hughes, mostly through online coaching sessions using the auto-tracking smartphone mount system called Pivo.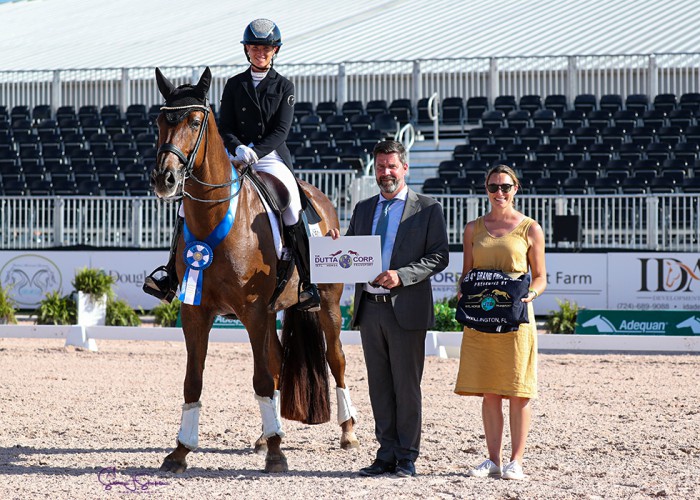 "The biggest surprise of the weekend was definitely Lilo [Deodoro]. He was the biggest present; literally everything was a highlight. He was concentrating so well and he wanted to give his all today.
"I didn't want to push yet because we are here to gain confidence, especially since there's still a long season [in Europe] ahead of us. He carried me through that test, and it was an unbelievable feeling, so I'm really looking forward to getting that confirmed the next couple of shows.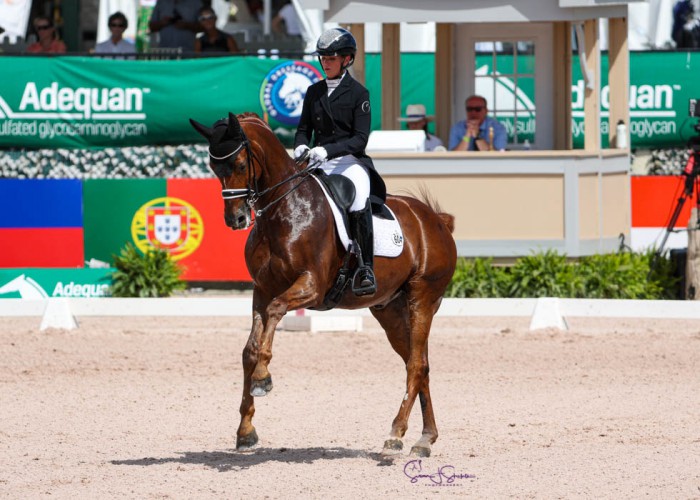 Of her four-star winner Habana, who is only 11 and has won a staggering seven of his 10 starts at AGDF, she added, "He is wonderful. We did have a big mistake in the one-tempis, but I was a little tired today so I felt the heat. I'm so happy with him because today he had to help me out a bit, and he did."
Her team of horses will fly home to Switzerland next week, but the invaluable experience they and Barbançon have gained at AGDF means that she is already making plans to return for the 2024 edition.
"I'm so proud, so happy with the season and so grateful and blessed to have such incredible horses," she concluded. "They have progressed immensely and have developed unbelievably well. We have felt so welcomed and everyone has been so supportive and helpful. I want to thank everyone for making this experience so incredible."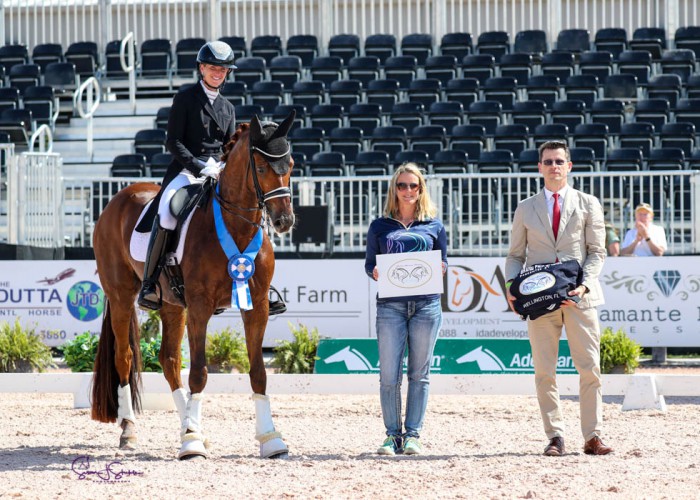 Barbançon's next date on the competition calendar is the FEI World Cup™ Final in Omaha, NB, in April, where she will campaign her top horse, Sir Donnerhall II. While she is there, the AGDF horses will, "go out hacking, go out in paddocks and rest because they have worked so hard and learned so much".
Week 11 of the 2023 AGDF wraps up on Sunday. The final day features the two prestigious developing horse finals, the Buffalo Wild Wings Prix St. Georges Future Challenge and the Lövsta Future Challenge Young Horse Grand Prix Final. There is also action in Children, Juniors and Young Rider Divisions and CDI1* Intermediate I Freestyle. Competition continues at all levels in the national rings this weekend. For more information and results, visit www.globaldressagefestival.com.
Click for full results from the CDI4* Grand Prix Special, presented by The Dutta Corp.