For Immediate Release
Alice Collins for Jennifer Wood Media, Inc.
Wellington, FL – March 17, 2022 – The FEI Nations Cup for Under 25 riders, presented by Diamante Farms was the feature competition on Thursday, March 17, during week 10 of the 2022 Adequan® Global Dressage Festival (AGDF) in Wellington, FL. AGDF, which hosts seven weeks of CDI competition, runs through March 27. The under-25 division was a tussle between arch rivals Canada and the U.S., with team Canada coming out on top, scoring 133.323 points to take gold. The U.S. claimed silver with 129.5 points.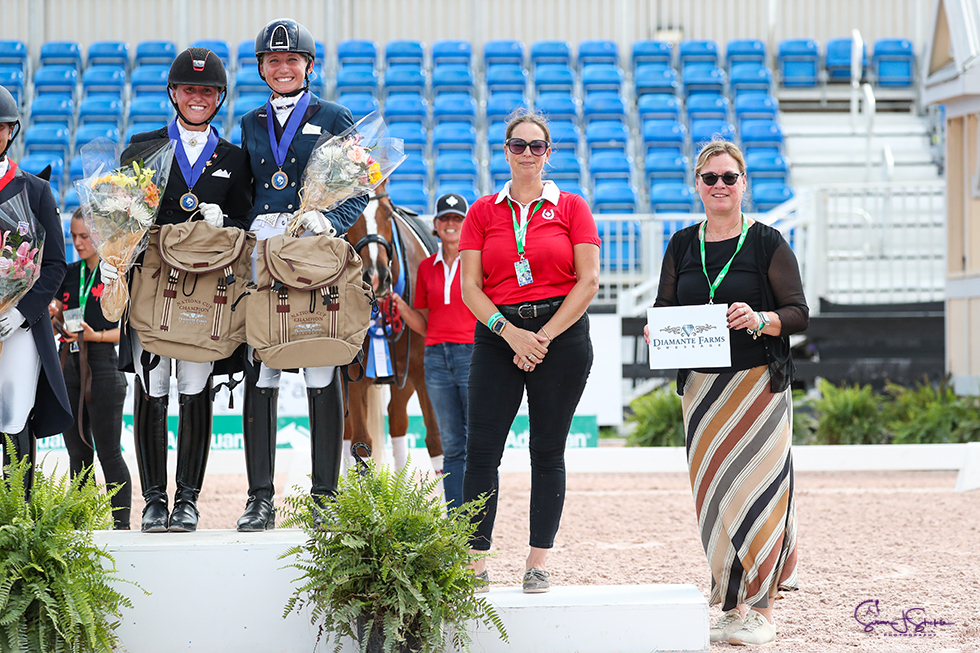 Camille Carier Bergeron rode Sound Of Silence 4 in only the pair's second under-25 CDI to the top spot for the winning nation, placing second overall in the CDIOU25 Intermediate II, presented by Diamante Farms. Individually, Benjamin Ebeling (USA) topped the class with 70.529% on Ann Romney's Status Royal OLD. However, Ebeling was not on the under-25 U.S. team as he is riding Vantage Equestrian's Indeed on the senior team.
The 22-year-old Vanessa Creech-Terauds bolstered the Canadian result, clinching gold by finishing fourth with 65.764% on Fleur De Lis L, Louise Leatherdale's home-bred 13-year-old daughter of First Dance.
Creech-Terauds, who was also on last year's winning under-25 Canadian team with Carier Bergeron, said: "It's very exciting to have won the second year in a row with Camille. It's always been so much fun. I've been competing against and with Camille for a long time, and it's so nice that in the U25 we're able to be on the same team, because in juniors and young riders we always had to compete against each other. It's always a really great experience going in that ring and representing Canada and getting more experience for both of our futures, and I know we both have goals to represent Canada more often, so every time it really makes me proud."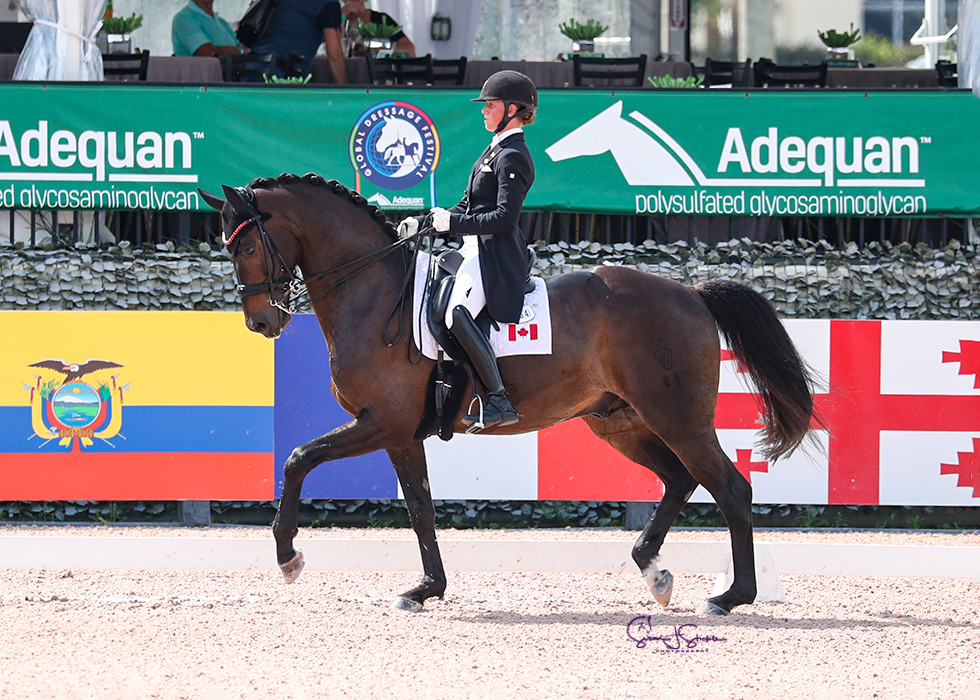 Creech-Terauds, who is from Ontario, continued: "I've been riding Fleur since we were both juniors, and I was so proud of her today. She's an awesome team horse because she goes out there every time and tries her best. Just last weekend we participated in the Challenge of the Americas fund raiser. I rode her in the cowboy and cowgirl theme. And for her to go from that really big atmosphere — people were cheering and clapping, and music, and I had a lasso on my leg, and chaps on — to be able to then come to this week doing the Nations Cup, it really attests to her character."
Click to watch Camille Carier Bergeron's test. ©richardsequinevideo.com
Carier Bergeron, who is 21 and from Quebec, said: "We have an awesome chef d'equipe in Denielle Gallagher, who was also our chef d'equipe last year, so we are surrounded by great people. I'm very happy with today's test considering the weather was extremely hot. It's not easy for the horses, and I think they tried the best they could. Today we had two bobbles, and the mistakes in the one-tempis were quite expensive because of the coefficient, but overall I'm really proud of my horse. You always have to adapt to all kinds of atmosphere, environment, and temperature, so today we did a short warm up. We tried to preserve his energy, and I think it worked quite well."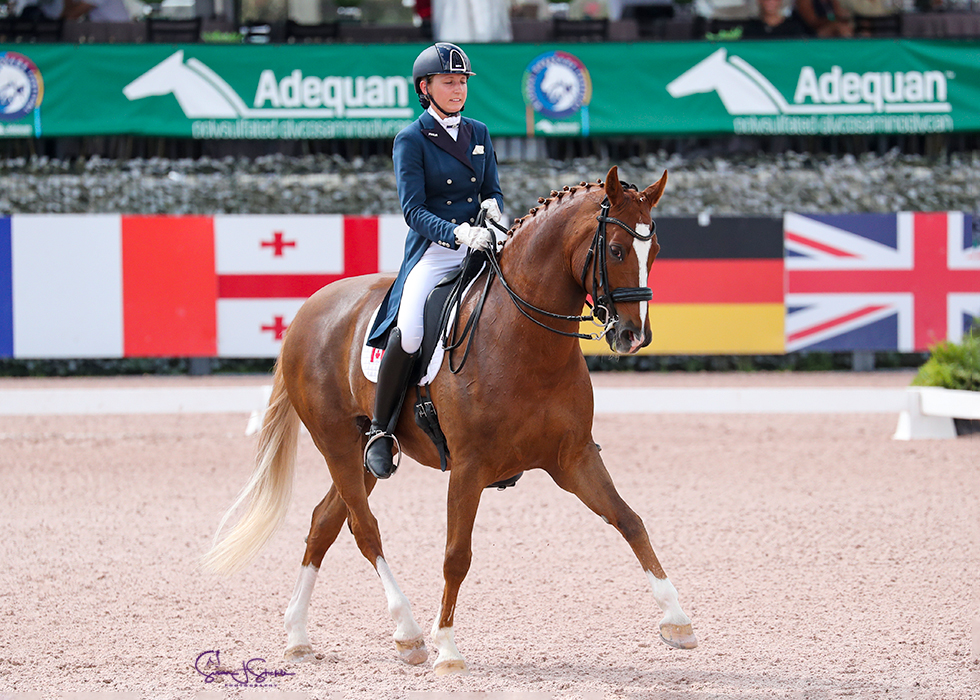 The highest scoring American rider was Quinn Iverson, who rode Bille Davidson's 13-year-old Beckham 19, by Benetton Dream, to 65.824% and third place individually to help hand silver to the U.S. team. It was the first time any of the American riders had represented their country.
"We're still quite a new partnership, and for him to just go out and still be as honest as he was in this weather, I was very happy with him," said Iverson, who was riding in her third-ever CDI and at only the fourth show on this horse. "It was a really big honor to be able to do it on such a big stage with the team."
Her teammate Nicole Scarpino, 23, who scored 63.676% on her own 15-year-old Lambada 224, said: "I've had my mare since the junior division, and we've come up the levels together, so we're still both a bit green at this level. But I was super happy with how much energy she brought to the test, even with the weather. We also had some miscommunication in our one-tempis, but I'm very happy how she handled the atmosphere and the weather, and I'm grateful to be here."
The U.S. fielded a third rider, Kaylee Christensen, from Michigan. The 23-year-old piloted Chateau 28, by Catoki, to 58.353% with a tricky ride.
"Unfortunately, my horse got his tongue over the bit today," she explained. "Sometimes there's nothing you can do, but I'm still really proud of him. He still tried his heart out in this really difficult weather for him. We're from Michigan, so we're not really used to this. But I'm still grateful to be here and part of this team."
At the half-way point of the two days of team competition in the Stillpoint Farm FEI Nations Cup CDIO3*, team Germany leads the way. The format at this show allows teams to combine small tour and grand prix combinations, with the latter garnering a 1.5% bonus for the more difficult test.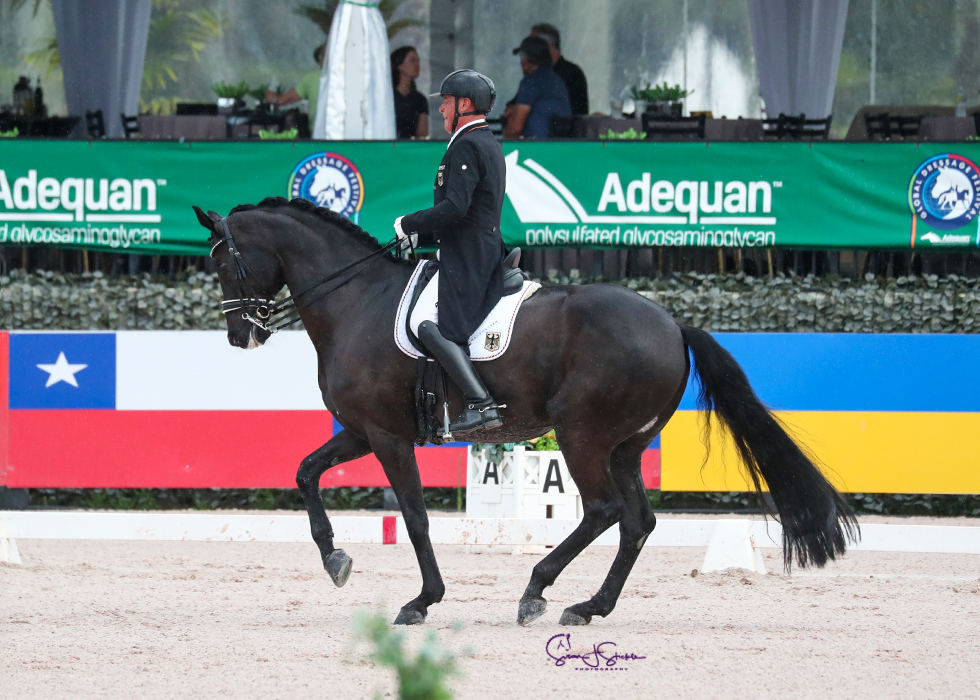 With all teams having posted four results, Germany is leading the U.S. with 217.204 points to 215.419. Canada is in third with 203.891 points.
Thursday's action included Prix St. Georges and Grand Prix, with small tour riders progressing to the Intermediate I test on Friday, and the big tour riders tackling the Grand Prix Special, after which the team medals will be awarded.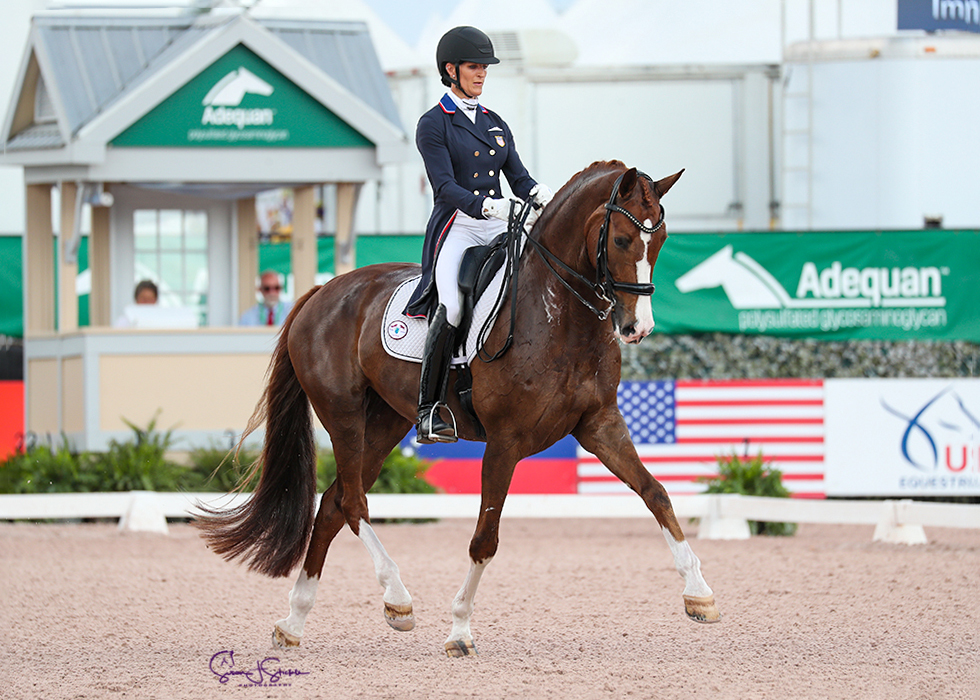 Germany's top three scores were over 72%. The team's two big tour combinations filled the top two spots individually in the Grand Prix CDIO3*, sponsored by Stillpoint Farm. Michael Klimke pulled off a new personal best with Harmony's Sanrino RHP of 71.152% (72.652% including the bonus) and Christoph Koschel on Dünensee slotted into second with 71.022% (72.522% including the bonus). Katie Duerrhammer claimed third with 70.152% (71.652% including the bonus) riding Quartett, keeping the U.S. team in striking distance of the gold.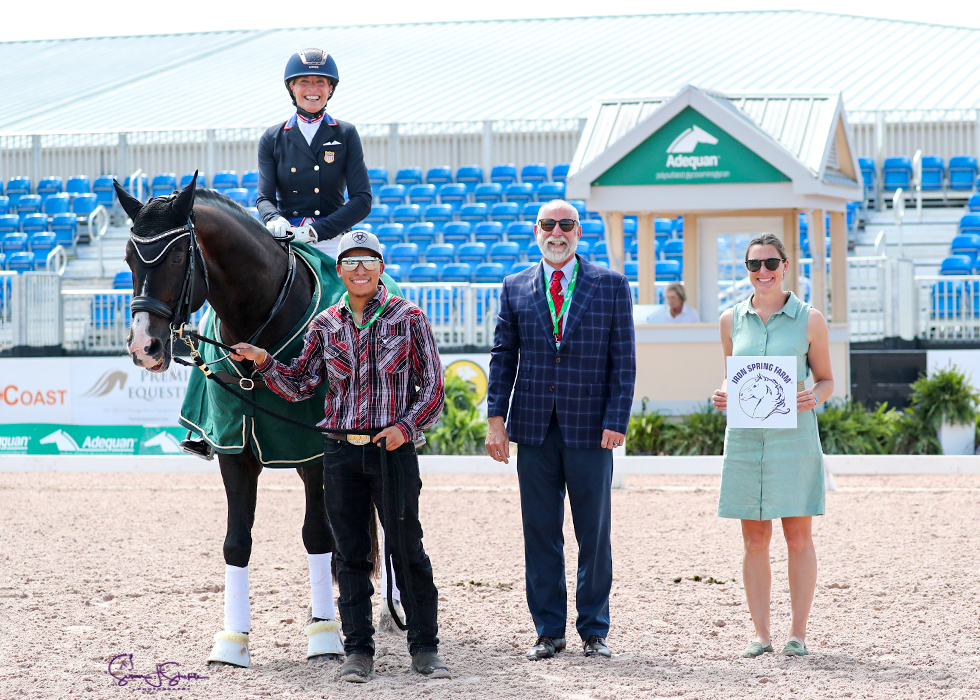 In the Prix St. Georges CDIO3*, sponsored by Stillpoint Farm, Bianca Berktold (USA) led the way with a commanding 72.441% on Imperial. Frederic Wandres (GER) clinched second with Dolciario, with his compatriot Lars Ligus filling third on Soccer City.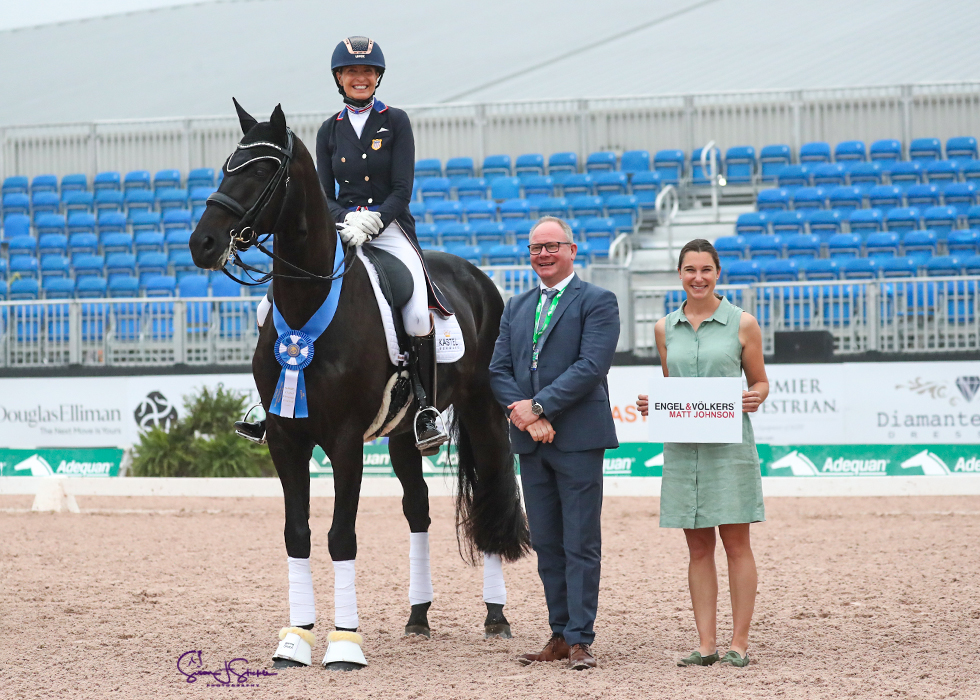 It was a day replete with blue winner's sashes for the Danish-born U.S. rider Charlotte Jorst. Not only did she win the Grand Prix CDI3* (for Special), presented by Iron Spring Farm, but she also captured the CDI3* FEI Prix St. Georges, presented by REALTOR® – Matt Johnson, with Zhaplin Langholt.
In the grand prix, she rode the 19-year-old Kastel's Nintendo to 72.326% to edge out Alice Tarjan (USA) on her own nine-year-old Sir Donnerhall mare, Serenade MF, who scored 71.348%. Japan's Kiichi Harada posted a new personal best with Sir Galanto of 69.696% to claim third place. Kastel's Nintendo was the oldest of the 15 starters and this is his ninth year at the level in what will be his final season before semi-retirement.
Jorst's small tour ride, the Glock's Zonik N.O.P. son Zhaplin Langholt, garnered many eights for his trot work, culminating in a unanimous win with 72.382% from first draw. Canada's Belinda Trussell was second in the Prix St. Georges with 67.883% riding Insterlana NRW. America's Rebecca Waite filled third with 65.912% on Beirholms Eclaire.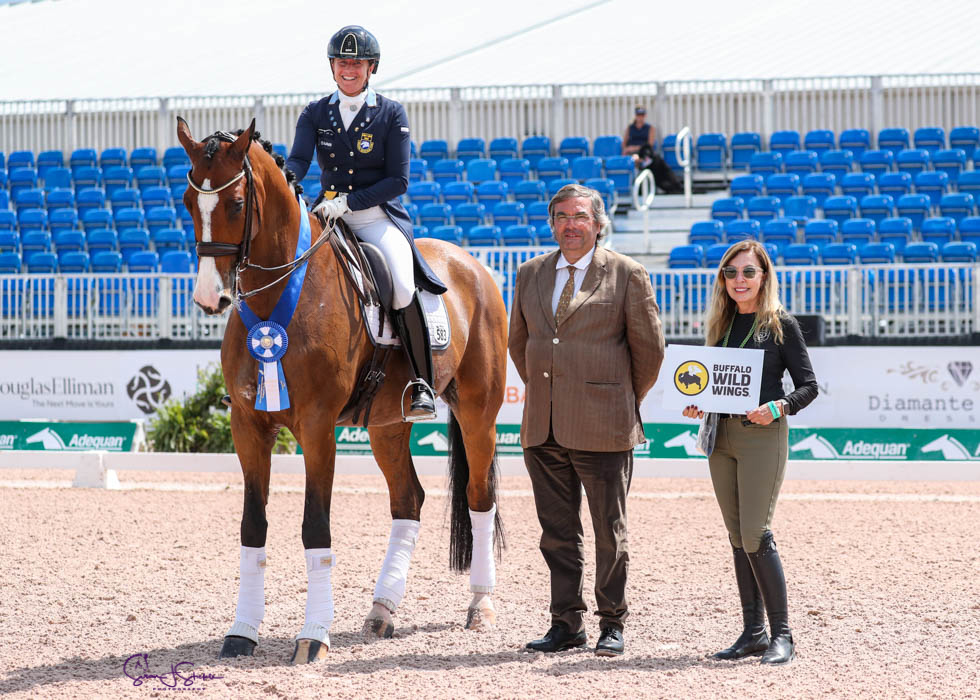 Tinne Vilhelmson Silfvén rode her newest grand prix horse, Devanto, to a career-high score for the 13-year-old Holsteiner. The seven-time Swedish Olympian laid down 71.522% in the Grand Prix CDI3* (for Freestyle), presented by Buffalo Wild Wings, topping the class of 11 starters and picking up $70,000 in prize-money. The Dominican Republic's Yvonne Losos de Muñiz claimed second with Aquamarijn (70.978%), before the pair head to Germany for the World Cup Final in April. Alice Tarjan picked up another podium placing, finishing third with Donatella M on another plus-70% score (70.456%).
Dressage resumes on Friday, March 18, with a jam-packed day and evening of individual and senior team competition. "Friday Night Stars" in the evening under the lights features the Grand Prix Freestyle CDI3* to music, presented by Buffalo Wild Wings. Daytime action features the conclusion of the Stillpoint Farm FEI Nations Cup CDIO3*, as well as small tour, juniors, young riders, and a Grand Prix CDIO-U25 for individual medals. For more information and results, visit www.globaldressagefestival.com.
Results: Intermediate II 16-25 CDIoi-U25, presented by Diamante Farms
Place, rider, nationality, horse, horse information: judge E%, judge H%, judge C%, judge M%, judge B%, final score
E, Michael Osinski (USA); H, Omar Zayrik (MEX); C, Mariette Sanders Van Gansewinkel (NED); M, Knut Danzberg (GER); B, Stephen Clarke (GBR)
1. Benjamin Ebeling (USA) on Status Royal OLD, Ann Romney's 12yo Oldenburg gelding by Statesman OLD: 69.853, 69.706, 70.588, 71.029, 71.471, 70.529
2. Camille Carier Bergeron (CAN) on Sound Of Silence 4, Gilles Bergeron's 14yo Westfalian gelding by San Amour I: 67.647, 67.5, 69.118, 66.029, 67.5, 67.559
3. Quinn Iverson (USA) on Beckham 19, Bille Davidson's 13yo Hanoverian gelding by Benetton Dream FRH: 64.706, 67.353, 64.265, 66.765, 66.029, 65.824
4. Vanessa Creech-Terauds (CAN) on Fleur de Lis L, Diane Creech & Louise Leatherdale's 13yo AHS mare by First Dance: 68.529, 63.529, 63.676, 65, 68.088, 65.764
5. Nicole Scarpino (USA) on Lambada 224, her own 15yo Hanoverian mare by Light And Easy: 63.529, 65.147, 62.647, 63.088, 63.971, 63.676
6. Kaylee Christensen (USA) on Chateau 28, Kate Christensen & Kaylee Christensen's 17yo Holsteiner gelding by Catoki: 58.088, 58.824, 58.235, 58.824, 57.794, 58.353