For Immediate Release
Alice Collins for Jennifer Wood Media, Inc.
Wellington, FL — February 9, 2018 — Laura Graves' brand new freestyle rocketed her and Verdades to the top of the list in the Grand Prix Freestyle CDI5*, presented by CaptiveOne Advisors. The 30-year-old American scooped the $35,400 winner's prize under the lights in week five of the Adequan® Global Dressage Festival (AGDF) at Palm Beach International Equestrian Center (PBIEC) in Wellington, Florida.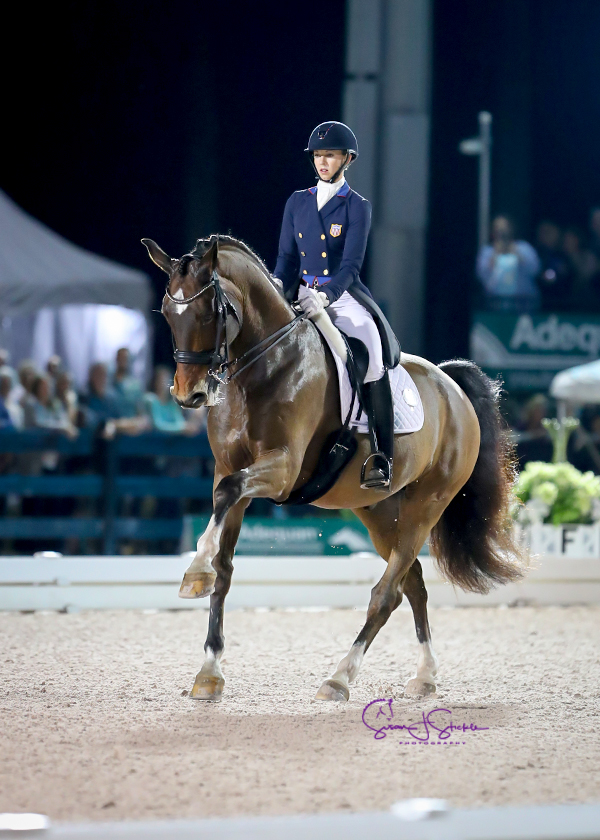 In front of a packed grandstand and VIP pavilions, Sweden's Tinne Vilhelmson-Silfvén was second, with local rider Shelly Francis climbing a place from the grand prix to finish third.
Graves said: "It was the first run-through of the new canter tour of our freestyle. Even though we're not using the new FEI floorplan creator here tonight, it's a big part of my preparation for the World Cup Final in Paris as it will be used in the final. We've actually taken away a bit of risk as the changes aren't off a curved line, because you actually don't gain as many points as you do for doubling up on the pirouettes, so it ended up being a little bit of a math equation.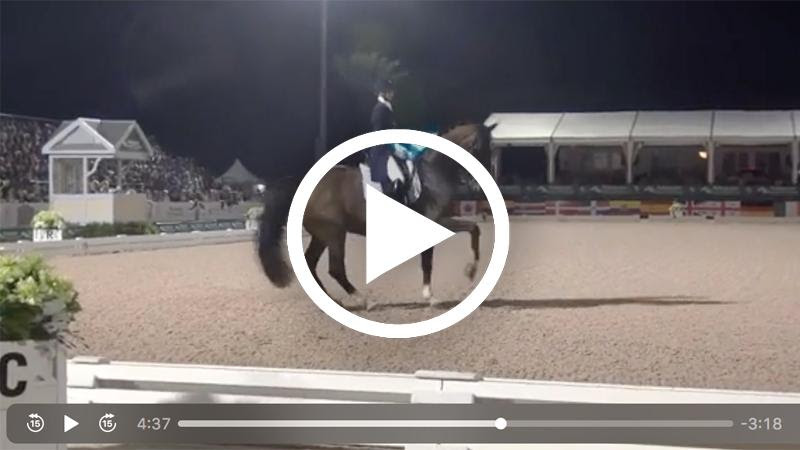 Watch Laura Graves' winning CDI5* freestyle test on Verdades. Courtesy of Richard's Equine Video.
"Big thanks to Terry Gallo who always steps in when I have a last minute 'great' idea. I couldn't do it without her and I was super pleased with how the music turned out. We have a couple of little tweaks to work on before our next performance at Global," she added.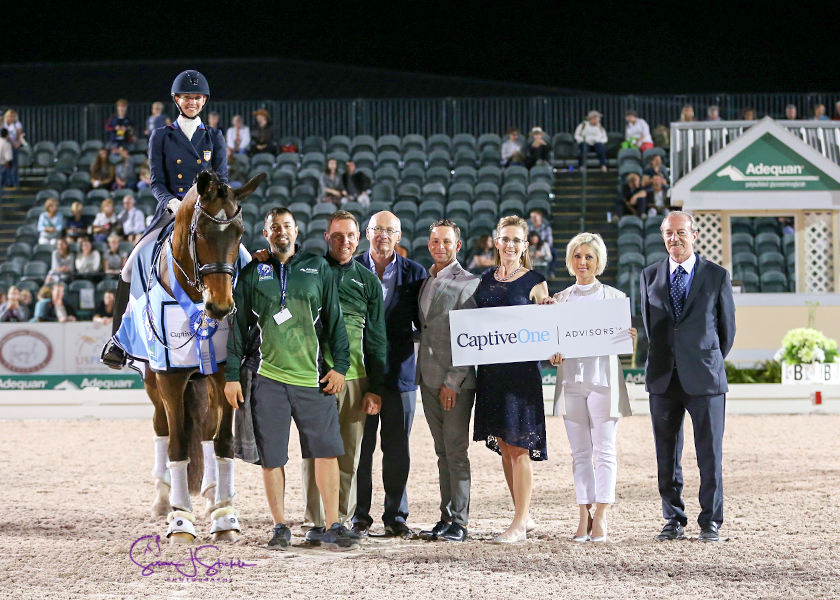 "For once all the judges were in agreement," said Enzo Truppa, the Italian judge at C. "I was particularly impressed by Laura's half-passes, and she got very high marks from me."
Graves and 16-year-old Verdades, who are ranked fourth in the world, scored  84.375%. That was just 0.3% lower than their winning score at the CDIW* AGDF show two weeks ago — quite a feat for a brand new freestyle that they had barely practiced.
"I had only actually ridden through it once at home, and that was for Terry to get the timing, so I need to do my homework a little better," she admitted.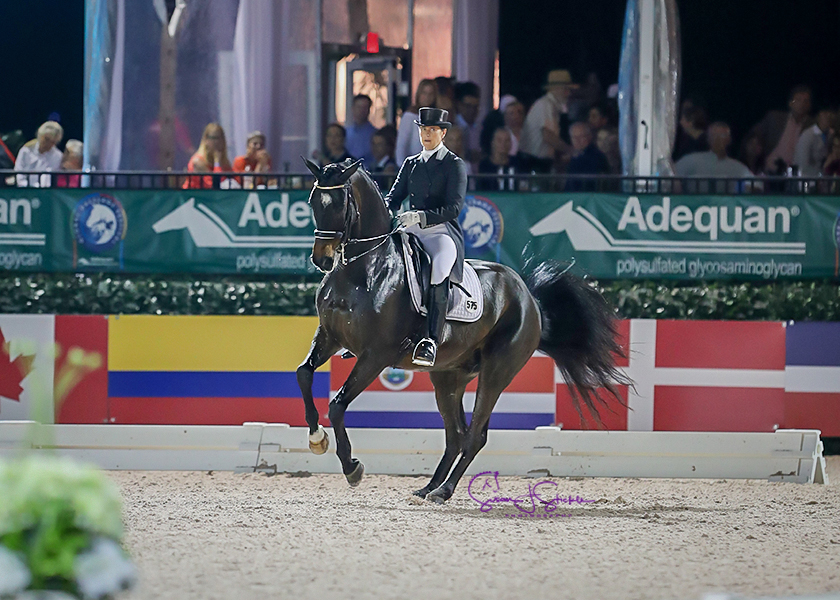 Second-placed Vilhelmson-Silfvén said of her ride, Lövsta Stuteri's 15-year-old Don Primero gelding: "There was quite an atmosphere tonight; it suits him very well to have that kind of surroundings, so he felt the best today that I've had him this season. I'm very happy."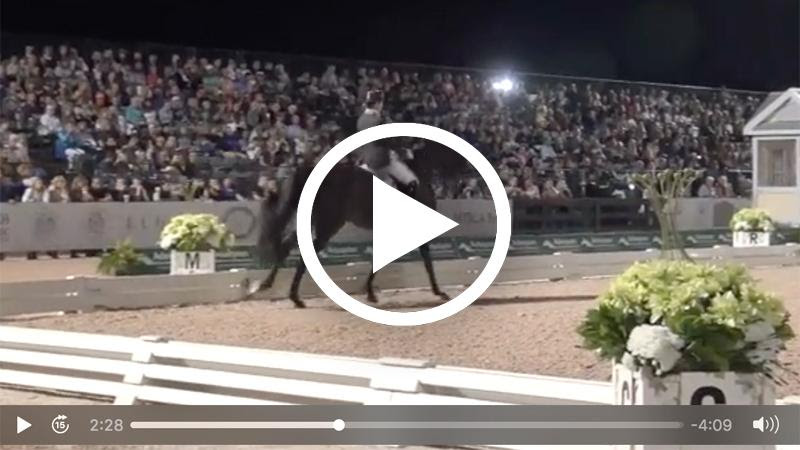 Francis' horse Doktor, Patricia Stempel's 15-year-old by Diamond Hit, was also lit up by the busy atmosphere: "He was sneezing and snorting when he realized he was doing the freestyle. Things smoothed out, but during a piaffe at one end, the audience started clapping, and I thought, 'Oh my God, please don't clap; he's frightened of clapping!' But we managed to keep it together. He was so full of energy, really bouncing off the ground."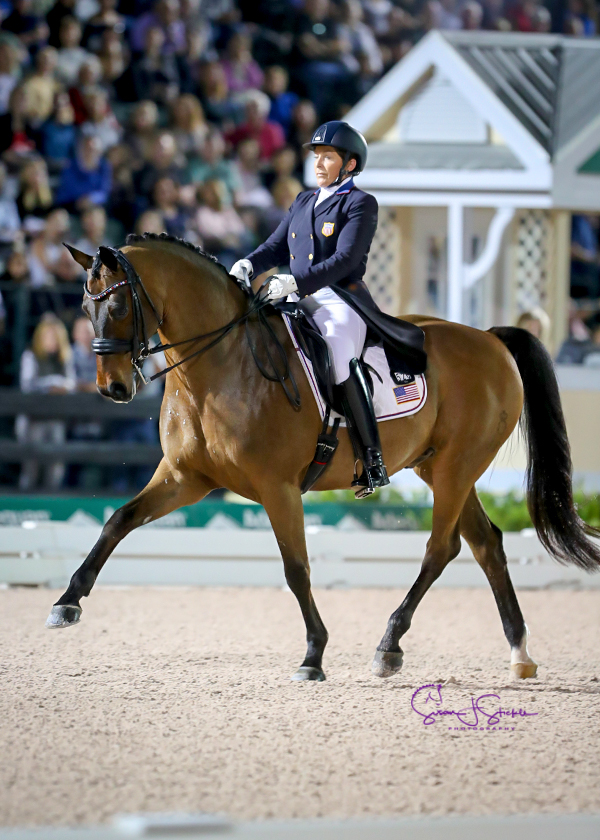 Allyn Mann of title sponsor Adequan® said: "It seems like a lifetime ago when the founding partners and Mark Bellissimo were thinking about how to bring dressage to this community, and I think this beautiful night is what that vision was. There was an unbelievable electricity, with all the people wanting to see the finest riders and horses."
Amanda S. Luby of class sponsor CaptiveOne Advisors added: "We are so thrilled to be a part of the ongoing evolution of the sports of dressage and showjumping. For a local business to be associated with the journey these athletes are on was extraordinary tonight."
In the Grand Prix Freestyle CDI3*, presented by Wellington Equestrian Realty, Dominican Republic rider Yvonne Losos de Muñiz proved that her grand prix win on Foco Loco W was no fluke. On her own 13-year-old Belgian warmblood gelding by Sierappel, she won the class with 74.35% — including a high score of 77% from the U.S. judge, Janet Foy.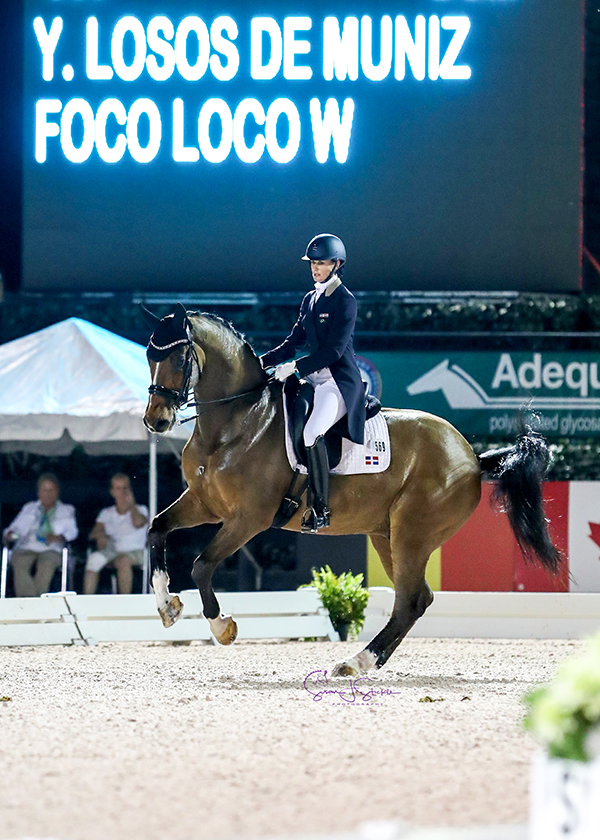 "To be honest, I'm a bit speechless still. I'm still trying to soak it all in. It's been going so incredibly," she said. "Two weeks ago I did well with him, and to come back and repeat it and get a little better is just fantastic. I really have no words."
Losos de Muñiz rode to music put together by Canadian Karen Robinson.
"Tonight I was able, especially in the trot, to really hit the cues. I came in and sat back and he came up in front of me, and I said, 'OK, here we go'. He floated around and felt fabulous. The music is really strong, but he is such a big horse that he can carry the music no problem."
Spain's young talent Juan Matute Guimon finished second on Don Diego Ymas (73.4%), with Canada's Megan Lane filling third on San D'Or with 71.85%.
Of the 18 starters in the Prix St Georges CDI1*, it was Great Britain's Susan Pape and the expressive and uphill Harmony's Eclectisch who nosed ahead with 71.029%. Each of the five judges awarded the pair over 70%. The nine-year-old KWPN stallion by Zenon have taken their small tour classes by storm this season, winning all three of his tests so far at AGDF.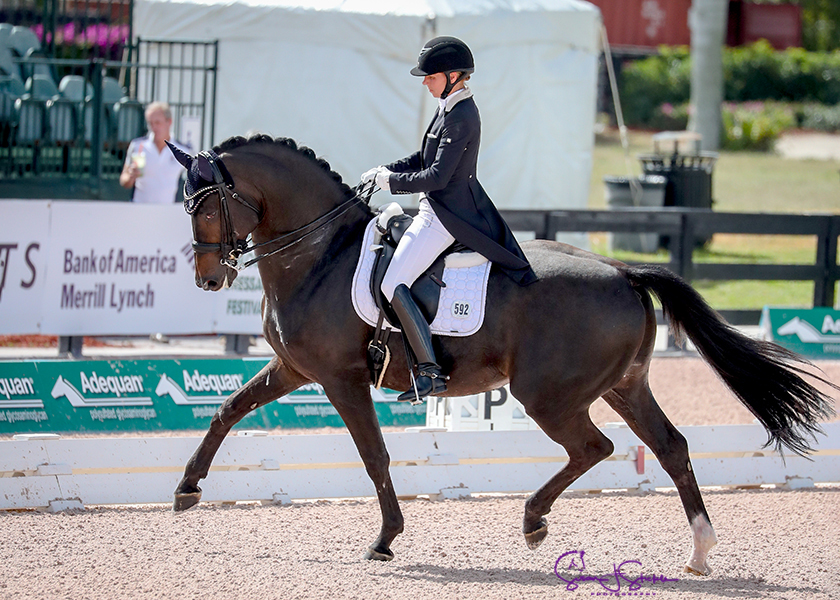 The star-studded fifth week of the 2018 AGDF continues on Saturday with seven CDI classes, including junior, young rider and amateur divisions, as well as the showcase class, the Grand Prix Special CDI5*, which kicks off at 10am. The 12-week circuit continues through March 31 at the Palm Beach International Equestrian Center.
Results
Place, rider, nationality, horse, horse information: judge E%, judge H%, judge C%, judge M%, judge B%, total
FEI Grand Prix Freestyle CDI5*, presented by CaptiveOne Advisors
E, Mariette Sanders van Gansewinkel (NED); H, Hans-Christian Matthiesen (DEN); C, Vincenzo Truppa (ITA); M, Katrina Wuest (GER) B, Janet Foy (USA)
Laura Graves (USA) on Verdades, her own and Curt Maes' 16yo KWPN gelding by Florett As x Goya: 86.625, 85.375, 85.5, 81.75, 82.625, 84.375%.
Tinne Vilhelmson Silfven (SWE) on Paridon Magi, Lövsta Stuteri's 15yo Swedish warmblood gelding by Don Primero x Napoleon 625: 80.125, 78.75, 73.75, 78.125, 81.75, 78.5%.
Shelly Francis (USA) on Doktor, Patricia Stempel's 15yo Oldenburg gelding by Diamond Hit x Renoir I: 74.875, 75.125, 71.5, 74.75, 74. 5, 74.15%.
Ashley Holzer (USA) on Havanna 145, Diane Fellows' 11yo Hanoverian mare by Hochadel x Rodgau: 76.5, 73.25, 71.25, 73.875, 74.125, 73.8%.
Chase Hickok (USA) on Sagacious HF, Hyperion Farm Inc.'s 19yo KWPN gelding by Welt Hit II x Cocktail: 73.375, 72.125, 70.25, 71.25, 72.375, 71.875%.
J. Rizvi (USA) on Breaking Dawn, her own 17yo KWPN gelding by Akribori x Ronald: 68.75, 69.5, 70.125, 72.625, 69.875, 70.175%.
Yvonne Losos de Muñiz (DOM) on Aquamarijn, her own 13yo KWPN mare by United x Gribaldi: 67.25, 67.5, 68.875, 64.875, 68.5, 67.4%.
FEI Grand Prix Freestyle CDI3*, presented by Wellington Equestrian Realty
E, William Warren (USA); H, Janet Foy (USA); C, Susan Hoevenaars (AUS); M, Vincenzo Truppa (ITA); B, Ulrike Nivelle (GER)
Yvonne Losos de Muñiz (DOM) on Foco Loco W, her own 13yo Belgian warmblood gelding by Sierappel x Wendekreis: 74, 77, 74.75, 73.375, 72.625, 74.35%.
Juan Matute Guimon (ESP) on Don Diego Ymas, Juan F Matute's 15yo Hanoverian gelding by Don Frederico x Wolkenstein II: 71.75, 73.75, 74.375, 73.5, 73.625, 73.4%.
Megan Lane (CAN) on San D'Or, Deer Ridge Equestrian's 12yo Westfalian gelding by Sandro Hit x Cocktail: 70.375, 74.25, 72.25, 71.875, 70.5, 71.85%.
Beatrice Marienau (USA) on Stefano 8, her own 19yo KWPN gelding by Gribaldi x Actueel: 70.125, 72.25, 71.25, 69.125, 70.875, 70.725%.
Tina Irwin (CAN) on Laurencio, her own 11yo Oldenburg gelding by Laurentio x Donnerhall: 70.375, 65.75, 68.5, 68.375, 70.5, 68.7%.
Karen Lipp (USA) on Whitney, Kathleen Oldford's Hanoverian mare by White Star x Grand Cru: 66.5, 69.625, 69, 64.375, 67.5, 67.4%.
Ariana Chia (CAN) on Teo, her own 19yo KWPN gelding by Democrat x Uniform: 66.375, 67.25, 69.25, 67, 65.75, 67.125%.
Sahar Daniel Hirosh (ISR) on Whitman, Jane Suwalsky's 15yo KWPN gelding by Rhodium x Saluut: 66.625, 69.5, 65.25, 63.375, 67.75, 66.5%.
Photo Credit: ©SusanJStickle. These images may only be used in relation to
this press release and with credit.