The first "Friday Night Stars" evening of musical freestyle action during the 2023 Adequan® Global Dressage Festival (AGDF) in Wellington, FL, lived up to its stellar billing despite unseasonably chilly temperatures.
The week's highlight class, the FEI World Cup™ Grand Prix Freestyle, presented by Lövsta Stuteri, produced top class dressage, personal bests on the podium and a winning score of over 83%. AGDF, which hosts seven weeks of CDI competition, runs through March 31.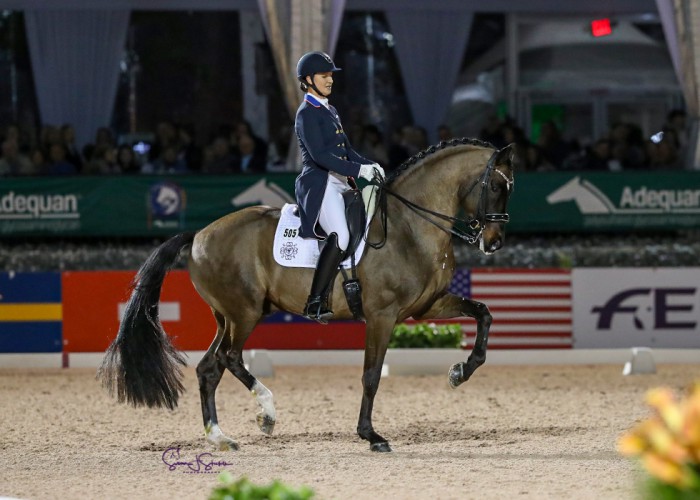 Adrienne Lyle (USA) and the 16-year-old stallion Salvino made it two for two in the Lloyd Landkamer Memorial week when they scooped the blue ribbon with 83.54% for a harmonious test brimming with expression and power. Lyle and Betsy Juliano's Sandro Hit x Donnerhall son topped the previous day's qualifying Grand Prix with 77.5%. In the freestyle, second placed Sarah Tubman (USA) kicked off her Wellington season with a personal best of 78.25% on another stallion, the 13-year-old First Apple, while third placed Caroline Darcourt (SWE) and Lord Django contested their first Grand Prix freestyle and pulled out a 78.17% performance.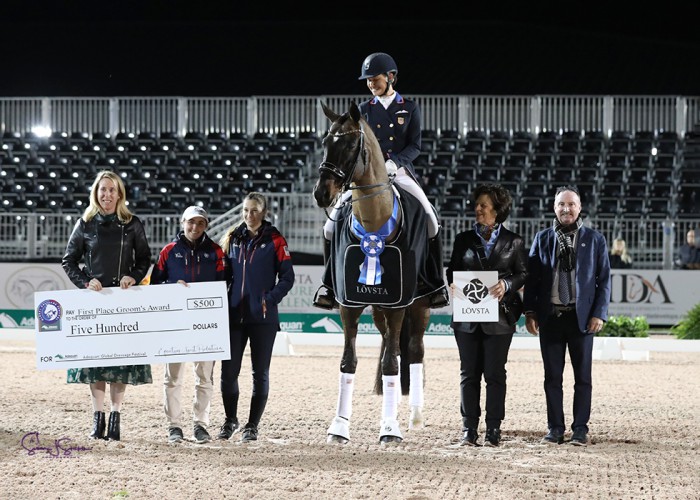 Lyle is chasing down one of three starting places allocated to North America for the FEI World Cup™ Final in Omaha, NE, in April. Her top score of 86% came courtesy of the Dutch five-star judge at H, Mariette Sanders- van Gansewinkel.
Of her performance, Lyle said, "I'm super thrilled to be here again at this amazing venue and I was happy to see how packed it was despite this cold weather. Salvino felt great — he was fiery and very excited to be here.
"We did most of the things on my terms, and some of the things on his terms — but like any good relationship it's all about compromise, and he feels great," added Lyle of Salvino, whom she rode on the silver medal USA team at the Tokyo Olympics.
"We were fortunate to have the World Cup qualifier in December under our belt [which they won with 85.015%], so this was the second of three that we have to try and do," added Lyle, who is 38. "He doesn't do a whole lot in between shows; he knows his job now so we just keep him happy and healthy and fit."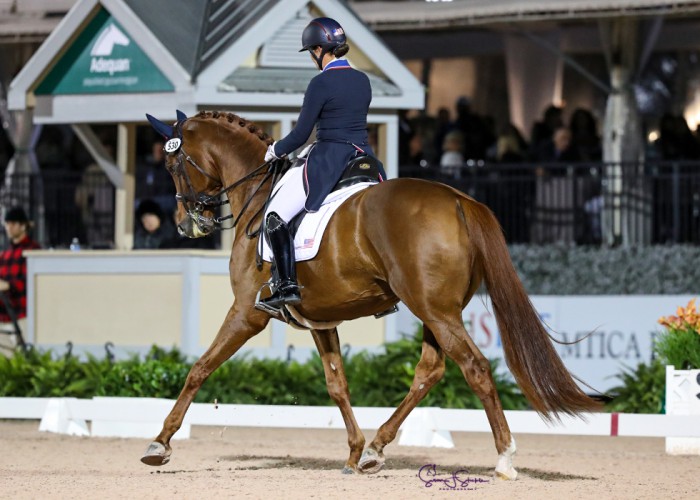 Tubman was proud of Summit Farm's First Apple, and the pair have been on quite a journey. They picked up individual and freestyle gold medals at small tour at the 2019 Pan American Games and he is the first horse she has competed at international grand prix level.
"We have come a long way and we just continue to try to improve. I'm learning a lot on a fabulous horse," said Tubman, who is coached by her husband Lee Tubman.
"There's really nothing like riding on our home turf with such a big crowd," she enthused. "It's a great, electric atmosphere and my horse absolutely loves the crowd and the energy that this ring brings. We need to practice with this kind of electricity, and it's fun. We're really lucky to have this facility seven minutes away from our stable."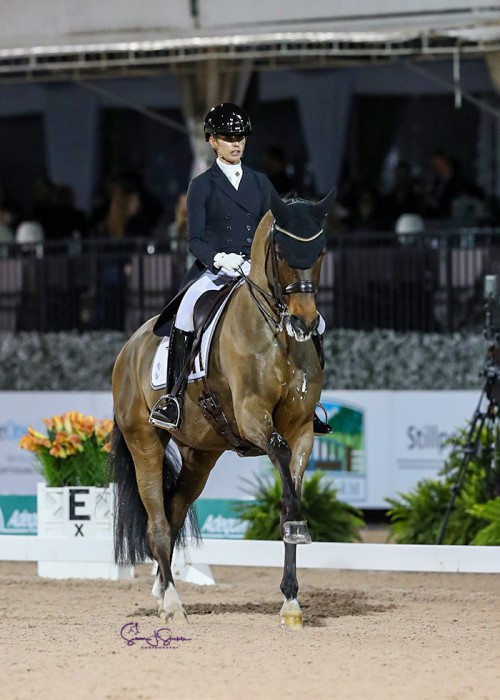 Swedish rider Caroline Darcourt was last to go riding a brand-new freestyle. But their performance belied their inexperience, and Lövsta Stuteri's 13-year-old gelding Lord Django (Stalypso x Londonderry) put in an assured performance to demote Anna Marek and Fire Fly to fourth place.
"I'm over the moon for this whole show," said Darcourt, who broke the 70% barrier in the Grand Prix for the first time on 'DJ' the previous day. "He did his first freestyle tonight. We just made it this week and this [result] was more than I could have hoped for."
Darcourt, who has worked for the class sponsor — Lövsta Stuteri — for 20 years, added, "The possibility to ride at shows like this so far from home and bring the horses is just amazing. My feeling with DJ is that he would love to do more freestyles."
Owner and class sponsor Antonia Ax:son Johnson added, "We have been coming here for around 13 years and there is no place like Wellington. These shows give us the energy and enthusiasm to believe in dressage. This really is a place that attracts the best riders. There's nothing more magic than watching dressage."
Judge at C William Warren had some trepidation about the weather conditions before the class started, saying, "Before we started the evening I wondered how this would turn out because suddenly it didn't feel like we are in Florida," he explained. "The temperature plummeted, and horses can be horses so I didn't know how things would go for the riders tonight, but they all pulled it off beautifully."
Frederic Wandres Earns Career High Score
Earlier in the day, the 35-year-old German rider Frederic Wandres rode Hot Hit OLD to a career high score in the CDI3* FEI Grand Prix, presented by Barnwalkers — the qualifier for Saturday's Grand Prix Special. All five judges placed the pair first, awarding 75.348% overall, improving on their previous best by over 1%.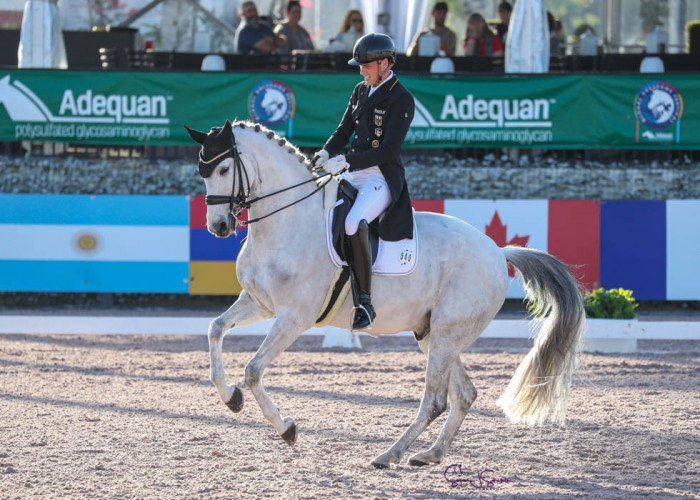 "The consistency of the test today was the winning thing," said Wandres. "He had not been out since August so he has had a bit of a break, but he came back very good and my feeling was strong.
"To start the season here in Wellington with a personal best is super and we are looking forward to what's coming next," added Wandres, who also scooped a personal best in week one's "Friday Night Stars" at last year's show on another of his Grand Prix horses, Bluetooth OLD.
Wandres has ridden Hot Hit at Hof Kasselmann, where he works, since the grey gelding by Blue Hors Hotline x Diamond Hit was six. The now 12-year-old already has an impressive resume, and this victory took his unbeaten streak to five.
"We are very happy about him — he is our unicorn," grinned Wandres. "It's always good to have a white one in the stable. He's in our hearts and I feel he gives his best in the arena."
It was a high-quality contest in the CDI1* FEI Intermediate I, presented by Harmony Sporthorses, with the top four combinations all scoring north of 71%. Susan Pape (GBR) clinched the top spot, riding Harmony's V-Plus to 72.941% in the nine-year-old's debut at the level.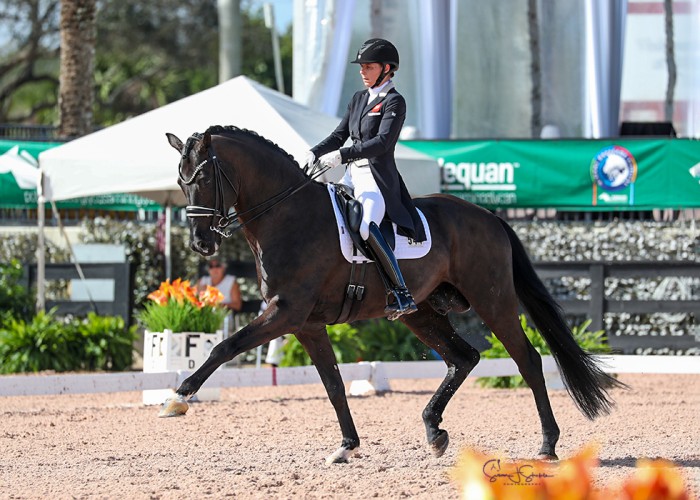 "It was his first so I wasn't really sure what was going to happen," said the 61-year-old Pape, who is competing at AGDF for the eighth time. "His trot work is really good and he has a very good walk. The canter was maybe a little bit insecure because he didn't really know what was going on, but he did everything so beautifully and really listened to me."
The stallion by Vivaldi x Fürst Romancier was bought as a rising five-year-old by Harmony Sporthorses from the PSI auction, and he now combines competing with stud duties. Pape may try a middle tour test in the national ring before she leaves to go home to Germany in early March.