Though the fun and excitement of the 2023 Adequan® Global Dressage Festival (AGDF) is still lingering, the team invites you to Save the Date for the return of the 2024 season!
The 2024 AGDF will operate from January 10 through March 27, 2024. The horse show will feature ten weeks of national and international dressage competition, providing locals numerous opportunities to meet and interact with many of the sport's top competitors. Friday Night Stars is the highlight of the weekly dressage competition at AGDF, offered on select Fridays throughout the festival. Friday Night Stars features a Grand Prix Freestyle, illustrating the highest level of difficulty in the sport. Accomplished riders and their mounts perform technical movements in sync with songs of their choice under the lights. Whether you are a dressage fanatic or new to the sport, you are sure to be drawn to the thrills and excitements of the evening event.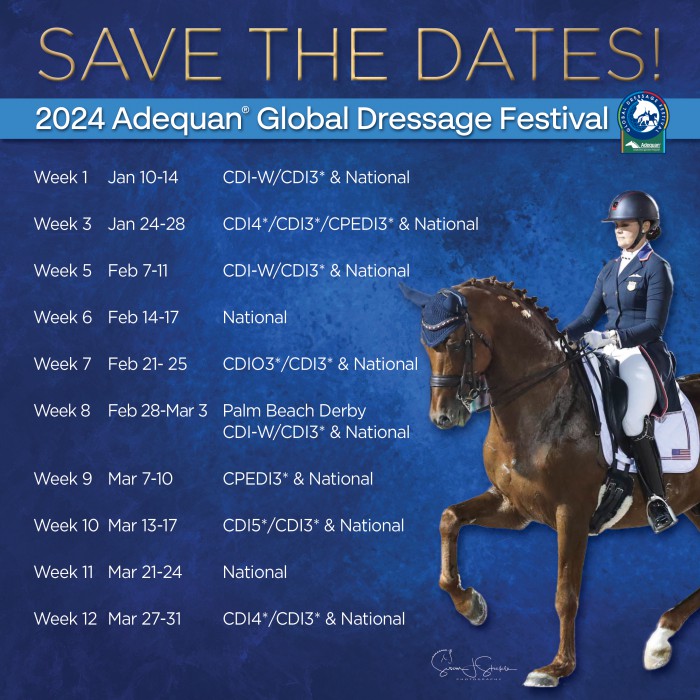 Back for the third winter season in a row, week 10 of dressage competition will be held down the street from AGDF at Wellington International. Dressage was first introduced to the acclaimed International Arena during the 2022 AGDF and will return to the Wellington International facility due to high demand. Week 10 will take place from March 13 through March 17, 2024.
Weekly dates for the 2024 Adequan® Global Dressage Festival are noted below and subject to change pending FEI and USEF approval. Stay tuned for more detailed information regarding Friday Night Stars and other exciting events here.
Week 1
Jan 10-14 CDI-W/CDI3* and National
Week 3
Jan 24-28 CDI4*/CDI3*/CPEDI3* and National
Week 5
Feb 7-11 CDI-W/CDI3* and National
Week 6
Feb 14-17 National
Week 7
Feb 21- 25 CDIO3*/CDI3* and National
Week 8
Feb 28-Mar 3 Palm Beach Derby CDI-W/CDI3* and National
Week 9
Mar 7-10 CPEDI3* and National
Week 10
Mar 13-17 CDI5*/CDI3* and National
Week 11
Mar 21-24 National
Week 12
Mar 27-31 CDI4*/CDI3* and National