For Immediate Release
Deirdre Sullivan for Jennifer Wood Media, Inc.
Wellington, FL – March 15, 2019 – The "Friday Night Stars" shined during Week 10 of the Adequan® Global Dressage Festival (AGDF). The night featured the FEI Grand Prix Freestyle 16-25 CDIO-U25 presented by Diamante Farms and the FEI Grand Prix Freestyle CDIO3* presented by Stillpoint Farm. Spectators enjoyed a great evening of freestyles and the presentation of the FEI Nations Cup™ CDIO3* team medals. AGDF 10 wraps up on Sunday, March 17, and the circuit continues through March 31.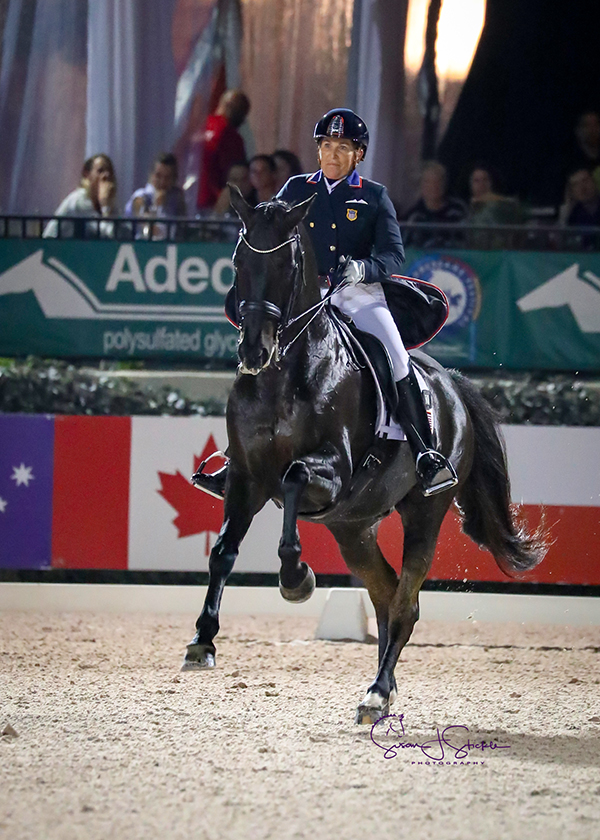 Shelly Francis (USA) and Danilo received the gold medal in the FEI Grand Prix Freestyle CDIO3* presented by Stillpoint Farm. The pair broke eighty-one percent with a score of 81.840%. "I've been making personal best the last three or four shows in a row. I'm kind of excited," said Francis of her season with the 15-year-old Hanoverian gelding by DeNiro x Annabella owned by Patricia Stempel.
Francis's music especially draws in the crowd at her last centerline. She commented, "I think at that point he's already ready to make that piaffe and passage up the center line at the end. When the crowd starts clapping and cheering he starts doing a little more. I just sit there and try to turn real careful in that pirouette, because he's already so active and going. It feels awesome, and in that last bit of passage he feels on fire with feather-like control. The crowd picks him up a little and they pick me up. He likes this freestyle."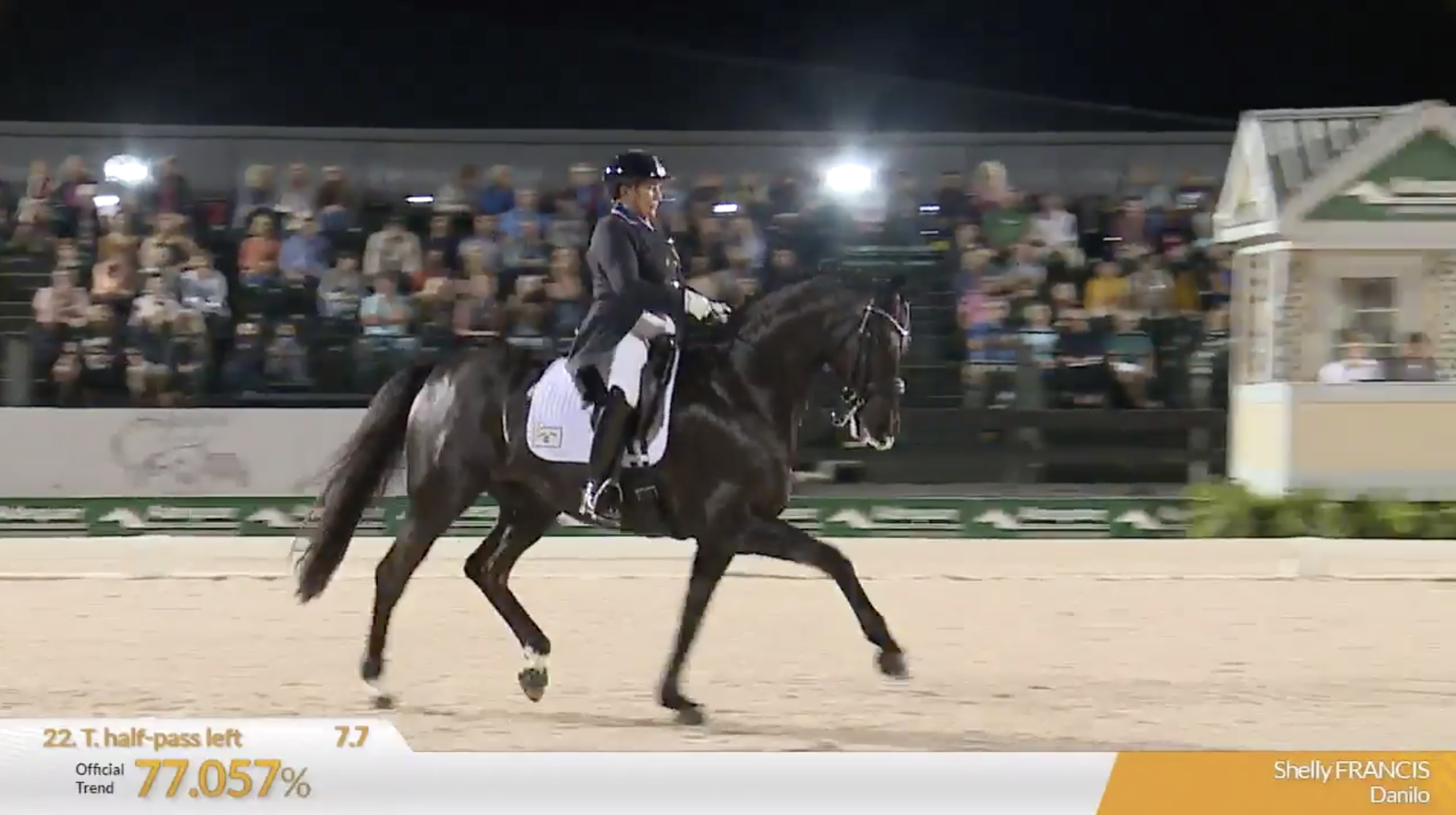 Watch Shelly's winning freestyle!
The silver medal went to Yvonne Losos De Muniz (DOM) and her partner Aquamarijn, a 14-year-old KWPN mare by United Dam, with a score of 75.240%. "I'm still in shock from the last one [freestyle] I did. She doesn't usually at all go like that," commented De Muniz on her mare's strong performance. "She's just really come around and I have control. It's kind of a neat thing to have with her because I'm usually hanging on for dear life. It's kind of nice to have the control now, and I have to learn how to really take advantage of it."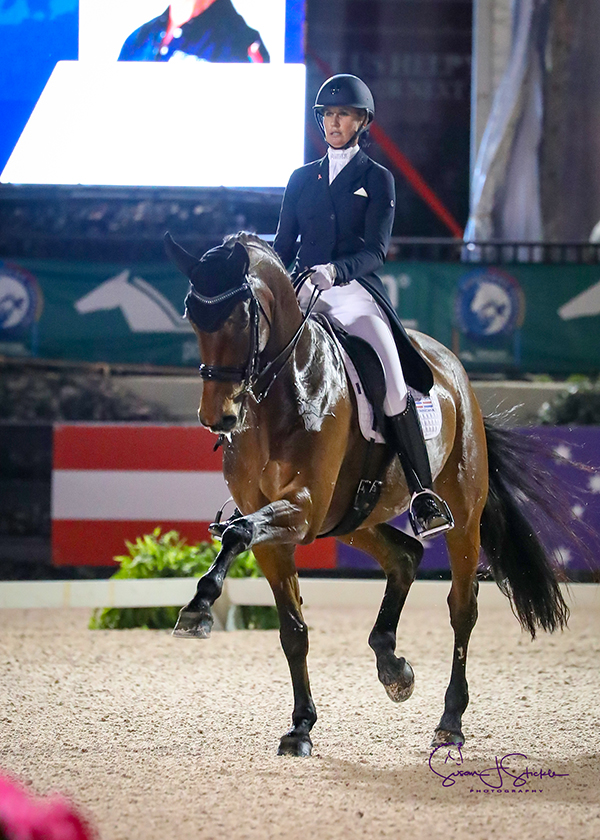 Charlotte Jorst (USA) and Kastel's Nintendo secured the bronze medal with a score of 75.200%. "This was a brand-new freestyle for me, and I've never ridden it before, even in training. It was super fun to be out there and try it with Nintendo," said Jorst of her freestyle test with the 16-year-old KWPN gelding by Negro owned by Kastel Denmark. "I executed to my own surprise the pirouette into the piaffe, and that was fantastic for me. Once I get it really dialed in, I think it's going to be such a fun freestyle. I can't wait to do it again."
The Spanish company Dressage and Music put together Jorst's freestyle. She commented, "I like music that is easily recognizable and that you can sing along with. For me, this was it. It has taken me a long time to figure out what music to use. I'm looking forward to perfecting it a little more, so it isn't so brand new. Now I'm going to go back and really work it."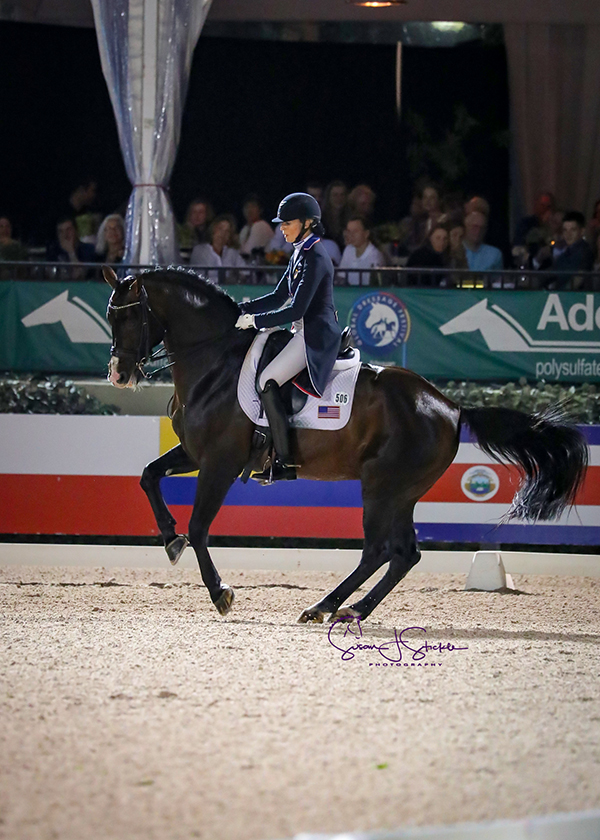 Tuny Page of Stillpoint Farm shared, "Stillpoint Farm locked into the Nations Cup [week] years ago [as sponsor] when it was the last show to get drawn. I was really glad for it, because I think it's a great concept. I love that Stillpoint, which is a very team-oriented farm, can be associated with it [the Nations Cup™]. I'm really proud to be associated with it, and I can't thank enough the team that all works together to make this great."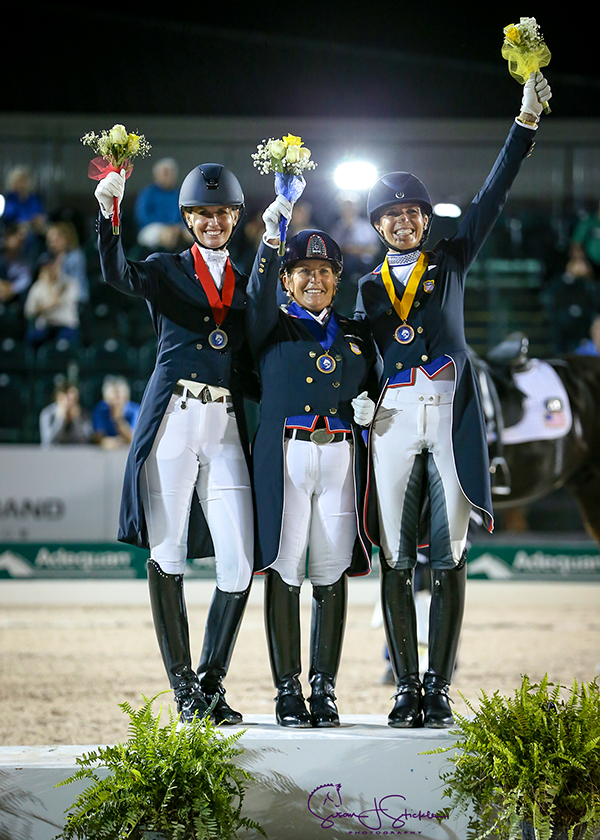 Judge at C, Janet Lee Foy, commented, "Thank you to all the sponsors and to Thomas [Baur] for putting on such a wonderful show. I have to say the degree of difficulty is always fun to use because something new always happens. When the kids [U25 riders] came out and rode such marvelous freestyles, my comment to my scribe was 'I don't know, these old people better step up to the plate because these kids are just riding like crazy tonight.' A few tonight didn't follow the degree of difficulty and then it's always confusing for us, but Shelly was like 'bang, bang.' It was so much fun. We were throwing out eights and nines and then more nines. The top three were so much fun to judge, and the quality is just amazing."
Allyn Mann of Adequn® noted, "We have been doing this alongside Tuny and enjoying this most amazing journey. Every year it's different, and every year we have wonderful riders, and beautiful horses, and judges that come alongside and make it a special evening. We are thrilled to be a part of it. Next year we will be here, and it will again be different, but it will be just as fun. These riders bring a level of exciting competition, and it is a blessing to be a part of this whole dressage world and have our small contribution to it."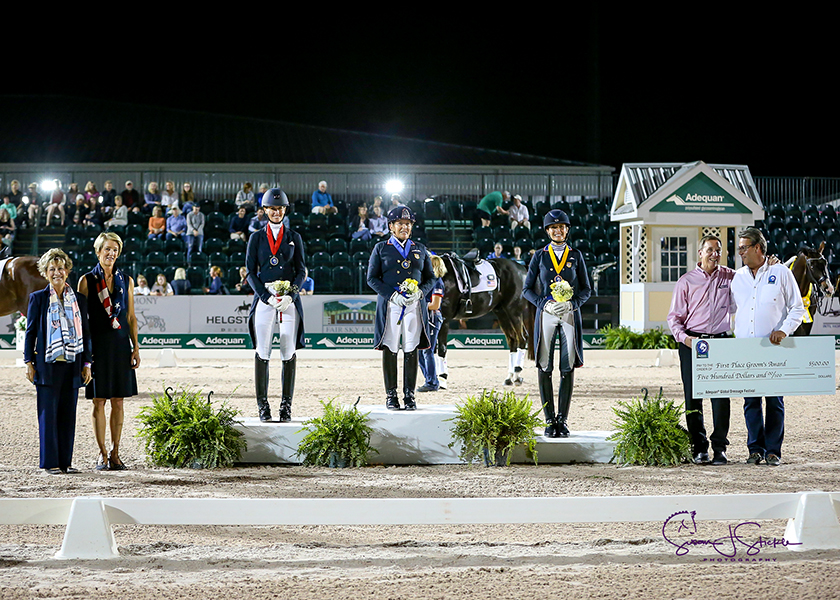 "We had a strong week with the CDIO U25 and CDIO3*, but there is still some room for improvement. I was very happy to have Mexico and Colombia here, and a team from Germany in their first time back in quite a while. But, still we can have more nations. I hope it will grow in the future," concluded Thomas Baur, Director of Sport at AGDF.
Tina Irwin and Laurencio Capture Gold in FEI Intermediate I Freestyle CDIO3* Presented by Stillpoint Farm
Tina Irwin (CAN) and Laurencio took the gold medal in the FEI Intermediate I Freestyle CDIO3* presented by Stillpoint Farm. The pair rode to a score of 74.460%. "He felt amazing all week in the warm-up," said Irwin of her 12-year-old Oldenburg gelding by Laurentio. "We just have to channel a little bit of that energy in the changes. Overall, he's pretty steady and consistent. I'm thrilled with the week I've had with him."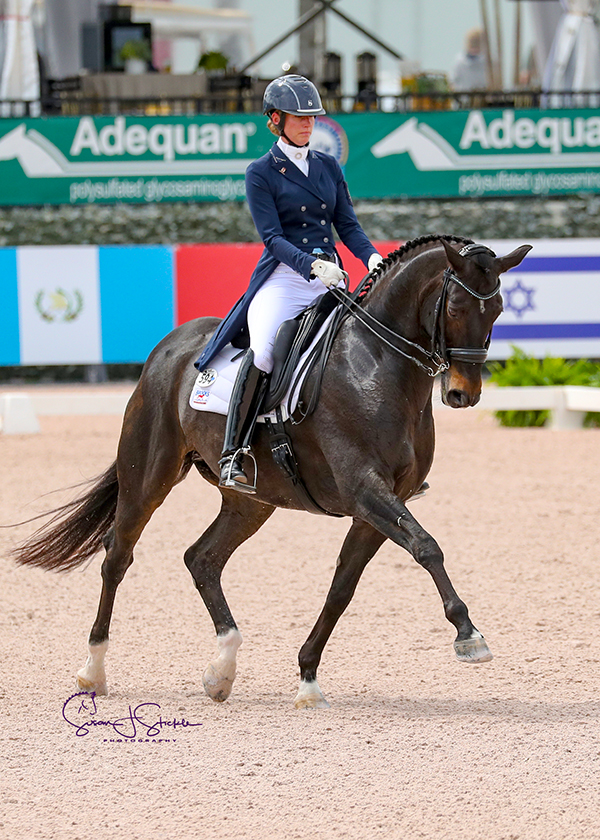 Laurencio is feeling good and looking for harder work. "Two years ago, I would start with two tempis down the centerline, and I was debating today whether to do that or not. I thought, 'Ah no, I'm just going to go safe'. Just before I halted he threw in a couple of one [tempis] again. Jaimey, my husband said, 'I think you've got to do those tempis because he's looking for some work on that centerline.' I think I'm definitely going to go back to that now. He's looking for more work, and I think he's an over-achiever."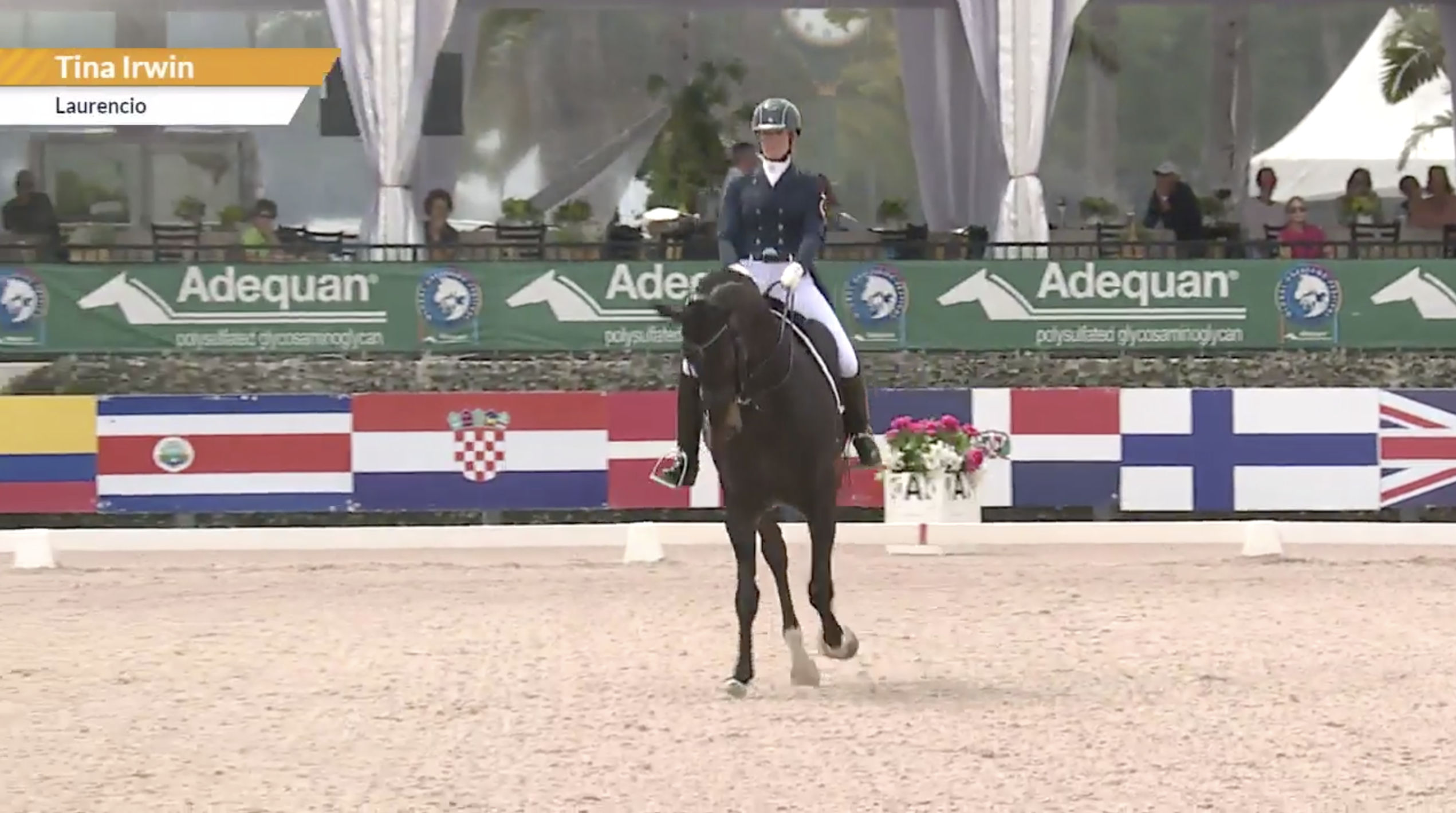 Click here to watch Tina Irwin's winning freestyle!
The silver medal went to Jennifer Baumert (USA) and Handsome with a score of 74.300%. "I actually was so happy with yesterday that I tried to keep my warm-up the same," said Baumert of the 14-year-old Hanoverian gelding by Hochadel. "To keep him sharp and make sure he was feeling good about himself.
"It's totally thrilling, and it's a total honor to be sitting here with these two incredible riders," continued Baumert. "I'm thankful to the [U.S. team] sponsor Tim Dutta and also thankful to my wonderful owner Betsy Juliano."
Ashley Holzer (USA) and Valentine rode to a score of 73.635% with their new freestyle and captured the bronze medal. "I love the new music, but the trot tour is tricky to be right on the music, right on the money, all the time," said Holzer of her new test with her nine-year-old Oldenburg mare by Sir Donnerhall. "My focus really was on getting the trot tour and nailing the trot tour, but maybe my focus should've been more on nailing the canter tour."
Valentine is very new to the CDI ring. The talented mare has only shown in 10 FEI classes, but she has won every single one. "She's green, and the fact that she goes in there shows how far she's come. Three days in a row for a young horse is a lot. I just have to be patient, work my canter, tell her where she's going, and I think she'll be great," concluded Holzer.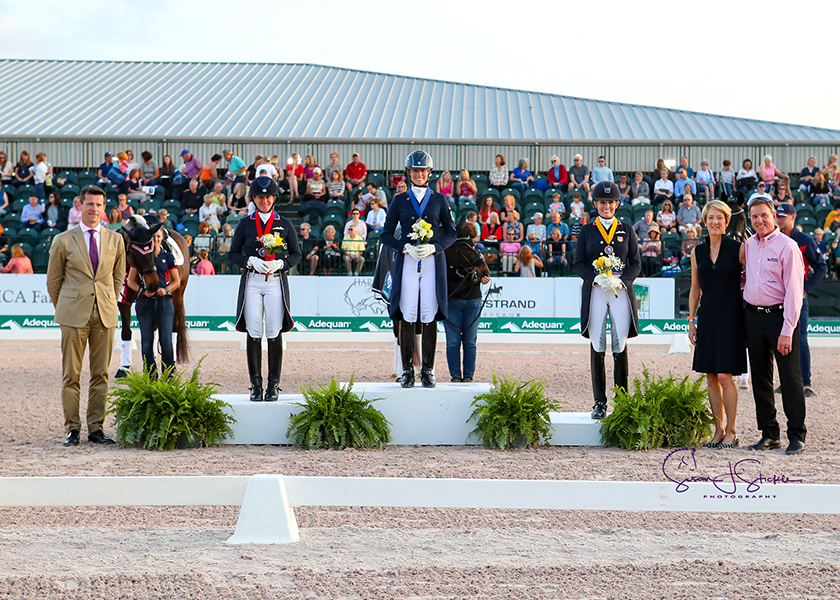 U-25 Riders Get Their First Experience Riding Under the Lights at AGDF
In the FEI Grand Prix Freestyle 16-25 CDIO-U25 presented by Diamante Farms, Lauren Asher (USA) and West Side took their third gold medal of the week. The pair rode to a score of 74.475%. "I don't think it's really sunk in," said Asher of her victory on the 16-year-old KWPN gelding by Florett AS. "It's a dream come true, and to actually have it become a reality is pretty crazy. It's a fantastic feeling. I'm really grateful to my whole team behind me."
Asher spoke to the great opportunity of riding in the U25 division. She said, "I think it's definitely different in U25 versus Young Riders. It's definitely on a bigger scale, especially to have the freestyle here tonight under the lights. It's a fantastic stepping stone."
Lauren action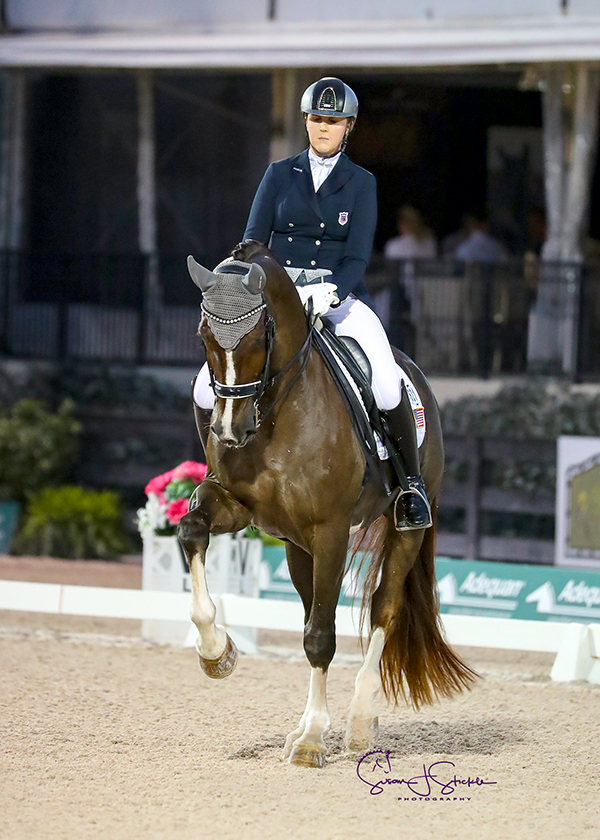 Kerrigan Gluch (USA) and Bolero CXLVIII captured the silver medal with a score of 71.700%. "This freestyle was originally not mine. I made some tweaks and made it my own," said Gluch of her test. "I tried to highlight the horse's strengths. I think the piaffe-passage is one of the horse's highlights. I tried to use that to my advantage a bit.
"I think overall the freestyle fits the horse really nicely; I think it has a good energy. I love the final centerline. It's my favorite part. It has tons of energy, and I think the crowd and the judges enjoy it a little bit more. It's an awesome feeling finishing on that," concluded Gluch.
Kerrigan action
The bronze medal went to Naima Moreira Laliberte (CAN) and I Do Kiss. The pair earned a score of 71.160%. "This year is my second time doing a freestyle [with I Do Kiss]," said Laliberte of the 13-year-old Swedish Warmblood gelding by French Kiss owned by KML S.A.R.L. "The little tweak of this year is the one tempi [with] one hand. That's fun to do."
Naima action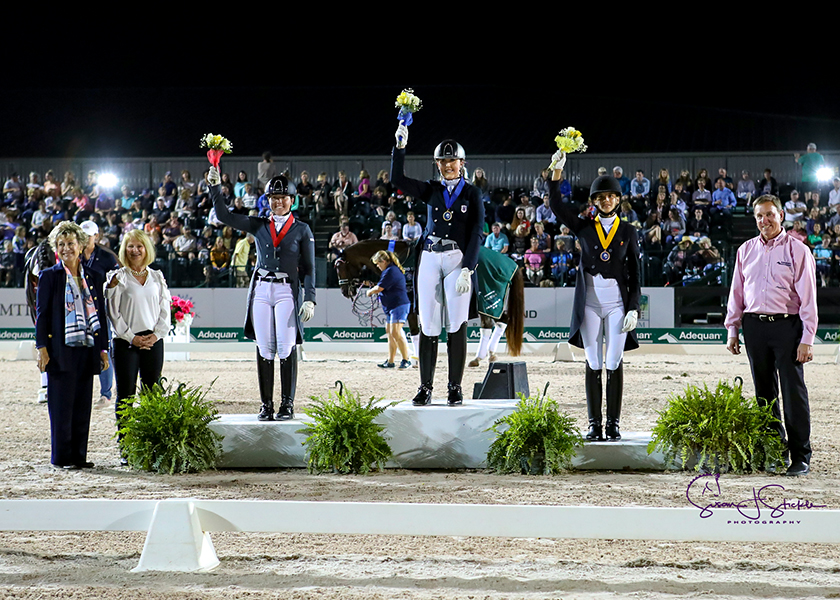 Devon Kane of Diamante Farms shared, "First of all congratulations ladies, you all did amazing out there and I'm very proud. For us, it's amazing to bring together a group of such talented riders and horses. For my farm and for my mom and I, it's always been important to support the youth riders coming up. These guys are my colleagues in a year or two, so I'm really excited to help them and support them along the way."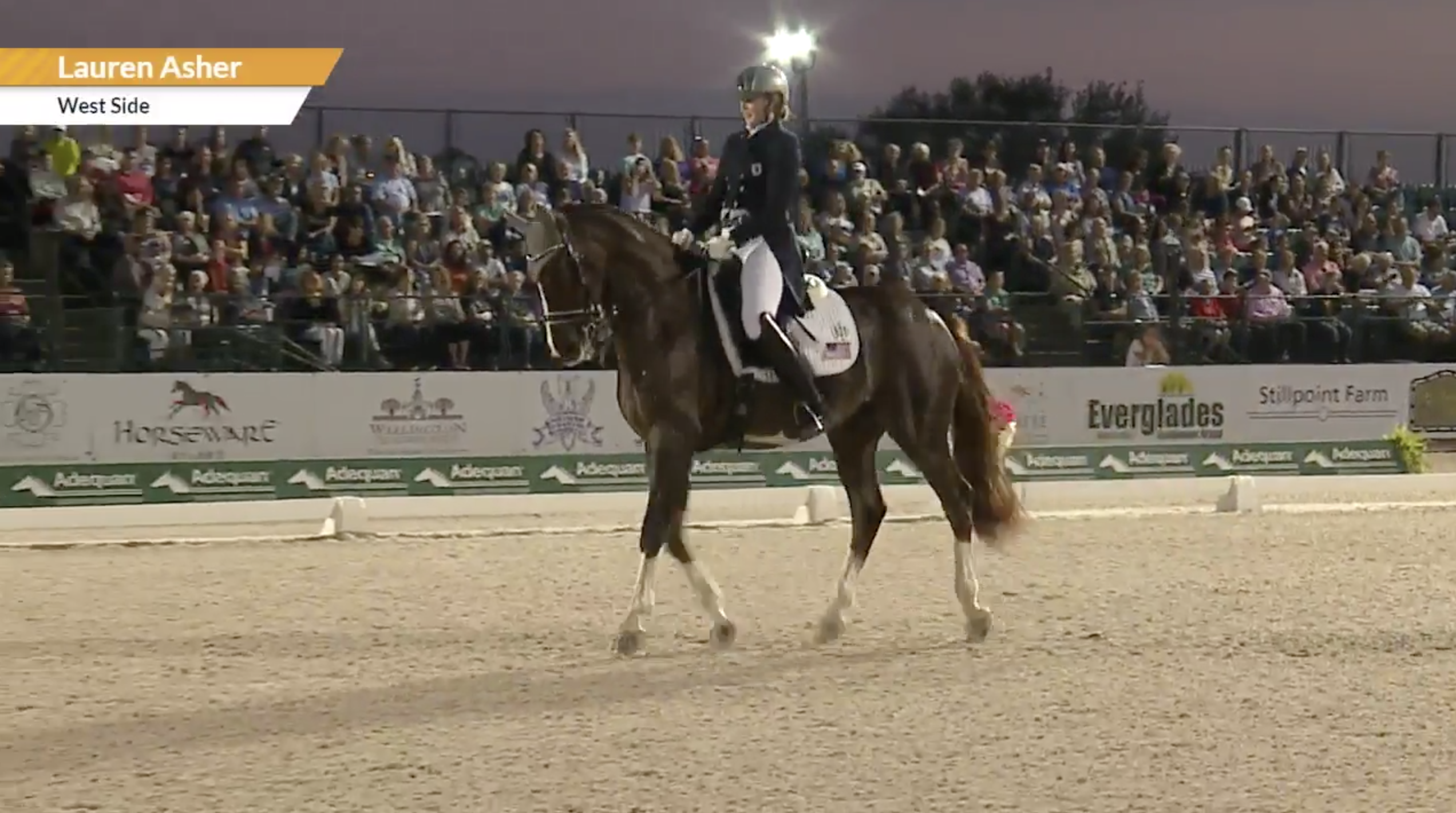 Click here to watch the freestyle for Lauren Asher!
The day started with the FEI Intermediate I CDI3* presented by Yellow Bird Firm. Anna Marek (USA) and Einstein JP, her 10-year-old Dutch Warmblood gelding by Democraat, rode to a win with a score of 70.706%.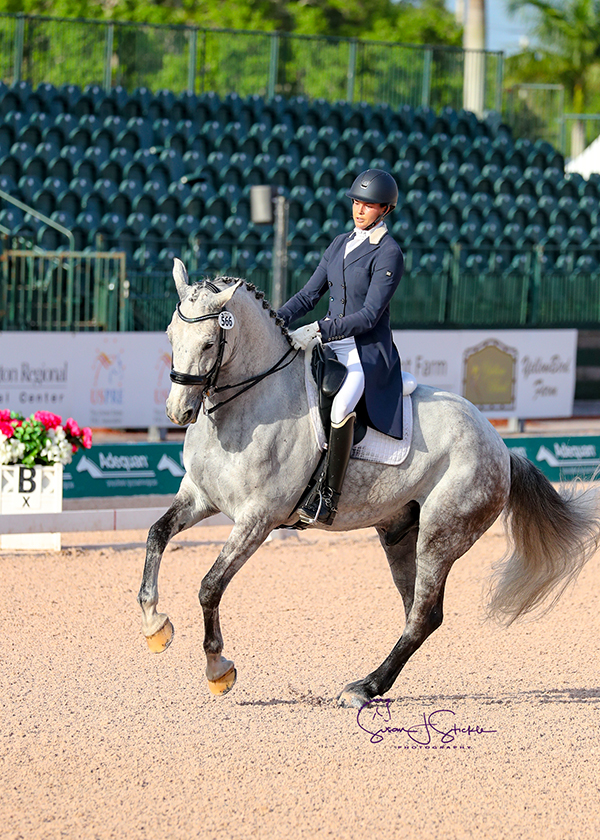 Katherine Bateson Chandler (USA) and Alcazar, a 14-year-old KWPN gelding by Cantango owned by Jane Forbes Clark, rode to a score of 74.695% to win the FEI Grand Prix Freestyle CDI3* presented by Harmony Sporthorses.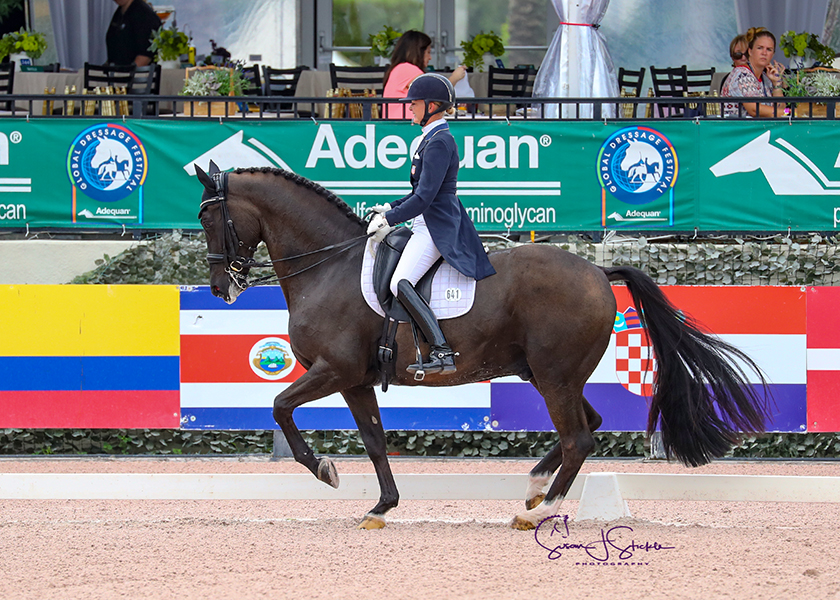 Competition at AGDF continues on Saturday, March 16, and features the FEI Grand Prix Special CDI3* presented by Horseware Ireland. Week 10 of the AGDF runs through Sunday, March 17. For more information and to see a full list of results, please visit www.globaldressagefestival.com.
Final Results: FEI Grand Prix Freestyle CDIO3* Presented by Stillpoint Farm
Place, Rider, Nationality, Horse, Horse Information: Judge E% – Peter Storr, Judge H% – Elisabeth Max Theurer, Judge C% – Janet Lee Foy, Judge M% – Katrina Wuest, Judge B% – Cesar Torrente, Total %
1.Shelly Francis (USA), Danilo, 15-year-old Hanoverian gelding by DeNiro x Annabella owned by Patricia Stempel: 85.400%, 81.350%, 80.800%, 81.975%, 79.675%, 81.840%
2.Yvonne Losos De Muniz (DOM), Aquamarijn, 14-year-old KWPN mare by United Dam x Toermalijn owned by Yvonne Losos De Muniz: 75.900%, 72.725%, 76.275%, 75.200%, 76.100%. 75.240%
3.Charlotte Jorst (USA), Kastel's Nintendo, 16-year-old KWPN gelding by Negro x Rodieni R owned by Kastel Denmark: 74.525%, 75.950%, 77.00%, 73.025%, 75.500%. 75.200%
4.Jill Irving (CAN), Arthur, 14-year-old KWPN gelding by Jazz x Olympia W owned by Jill Irving: 71.850%, 77.825%, 74.000%, 74.350%, 72.500%, 74.105%
5.Michael Klimke (GER), Royal Dancer 33, a 13-year-old Hanoverian gelding by Royal Blend owned by Michael Klimke: 72.725%, 70.450%, 73.850%, 71.375%, 73.075%, 72.295%
6.Bernadette Pujals (MEX), Curioso XXV, 18-year-old PRE stallion by DominonteXVI x Curisoa XIX owned by Bernadette Pujals: 72.400%, 68.825%, 74.175%, 71.250%, 71.800%, 71.690%