For Immediate Release
Alice Collins for Jennifer Wood Media, Inc.
Wellington, FL – March 6, 2022 – Week eight of the 2022 Adequan® Global Dressage Festival (AGDF) in Wellington, Florida, wrapped up on Sunday, March 6, with the penultimate qualifying rounds of both the Lövsta Future Challenge Young Horse Grand Prix Series and the Summit Farm Future Challenge Young Horse Prix St. Georges Series.
These classes aim to identify and nurture talented, up-and-coming young FEI horses, giving them exposure to benefit their development with the biggest of world stages in mind. Grand finals for both classes take place during AGDF 11. The AGDF circuit hosts seven weeks of CDI competition and runs through March 27.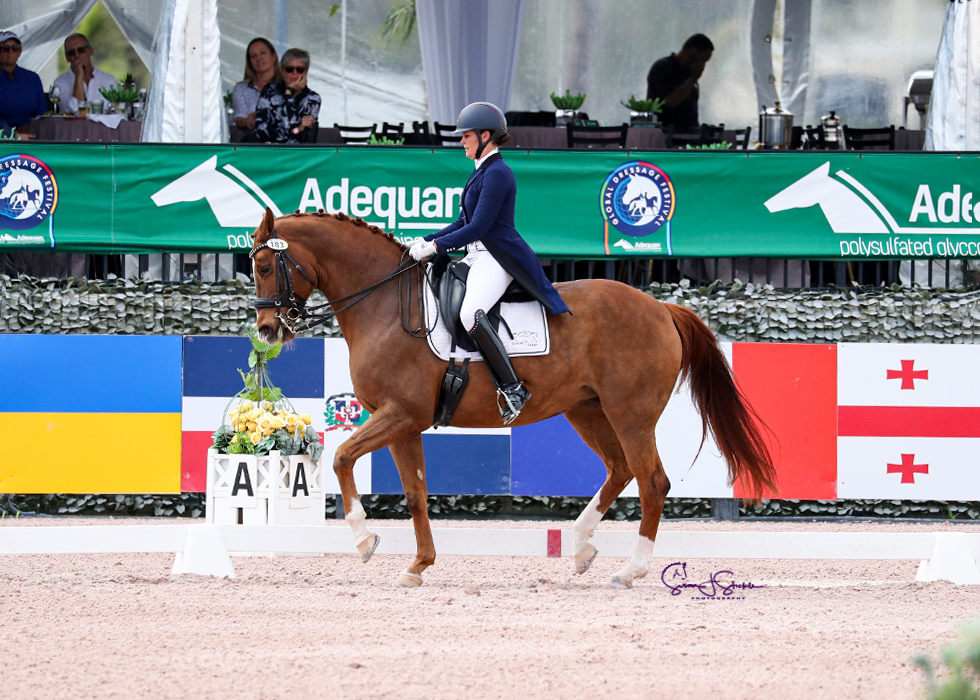 It was the first to go in both classes who kept their noses in front. Sarah Tubman (USA) (née Lockman) piloted Summit Farm's 10-year-old Bellissimo M x Florestan mare Balia to 67.401%. Fellow American Devon Kane clinched second with 65.539% on another 10-year-old, Åsa Björklund's Vivaldo gelding, Gyllebo's Vamos.
Tubman, whose Summit Farm team bought Balia from Helgstrand Dressage where she was ridden by Ulf's wife Eva Möller, said: "We showed small tour last year, so she's really new to this level. She's super fun to ride, very electric. I definitely like a mare; I think she would keep going until her legs fell off. She's super fun, and I really think she has a lot of talent for the future."
Tubman has had Balia since she was five, and this is the pair's first season at big tour level. She believes the mare has the quality and talent to eventually take over the mantle from her top horse, First Apple.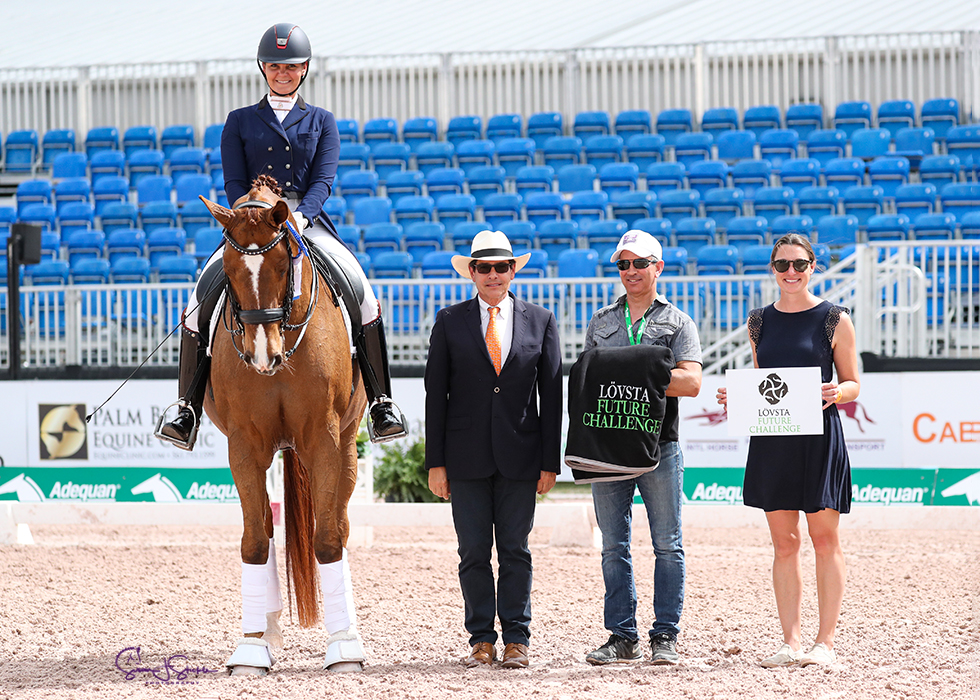 "The quality of her gaits has really blossomed with the upper level work," she enthused. "She has such talent for the collection and all the collected work, as we're working towards the grand prix, has brought her to a whole new level. It was really fun to feel that quality of all three paces came out in the test. We still have a lot of work to do and a lot of polishing, but it's a really wow moment in there that I think we can build into something really special and reliable for the future."
Tubman, who rides for the small tour level sponsor Summit Farm, is an ardent supporter of the developing horse series.
"One of our biggest beliefs is bringing along the horses from when they're young up to the upper levels, and this is an amazing way to do it," she said. "We all love to get a horse that knows a little more, but it's really something special when you can be the one helping them along the way. It's great that Lövsta has also supported this sport and given some of the younger, up-and-coming horses a class to get noticed in, and to get in the big ring before we have to go in an actual CDI. It's lovely that this year we're doing even the qualifying classes in front of a CDI panel. It gives us really good feedback to make the horses better for when we go in the real big ring."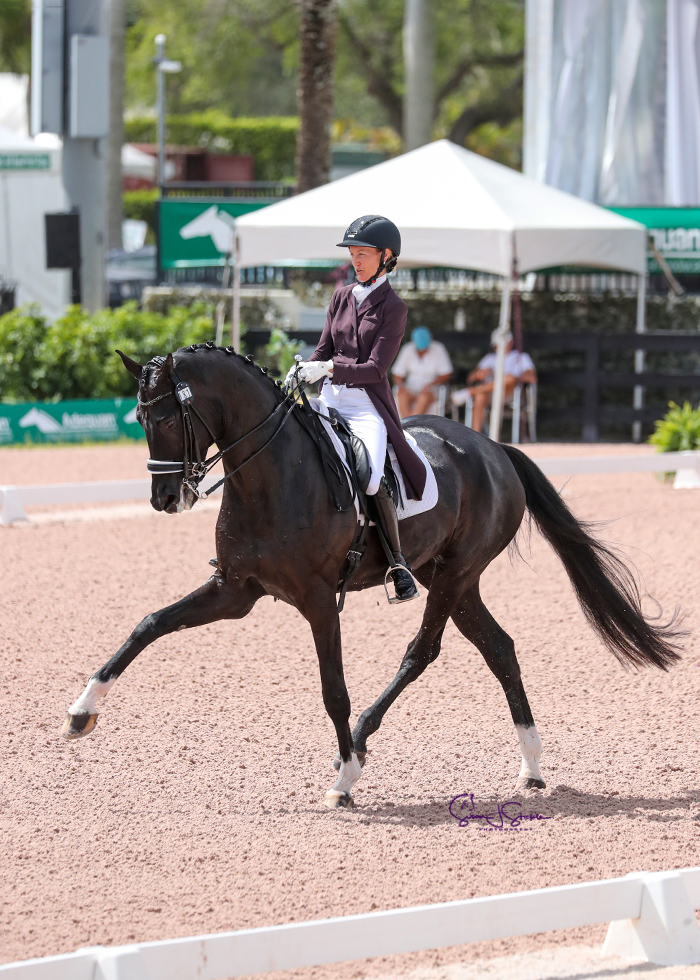 Alice Tarjan (USA) continues to crank out winner after winner from her training program. The latest to grace the International Arena in Wellington was her own seven-year-old mare Summersby II, by Sezuan x Sandro Hit, who produced 71.617% to top the Summit Farm Future Challenge at Prix St. Georges level. Tarjan was the only rider of the seven starters to break the 70% barrier. Her big tour horse Jane has already qualified for the Lövsta Future Challenge final, courtesy of their win in AGDF 7.
Second-placed Susanne Benne (USA) picked up the second ticket on offer for the final in this qualifier, riding Liebling to 68.921%. Debbie Hill completed the all-American podium, scoring 66.519% on Jantasy Ashlanes.
Summersby, whom Tarjan has owned since she was a foal, is a former young horse in-hand champion and well placed in young horse classes. That latent talent has flourished into a talented competitive spirit under saddle.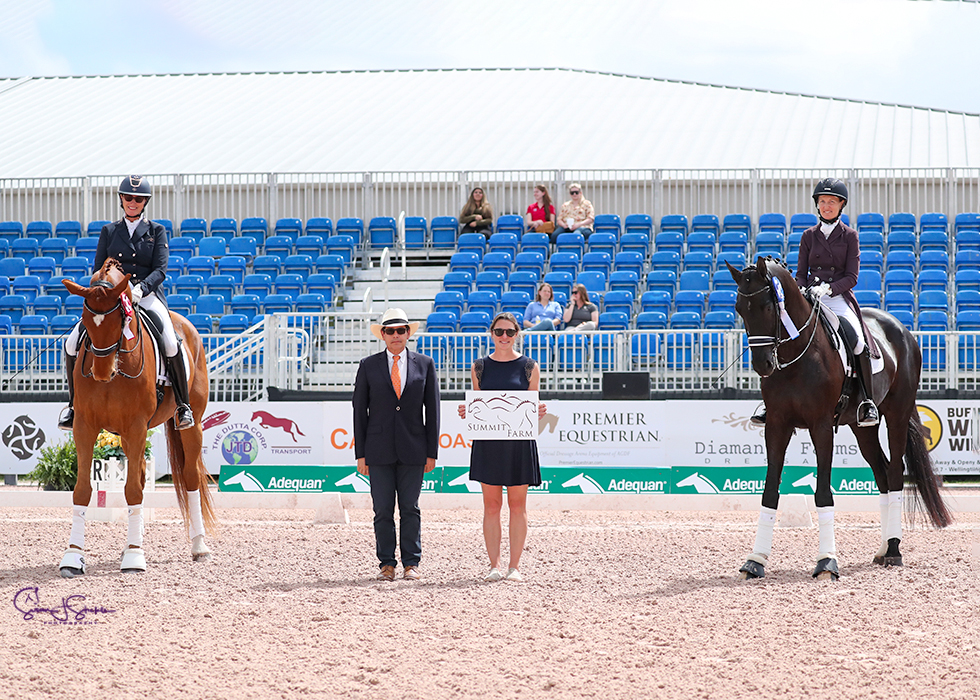 "She's a little hot, which I like," said the 41-year-old. "She can be spooky, so that's why I want to get some miles on her, but I think she'll be a decent grand prix horse. The piaffe is pretty good. She's super leggy and uphill to ride, so she gives a fun feeling — and she's pretty honest. As she can be spooky, I want to get some miles on her now before the scores matter more.
"My goal really is to aim her for the developing grand prix next year, but this is a great class because you can put them in the stadium, so I just thought I'd see how it went. I wasn't expecting to qualify," added Tarjan, whose stable of stars have been coming into their own at FEI level this season.
"If you look at the best riders in Europe, they have strings of horses," explained the rider who has perhaps been best known for her prowess in young horse classes over the years. "It seems like if one wants to be able to compete at the top of the sport, then the best way to get experience is to have multiple horses at that level. My long-term goal has been to train these horses up the levels so that I could have multiple horses at a higher level. I have every age group in the barn right now, from yearlings up, so hopefully there's a pipeline of horses coming.
"I did young horses because I bought foals and horses that were unstarted, so people maybe thought of me as a young horse rider — and I still am," she continued. "The daily training of the horses is not terribly complicated, but trying to figure out how to ride a good test? To me, that's still a mystery."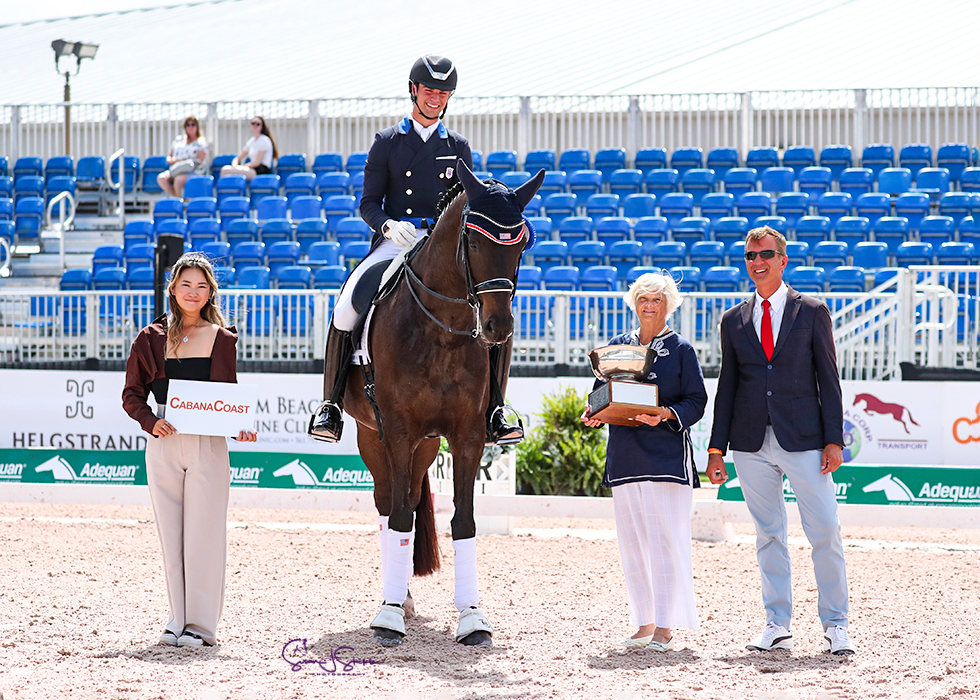 Christian Simonson (USA) and Zeaball Diawind sealed their dominance of this week's two-star small tour, posting their third win from three starts in the Intermediate I Freestyle CDI2*, presented by CabanaCoast. The 19-year-old rider has a harmonious bond with Christina Morgan's 10-year-old gelding by Fürstenball, and together they posted 76.575%. Their high score, 78.75% from H judge Cesar Torrente, came courtesy of a nine for music and pepperings of eights throughout the test.
The pair won three gold medals at the North American Youth Championships in 2021, with a record-setting freestyle score, and a year ago were still competing in the under-25 ranks. They have successfully navigated the enormous step up from youth competition, making their presence felt with consistently high scores. This was their second senior CDI, and they have won all but one of their five small tour tests. Luuk Mourits (NED) slotted into second with a 70.525% personal best on Harmony's Sarotti OLD, by Sarkozy.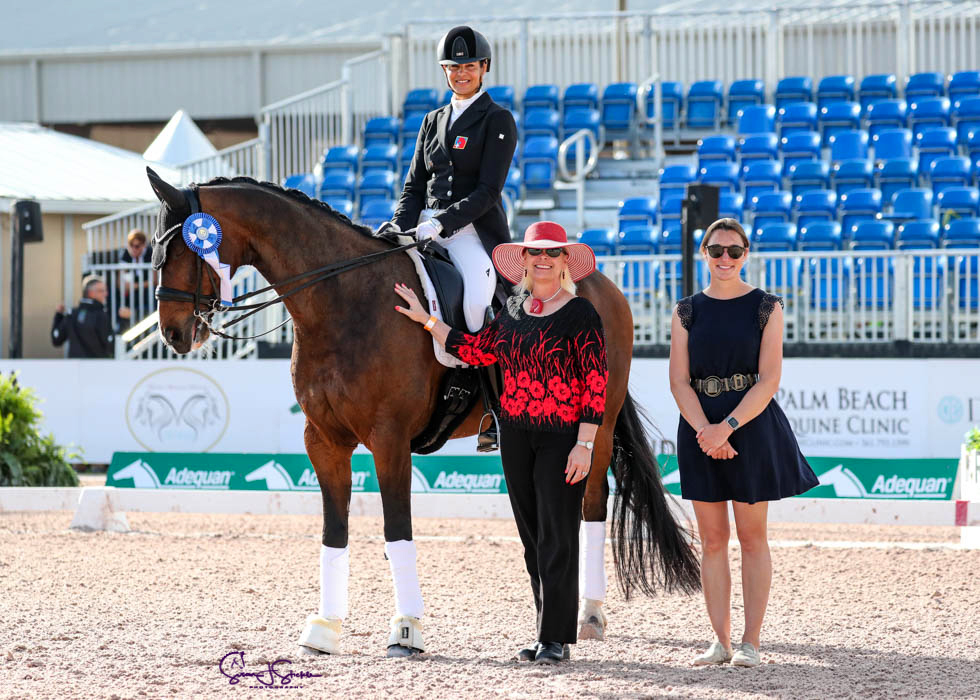 In the morning's Intermediate II CDI2* class, Switzerland's Barbara Bertschinger claimed the winner's sash with 66.206% on Sonnenberg's Solisco CH. Not only does the Swiss rider own the 15-year-old by Sancisco, but she bred him herself out of a Brentano II dam. This is the pair's first season at big tour level after making their international debut together in 2017.
Sunday's action marks the end of week eight of the 12-week 2022 AGDF. International competition resumes next week with a CPEDI3* Para Dressage show, as well as a national show and the Challenge of The Americas, an annual grand prix musical challenge in support of the Breast Cancer Research Foundation. AGDF 10 (March 17-20) hosts a CDIO3* show and national action. For more information and results, visit www.globaldressagefestival.com.