For Immediate Release
Deirdre Sullivan for Jennifer Wood Media, Inc.
Wellington, FL – February 23, 2019 – In unique circumstances, two riders tied in the FEI Grand Prix Special CDI3* presented by Fair Sky Farm on Saturday, February 23, at Week 7 of the Adequan® Global Dressage Festival (AGDF). AGDF continues through March 31.
Adrienne Lyle (USA) and Harmony's Duval, and Charlotte Jorst (USA) and Kastel's Nintendo both rode to a score of 72.255%, but Lyle and Harmony's Duval broke the tie and secured their win with Lyle's higher "rider collective marks" from the judges.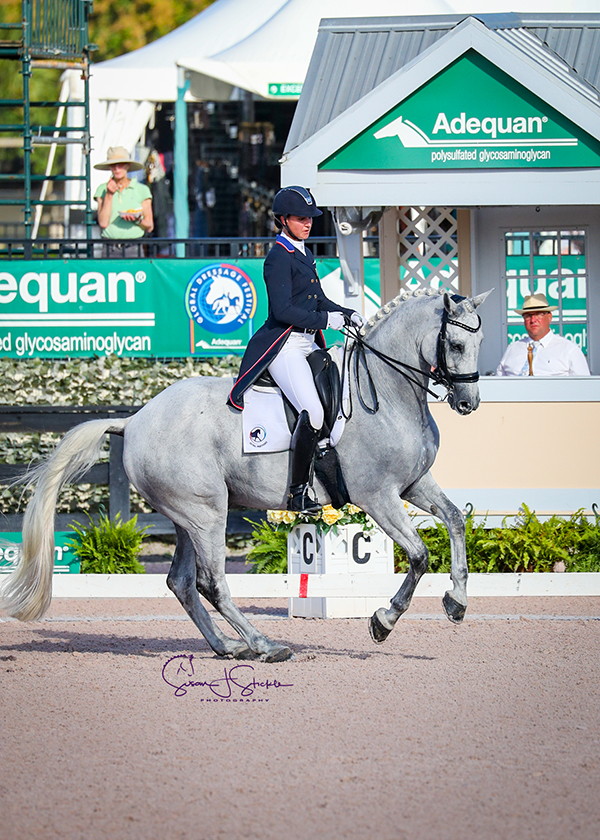 It was a close call with Lyle receiving four rider collective mark scores of 8.0 and one 7.5, and Jorst receiving three 8.0 marks, and two 7.5 marks to take second place behind Lyle.
"I thought the piaffe/passage tour was much stronger than in the Grand Prix. That's really a highlight of this horse, and I was glad we were able to tap into more of his potential in there today," said Lyle of Harmony's Duval, a 11-year-old Dutch Warmblood gelding by Rosseau owned by Duval Partners LLC.
"He's very green. This is his first year at grand prix," continued Lyle. "It's such a process with him, just the whole what works best in the warm-up, what works best in preparation. [It's [all those things when you've been showing the same grand prix horse for years that you know, and when there's a new one it's all just part of figuring out all those little things."
Harmony's Duval has a strong work ethic, says Lyle. "The great thing about him is that he'll go forever; there's not a stop in him. I think his best quality is his ambition. Sometimes it's a little overzealous, but there's never a lack of trying with that horse. He'd jump off a cliff if you asked him to," concluded Lyle.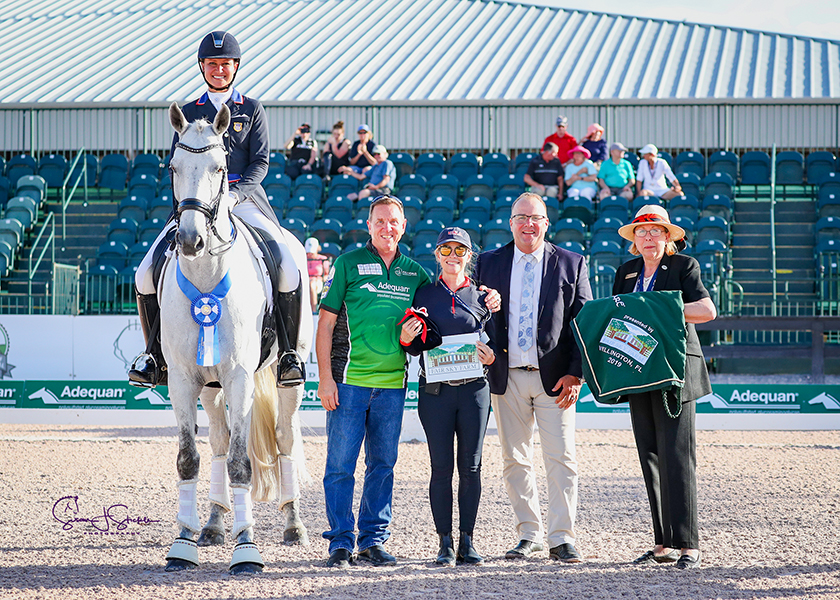 Earlier in the day, Jennifer Baumert (USA) and Handsome earned a score of 72.765% to win the FEI Intermediate I CDI1* presented by Platinum Performance. Handsome is a 14-year-old Hanoverian gelding by Hochadel owned by Betsy Juliano LLC.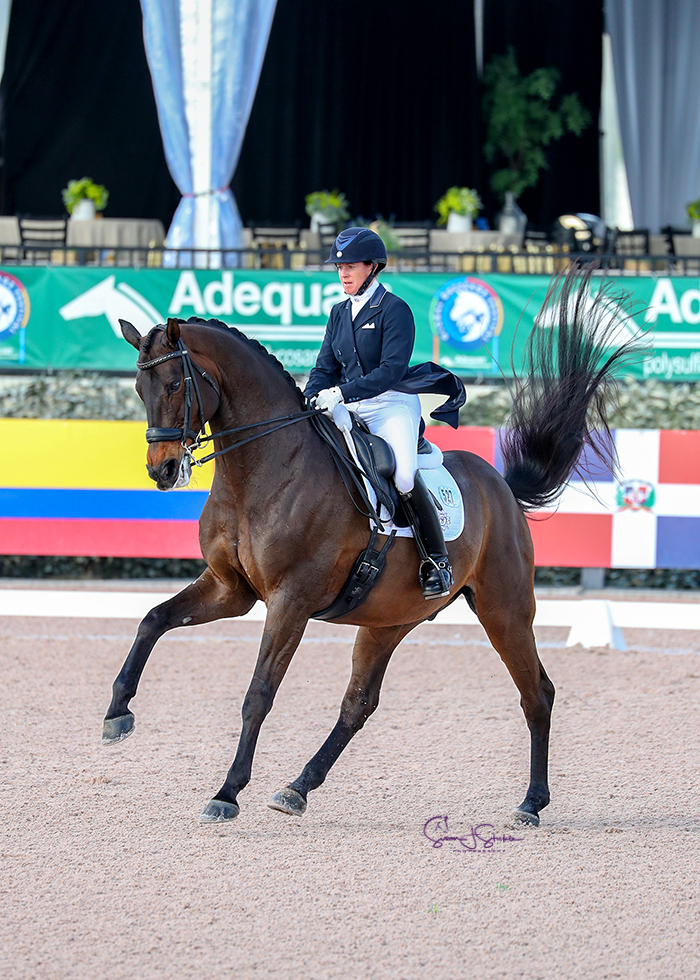 Sara Hassler (USA) and Harmony's Boitano, a 13-year-old KWPN gelding by Santano owned by Leslie Malone, rode to a score of 70.529% to take second place.
Third place went to Patricia Becker (USA) and Derk, a 11-year-old Danish Warmblood gelding by Wynton owned by Lauren Walfish. The pair earned a score of 68.176%.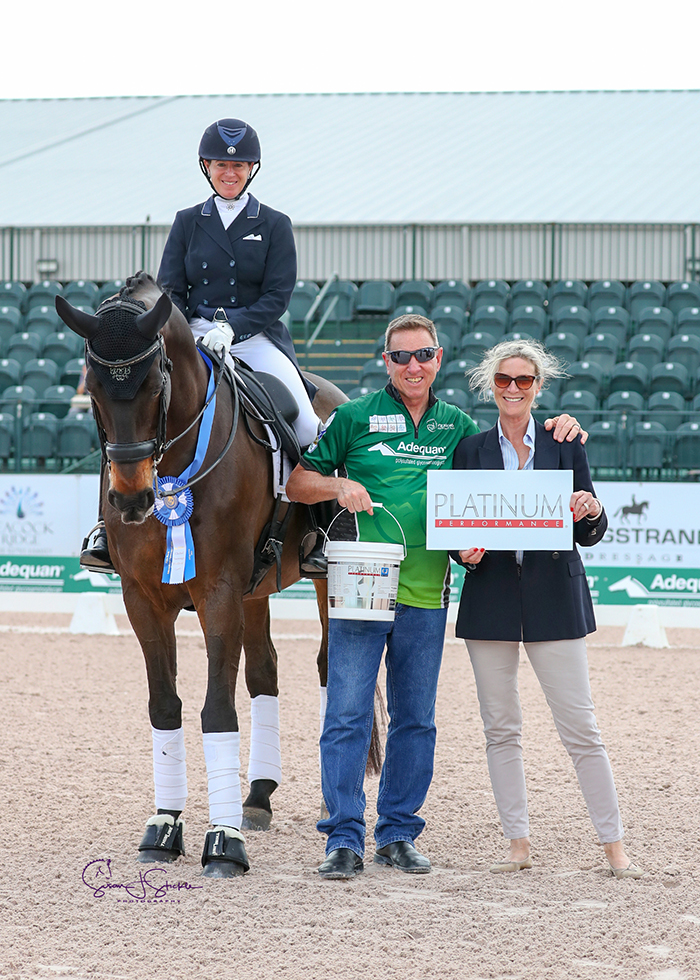 Competition at Week 7 of AGDF will conclude on Sunday, February 24, and features the FEI Intermediate I Freestyle CDI3* presented by the Wellington Regional Medical Center. Week 7 of the AGDF runs through Sunday, February 24. For more information and to see a full list of results, please visit www.globaldressagefestival.com.
Final Results: FEI Grand Prix Special CDI3* presented by Fair Sky Farm
Place, Rider, Nationality, Horse, Horse Information: Judge E% – Magnus Ringmark, Judge H% – Clive Halsall, Judge C% – Christof Umbach, Judge M% – Bo Jena, Judge B% – Henning Lehrmann, Total %
1.Adrienne Lyle (USA), Harmony's Duval, a 11-year-old Dutch Warmblood gelding by Rosseau x Uptown Girl owned by Duval Partners LLC: 72.340%, 71.915%, 70.106%, 73.298%, 73.617%, 72.255%
2.Charlotte Jorst (USA), Kastel's Nintendo, 16-year-old KWPN gelding by Negro x Rodieni R owned by Kastel Denmark: 71.702%, 71.383%, 71.569%, 75.500%, 71.596%, 72.255%
3.Christoph Koschel (GER), Ballentines 10, 11-year-old Hanoverian gelding by Belissimo M x Weltina owned by HOF Beckerode GMBH: 69.468%, 68.723%, 70.106%, 69.894%, 69.043%, 69.447%
4.Susan Pape (GBR), Harmony's Don Noblesse, 12-year-old Hanoverian gelding by Dancier x Descana owned by Harmony Sporthorses: 67.447%, 70.000%, 69.468%, 66.596%, 70.106%, 68.723%
5.Rebecca Waite (USA), Doktor, 16-year-old Oldenburg gelding by Diamond Hit x Gurena owned by Patricia Stempel: 69.787%, 68.085%, 67.660%, 67.533%, 70.106%, 68.638%
6.Heather Blitz (USA), Semper Fidelis, 13-year-old Oldenburg mare by Sir Donnerhall owned by Rowan O'Riley: 66.277%, 68.511%, 68.830%, 67.128%, 67.340%, 67.617%
7.Yvonne Losos De Muniz (DOM), Aquamarijn, 14-year-old KWPN mare by United x Toermalijn owned by Yvonne Losos De Muniz: 66.809%, 69.043%, 67.872%, 66.596%, 67.340%, 67.532%
8.Jill Irving (CAN), Arthur, 14-year-old KWPN gelding by Jazz x Olympia W owned by Jill Irving: 66.489%, 65.851%, 65.106%, 66.489%, 64.468%, 65.681%