For Immediate Release
Deirdre Sullivan for Jennifer Wood Media, Inc.
Wellington, FL – March 17, 2019 – Competition on Sunday, March 17, at the Adequan® Global Dressage Festival (AGDF) featured freestyle classes from the Young Rider level to Intermediate I. They closed out competition during the tenth week of AGDF, which continues through March 31 at Equestrian Village at the Palm Beach International Equestrian Center.
Anna Marek (USA) and Einstein JP had the final ride of the day and won the FEI Intermediate I Freestyle CDI3* presented by Yellow Bird Farm. The pair rode to a score of 75.708%. "I think the highlight of my test was the canter work," said Marek. "Sometimes I struggle with him spooking, all last year he was kind of up and down. He was with me the whole time. He was relaxed, there was a lot going on, and he took it.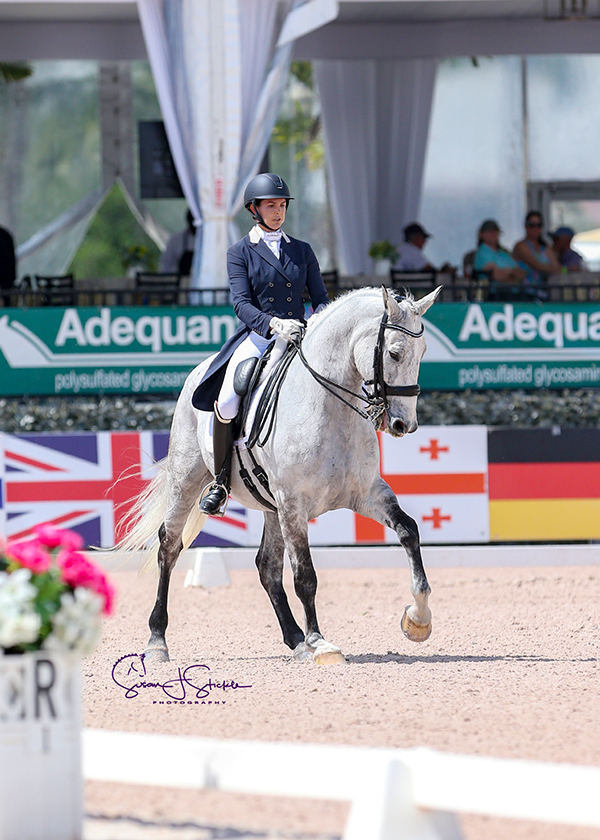 "Even though he's a little spooky in his mind, he learns things easily. All the tricks are easy for him. It's keeping him focused on me, and keeping him trusting me when he gets scared," continued Marek. "He learned everything so fast, but now it's just the confidence in me that's making me so proud of him."
Marek brought her 10-year-old Dutch Warmblood gelding by Democraat through the levels herself. "I've ridden him since he was four, but I bought him when we were just starting Prix St. Georges," continued Marek. "When he was [in] PSG, I had such an attachment to him because I had to put more work into him, and then I bought him."
Karen Robinson of Applause Dressage put together Marek's choreography and music. "She worked with me and made the choreography about the strengths and the weaknesses. I feel like the music is powerful, like Einstein is. I can kind of find the beat of the music and it sucks me in. I ride to it really well," concluded Marek.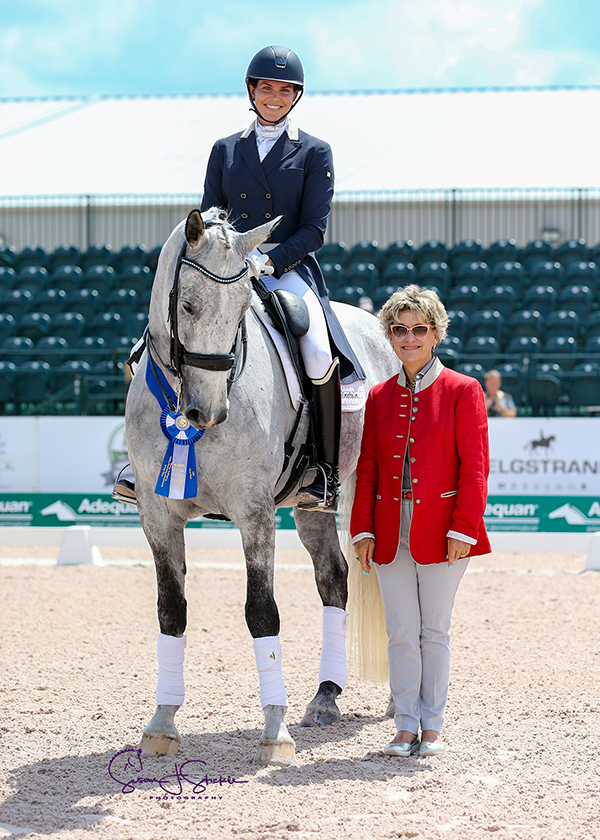 The morning started with the FEI Young Horse Test for 7 Year Olds – Final CDI-YH. The format allowed for the two judges at B, Elisabeth Max-Theurer and Katrina Wuest, to immediately share feedback with the rider and spectators about their thoughts on the young horses' potential as competitive dressage mounts.
Karen Pavicic (CRO) and Totem, her seven-year-old Hanoverian gelding by Totilas, won the final with a score of 75.414%.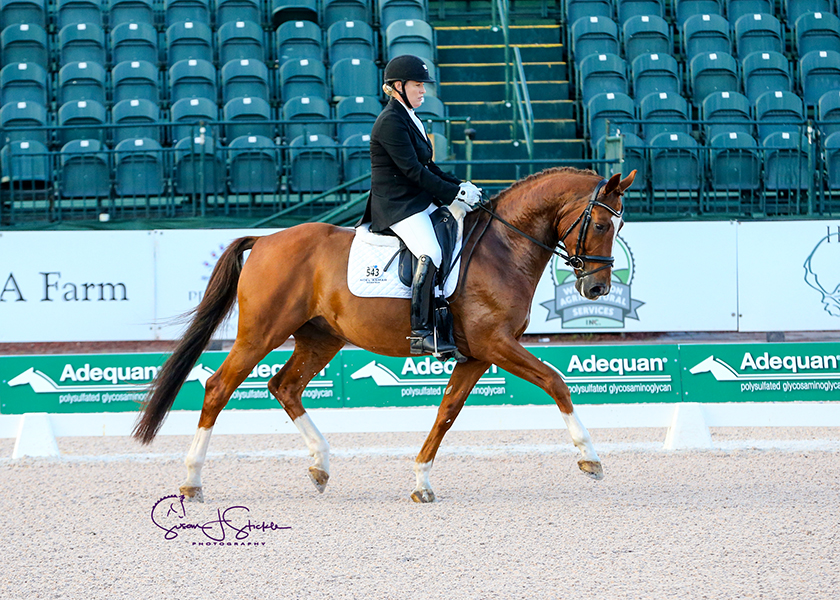 Competition at AGDF will resume for its final week from March 27-31 featuring CDI 4* dressage. Highlights include the "Friday Night Stars" FEI Grand Prix Freestyle CDI 4* presented by Douglas Elliman Real Estate on Friday, March 29, and the final of the Iron Spring Farm Future Stars Performance Series on Saturday, March 30. For more information and to see a full list of results, please visit www.globaldressagefestival.com.
Final Results: FEI Intermediate I Freestyle CDI3* Presented by Yellow Bird Farm
Place, Rider, Nationality, Horse, Horse Information: Judge H% – Lee Tubman, Judge C% – Janet Lee Foy, Judge M% – Cesar Torrente, Total %
1.Anna Marek (USA), Einstein JP, 10-year-old Dutch Warmblood gelding by Democraat x Vampiana JP owned by Anna Marek: 73.375%, 75.875%, 77.875%, 75.708%
2.Leif Aho (USA), Classy Sinclair, 12-year-old Oldenburg gelding by Sir Sinclair x Sacro Santa owned by Lisa Grossi: 76.250%, 73.625%, 75.000, 74.958%
3.Tom Dvorak (CAN), Denali, 11-year-old KWPN mare by Idocus x Rowena owned by Loren Hopkins: 71.750%, 73.375%, 73.500%, 72.875%
4.Janine Little (CAN), Quartett, 11-year-old BRNBDG gelding owned by Sue Anne Wells: 72.125%, 72.750%, 72.550%, 72.475%
5.Jami Kment (USA) Gatino Van Hof Olympia, 8-year-old KWPN gelding by Apache owned by Jami Kment: 73.375%, 72.750%, 71.250%, 72.458%
6.Ariana Chia (CAN), Fiderflame, 9-year-old Oldenburg gelding by Fidertanz x SPS Rose owned by Ariana Chia: 71.750%, 70.375%, 74.500%, 72.208%
7.Lori Bell (CAN), Flirt, 11-year-old Oldenburg gelding by Florencio x Arkona owned by Lori Bell: 69.750%, 71.125%, 70.875%, 70.583%
8.Katrin Dagge (USA), Laferrari, 13-year-old Oldenburg gelding owned by Rebeca McSeveney: 69.125%, 66.875%, 69.675%, 68.558%