This week we welcome a 2012 London Olympic veteran, Adrienne Lyle, as our Rider Spotlight! Lyle and Salvino have consistently been one of the highest-ranked American duos in the FEI standings in recent years. Lyle's other top mount, Harmony's Duval, has been with Lyle since the beginning of his career and the pair have already seen success at AGDF this season. Read more to learn about Adrienne's draw to dressage, Salvino and Harmony's Duval, her preparation for the 2021 season, and one of her favorite venues at which to compete, besides AGDF!
You originally began riding through 3-day eventing; what appealed to you about dressage that made you want to focus solely on this discipline?
I was introduced to dressage through 3-day eventing.  What fascinated me about dressage was the combination of having to learn the mechanics of how a horse moves and balances, as well as the mental part of how to teach them and create an understanding between horse and rider. I had very little formal instruction but I read dressage books, watched dressage videos, and would try to figure out how to do those things on my horses that we had in our fields at our farm.  The never-ending pursuit of perfection fascinated me.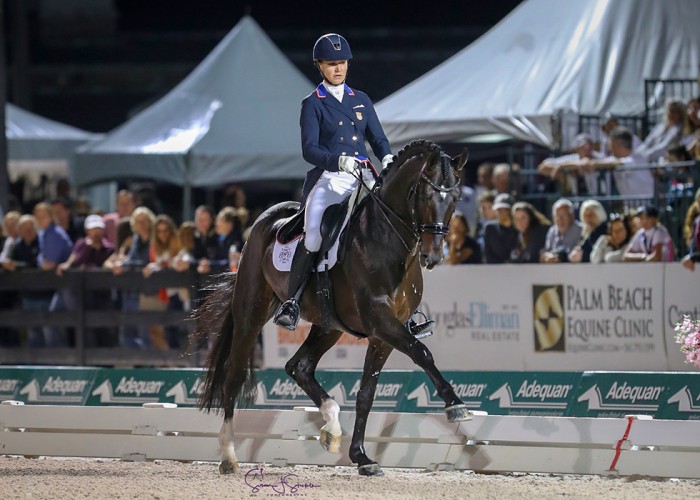 How does it feel to be the highest-ranked American pair with Salvino currently in the FEI World Rankings?
I am so very proud of Salvino for being ranked #1 in the US!  It is an amazing feat and something I have always dreamed of.  He is such a kind and generous horse, and I'm humbled to get to be his rider.  I am forever grateful to his owner, Betsy Juliano, for her incredible support of Salvino and me over the years.
Harmony's Duval has been seeing a lot of success lately. Can you tell us more about him?
I began riding Harmony's Duval when he was just saddle broke, and it has been really fun to develop him up through the levels. He is an energetic and eager horse with a great talent for collected work.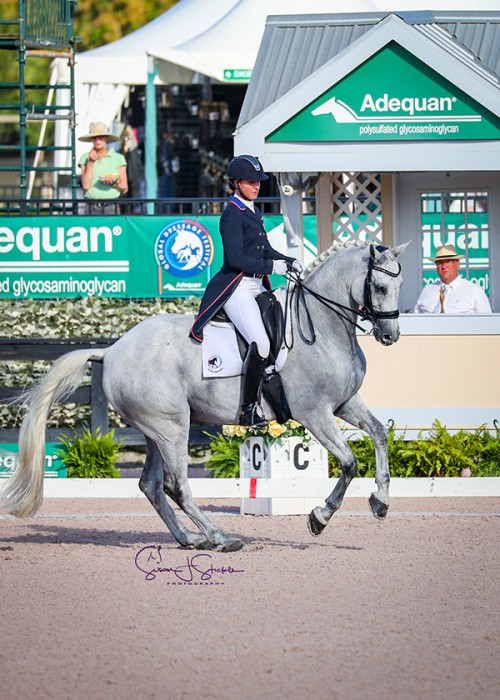 How do you prepare for long show seasons such as AGDF?
The show season at AGDF is really like nothing else in the world. The amount of national and international competitions offered during the season is incredible.  Knowing your horse is very important when planning your competition schedule.  Some horses need to get in the ring fairly often to stay focused and comfortable.  Other horses do better showing more sparingly to keep things fresh and interesting for them.  At the beginning of each show season, I sit down with the calendar and figure out which shows I will be taking which horses to. It's a long season and pacing yourself is important. We must always keep the horse's soundness and happiness as the first and foremost priority.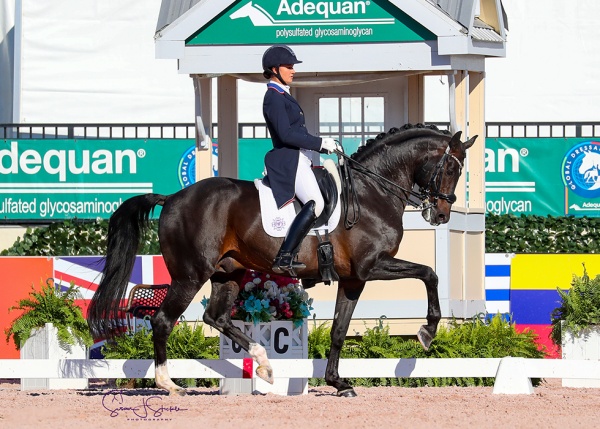 You've traveled all over the world to compete, including the 2012 London Olympics and the Nations Cup in Aachen, Germany in 2017, among other top highlights. Where has been your favorite place to compete so far (besides AGDF, of course!)?
Besides AGDF, I would say my favorite place to compete is in Aachen, Germany.  It's such a historical venue with a great atmosphere, and the crowds are just amazing. The spectators are so educated that they are riding every footfall along with each horse that comes into the ring.
Thank you, Adrienne, for your time, and we wish you the best of luck with the rest of the season!