This week's featured rider has been making significant changes in the equestrian fitness world! Jack Latorre has developed a new way to ride by creating Equibody Fitness, which is all about flexibility and mobility for riders. We ask our horses to be flexible, strong, and mobile, so why shouldn't we? Continue reading to learn more about Jack, his new partner Sakari, and his goals for 2023!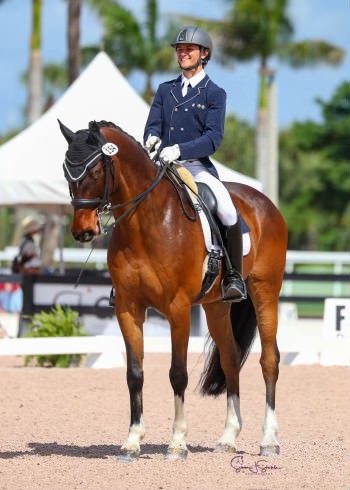 What inspired Equibody?
I was on a family vacation, having a conversation with my older brother about what I should do with my career, and he asked me why I wasn't creating something between fitness and riding. That question made me start to think about what I might be able to develop, and I began to break down the question of "what do riders need, and what problem would I be solving?" At this point, I was four weeks out from my first Grand Prix test with my horse Manny, and I could not get my hip flexors/hamstrings to drop down for the passage. I had been working out for years, but my body was still locked up and tight. In desperate preparation for my Grand Prix, I thought about deep diving into mobility and flexibility. I began studying and finding new exercises and theories, and three weeks later, I lowered my stirrups three holes and had complete unique access to my seat and leg. Once I saw the progression for myself, I was hooked. I doubled down and began to study deeper, looking to mentors, coaches, and courses. As I developed my own workouts, I had a few friends try out the program with similar results, and then I knew exactly how I could merge my passion for fitness and horses.
Tell me about your new partner, Sakari!
We were searching for a horse that could do Small Tour with the potential for Grand Prix. During my time in Europe with my trainer JJ Tate, through her contacts, we found Sakari, an 11-year-old mare with incredible potential for piaffe and passage. We knew we needed to find a horse my mom could eventually ride, and after a couple of rides on her, we knew she was the one. We are currently working on the Small Tour with the plan to enter CDIs at Global if she's feeling her best so we can explore our partnership in the ring. Once she's closer to Grand Prix, my mom will take the ride on her. This is my first mare, and she has changed my perspective on communicating things. You can be a bit more demanding with a gelding, but with Sakari, she needs to know and feel that I am doing my best for her. So, I have to make sure that my aids are incredibly clear for her to understand what I am asking her to do.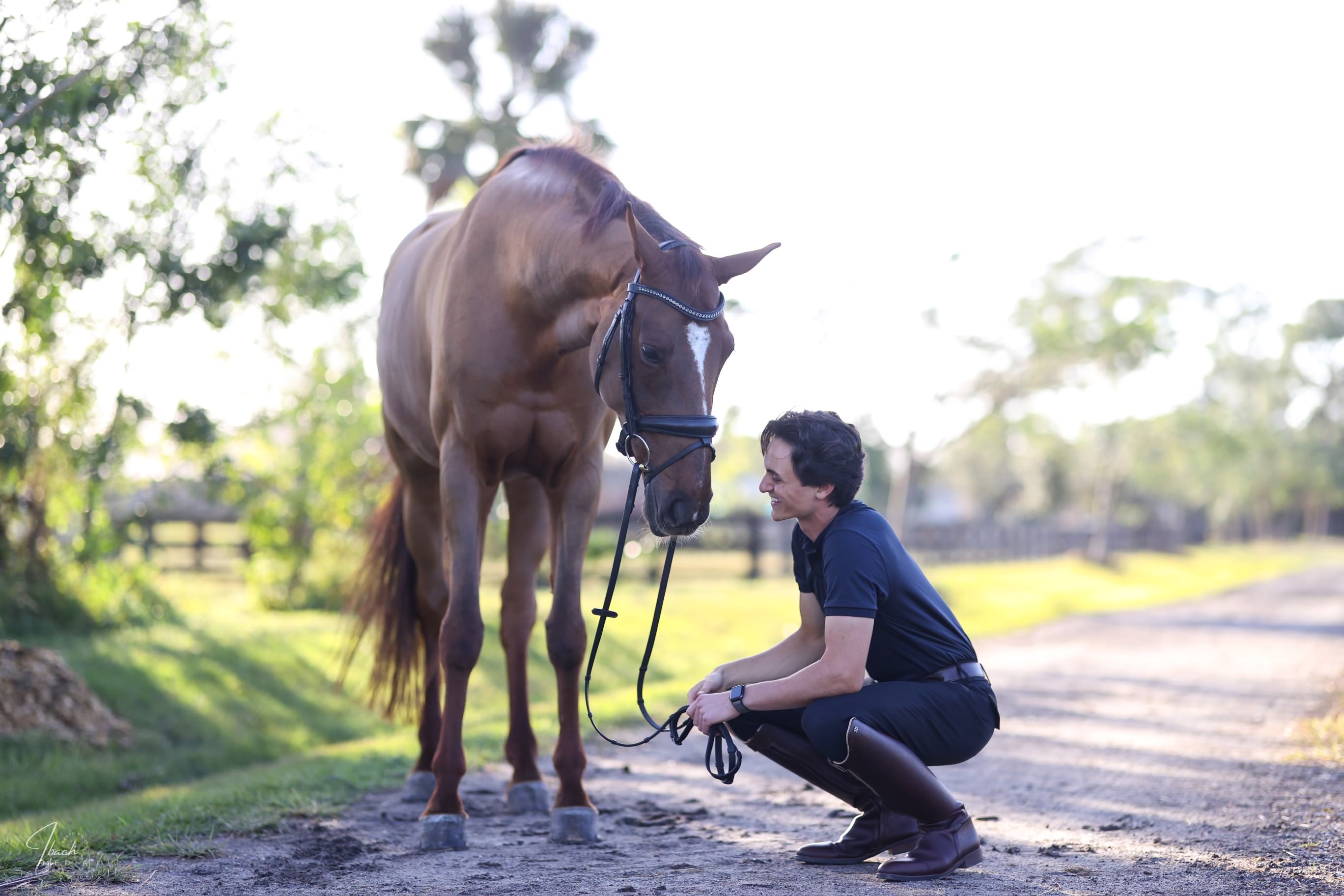 Tell me about your riding journey and explain where you're at now.
I started riding in Texas when I was ten, and my mom was 43, and she wanted to learn how to ride horses. She picked out a Hunter Jumper barn, and we rode together, and things progressed from there. We purchased our first horse, and after 5-6 months, we got into Dressage. She was very adamant about setting me up for success with great trainers. She entered me into a clinic with Lendon Gray, who told me about the Winter Intensive Training Program (WIT.) Then, in 2018 I spent my first season in Wellington attending the WIT program, which was an incredible experience I will always be grateful for. I met so many amazing people through that program. In the coming seasons, I worked and trained with both Liz Austin and Ali Brock, and then I met my current trainer, JJ Tate.
What are your goals this year for Equibody?
With Equibody, I would like to be able to spread the knowledge of what riders can do outside of the saddle that pays massive dividends. That's where my social media content comes into play. Then for the people who really want to take it to the next level, I want to be able to coach them through the program. Essentially, I want to do everything I can to make rider fitness more available and easy to understand for everyone around the world.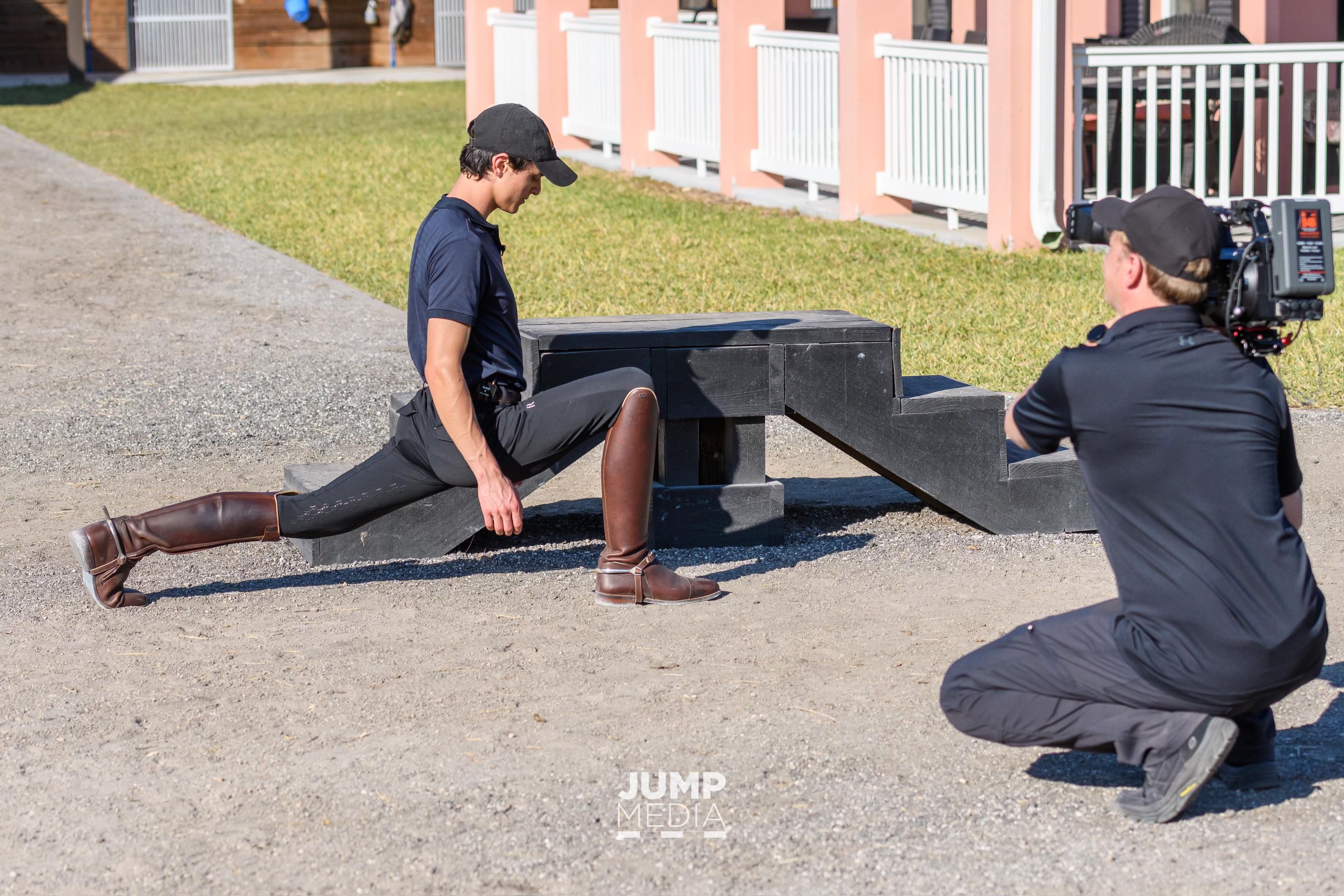 Tell me about your European experience.
It was so interesting because of how normal horse life is over there. There is an entire infrastructure about the introduction to riding. It was so cool to see how everything started and to learn where my riding system falls in that spectrum. The best part was going to local shows and watching the top riders in the sport right around the corner. The quality of riding was so inspiring, and it was terrific.
What is your favorite thing about this sport?
Even though I enjoy showing, I enjoy the problem-solving of making a horse feel better and move better. It's a super interesting process, and I love taking the time with each horse to problem-solve.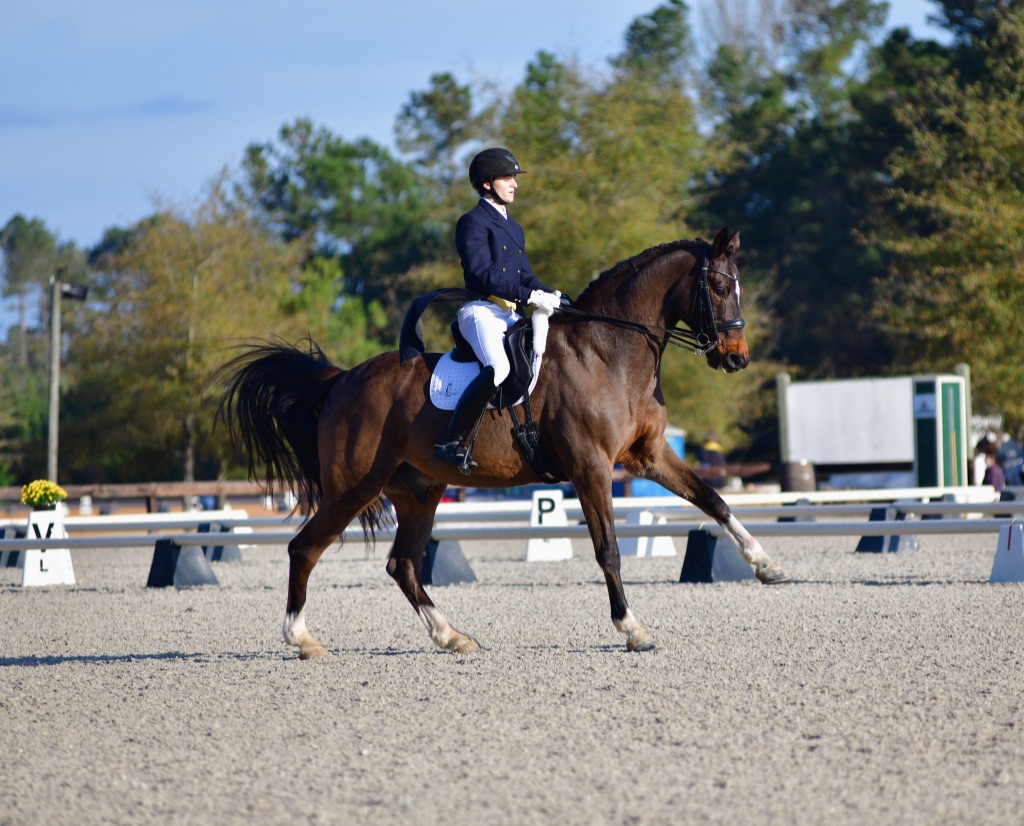 Thank you, Jack, for being this week's rider spotlight! We wish you the best of luck this season!