This month's Rider Spotlight feature goes to American rider, Kerrigan Gluch! As a young child, Kerrigan's mother enrolled her in 4-H, where she tried many disciplines, but was most enticed by the challenge of mastering a test and having new goals with every level of dressage. When she was 14, Kerrigan had the opportunity to clinic with Robert Dover in Wellington. The opportunity would prove to be a turning point in Kerrigan's riding career. There, she was introduced to Kimberly Van Kampen, who immediately noticed the junior's talent, and offered to let her show her horse during the winter season. The following winter, Kerrigan packed her bags and left her life in Michigan behind to take a full-time working student position with Van Kampen at Hampton Green Farm to pursue dressage seriously.
Kerrigan already has many accomplishments under her belt. To name a few, she achieved both Young Rider and U25 Reserve National Championship distinctions, several U25 Nations Cup team medals, and has represented the United States in Europe twice. Continue reading to learn about Kerrigan's newest partner, Mejorano HGF, her goals for the remainder 2023 and 2024, and so much more!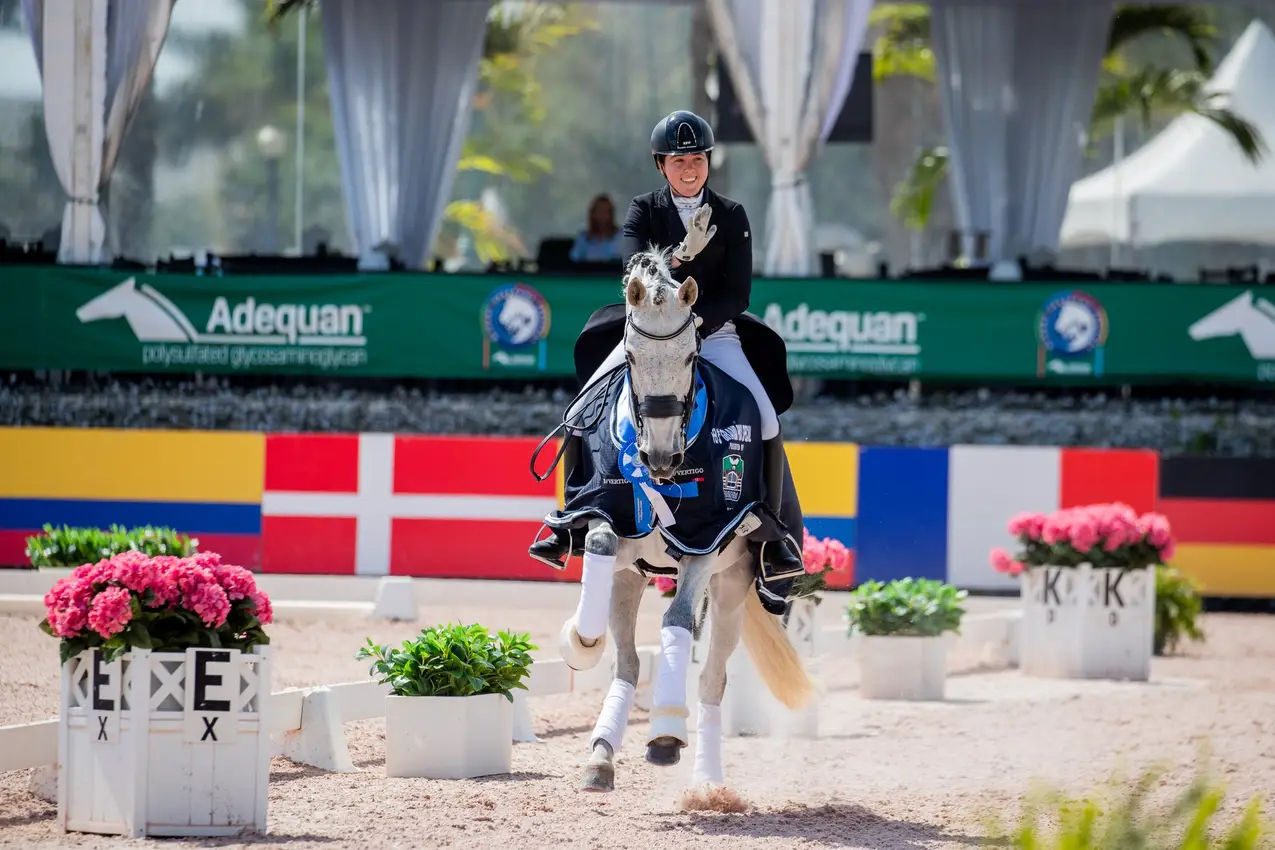 Tell me about your partner Mejorano HGF.
Mejorano is a 12-year-old PRE gelding owned and bred by Hampton Green Farm. I have known him since he was 3 years old, however, our partnership began in late 2019. He is one of the most athletic horses I've had the opportunity to work with. Each day he comes out and wants to work for you and thrives when he knows he's pleasing you. He knows exactly who his people are and trusts them fully. His personality is quite loud, and I love every part of it. I am very lucky to have the opportunity to ride and compete with such an incredible horse.
What advice do you have for the upcoming generation of riders?
I feel like now more than ever, there is more and more pressure on younger riders to be successful. I think it is so much fun to qualify for everything and participate in as much as you can, however, you cannot forget you're only as good as what you and your horse can produce together. Meaning, the importance of the horse's best interest should always be the top priority. It is pretty amazing how much horses will give you once they are feeling both mentally and physically top.
I also am a huge believer in hands-on work. Not being afraid of "getting dirty." I am constantly shocked as to how much you can learn about the horses you work with just by being present in their day-to-day activities, unrelated to riding. A lot of what you'll learn could carry over into the riding as well.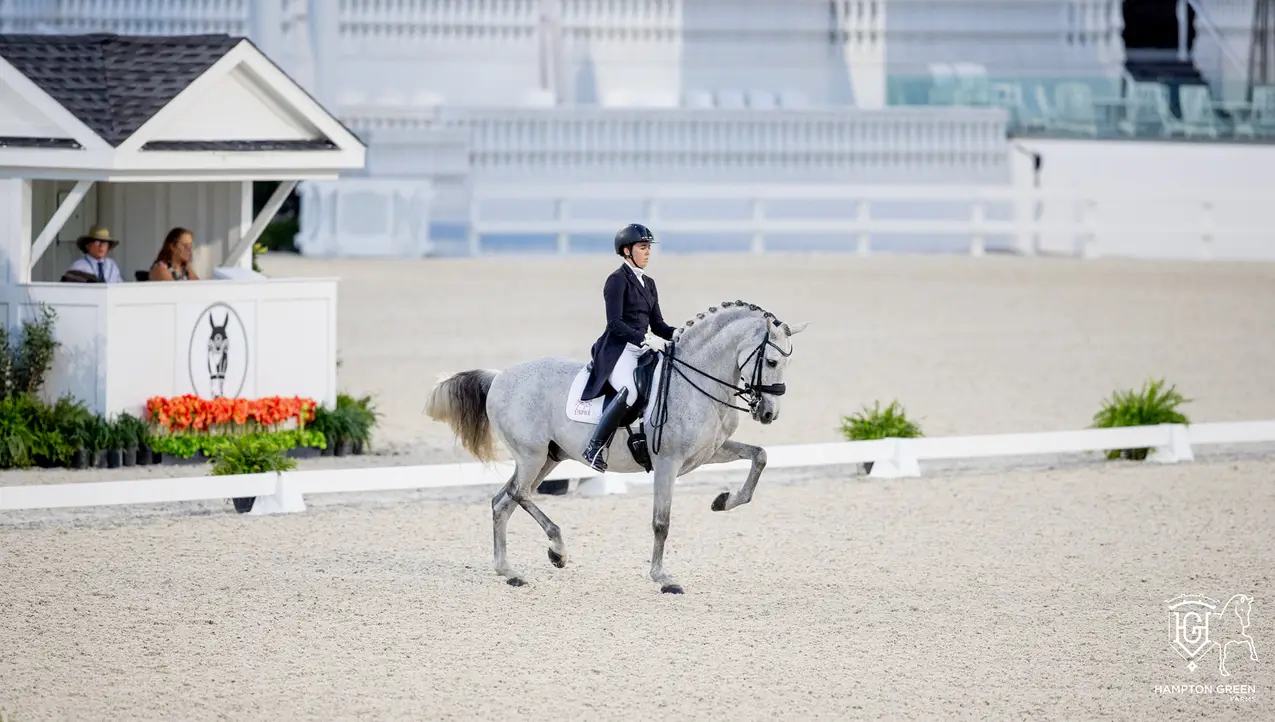 Is there anything that you wish you could do over again in life?
I am a firm believer that everything in life happens for a reason. I feel like all of the ups and downs present themselves as learning opportunities. I don't think I would want to do anything over again, however, I love to compete. I love the feeling of having a successful ride, whether that be taking a young horse to its first show, or competing in the Grand Prix, so I feel like I am constantly searching for those positive, happy moments over and over again.
What are your goals for 2023 and 2024?
This year has been very positive so far! I have high hopes that it will continue to get better and better as the year goes on. I always have the goal of representing the US as a senior rider, however, I know timing is everything and I will continue to work hard towards that goal. Hampton Green Farm also has a few young horses coming along that I am very excited to work with and develop as new prospects.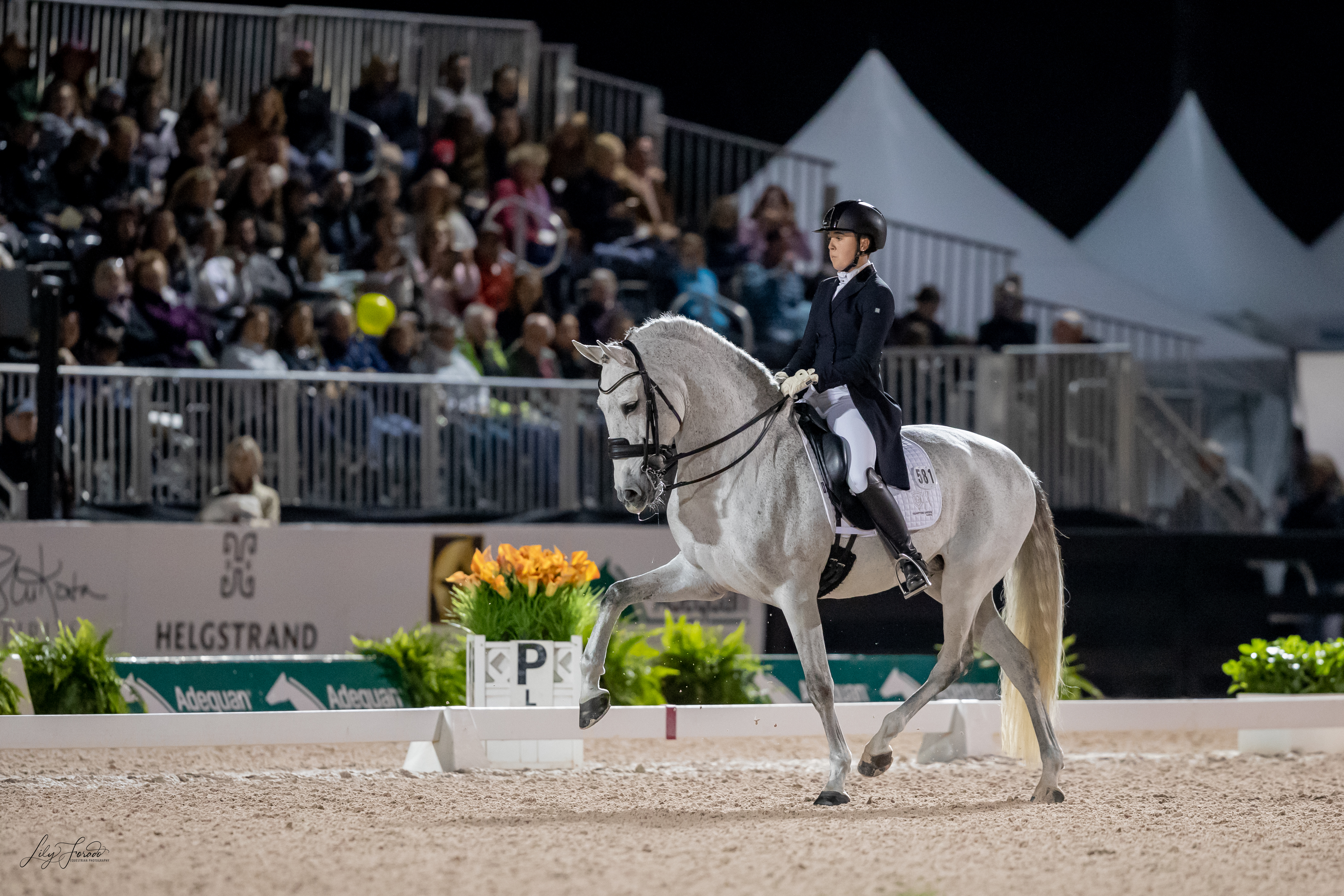 You ride mainly Spanish horses, what is your favorite thing about them?
Hampton Green breeds their PREs, so I am fully surrounded by them. I love learning the different lines and seeing the horses from the time they are born to well-presented horses in the show arena. That process is very fascinating to me. Typically, they are extremely intelligent, which makes the training process smoother. I also have found that their personalities shine through quite prominently. I find this to be so much fun because if you listen to them properly, typically they will tell you what works for them and what doesn't. The connection can be so strong if developed well.
 Thank you, Kerrigan! We can't wait to see you back in Wellington for AGDF 2024.