Welcome to our new series, Couples of Dressage! This series was inspired by the power couple Jennifer and Jürgen Hoffmann! The Hoffmanns met 33 years ago when Jennifer went to Europe to gain more knowledge about Dressage. After realizing how much she loved Germany, she decided to stay for an additional 22 years before moving back to the states with Jürgen by her side. After spending a summer in Europe to compete at the World Young Horse Championships, the couple now resides in Wellington, Florida. Continue reading to learn more about the Hoffmanns, their goals for the upcoming season, and their experience at the World Championships!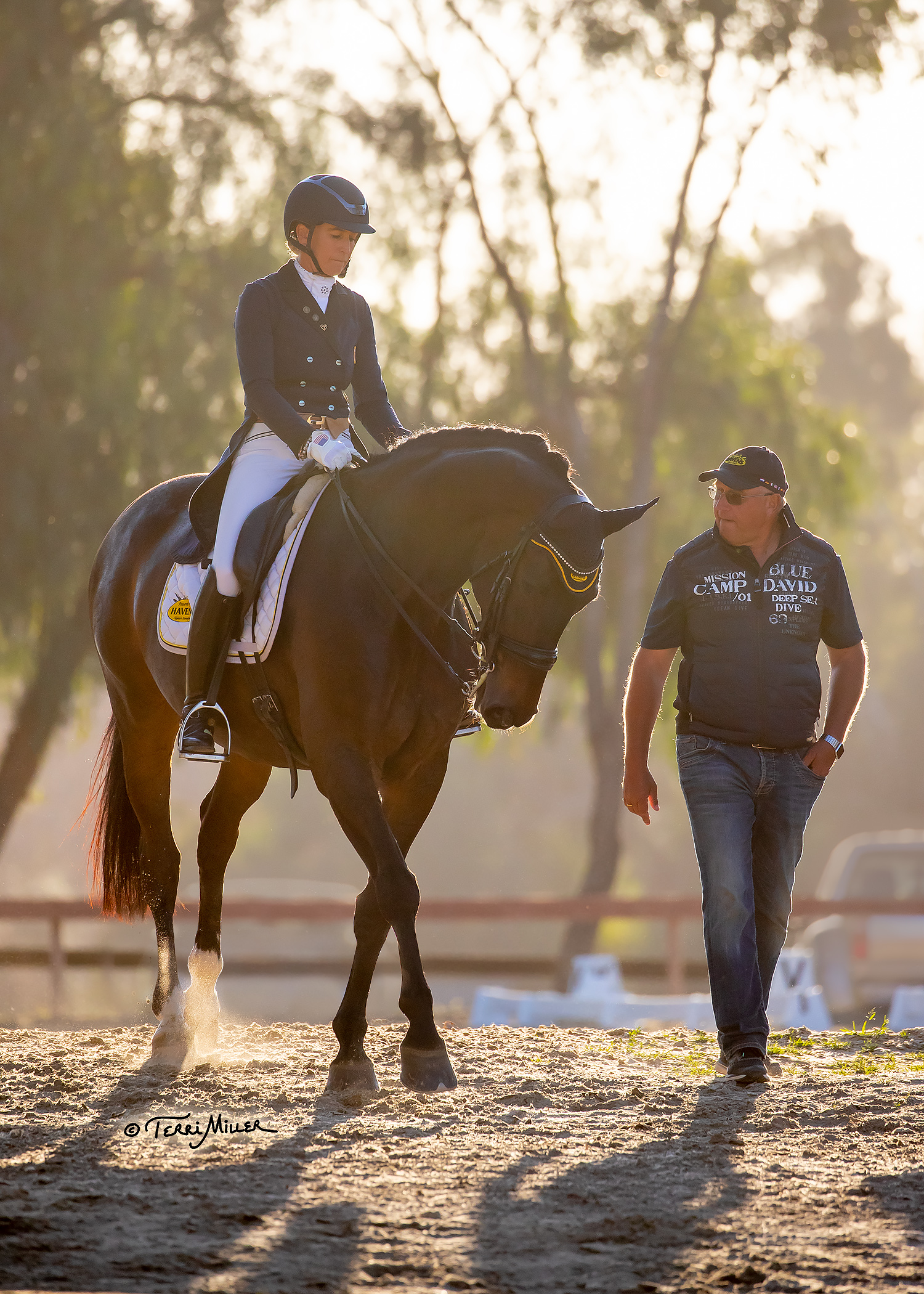 When did you begin riding?
Jennifer: I started riding ponies when I was just six years old in California. I took the path of experiencing many disciplines before I found my love for Dressage. I did Western, English, and Jumping, and then I became very competitive in Eventing. However, my Dressage was a bit lacking, so when I turned 16, my dad sent me to Germany to work on my Dressage. While I was there, I was a working student, and that's when I discovered my love for Germany, and after many years, I began my career, and I really learned professionalism and about the German Riding Training System.
Jürgen: I started seriously riding when I was 14, and then soon thereafter, I got my own horse which I had to pay for myself. Then, I was planning on studying veterinary medicine after school, but I had so much fun riding, and there was a trainer close to us at that time, so I just continued riding. Because we didn't have much money, I just had to do the best I could with what I had. Luckily, I got into the Bereiter program and decided that was the best for me instead of studying. Three years after the program, I completed the Master's Program in Germany, and in between, I completed the judge's exam and the jump course design, so by 25, I had all three licenses.
Who was the horse that made you fall in love with the sport?
Jennifer: I've had so many, and each one of them means something different to me. There are two horses that have such a special place in my heart and made me fall in love with dressage, Rubino NRW and Florentinus. Florentinus was one where I sort of had to win him over. He was extremely difficult, but we both knew that we could count on each other in the ring. I really made my career on him. The second one, Rubino, was my stallion, and I had him since he was three. I did my first ever World Young Horse Championships on him, and he took me to my first 71% International CDI Grand Prix. I also rode him on my first USA Team Nations Cup, and he really brought me into the international scene. They were both so special to me in different ways, and they will have a place in my heart forever.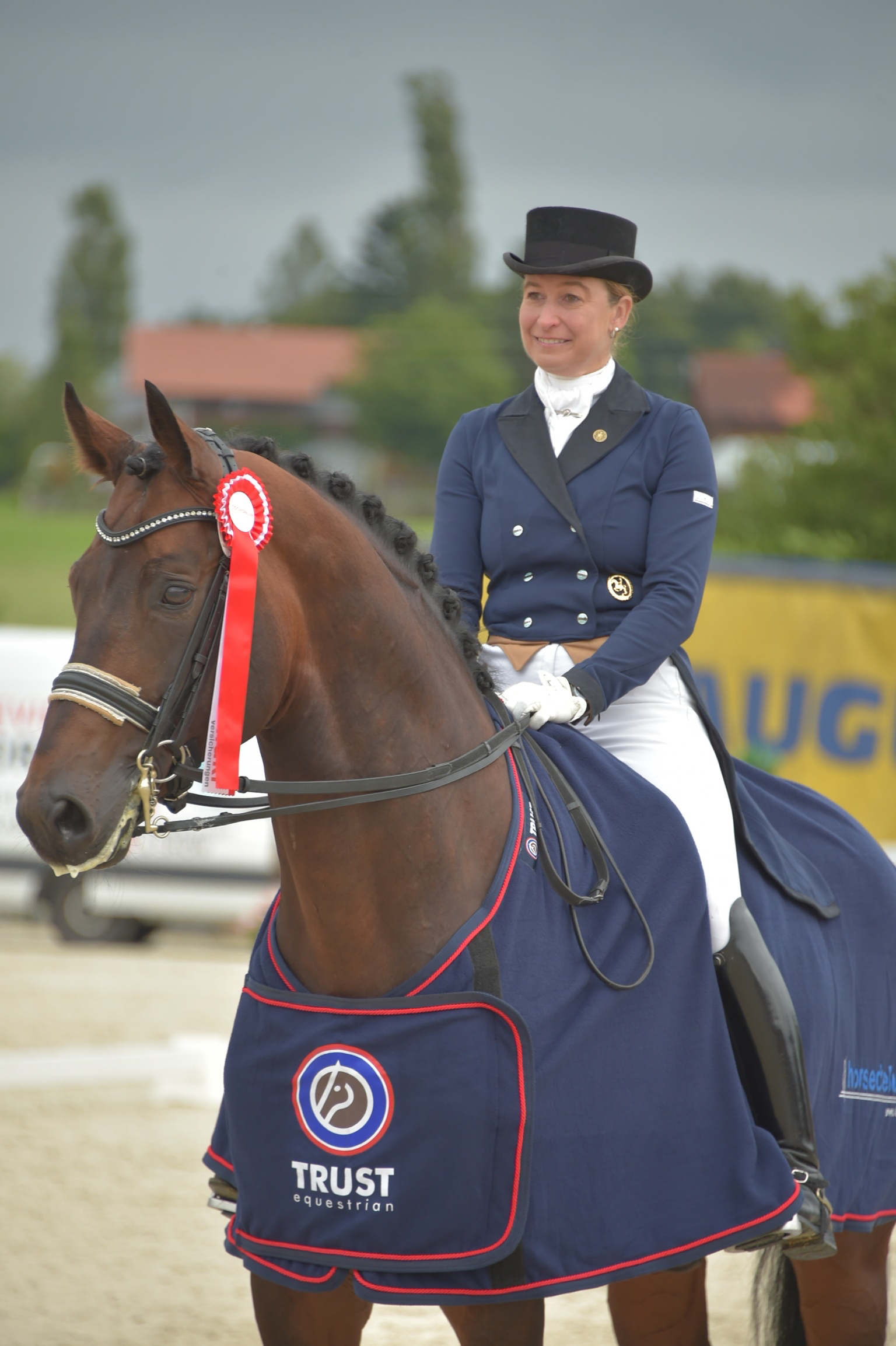 You've been stationed in California; what made you want to move to the East Coast?
Jennifer: There are so many more showing opportunities in Wellington, and the cost of going back and forth for the season is tremendous, so we decided to place a business here. There's also more going on in Wellington for sales, showing opportunities, more international crowds, and more business. We love California, and of course, we loved the experience we had there, but overall, Wellington is the best place to be for the equestrian sport. It's the best of both worlds because we are able to see our European friends while getting to be in Wellington!
What inspired you to start training and coaching?
Jennifer:  I started teaching more when I moved back to California. I felt like I learned so much in Germany and experienced so much of the European experience and the German school that I just wanted to pass that on and teach other people. Not everyone gets a chance to go to Germany for a couple of years to be able to train and be involved with everything, so I kind of wanted to bring a little bit of Germany and Europe back home with me to help other people and pass on what I've learned.
Jürgen: For a long time, I was competing, but I really enjoy helping develop  horses, riders, and the combinations put together. I also enjoy teaching more than competing. Of course, I'll get on occasionally to make corrections, but for the most part, I've found that coaching is what I love the most.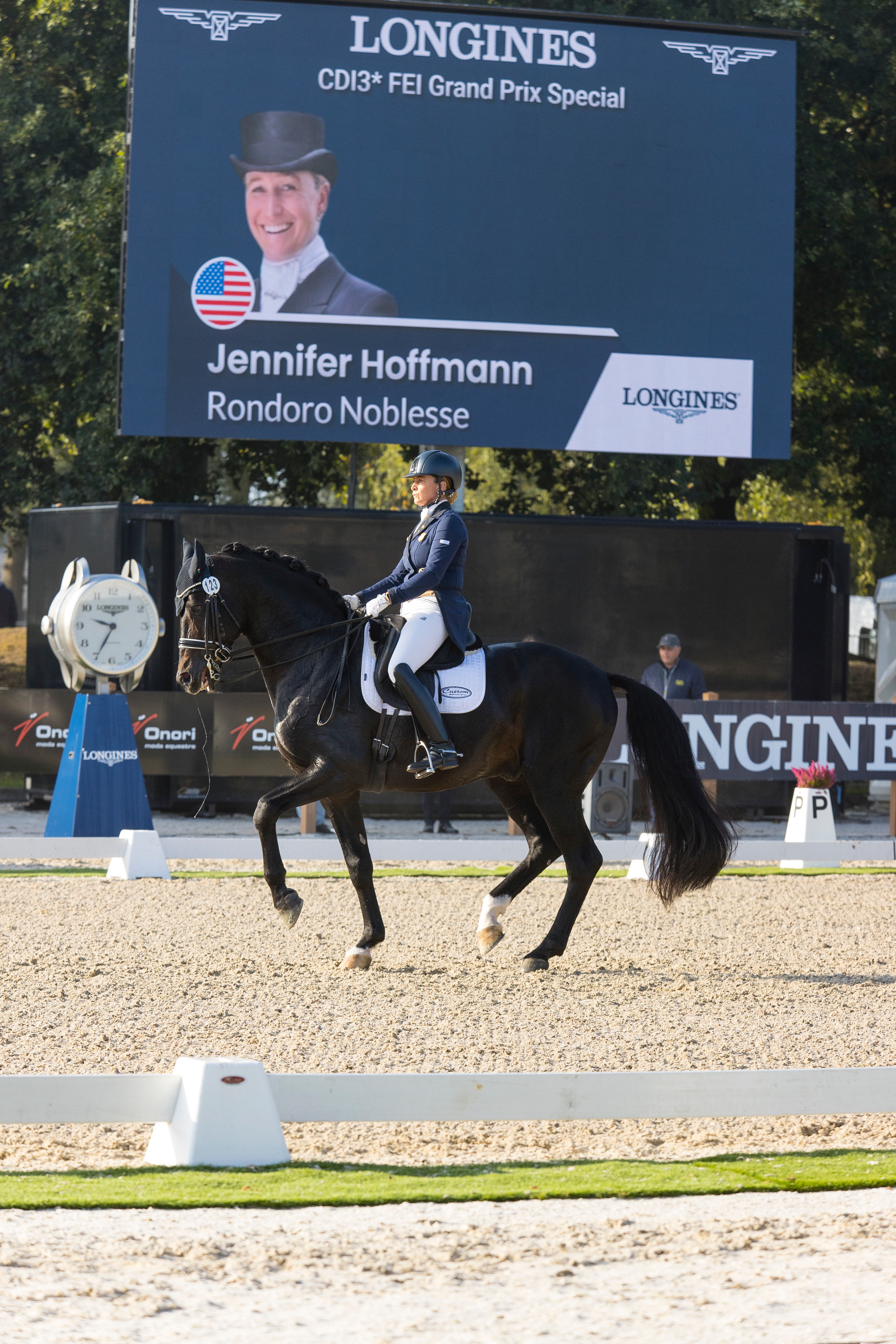 What are your goals for 2023?
Jennifer: Currently, we have three  top horses, Rondoro Noblesse (Rudy), Mani's Endeavor, and Zanzibar (Zacky). With Rudy, we'll be doing a lot of CDI Grand Prix's this year, and I want to really try to bring out the very best in him and try to get my scores as high as we can get. I would love to get the scores to qualify for the Nations Cup in Europe; this year is our year to prepare for the 2024 Paris Olympics. I really believe in him, and I think he's going to be doing some great things this year.  Endeavor has just completed a fabulous summer competing at the World Young Horse Championships. I would love to compete with him in the 7-year-old tests and potentially try for the World Championships again. I'm also hoping to compete in the Summit Farm Challenge tests because they're in the main stadium at Global, and I'd like them to gain experience in the International Ring. I would also love to show him in the Small Tour tests and then see what opportunities lie there for us. Zacky, who is now eight, will compete with Endeavor as we will enter the Summit Farm Challenge and the Small Tour as well. Aside from those three, I have some super cool sales horses. Right now, we have three  beautiful and really nice horses that we are going to find homes for. As for my clients, I have a very talented Young Rider as a student; we are hoping to get her scores as high as possible so she can compete with us in Europe, so there are extremely big goals for her. I also have another client who is going to learn the ropes of the Grand Prix and enter the CDIs. I have two additional clients, one with a new young horse, and the other is going to be competing in her first national tests, so we have a lot of exciting things ahead!
Tell me about your experience at the World Young Horse Championships!

 
Jennifer: Although I've competed at six World Young Horse Championships in Verden, Germany, this was the first time I'd ever competed at the venue in Ermelo in the Netherlands. It was such a beautiful place, and it was a wonderful experience competing with Endeavor. On the first day, he earned a nine on his trot with super marks; It was exciting making it into the Top 12 for the final day. Unfortunately, on the final day, we couldn't compete to our full potential because he got a bit scared from the background and competed in a different ring. Even though we had a few mistakes during the final, I am still so incredibly grateful that I was able to compete at such a wonderful venue and present such an amazing horse. It was also an extremely special event as this was the first time his owner, Nasrin Mani, was able to watch him compete in Europe. I am extremely grateful for everything that she has done for us and for the opportunity to continue on this amazing journey with such an amazing horse.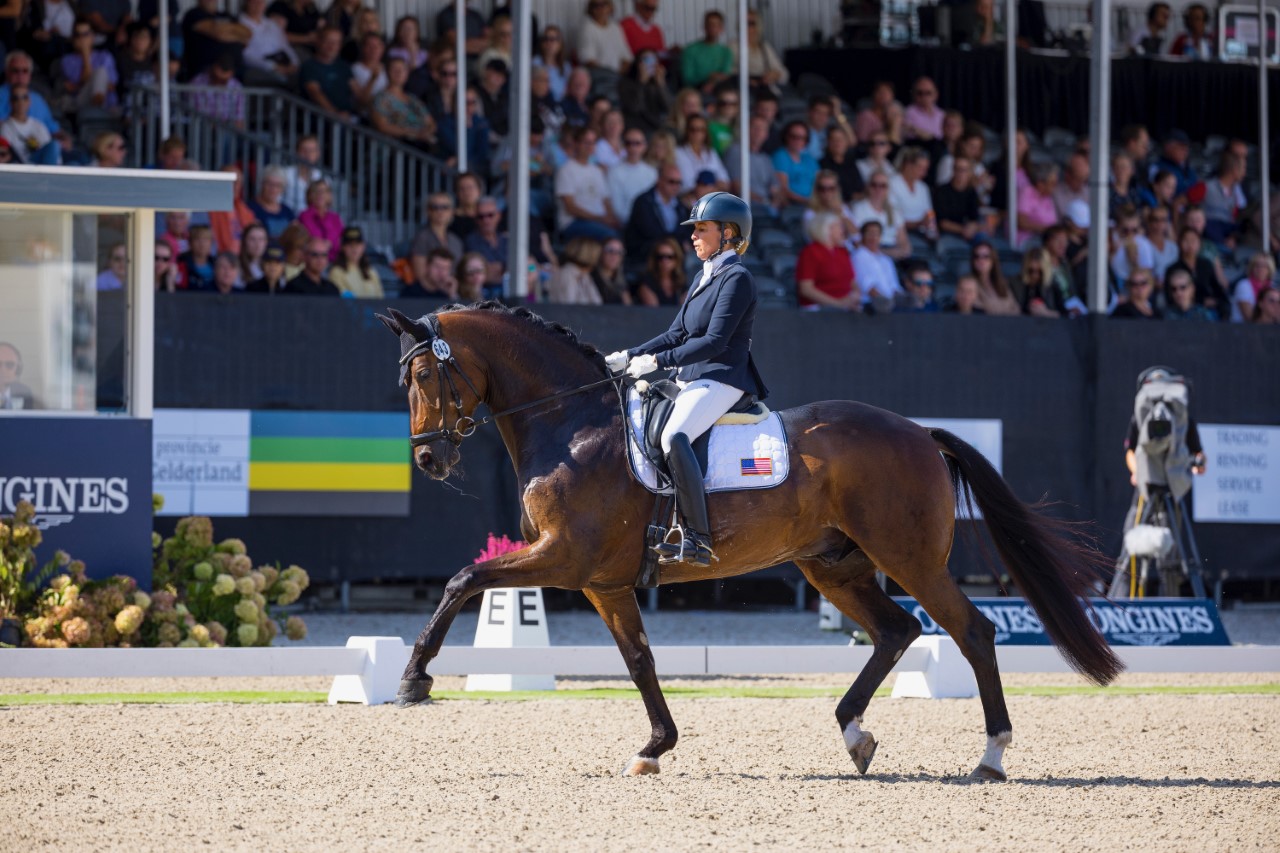 Can you give us some insight as to why your partnership is so successful on a daily basis?
Jennifer: We pretty much train together on a daily basis with all the horses. Some days Jürgen has more to say than others, but in general, he is a stickler for absolute correctness in the training. I think one of our strong points is that we both have the same goals, but sometimes I feel things differently when I'm riding, and he sees things differently from the ground, which is extremely vital for our daily training process. What we have found that works best for us is to take a moment to discuss the problem and work together to come up with a solution for what is best for that individual horse at the moment. I also love the fact that he always has a new approach or idea rather than repeating the same thing over and over. I think everyone knows how difficult it can be to be a couple and work together in the ring 24/7, but I think it goes to show how passionate we are about the horses, the sport, and our goals together.
Thank you so much, Jennifer and Jürgen, for being the first-ever feature for our new series! We wish you both the best of luck in 2023!