For Immediate Release
Alice Collins for Jennifer Wood Media, Inc.
Wellington, FL — March 3, 2018 — The USA's Ashley Holzer recorded Sir Caramello's first ever international grand prix win in just his fourth CDI test, topping the Grand Prix Special CDI3*, presented by Peacock Ridge, with 70.149%. They were the only combination to break through the 70% barrier in the class of 13 finishers in week eight of the 2018 Adequan® Global Dressage Festival (AGDF) at Palm Beach International Equestrian Center (PBIEC) in Wellington, Florida.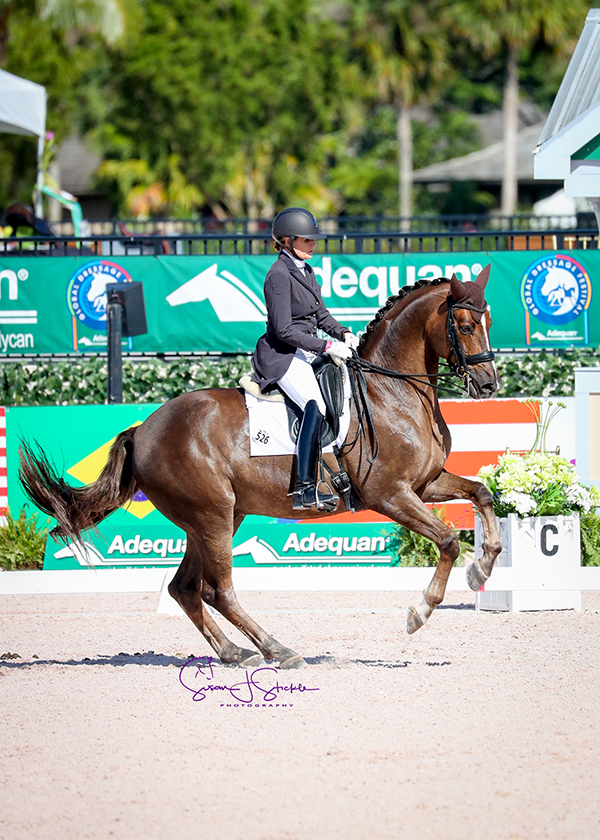 The class was sponsored by PJ Rizvi's Peacock Ridge, which was fitting as she is also the owner of the winning horse. Holzer was flabbergasted to win, having finished seventh in the qualifying grand prix. Sadly she was not able to attend the prize-giving as she had to leave to catch a flight to Toronto.
"I'm speechless," said Holzer. "This horse has been on the most incredible journey. Never in a million years did I think he'd win — I thought we might do a 65% test. But I've just watched the video back and some of the things he did in that test were unbelievable. And he whinnied at me for this first time in his life this week; I'm feeling very emotional about it."
Indeed, the liver chestnut gelding's extravagant movement and uphill frame command attention in the ring. At only 11 years old, the horse still has plenty of time to gain confidence, and Holzer blamed the only big blip — a miscommunication in the passage to canter transition at X — firmly on herself.
"I timed the canter aid completely wrong," she said. "He is such a power machine and he's been challenging to bring on. Andreas Helgstrand once described him as the most talented but most difficult horse he'd ever seen. He was sold at the PSI auction in 2011 as a four-year-old [for €500,000 to Russia], then ended up with Patrik Kittel, who called PJ and I about him.
"It's been hard for him to balance his huge gaits and then close up again for the collected work; that's taken a long time to develop," she added. "I also got some last minute advice from Robert Dover and Carl Hester yesterday — about taking my time in the corners, and not worrying about him being too 'up' in the frame."
Holzer credits Rizvi's patience and understanding as an owner for allowing her the time she needed to turn the horse around.
"PJ's been behind him 100% of the time and, believe me, we've had some major lows with convincing him that everything would be okay," added Holzer. "This win is testament to the importance of having a supportive owner who understands these things — so it was fitting she was the sponsor of the class."
Holzer plans to show Sir Caramello (Sir Donnerhall x Feiner Stern) in one more CDI at AGDF before whisking him off to Europe for the summer.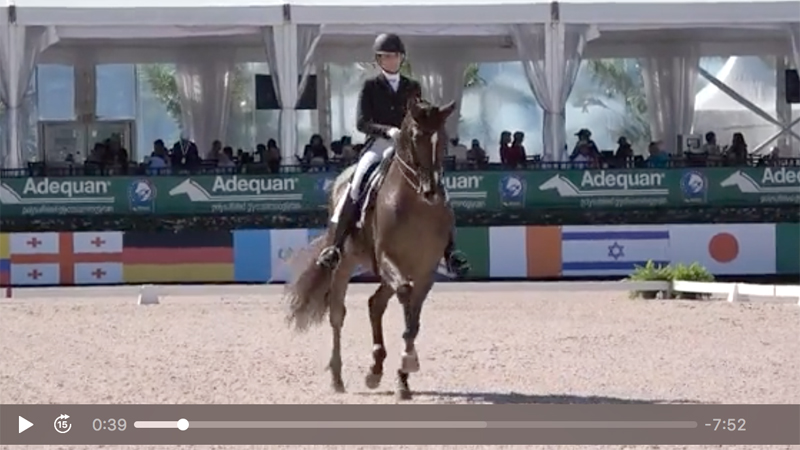 Click here to watch the winning ride!
Katherine Bateson Chandler — another to benefit from British Olympian Carl Hester's advice on-site — was second with Alcazar. The local rider was nip and tuck on the trending scores with Holzer until small mistakes crept in in the two sets of one-time changes. The finished on 69.979%. Like Holzer, she plans to spend the summer in Europe, training with Hester.
The top non-US rider was Canadian Olympian Megan Lane, who rode Deer Ridge Equestrian's Zodiac MW, by Rousseau, to 67.915% for third place. The winner of the qualifying grand prix, the Dominican Republic's Yvonne Losos de Muñiz, had to settle for sixth place aboard Foco Loco W.
In the Intermediate I CDI1*, Spain's young talent Pablo Gomez Molina made it two wins from two starts with Yeguada de Ymas' 10-year-old mare Finest Ymas, a Westfalian by For Compliment. He also finished third in the class on Ulises De Ymas, with Germany's Michael Klimke (Harmony's Diabolo) splitting the 24-year-old's two rides. Gomez Molina, who is competing at AGDF for the fourth consecutive year, scored over 67% on both his rides in the 11-strong class.
Action in week eight — Palm Beach Derby week — of the 2018 AGDF concludes on Sunday with a full schedule of eight classes, including the Intermediate I Freestyle CDI3*, the under-25 Grand Prix Freestyle and classes for amateurs, ponies and young riders. The AGDF runs through March 31. For more information and results, visit www.globaldressagefestival.com.
Results
Place, rider, nationality, horse, horse information: judge E%, judge H%, judge C%, judge M%, judge B%, total
FEI Grand Prix Special CDIW, presented by Peacock Ridge
E, Christoph Umbach (LUX); H, Peter Storr (GBR); C, Gary Rockwell (USA); M, Stephen Clarke (GBR); B, Evi Eisenhardt (GER)
Ashley Holzer (USA) on Sir Caramello, Peacock Ridge LLC's 11yo Oldenburg gelding by Sir Donnerhall x Feiner Stern: 71.17, 73.085, 66.915, 70.426, 69.149, 70.149%.
Katherine Bateson Chandler (USA) on Alcazar, Jane Forbes Clark's 13yo KWPN gelding by Contango x Ferro: 71.064, 71.277, 69.149, 69.043, 69.362, 69.979%.
Megan Lane (CAN) on Zodiac MW, Deer Ridge Equestrian's 14yo KWPN gelding by Rousseau x Amethist: 69.574, 67.66, 66.064, 68.298, 67.979, 67.915%.
Kiichi Harada (JPN) on Egistar, Haruka Nakada's 15yo KWPN gelding by Cobochon x Kaiserstern xx: 68.936, 67.34, 65.957, 69.681, 67.447, 67.872%.
Diane Creech (CAN) on Chrevis Christo, Louise Leatherdale's 10yo Danish warmblood gelding by Chrevi's La Vi x Natador: 67.872, 67.021, 64.787, 70.638, 68.191, 67.702%.
Yvonne Losos de Muñiz (DOM) on Foco Loco W, her own 13yo Belgian warmblood gelding by Sierappel x Wendekreis: 66.809, 65.319, 68.723, 67.553, 69.787, 67.638%.
Michael Klimke (GER) on Royal Dancer 33, his own 12yo Hanoverian gelding by Royal Blend x Le Primeur: 69.043, 68.723, 67.34, 67.872, 64.255, 67.447%.
Devon Kane (USA) on Sir Galanto, Diamante Farms' 13yo Hanoverian stallion by Stedinger x De Niro: 66.17, 68.404, 67.766, 68.191, 66.383, 67.383%.
Photo Credit: ©SusanJStickle. These images may only be used in relation to this press release and with credit.