By Alice Collins and Kim Beaudoin for Wellington International
Week 3 of the Adequan® Global Dressage Festival (AGDF) continued this weekend, with a victory for France's Morgan Barbançon and her own Habana Libre A in the FEI Grand Prix Special CDI4*, presented by Palm Beach Equine Clinic. AGDF 2023, which hosts seven weeks of CDI competition and weekly national competitions, runs through April 2.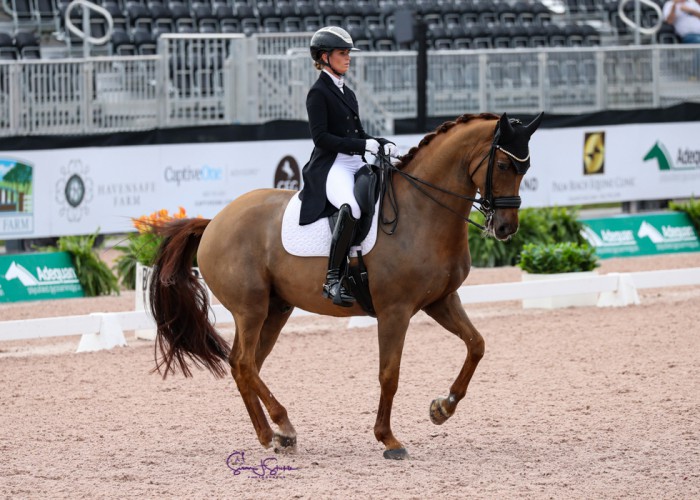 Barbançon's 74.404% performance aboard the Dutch Warmblood gelding by Zizi Top marked the pair's highest Grand Prix Special score to date. At 11 years old, Habana Libre A was the youngest horse in the class. The pair finished more than three percentage points clear of second-placed Anna-Christina Abbelen (GER), who rode her own and Silke Abbelen-Mooren's Sam Donnerhall to 71.234%. Spain's Pablo Gómez Molina claimed third on the 13-year-old PRE gelding Ulises De Ymas with 69.915%.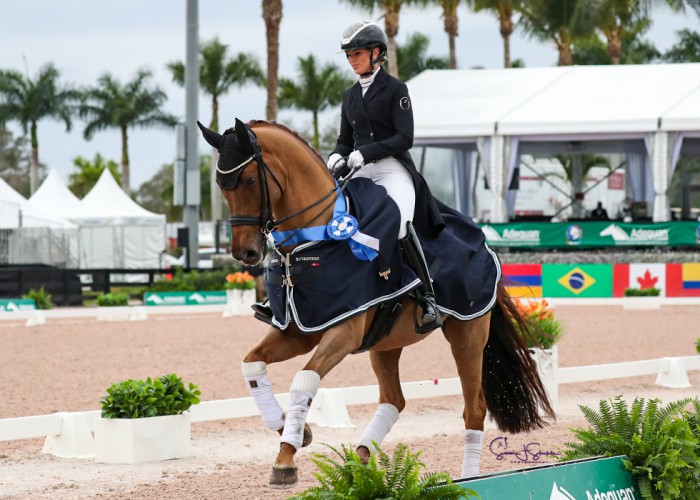 "I'm super happy," said the 30-year-old Barbançon, who is competing at AGDF for the first time. "I'm on cloud nine. Honestly, I thought we would get a 72% or maybe 73%, and I would have been super happy with that, especially after the Grand Prix, which we didn't have such a great ride in, with too many mistakes and a lot of tension, and I was feeling a bit disappointed.
"Today, I had such a floaty, fluid ride, and I didn't push," she added. "My goal was to give him confidence in the ring and have a fault-free test — and that's what I had. There were hiccups here and there, but it felt like such a nice ride. Next time I can push him a bit more because he was confident in there."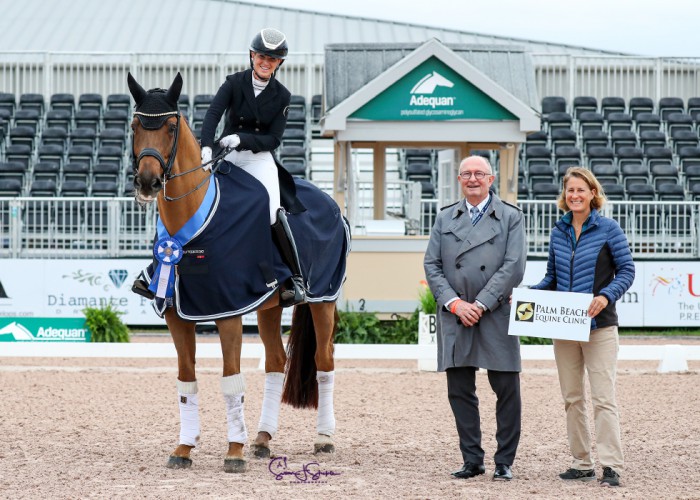 Barbançon noted that the journey with the horse has been somewhat challenging, making this result all the more meaningful. "When I saw the score I started crying because he's come a long way. We've had him since he was four — he wasn't always the easiest, so this was very special."
"I don't have any set plans [for the rest of the season]," she continued. "I'm looking at the five-star with Habana, but I'll take it week by week. I'm here until the end of March, so there is no rush and no pressure, and I'm here to compete as much as possible. I want to give him the confidence in the ring, where he wants to go and wants to do it."
Tarjan Claims Ticket to Lövsta Future Challenge Final 
The second qualifiers in the Lövsta Future Challenge Young Horse Grand Prix Series and the Future Challenge Young Horse Prix St. Georges Series sent two more combinations through to the Grand Final (which takes place in AGDF 11) from each class. These classes aim to identify and nurture talented, up-and-coming young FEI horses.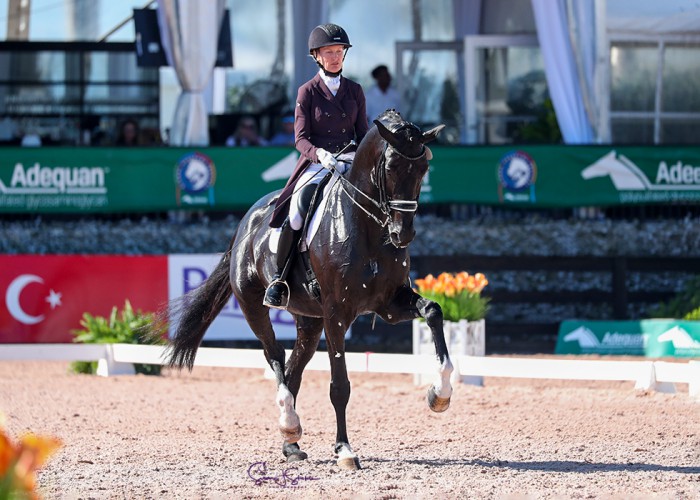 In the Lövsta Future Challenge  FEI Intermediate II Future Challenge Qualifier, Alice Tarjan rode her own Summersby II (by Sezuan x Sandro Hit) to 70.833%. Ali Potasky rode Inxs into second place with 69.558%, claiming the second qualifying slot.
"It's a great division," enthused Tarjan, who rides as an amateur. "I've been here the last three years and it's a super way to get the greener horses into the CDI stadium and in front of the CDI judges without the pressure of a CDI.
"Summersby is a really great horse, and only eight years old. I'm just happy that she stayed with me through the whole test. The horse has to get stronger in the work, but she's really honest and the atmosphere didn't seem to affect her at all."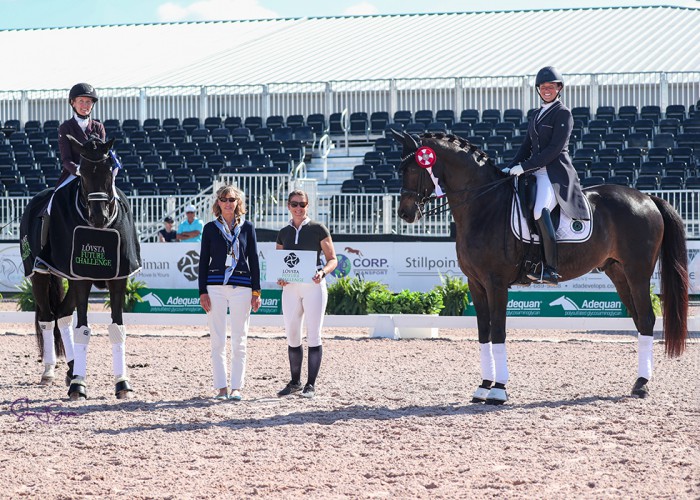 After the Lövsta Future Challenge series, Tarjan plans to campaign Summersby at developing Grand Prix this year.
In the small tour class, Germany's Michael Klimke clinched the top spot, riding Harmony's Fado (Fairytale x Sir Donnerhall) to 70.832% in the FEI Prix St. Georges class. Kelly Layne (AUS) collected the other ticket, riding Living Diamond, by Livaldon, to 70.539%.
The next qualifiers at both big tour and small tour levels will be held during AGDF Week 5.
Pape Posts Second Win of the Week 
In the CDI3* FEI Grand Prix Special, presented by ProElite®, Great Britain's Susan Pape and Harmony's Eclectisch notched up another victory, adding a 70.021% win to their blue ribbon in the qualifying Grand Prix class.
"Our ride felt nice and powerful today," said Pape. "Unfortunately, I had a mistake in the twos and the ones on the centerline. But other than that, it was very good. The passage on the left lead was very good for him and expressive. In the canter work, the ones were beautiful, and so was the extended canter."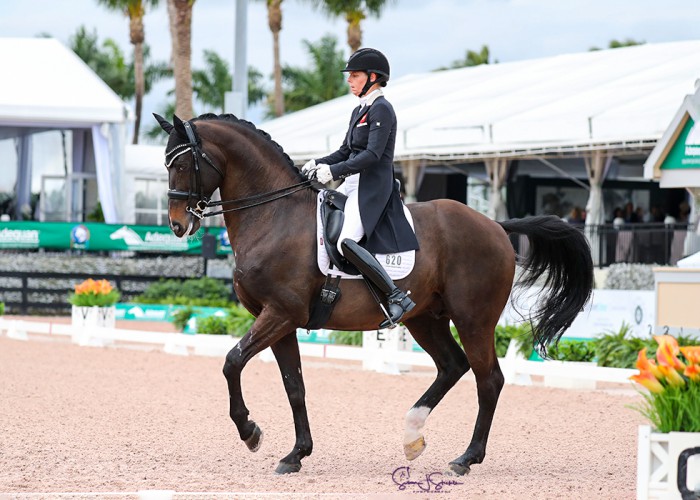 Pape and the 14-year-old Dutch Warmblood stallion by Zenon, owned by Pape and Harmony Amateur Sports Foundation, have been partnered for a few years, and she reflected on what taking the ride over on the well-trained horse has been like.
"He's been a very easy horse to take over," she admitted. "He was very well trained. He wants to go in there and do it right. He's in a good mood every day. If he were a person, he would say, come on, let's go out and have a drink. He's just a real pal."
Caroline Chew (SGP) slotted into second — the same place as in the Grand Prix — on Tony and Melanie Chew's, 14-year-old stallion Blue Hors Zatchmo. The son of Blue Hors Zack was last to go in the field of 15 starters and scored 68.128%. Third placed Chris Hickey (USA) rode Cecelia Stewart's Stenagers Wyatt Earp, who at 11 was the youngest in the class, to 67.936%.
Sunday's action wraps up week three of the 12-week 2023 AGDF. International competition resumes in week five (February 8-12) with a CDI4* show, as well as competition in the national arenas.