By Alice Collins for Wellington International
The USA's Charlotte Jorst — who always rides with a grin on her face — had extra reason to smile on Sunday of Week 8 at the Adequan® Global Dressage Festival (AGDF) in Wellington, Florida. AGDF 2023, which hosts seven weeks of CDI competition and weekly national competitions, runs through April 2.
The fourth of five qualifiers in both the Lövsta Future Challenge Young Horse Grand Prix Series and the Buffalo Wild Wings Future Challenge Young Horse Prix St. Georges Series sent more combinations through to the Grand Final (which takes place during AGDF 11) from both divisions. These classes aim to identify and nurture talented, up-and-coming young FEI horses.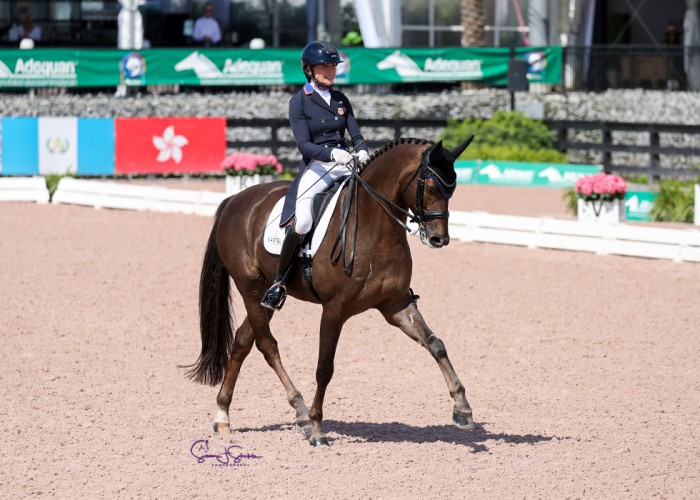 Jorst topped the Prix St. Georges class riding her own Straight Horse Cosmo to 70.833%. Olivia Lagoy-Weltz (USA) bagged the second qualifying ticket in the class, riding Fade To Black, Mary Anne McPhail's eight-year-old mare by Fantastic, to 70.195% and second place. Jane Karol (USA) claimed third with 67.94% on Vioretta. Jorst now has two horses qualified for the final, after winning AGDF 5's qualifier on Federle.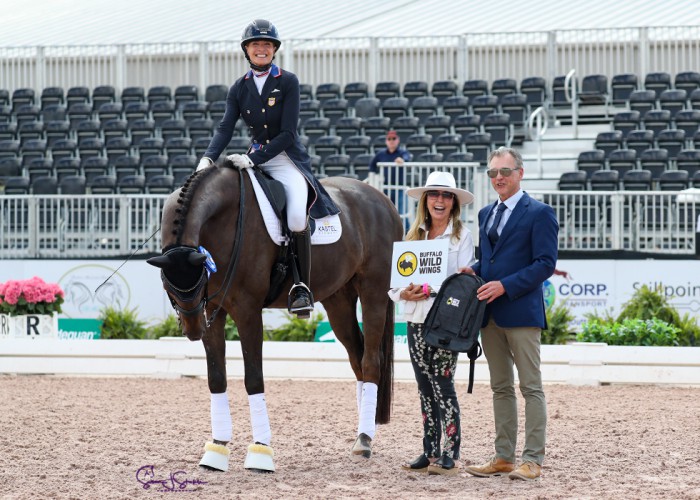 Jorst, 58, has only had Straight Horse Cosmo for a year and the eight-year-old gelding by her own stallion Kastel's Grand Galaxy Win has been in jumping training for most of that time.
"He was really lazy so I put him in hunter/jumper training and he just came out of that in January and he was like a reformed horse," explained the rider from Reno, NV. "I did it because sometimes it's just your own mindset you need to change and remain more open. I've never had a ride like him before and, instead of giving, you have to sit into it and get into the contact, so I've learned a whole new system. I love riding and learning.
"He's actually a very good jumper and enjoyed it. Since he returned, I've done a few national classes with him. Last week I missed my fours, so I was very determined not to miss them today because he has beautiful changes and he felt so great in the warm-up. He's so fun and handy and goes into the bridle so well. I had a great contact the whole time and he moved into every movement beautifully. I think he's going to be a super grand prix horse," she added.
Jorst plans to contest a CDI with Cosmo in Ocala and then take him to Europe for the summer to further his training.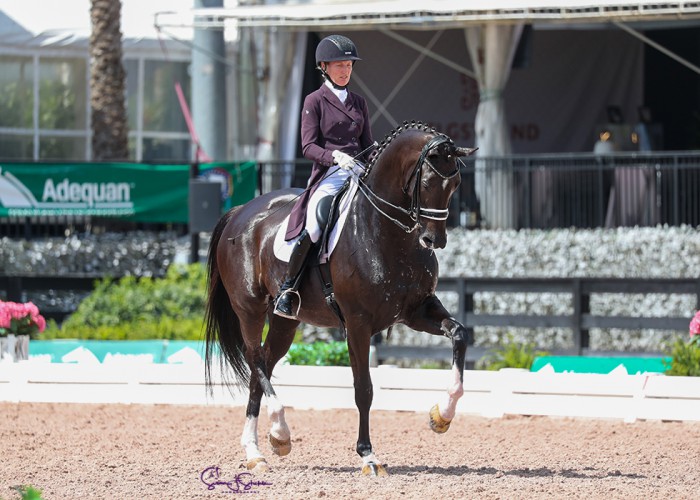 In the big tour class, the USA's Alice Tarjan — who has been a great supporter of the developing horse classes — nailed another ticket to the final, with the three judges unanimous in their winner. She has already qualified on her own Summersby II, and she will now be joined by another of Tarjan's mares, the nine-year-old Jane, by Desperado NOP. The pair were rewarded with numerous nines — but also some low marks in the two-time changes — to finish on 73.381%, with a high score of 77.058% from the British international judge at C, Clive Halsall. Emily Miles (USA) rode her two horses — Sole Mio and Daily Show — into second and third places respectively, with scores in the high 60s.
Tarjan, of Oldwick, NJ, said, "She's a super honest horse and she's got her own motor — she always wants to go, which is nice to train — but she's also very lightly shown and very spooky and aware of the environment. So, the puzzle is to try and figure out how to get her more comfortable in the show ring. It was sort of a funny test; we missed the twos but overall the issue is just to keep her more on my aids so I can ride a softer half-halt.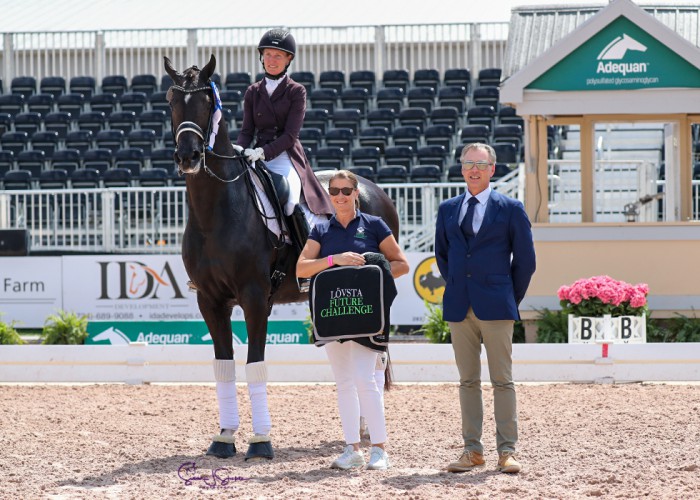 "She spooked from the minute we went into the arena and she spooked during the entire test," she admitted of the horse she has owned since she was a three-year-old. "I think Jane has tremendous quality, but she needs some ring time and that's why we're here. We will keep bringing her and basically have her live in this arena until she gets more comfortable, then we can look towards future goals and plans."

Ligus Wraps Week with Freestyle Win 
Germany's Lars Ligus staked out another victory at small tour level, adding the Blukota Spirits Intermediate I Freestyle CDI1* winner's sash to his domination of the straight class the previous day. After an intense three days of competition, Silke Abbelen-Mooren's 12-year-old Bordeaux gelding Baron Bollwerk was still energetic and he and Ligus were rewarded with a generous peppering of eights throughout the test. Ali Potasky (USA) and Kathy Priest's 10-year-old Everdale mare Irintha produced a career high score of 74.99% to finish second. Potasky's compatriot Susanne Benne filled third with 67.845% on Liebling, by Londontime.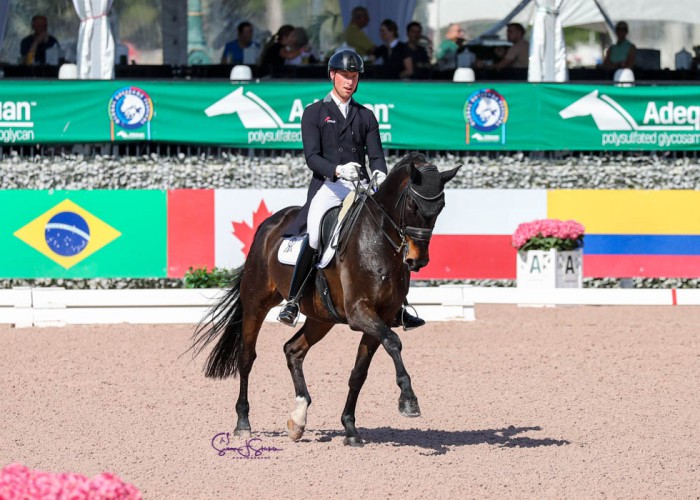 Sunday's action concludes week eight of the 12-week 2023 AGDF. CDI competition resumes in a few days with week nine, featuring an international para competition and a full slate of national classes. The following week — AGDF10 — hosts both a five-star and a three-star CDI show and is one of the major focal points of the winter season. For more information and results, visit www.globaldressagefestival.com.