By Alice Collins for Wellington International
The Perrigo CPEDI3* of para dressage action during week nine of the Adequan® Global Dressage Festival (AGDF) kicked off on Friday. AGDF 2023, which hosts seven weeks of CDI competition over three months, runs through April 2.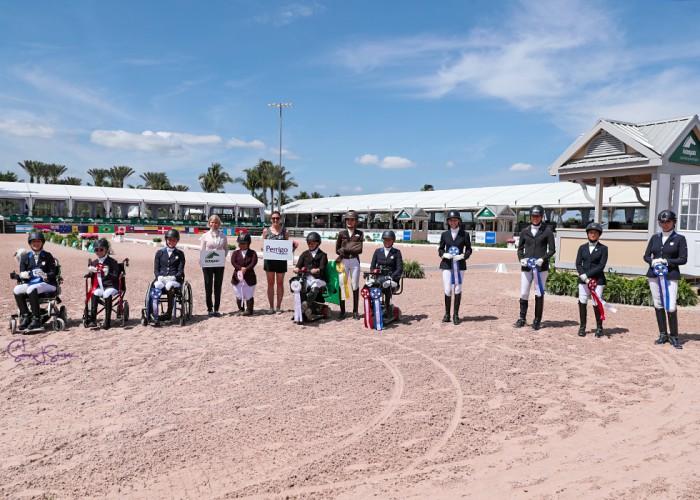 Partnering with her own 12-year-old Ghandi (Bojengel x Tuschinski) in international competition for the very first time, the decorated Grade IV US Paralympian Kate Shoemaker, 35, topped the grade with 71.759%.
"This weekend has been a little different for me as this is the first time in five years that I haven't been named to a team while competing," she explained. "It took the pressure off having a new horse and just being able to go in there with him and give him the best showing I could. To get the experience in this stadium was wonderful."
Shoemaker found the horse for a client who decided to pass on him, but she had a good feeling about him and got on.
"It was love at first sight," remembered the rider, who has lesions that cause motor control dysfunction, muscle weakness and spasms on the right side of her body. "The goal with this horse was to give me something to ride on a daily basis that gives me the feeling that my mare Quiana does. The competition side of it was an extra opportunity for me. The fact that he went in there this weekend and said, 'Yeah I'm happy with the people and the stadium' — it was incredibly fun to ride him and I learned a lot because he truly is a schoolmaster."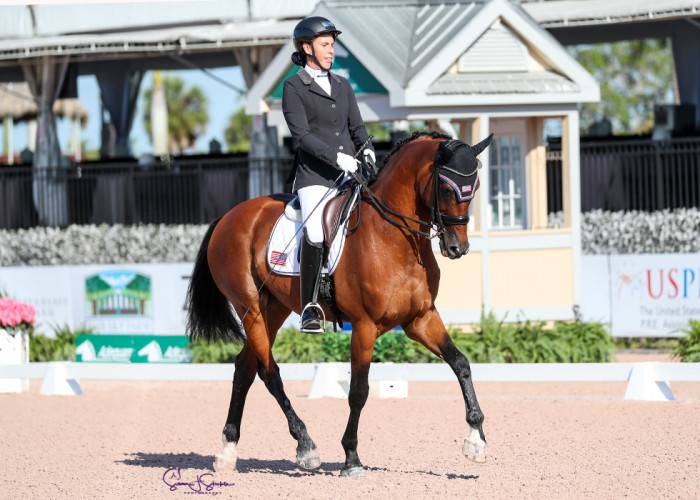 Shoemaker's para dressage career (she had previously evented internationally) began at this very venue in 2014. She drove 30 hours from Oklahoma, where she was working in a vet clinic, to attend the show and it was in Wellington that her illustrious para journey was launched. Soon after, she found Solitaer 40 and, with the help of trainer Andrea Woodard, took the horse to the World Equestrian Games in 2018 and the Tokyo Olympics.
At AGDF 9, Shoemaker handed over Solitaer 40's reins to the Grade II rider Fiona Howard (USA), who has the neuromuscular disease, dystonia. She posted a 68.908% win on the 16-year-old gelding by Sandro Hit x De Niro and is coached by Shoemaker.
Shoemaker played a huge part in the success of yet another winner, Grade V victor Cynthia Screnci (USA). The 55-year-old rode her own and Volado Farms' 16-year-old Sir Donnerhall gelding Sir Chipoli to 70.427% — with a high score of 71.923% from the judge at C Adrienne Pot, who awarded 10 eights. Shoemaker found 'Chip' for Screnci and they have won their last 15 international starts together over the past two years.
"Kate has an amazing ability of looking at a rider and being able to pair them with a horse," said Screnci. "This is the second horse she's helped me with using Facebook ads. Within a day somebody responded, sent videos and she met them for breakfast. The next thing I knew I was on a plane going to Germany to try Chip. I rode him for five days, took him to a show, and said, 'Find him a flight and get him home'. The credit goes to Kate; she's such a supporter of the program and the growth of the team."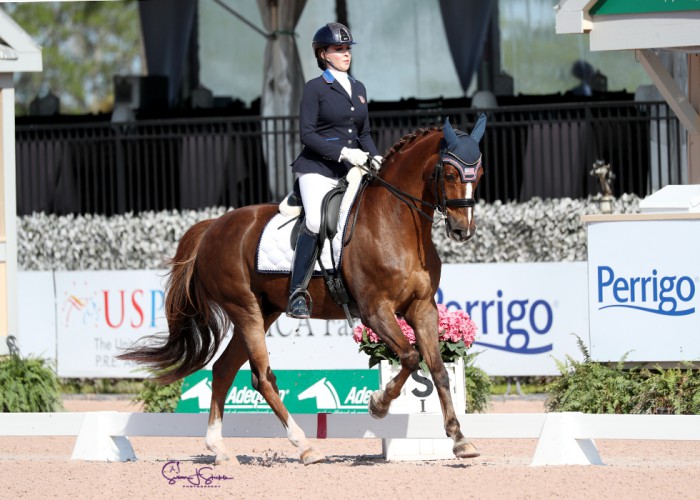 In 2015 Screnci was a jumper rider at the Wellington Winter Equestrian Festival (WEF) and broke her ankle in a fall. Soon after, she jumped in her swimming pool a little too soon — admitting that she was trying to rehab herself a little too early — and ended up with a bacterial infection. That led to osteomyelitis — a bone inflammation — that led to 26 surgeries. After another injury show jumping, this time to her knee on the same leg, she decided to take the para dressage route instead.
"I came into this thinking that it would be a cake walk and then got the hard realization that I don't know anything," she admitted. "I love it every day because it's such a cognitive sport. Every step you take is thoughtful and I just love that about it, and the opportunities you get in para to compete internationally and do what we do is exciting.
"Chip is an amazing creature and he knows so much more than I do. It's taken us a couple of years to start to gel and we just recently started to put it together, so today was a big deal to me. It shows that all the hard work is paying off and coming together," added Screnci, who recently began training with Andrea Woodard.
The young Adalie Tuman (USA) claimed the blue ribbon in the Grade III test with 67.222%. The 17-year-old rode her own and Dan Tuman's Beste Guess, by Beste Gold. This was Tuman and the 13-year-old American warmblood gelding's second international show together. She was the 2022 Para-Equestrian Dressage Fund grant recipient and has ambitions to ride at the Paralympics. Her disability is a progressive nerve and muscle wasting disease called Charcot Marie Tooth Syndrome (CMT).
Grade I rider Roxanne Trunnell (USA) rode Lehua Custer's Fortunato H20, a seven-year-old Oldenburg stallion by Floriscount OLD to a new personal best of 74.93%. The 37-year-old Tokyo Paralympic gold medalist garnered an eight for general impression from all three judges.
Dressage competition resumes on Saturday with action in all para Grades. AGDF 9 wraps up on Sunday, with freestyle day. AGDF 10 heralds the CDI5* show, one of the biggest shows on the Wellington dressage calendar. For more information and results, visit www.globaldressagefestival.com.
Click for full results from week nine's para classes