For Immediate Release
Deirdre Sullivan for Jennifer Wood Media, Inc.
Wellington, FL – March 28, 2019 – Competition at the final week of the Adequan® Global Dressage Festival (AGDF) continued on Thursday, March 28. The afternoon featured the first two four-star classes of the 2019 season to qualify riders for competition on Friday, March 29. AGDF will conclude for the season on Sunday, March 31.
Jessica Kozel (USA) and Denzello won the FEI Grand Prix CDI4* (for freestyle) presented by Douglas Elliman Real Estate. The pair rode to a personal best score of 69.239%. "I was really happy with the canter tour in general," said Kozel of her ride on the 16-year-old Hanoverian gelding by DeNiro owned by Jeevraj Grewal. "I was happy with my changes. He can get a little hot in those, and I was afraid that those might go either way. He just kind of found himself, and that was my highlight."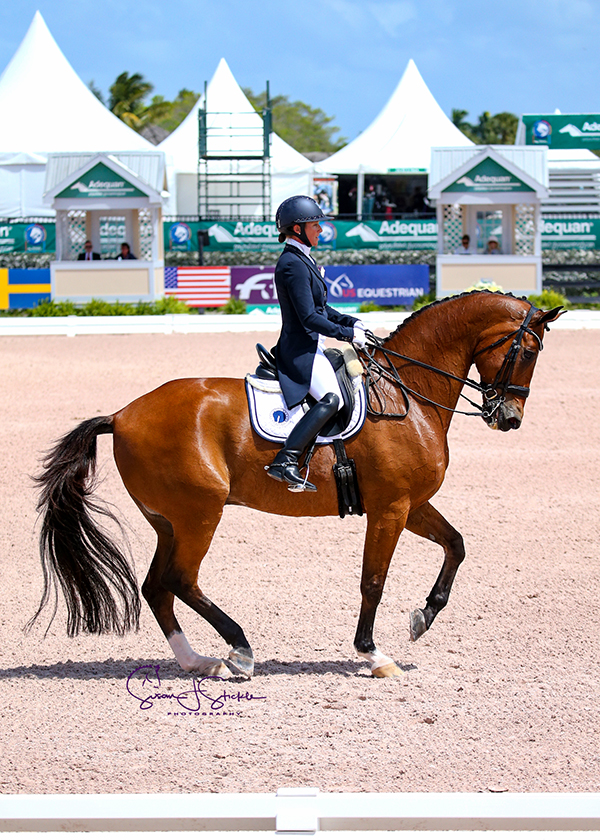 Kozel rehabbed Denzello over the last two years from what was thought to be a career-ending soft tissue injury. "I've known him for the last ten years, and I managed him as a groom for many, many years. I did my first Grand Prix ever on him in the national ring [last year] with the hope to work towards the international ring this season," continued Kozel. "We've done that, and I am just really proud of him."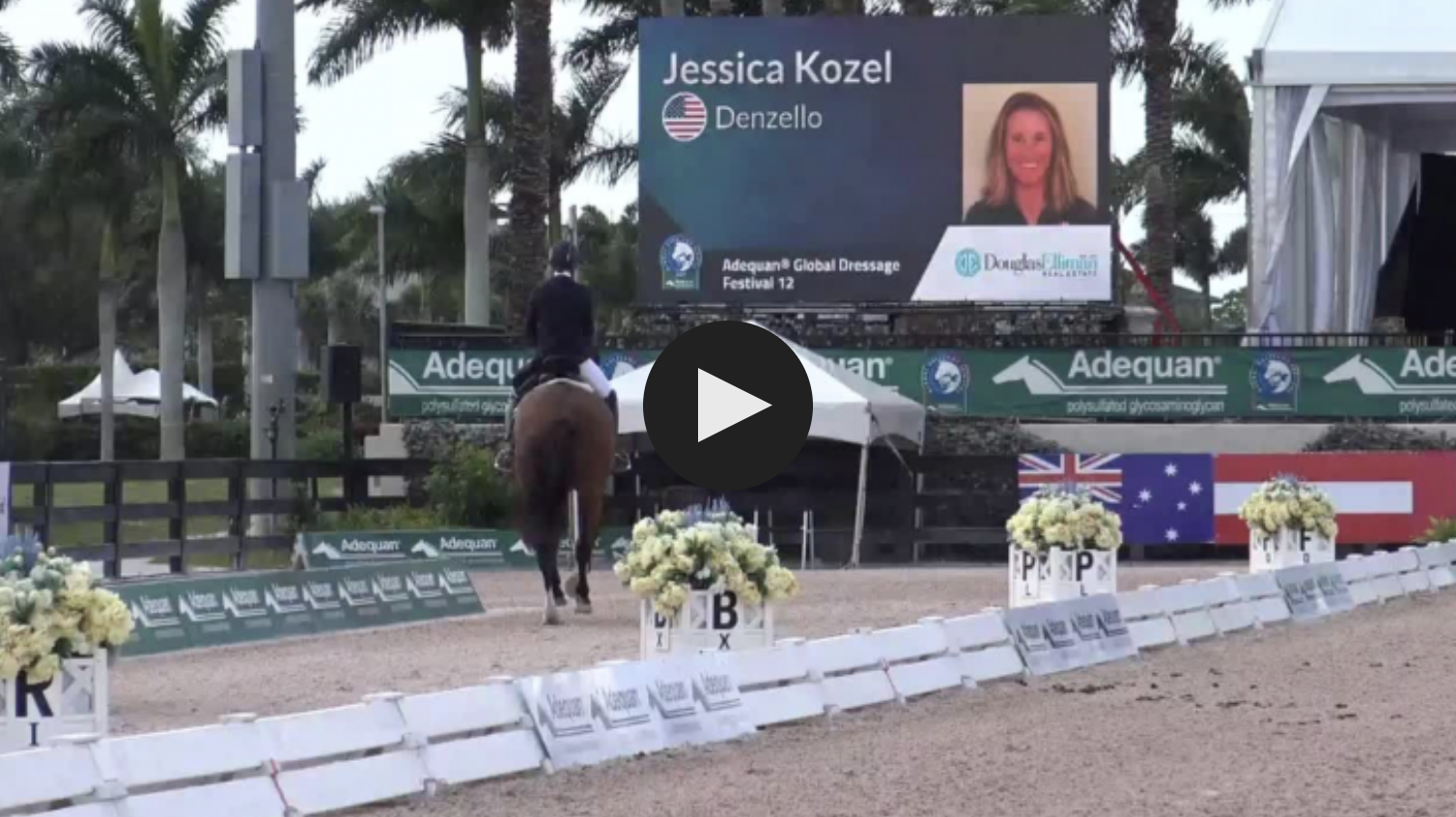 Click here to watch Jessica Kozel and Denzello's highest scoring Grand Prix test.
"I thought it was a little surreal. I didn't think it was for us," said Kozel about her experience when she got the first place ribbon. "That was our best grand prix yet, and I was really happy with a 69.239%. When she walked up to me with the blue ribbon I was like, 'Is that for me?' Not that she would be joking, but I just would have never expected it in a million years. It was really an honor to not only have our best ride yet, but to be able to put it  together in these circumstances and at a show of this caliber."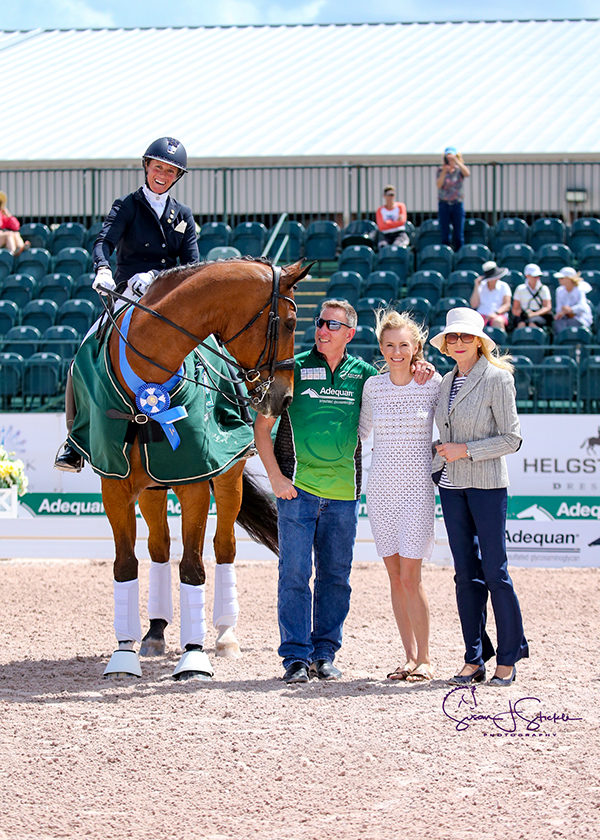 In the FEI Grand Prix CDI4* (for special) presented by Mission Control, Jill Irving (CAN) and Degas 12 won with a score of 69.935%. "He was on his game and was very, very focused on the grand prix," said Irving of her 17-year-old Hanoverian gelding by De Niro. "We had a really bad fall in the presentation at the last show and I got hurt, so I was so grateful that he was just amazing and fired up but relaxed.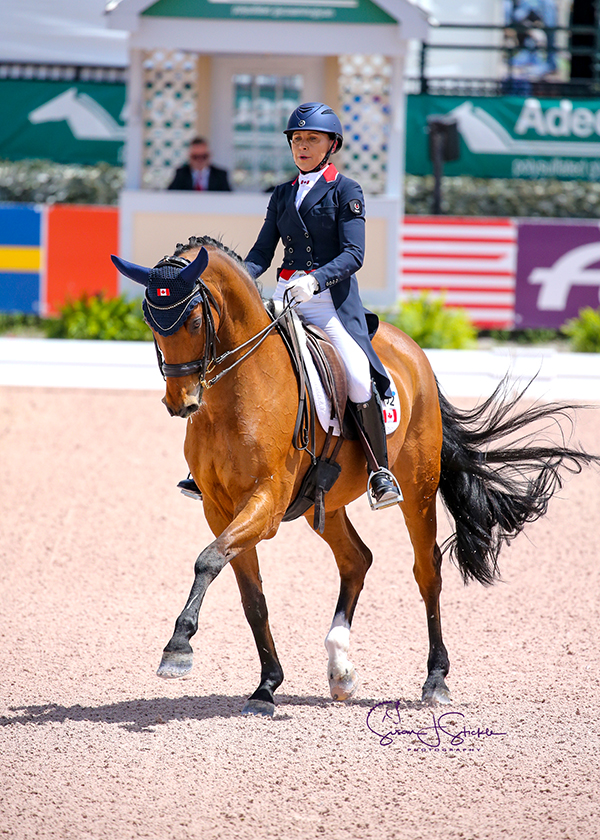 "I thought his piaffe-passage was really good. It was a great way to end the season, especially when you think of last week," continued Irving. "He wasn't thinking presentation, he was thinking of doing his job."
Irving spoke to her improvement over the years and what it takes to be a successful athlete. "I think with improvement we're expecting it quickly," shared Irving. "What I am doing now goes back to training and showing last year at this time. I would say it's not an overnight thing. I mean, we've been doing this since 2013. I'm starting to use my seat more and give with my hands. I'm consistently seeming to go clean now, where as last year I wasn't going clean all the time. That's what had been costing me these scores.
Click here to watch the winning test for Jill Irving and Degas 12.
"The improvement is the consistency as an athlete, which is the most difficult thing. Ask any athlete, ask Tiger Woods, it's hard to be consistent. The best are consistent, and that's what we're all trying to achieve," concluded Irving.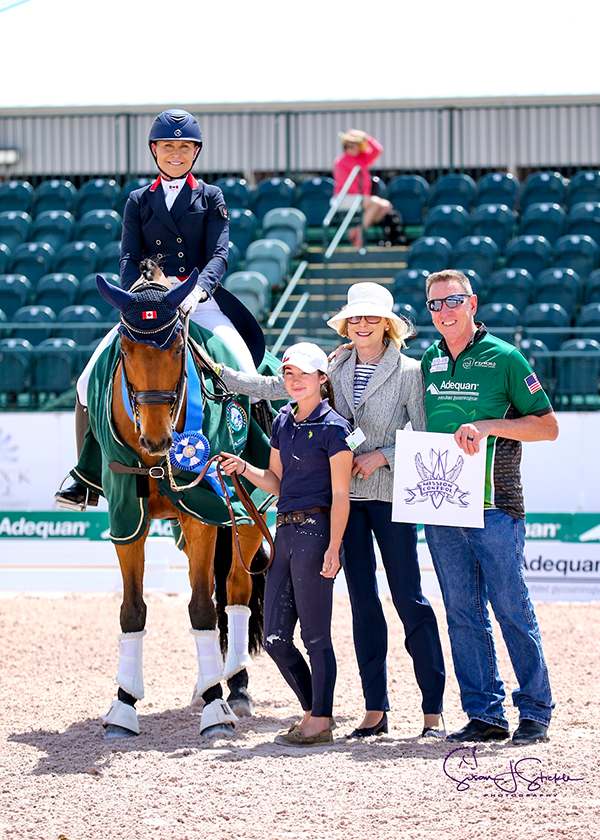 Earlier in the day Signe Kirk Kristiansen (DEN) and Her Highness O, her 16-year-old Hanoverian mare by Hohenstein, rode to a score of 68.652% to win the FEI Grand Prix CDI3* (for special) presented by Adequan®.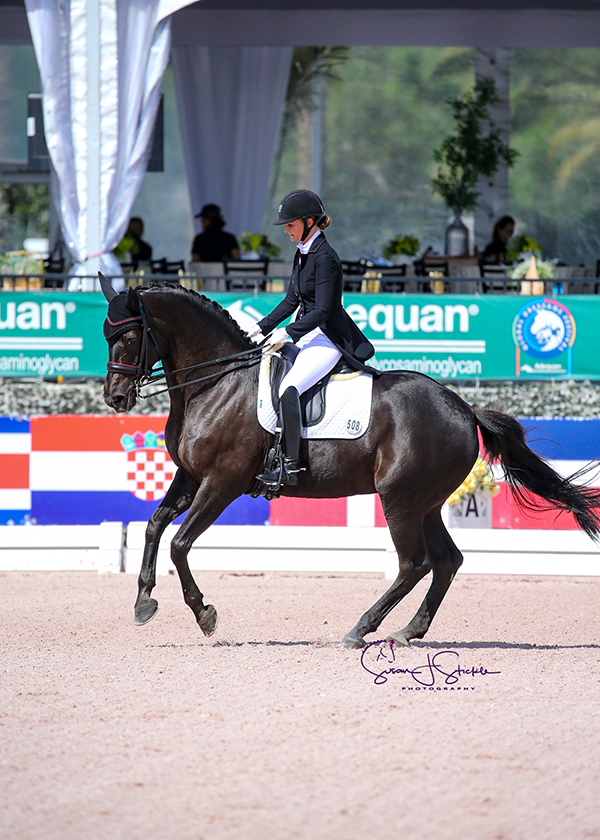 Competition at Week 12 of AGDF continues on Friday, March 27, with a day full of three-star and four-star dressage competition leading up to the "Friday Night Stars", which features the FEI Grand Prix Freestyle CDI3* presented by Brooke USA and the FEI Grand Prix Freestyle CDI4* presented by Douglas Elliman Real Estate. General admission is free for Friday night, and parking is $10/car. Competition will begin at 7 p.m. AGDF concludes for the season on Sunday, March 31. For more information and to see a full list of results, please visit www.globaldressagefestival.com.
Final Results: FEI Grand Prix CDI4* (Qualify for 4* Freestyle) Presented by Douglas Elliman Real Estate
Place, Rider, Nationality, Horse, Horse Information: Judge E% – Lee Tubman, Judge H% – Peter Hansaghy Judge C% – Marietta Almasy, Judge M% – Yuri Romanov, Judge B% – Jane Weatherwax, Total %
1.Jessica Kozel (USA), Denzello, 16-year-old Hanoverian gelding by DeNiro x Romina owned by Jeevraj Grewal: 69.783%, 69.239%, 71.413%, 67.826%, 67.935%, 69.239%
2.Michael Klimke (GER), Royal Dancer 33, a 13-year-old Hanoverian gelding by Royal Blend owned by Michael Klimke: 68.587%, 67.065%, 68.478%, 68.261%, 68.587%, 68.196%
3.Katherine Bateson Chandler (USA), Alcazar, 14-year-old KWPN gelding by Cantango owned by Jane Forbes Clark: 66.739%, 66.630%, 64.565%, 65.326%, 66.739%, 66.000%
4.Karen Lipp (USA), Whitney, 14-year-old Hanoverian mare by White Star x Hauptstutbuch Grace owned by Kathleen Oldford: 64.130%, 62.391%, 65.217%, 66.739%, 64.130%, 64.521%
5.Evi Strasser (CAN) Disney Tyme, 11-year-old Oldenburg gelding by Diamond Hit x Welleria owned by Evi Strasser: 63.043%, 64.239%, 62.283%, 63.696%, 60.761%, 62.804%
Final Results: FEI Grand Prix CDI4* (Qualify for 4* Special) Presented by Mission Control
Place, Rider, Nationality, Horse, Horse Information: Judge E% – Lee Tubman, Judge H% – Peter Hansaghy Judge C% – Marietta Almasy, Judge M% – Yuri Romanov, Judge B% – Jane Weatherwax, Total %
1. Jill Irving (CAN), Degas 12, 17-year-old Hanoverian gelding by De Niro x Rosana M and owned by Jill Irving: 69.891%, 66.196%, 72.826%, 70.217%, 70.543%, 69.935%
2. Charlotte Jorst (USA), Deep Impact 3, 16-year-old Hanoverian gelding by De Niro x Rubina owned by Kastel Denmark: 66.304%, 67.174%, 68.587%, 68.913%, 62.500%, 66.696%
3. Joanne Vaughan, (GEO), Elmegardens Marquis, 20-year-old Danish Warmblood gelding by Michellino x Elmegaardens Sisi owned by Joanne Vaughan: 65.978%, 64.457%, 65.978%, 65.870%, 64.457%, 65.348%