By Alice Collins for Wellington International
The final day of action in Perrigo CPEDI3* week nine of the Adequan® Global Dressage Festival (AGDF) hosted freestyle para action in all five grades. AGDF 2023, which hosts seven weeks of CDI competition over three months, runs through April 2.
The four-time Paralympian Rebecca Hart (USA) added yet another blue ribbon to her trophy cabinet in the Grade III class. She recorded her third victory from three starts this week aboard Fortune 500, Rowan O'Riley's 13-year-old Oldenburg gelding by Fidertanz. The 38-year-old posted 75.611% — a full five percentage points clear of second-placed Meghan Benge (USA). They have now won five international classes in a row.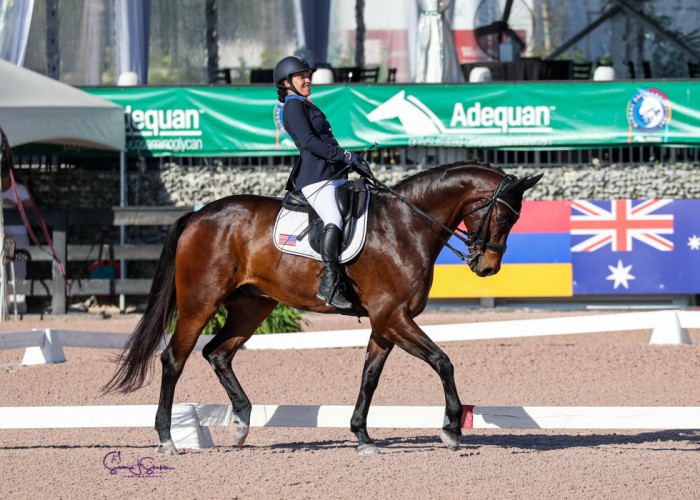 "We had a very successful and very busy week because I've been doing three horses through this entire CPEDI," explained Hart, who also competed her Tokyo Paralympic team bronze medalist El Corona Texel and brought her new horse, Floratina, to school. "I was happy with how everyone went and also how my body held up because I've never done that before."
Hart was born with a rare genetic disease called hereditary spastic paraplegia, which is a progressive impairment that causes muscle wasting and paralysis from the middle of the back down.
"I know 'Tex' and 'Moola' [Fortune 500] really well and I have an amazing support system that rallied around me to help me pull off seven rides in the CDI atmosphere — I couldn't have done it without them," added the rider from Pennsylvania.
"I only got Floratina six days ago, through my friend Lauren Sprieser, so it is brand new. Normally it takes a couple months to get a horse into a para routine because they are so used to able-bodied, but she just took to it very quickly. The organizers and judges' panel allowed us to do an exhibition HC class just to see the experience of it and she really rose to the occasion — it was such a great opportunity and I'm super excited about her."
She was grateful to show in the championship atmosphere offered in the main stadium at AGDF.
"This is one of the best arenas to get the exposure and experiences needed for the top level CDIs because it's a lot with the enclosure, the stands and flowers," she explained. "It's fabulous to be able to bring the horses to the kind of environment that you'll see in the big championships."
Hart has her eye on the Paris 2024 Paralympics, with a European tour planned for the summer of this year.
In the Grade V, Cynthia Screnci (USA) also landed three wins in AGDF 9 riding her own and Volado Farms' 16-year-old Sir Chipoli, by Sir Donnerhall. The 55-year-old former jumper rider led the freestyle with 72.192%, despite using music and a floorplan designed for another horse. This extends the pair's unbeaten international streak to 18 tests.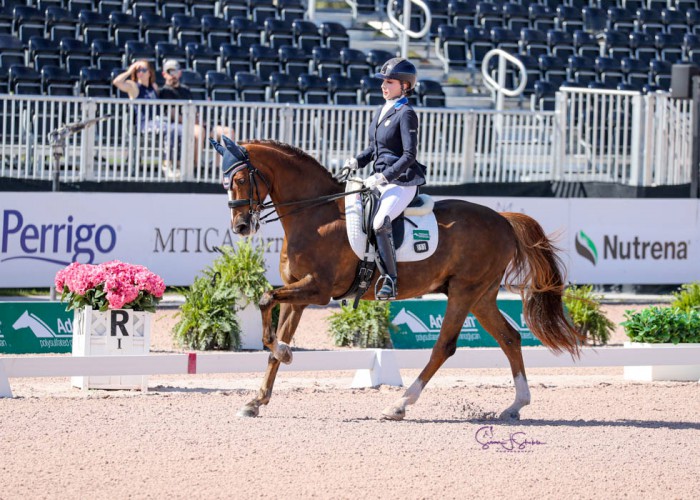 "Today was the first time we've done this test as we've been so focused on getting his back soft and supple and collecting him and working on the movements and gaits for the first two tests," admitted Screnci, who contracted a bacterial infection in 2015 that led to osteomyelitis — a bone inflammation — and 26 surgeries.
"I had written choreography and done the music myself and realized it's not my forte, so today was interesting because I used this freestyle which was done for my other horse, Danny, who is 17.3hh and has much bigger gaits. He's much more of a goofball so you have to do a lot of turns to keep him busy so he doesn't get naughty. Chip needs choreography that is more flowing and long so he can show off those beautiful gaits. We were kind of jamming it all in today, but I think the judges rewarded us for our overall way of going. Now we can go and put a true freestyle together for him.
"I'm very excited about the progress we made this weekend. Andrea Woodard, who we've been training with for the past month, has made a huge difference in our ride and it's great because everyone here noticed it. I feel like I can go and jump up to the next level and be super competitive in the Grade V."
On her transition from a jumper rider to para dressage, Screnci added, "I'm super competitive. Coming into dressage I thought 'I've got this, I'm a good rider'. The first two years were really humbling realizing how much I didn't know. The hard thing was going from competition where it was just about the speed and the rails, which I could manage because I'm a little bit bold. This takes so much more communication and thought."
Screnci found Sir Chipoli through Paralympian Kate Shoemaker (USA), who herself contested the Grade IV freestyle, taking the class with 76.083% on her new horse, the 12-year-old Ghandi (Bojengel x Tuschinski). The 35-year-old, who has lesions that cause motor control dysfunction, muscle weakness and spasms on the right side of her body, won all three tests this week, all with scores north of 71% on the horse's international debut.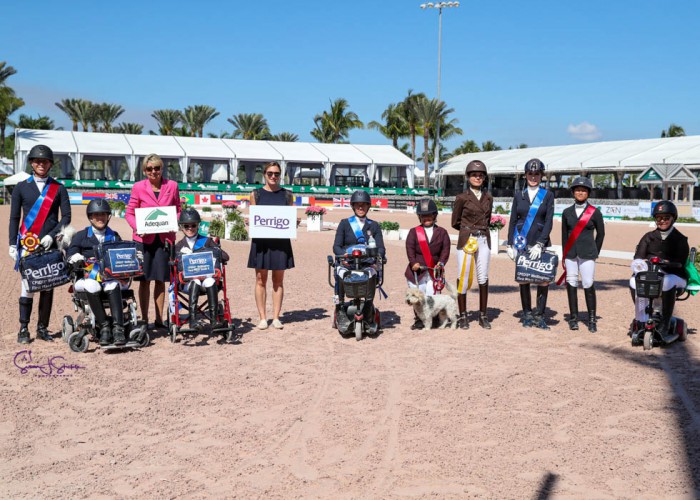 The 37-year-old Tokyo Paralympic gold medalist Roxanne Trunnell (USA) capped a high-scoring week with another personal best to lay claim to the Grade I freestyle. She rode Lehua Custer's seven-year-old Oldenburg stallion Fortunato H2O (Floriscount x Rascalino), to 77.711%, with a high score of 79.5% from the Portuguese judge Carlos Lopes, who was sitting at E.
The 25-year-old Skyler Wroblewski landed the title in the Grade II contest in her first ever international freestyle. She piloted Nicolas and Elizabeth de Lavalette's 16-year-old gelding Clarc (by Dream Catcher x Lord Sinclair) to 66.711%. Wroblewski, who has Cerebral Palsy, was riding in her second-ever CPEDI.
Sunday's action marked the conclusion of AGDF9. AGDF10 heralds the CDI5* show, one of the biggest competitions on the Wellington dressage calendar. The Friday night CDI5* Grand Prix Freestyle class will be held over the road at Wellington International, the home of the Winter Equestrian Festival (WEF) jumper circuit. For more information and results, visit www.globaldressagefestival.com.
Click for full results from week nine's para classes