For Immediate Release
Alice Collins for Jennifer Wood Media, Inc..
Wellington, FL – March 27, 2022 – International action for the Adequan® Global Dressage Festival (AGDF) 2022 season in Wellington, Florida, wrapped up on Sunday, March 27. The grand champions were crowned in both the Lövsta Future Challenge Young Horse Grand Prix Series and the Summit Farm Future Challenge Young Horse Prix St. Georges Series.
Joppe K's considerable talents came to fruition in the grand final of the Lövsta Future Challenge Young Horse Grand Prix Series, which he won with 70.052% under the saddle of Jennifer Williams (USA). The horse has an exceptional competition trajectory, having won both the six- and seven-year-old young horse finals at Wellington in 2020 and 2021.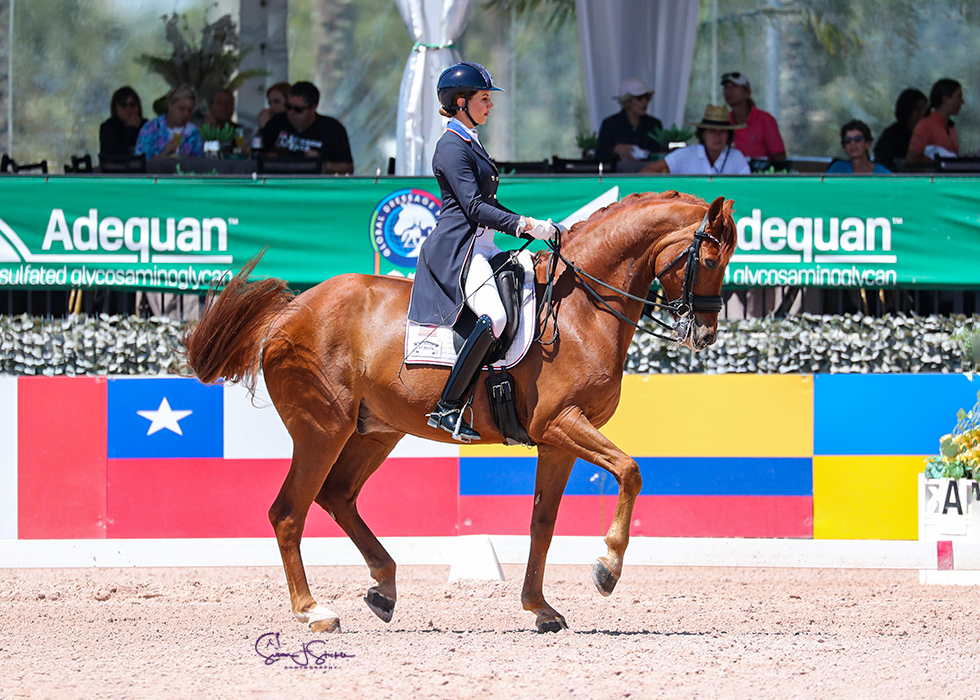 These classes aim to identify and nurture talented, up-and-coming young FEI horses, giving them exposure to benefit their development with the biggest of world stages in mind. Williams and the eight-year-old KWPN gelding by Harmony's Rousseau had only qualified a week earlier for the final, earning their ticket at the last opportunity.
Australian Olympian Kelly Layne and Fernando, who qualified via a win in AGDF 3, claimed second place with 68.815%. Layne has been riding Ellen Trouillé's 10-year-old gelding, by Foundation x Sandro Hit, since he was five. Alice Tarjan rounded out her busy season by taking third place on her own eight-year-old mare Jane, by Desperado NOP. Jane and Joppe K were the youngest horses in the class.
Click to watch Jennifer Williams' winning ride on Joppe K. ©richardsequinevideo.com
A tactical decision not to contest the previous day's warm-up class at Intermediate II level with Joppe K paid off. The horse had been competing in CDIs at small tour until just last month.
"Because the I-2 was the warm-up and the day before the class, and there's the halt at X [instead of at G, as in the Grand Prix, on the final center line], I decided that wasn't wise for him, because we did his first grand prix on Thursday and I learned that he wanted to halt at X," explained Williams. "We had to talk about that, and today he was not thinking halt.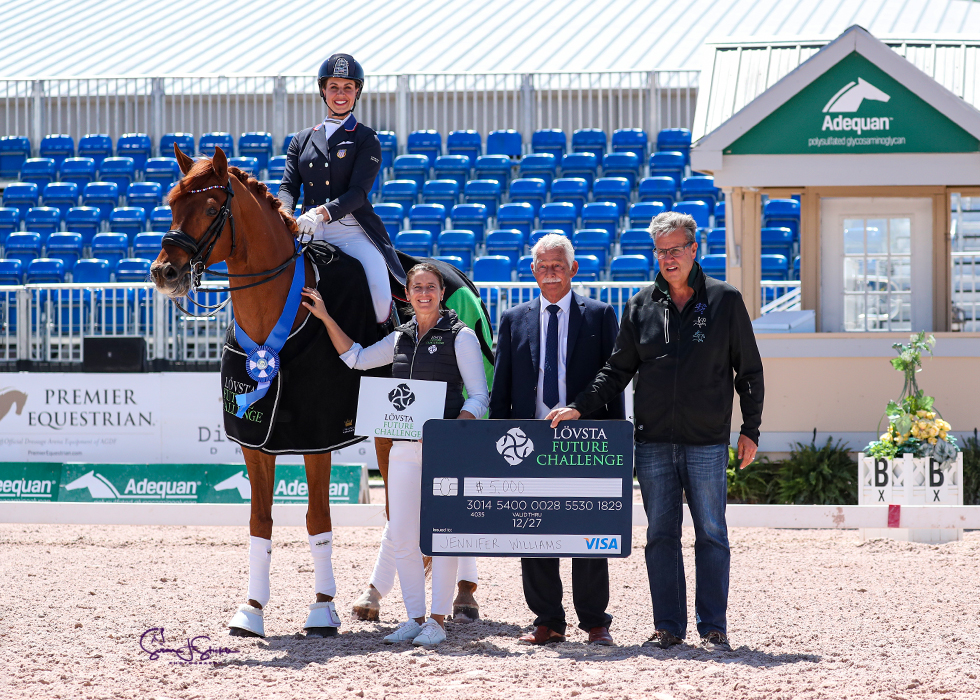 "We only got our first line of 15 one-time changes a week and a half ago, so I was pretty proud of him to get those," said Williams. "I wanted to go in and make it as confidence building as possible for him. He's a very young horse, he's very kind, very willing, and loves his job. My priority is to keep that in place. I was pretty happy that it was mistake free for the most part, and I was able to let the judges see what I feel at home, which is that quality for the future."
Williams echoed the sentiments of all the riders who have taken part in both the big and small tour developing horse series classes, adding: "It's so exciting. It gives us such a great experience to work towards those higher levels and getting in front of those judges in a relatively low-pressure environment, versus a CDI. It gave me something really fun and exciting to shoot for, and I'm really grateful for the opportunity to get to showcase my youngster out there."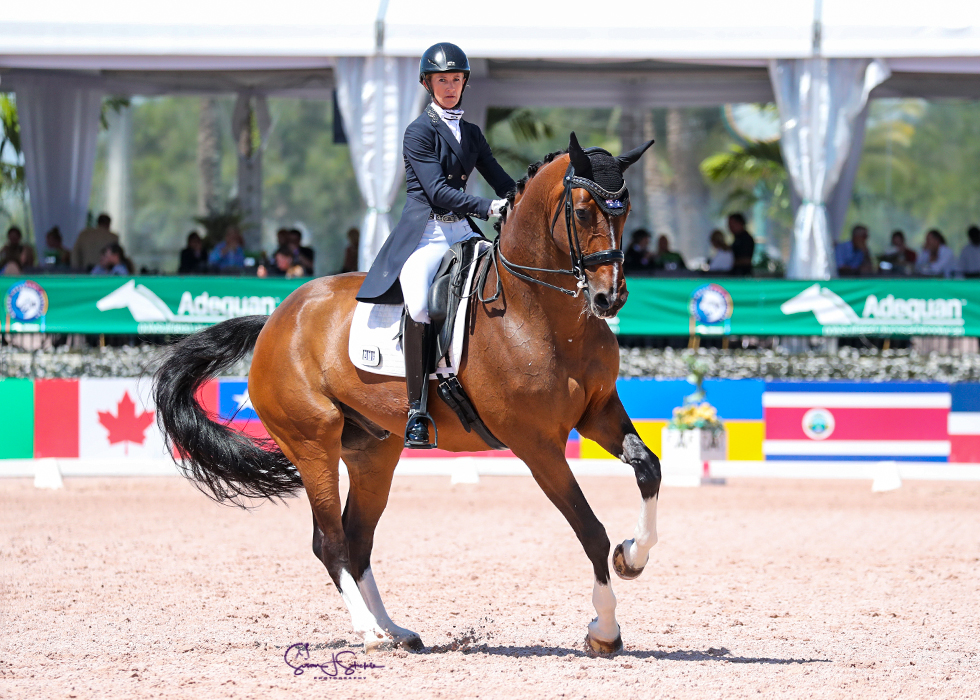 Williams, who is from Olympia, Washington, has been riding Joppe K since he was four, after finding him in The Netherlands. While in Wellington, she has trained with Oded Shimoni. Williams believes Joppe K's greatest talents lie at grand prix, and there is plenty more talent to mine at the level.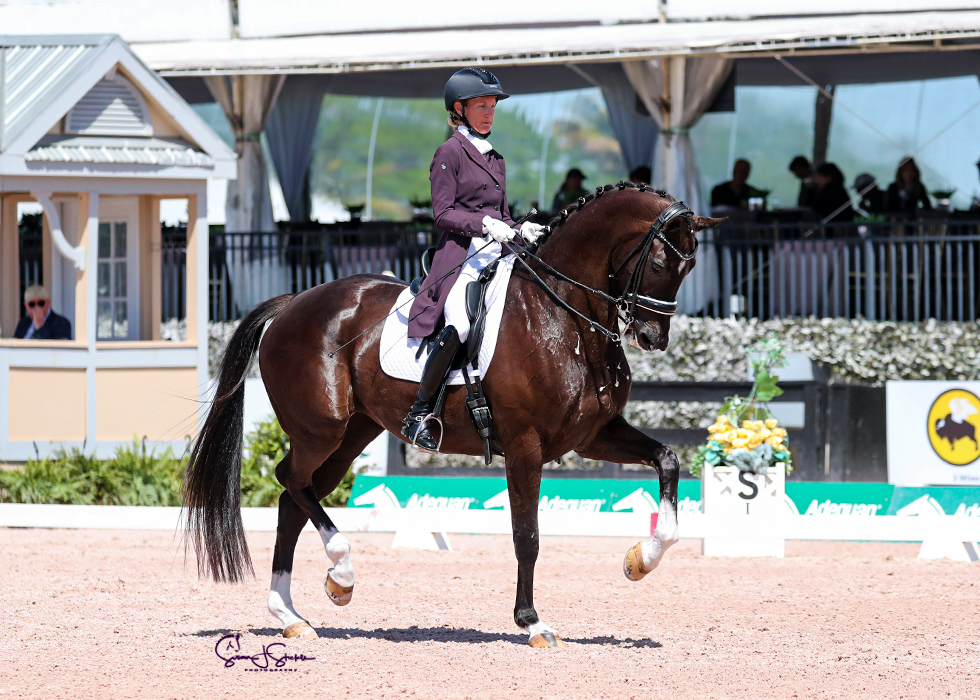 Tinne Vilhelmson-Silfvén of class sponsor Lövsta said: "The thought with the Lövsta Future Challenge is to give the young horses this possibility to get into the international arena with the best judges and with the kind of different atmosphere than a smaller show. They are inexperienced, young horses, and it's okay if there are mistakes here and there, because it should be educational. It's not already five-star top grand prix; it's young horse grand prix. And it should be that quality is the most important part."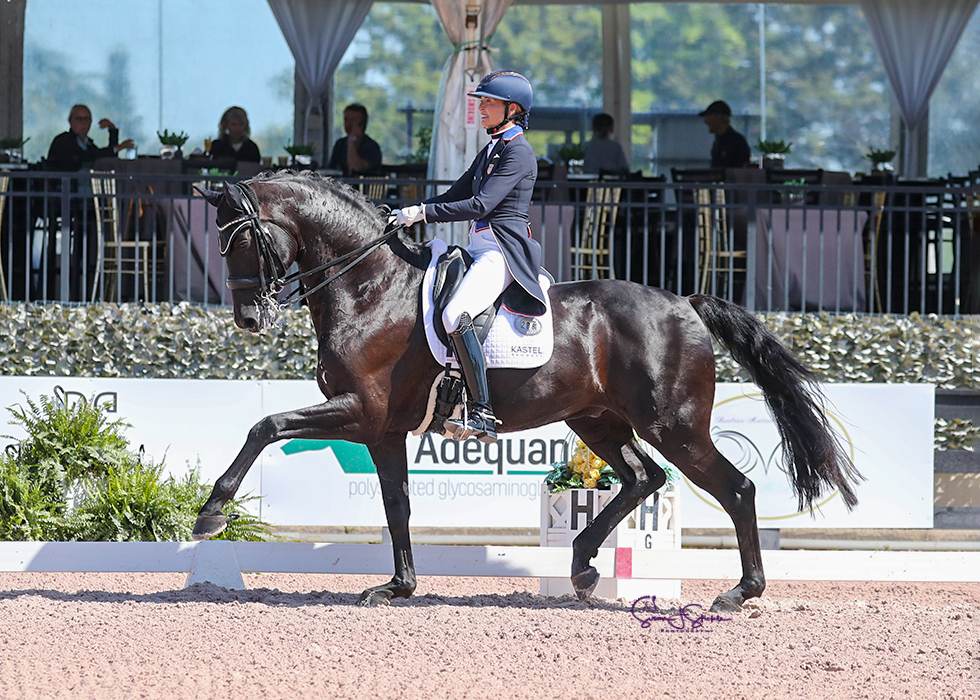 A huge score of 75.029% secured the title in the Summit Farm Future Challenge Young Horse Prix St. Georges Series final. It came by way of Charlotte Jorst (USA) and Zhaplin Langholt, the extravagant-moving son of Glock's Zonik N.O.P. They faced stiff competition from Bianca Berktold (USA) and Imperial, whose score of 74.117% secured them the runner-up slot. Shannon Dueck (CAN) claimed third with another plus-70% score — 70.911% — riding the youngest horse in the class, the seven-year-old Angelika MW, by Franziskus.
"Today's test felt really great," enthused Jorst of Zhaplin Langholt, who was formerly campaigned by Danish Olympian Andreas Helgstrand. "I had no idea that I had a competitor that had a 74%. I'm so competitive that I would've had a nervous breakdown had I known. But I didn't know, so I just went in there today to do my best and so did he. Zhaplin has come along incredibly. I came [to AGDF] with a relatively inexperienced horse, so to be able to bring him here with this goal in mind has been very satisfying and fun.
Click to watch Charlotte Jorst's winning test. ©richardsequinevideo.com
"Talking of mistakes and green things, I had no pirouettes when I came. I don't even think I knew how to ride a pirouette. But I've learned, because I've really had to train it," added Jorst, who trains with Charlotte Bredahl. "Then I saw my pirouettes were actually highlighted in a story that was posted. And I'm like, 'Wow, there's a pirouette.' You can go in with kind of not a great pirouette and still do well. Then you can work on those things over the season and get a pirouette in the end. For Zaplin, this series has given him so much confidence going in that big ring several times in a row." 
She is hoping to compete her top horse, Kastel's Nintendo, at Aachen this summer, and would like to take Zhaplin along to compete, too. The horse will be aimed at Grand Prix in 2023.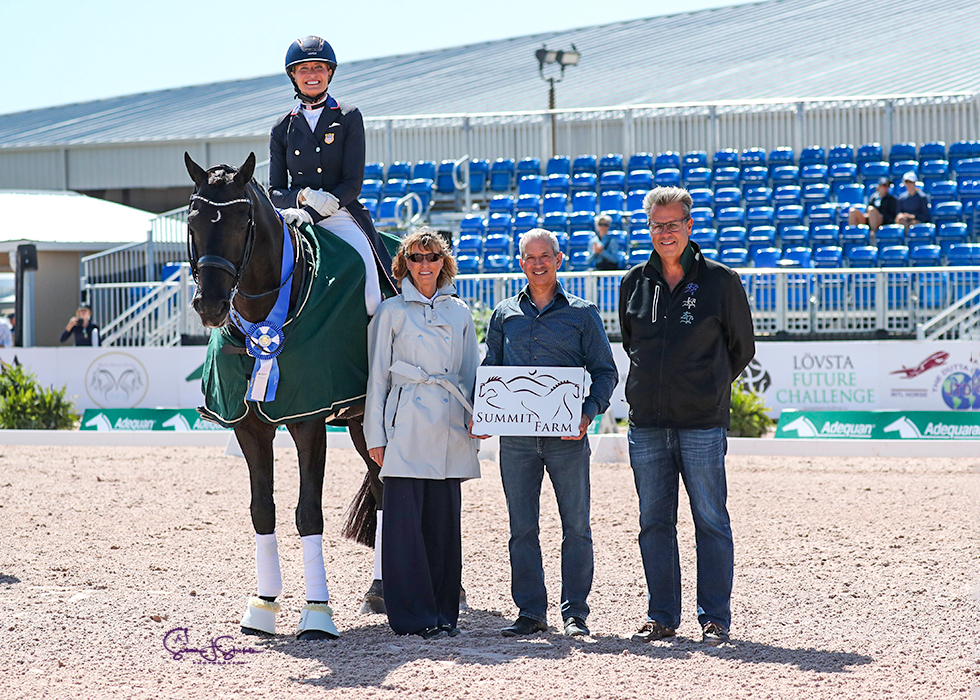 Talking on behalf of the class sponsor, Sarah Tubman reiterated Summit Farm's commitment to developing future equine talent, saying: "When Summit Farm started it was based mostly on bringing top-quality, young horses up the sport with the goal of competing internationally. For us, sponsoring a class like this that gives the younger horses a chance to get in the international ring in front of super judges is a great stepping stone.
"This season's class was quite large and also super quality," continued Tubman. "Those are giant scores to win with, so congratulations, Charlotte. I think that all the horses that we saw in both divisions, we're definitely going to be watching out for in the big ring."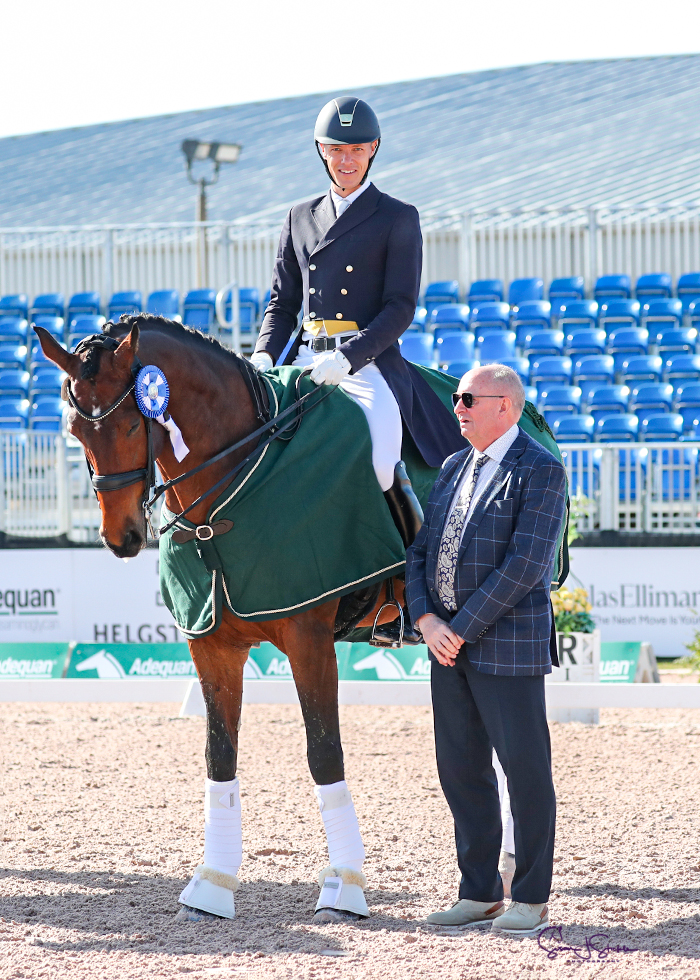 Luuk Mourits, a Dutch rider who works for Harmony's Sporthorses in Colorado, had a week he will never forget. He forged five wins from five starts in the three-star small tour classes. His stellar show culminated with two further personal bests on Sunday, scooping the Intermediate I Freestyle CDI3* on Harmony's Sarotti OLD with 76.415% and staking the claim to the Intermediate II CDI3* riding Harmony's Don't Stop The Feeling (68.823%).
The Intermediate II was only Mourits's second CDI test at the level with Harmony's Don't Stop The Feeling. He has been competing the 13-year-old gelding by Don Primus for two years. Tiago Ernesto (POR) filled second with Hobbit Interagro (67.147%), with Ecuador's Julio Cesar Mendoza Loor third riding Baylen Dream TWF (65.823%).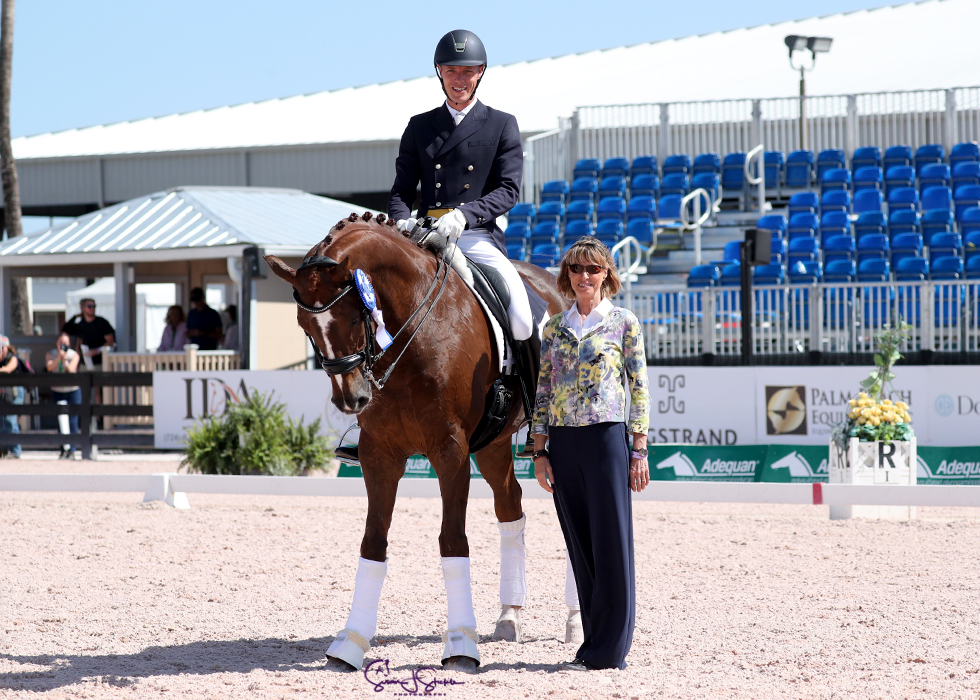 In the Intermediate I Freestyle, Mourits was the final competitor of the very last CDI class of the 2022 AGDF. He smashed his previous best mark in this test — which was 70.525%, set earlier this month — by almost six percentage points. Katrina Sadis (USA) finished second with Belloona on 69.47%, and Susan Jaccoma rounded out the top three, riding Dinozzo Nexen to 67.865%.
Sunday's action marks the conclusion of the international 2022 AGDF season, but national competition resumes next week, in AGDF 12, on April 1-3. For more information and results, visit www.globaldressagefestival.com.