For Immediate Release
Alice Collins for Jennifer Wood Media, Inc.
Wellington, FL – February 28, 2020 – The evening's showcase class, the FEI Grand Prix Freestyle CDI4*, presented by Havensafe Farm, saved the best for last. Jessica Jo Tate (USA) piloted Elizabeth Guarisco's 17-year-old gelding Faberge to their first ever Adequan® Global Dressage Festival (AGDF) victory in week eight of the 12-week winter spectacular held at the Palm Beach International Equestrian Center (PBIEC) in Wellington, Florida. AGDF 2020 runs for 12 weeks, through March 29. Tate has been riding the son of Florestan I for 11 years and has had her eye on winning a cooler from AGDF for much of that time.
Dongseon Kim (KOR) finished second on Belstaff, with the in-form Japanese Olympian Kiichi Harada once again gracing the podium, this time filling third on Egistar with 70.745%.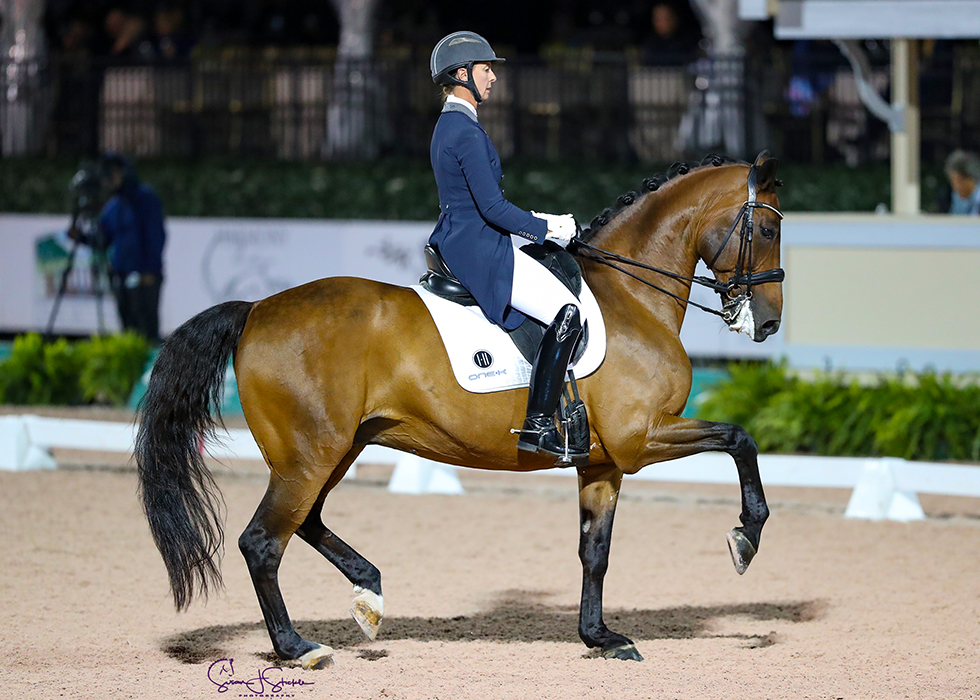 Tate, who splits her time between South Carolina and Wellington, said: "I'm so proud and really pleased with my horse. We haven't shown since Devon [in September], so we've been doing a lot of fitness with him. He really was so with me tonight and had a lot of energy. He loves the crowd, so that's always fun to bring a horse like that here. I've always wanted to win a cooler at Global, so this was amazing that I got to put one on for the four-star freestyle. It was really a special evening and for sure a highlight of my career so far. We're just totally thrilled."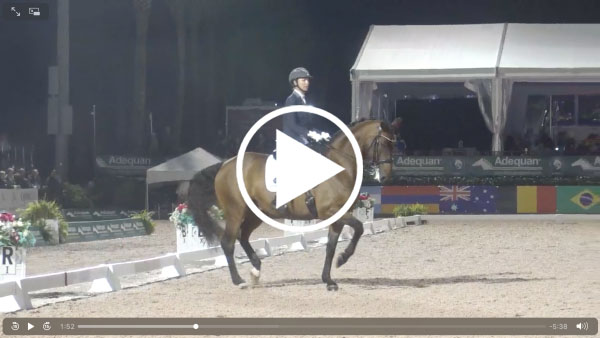 Tate, who rode to music made by Marlene Whitaker, added: "Faberge is like a Labrador Retriever. He is the most friendly, kind-hearted, wonderful horse. We always need to work on our energy, so riding at night in the cool weather like this helps us. He just has the most wonderful workman-like character, and he really tries his heart out for me."
Betsy Juliano of the class sponsor Havensafe Farm said: "We're privileged in this place and in this venue to see horses progress year after year after year. JJ is an example of that, with this horse – I've seen her compete this horse year after year, and tonight here we are. I'm thrilled!"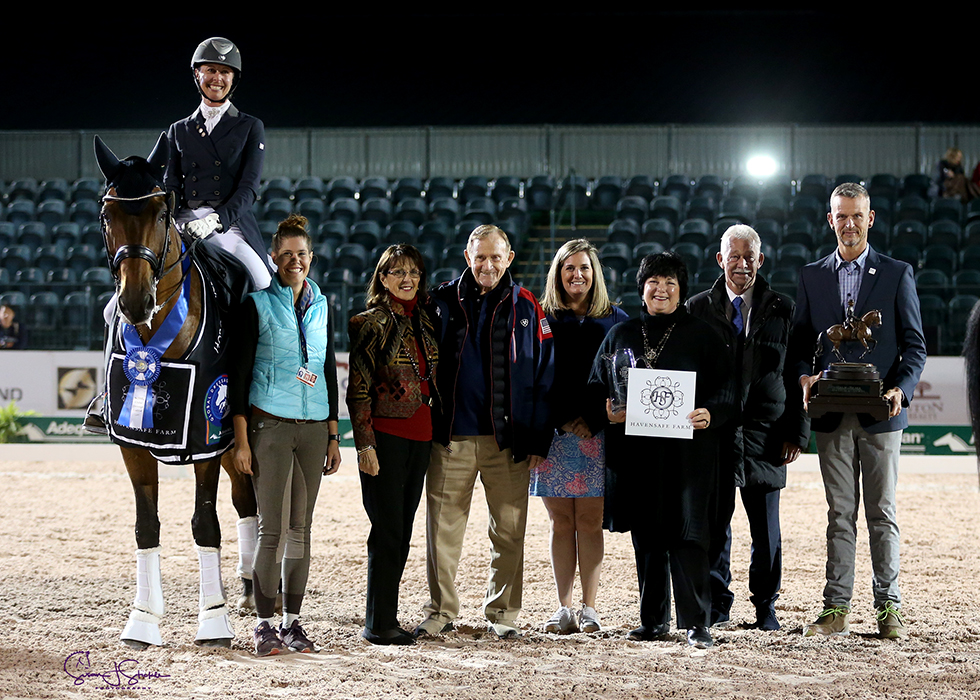 Second-placed Dongseon Kim (KOR) was having his final ride in the international arena on Belstaff, as he marks his retirement from the sport at this show after a decade to pursue a career as an investment banker. He rode his own Brentano II stallion to 72.43%, with two of the five judges placing him first.
"I really wanted to win, but it didn't go as planned," he said. "I really practiced the one-tempis to make sure there were no mistakes, but these things happen. This is my first international season with him, so I think there were still some miscommunications, but I'm still really happy.
"The horses are going to be sent to my good friends in Europe who are much, much better riders than me and who can give them the best career that they deserve. I'll still ride for fun at the weekends, and maybe I would like to come back eventually."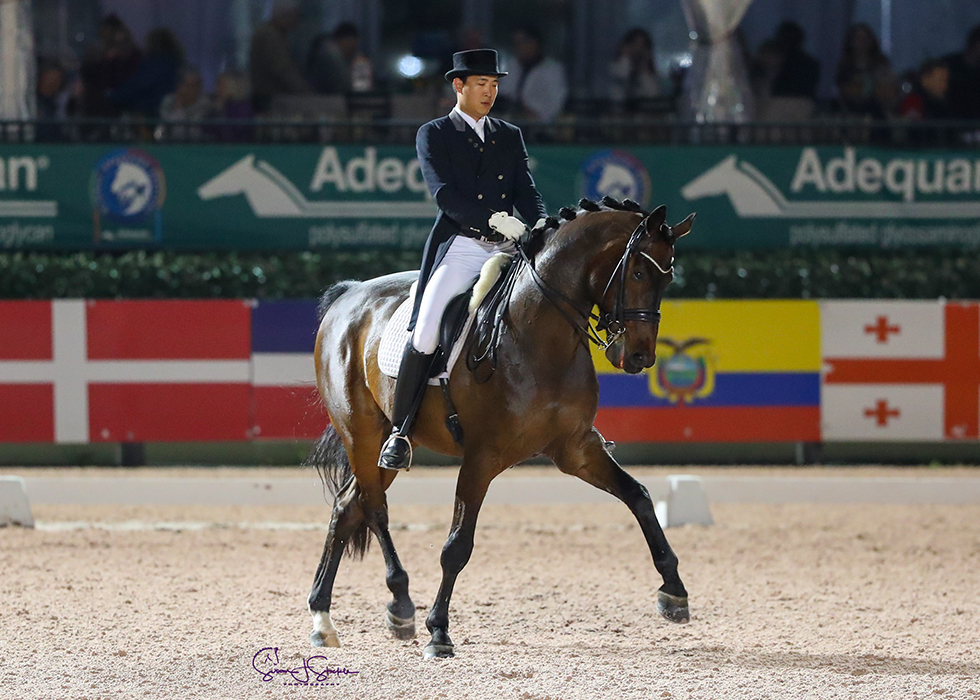 Stephen Clarke, who presided from C, said: "The way the riders interpreted the music I thought was great, especially for the crowd. I think it's so good for the sport when you see riders really taking some risks and really developing these freestyles in an interesting and difficult way. It makes it fun and brings the sport forward."
Kiitchi Harada had a busy evening. He was third in the four-star freestyle on Egistar, and won the FEI Grand Prix Freestyle CDI3*, presented by Summit Farm on his other ride at the level, Fairytale S. He logged his first ever international win on the Noa Co Ltd's 16-year-old Reve D'Or gelding with a freestyle borrowed from his trainer Christoph Koschel just hours earlier.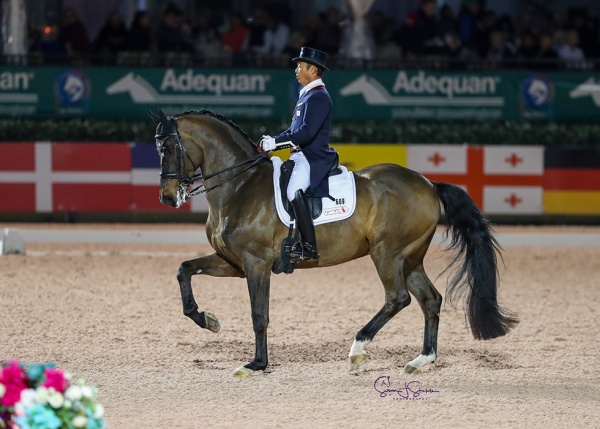 "It was my first freestyle with Fairytale," said Harada, who is vying for a place on the Japanese team for this year's Olympics. "I learned the music just today, a few hours ago, but it really fit to him. I feel the horse loved the freestyle and expect maybe he'll do much better later on. Egistar was hot today and a bit difficult for me to control. Maybe Egistar was a little bit jealous of Fairytale."
Harada was most closely pursued in the three-star class by Nora Batchelder (USA) who finished second with 71.835% on Andrea Whitcomb's 12-year-old Fidertanz gelding Faro SQF. Third went to another Japanese rider, Akane Kuroki, who is still getting to know her new ride Zuidenwind 1187, a stallion by OO-Seven. They scored 71.49% after winning the qualifying grand prix.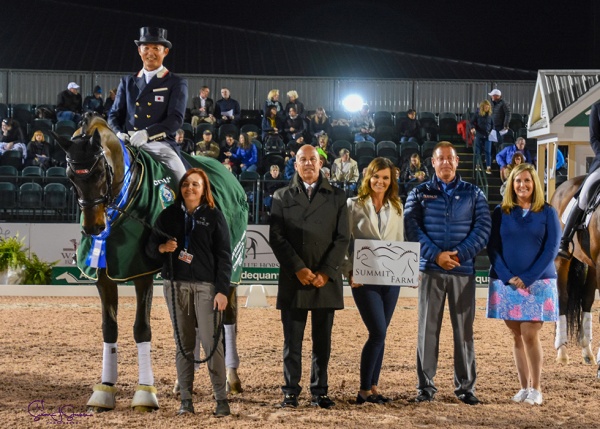 In the final of the Palm Beach Dressage Derby class, sponsored by Summit Farm, in which riders are paired with unfamiliar, loaned horses and ride a prix st georges test, the triple reigning champion Christoph Koschel (GER) went head-to-head with Jan Ebeling (USA). Koschel is somewhat of a Derby class specialist, having won in Hamburg, Munich and Palm Beach. His route to the final came when he rode Melanie Peterson's Zinca earlier in the day, knocking out Steffen Peters (USA). Ebeling won his semi-final against Pia Fortmuller aboard Lynda Tetreault's Cor De Lys.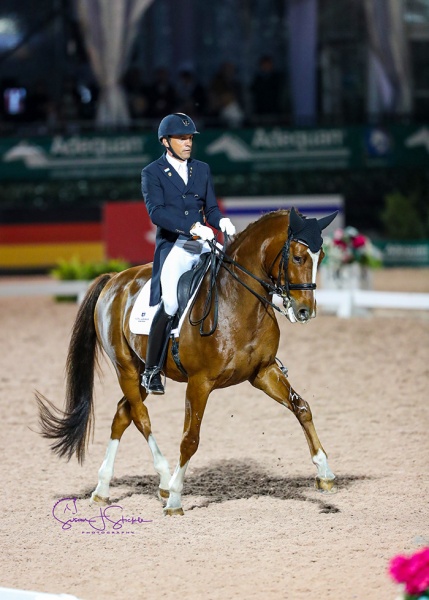 Each rider was given five minutes to familiarize themselves with Karen Pavicic's Totem before the test. Koschel proved unbeatable yet again tonight, riding the eight-year-old to 70.221% versus Ebeling's 66.397%. Of the gelding by Totilas, whom Pavicic has had since a foal, Koschel said: "The Prix St. Georges is not the end for this horse; you can really feel the grand prix horse in him and he's very willing to collect. I really enjoy it when they're so willing. I tried my best and I want to say a big thanks to all the owners, especially Karen with this really special horse, who I think has a big future."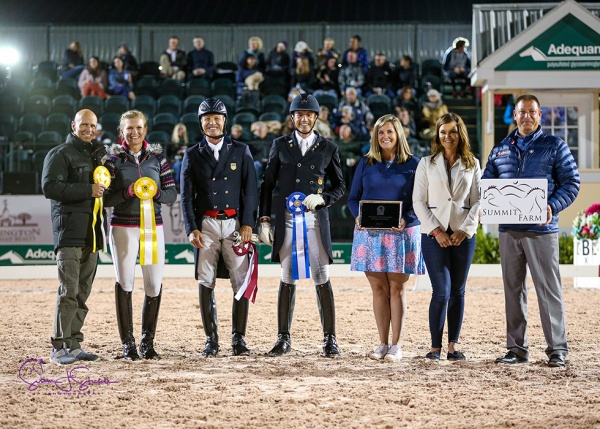 The young Spanish rider Pablo Gomez Molina, who works for Yeguada De Ymas, dominated the FEI Intermediate I CDI3*, presented by Harmony Sporthorses. On Furst Fiorano Ymas he scored 72.99%, their best result to date in this test. The 25-year-old rider splits his time between Wellington and Europe.
He is riding Yeguada De Ymas' 13-year-old stallion by First Piccolo in their third season at international small tour. Gomez Molina has worked for the stud for seven years and rides around 12 horses a day. He won the class with almost 5% in-hand over second-placed Lauren Sprieser and Guernsey Elvis (68.235%). Winner of Wednesday's Prix St. Georges class, Cesar Parra rounded out the podium on GK Don Cesar with 67.696%.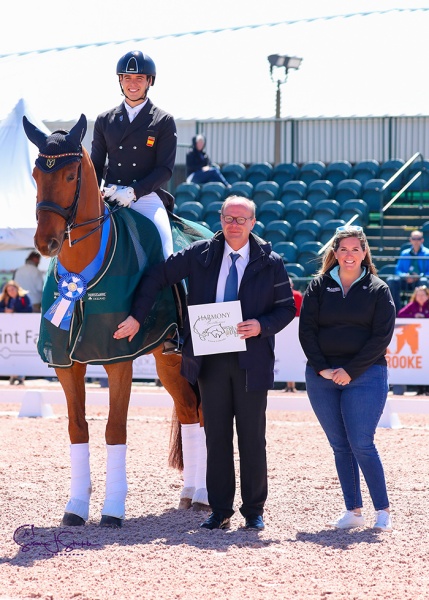 It was another hefty score that landed the winner's sash in the FEI Prix St. Georges CDI3*, presented by CabanaCoast. All three top placed riders broke the 70% barrier, but it was Endel Ots who came out on top to lead the USA's whitewashing of the class, filling the top five slots.
Wellington-based Ots rode the 11-year-old mare Sonnenberg's Everdance, who was bred at Sonnenberg Farm in Oregon, to 73.775%, with the flying changes being a particular highlight and attracting a nine from the experienced British judge Stephen Clarke. This was the Johnson daughter's first CDI show. Ots held off a challenge from Jami Kment who recorded 72.745% on Gatino Van Hof Olympia, by Apache. Meagan Davis was third on Damocles HLF (70.981%).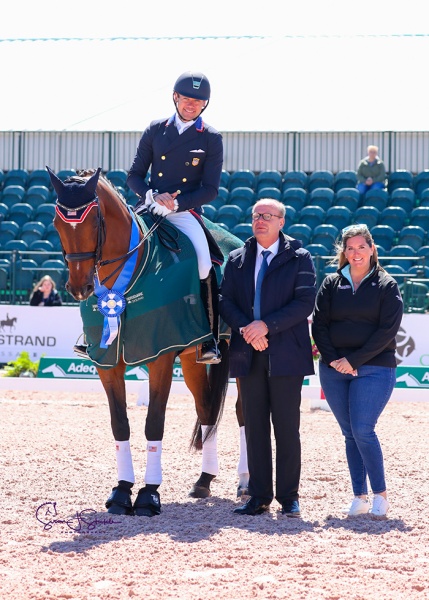 Week eight of the 12-week AGDF continues on Saturday with eight international classes, including the FEI Grand Prix Special CDI3*, presented by The Brooke USA and the Mission Control-sponsored FEI Grand Prix Special CDI4*, which kicks off at 15.45pm. Adrienne Lyle (USA) will be bidding to do the double on Salvino, having topped the qualifying grand prix class on her Tokyo Olympics hopeful. AGDF 2020 runs for 12 weeks, through March 29. For more information and results, visit www.globaldressagefestival.com.
Results
Place, rider, nationality, horse, horse information: judge E%, judge H%, judge C%, judge M%, judge B%, final score
FEI Grand Prix Freestyle CDI4*, presented by Havensafe Farm
E, Gabriela Valerianovna (CZE); H, Ulrike Nivelle (GER); C, Stephen Clarke (GBR); B, Peter Storr (GBR); M, Irina Maknami (RUS)
1. Jessica Jo Tate (USA) on Faberge, Elizabeth Guarisco's 17yo Westfalian gelding by Florestan I: 73.75, 71.95, 74.9, 74, 72.525, 73.425
2. Dongseon Kim (KOR) on Belstaff, his own 13yo Hanoverian stallion by Brentano II: 74.225, 73.275, 72.375, 71.325, 70.95, 72.432
3. Kiichi Harada (JPN) on Egistar, Hanuka Taguchi's 17yo KWPN gelding by Cabochon: 70.3, 72.45, 68.55, 73.125, 69.3, 70.745
4. Karen Lipp (USA) on Whitney, Kathleen Oldford's 15yo Hanoverian mare by White Star: 69.55, 67.2, 72.25, 70.275, 68, 69.455
5. Jessica Kozel (USA) on Denzello, Jeevraj Grewal's 17yo Hanoverian gelding by De Niro: 68.3, 66.725, 68.525, 71.625, 69.05, 68.845
FEI Grand Prix Freestyle CDI3*, presented by Summit Farm
E, Ulrike Nivelle (GER); H, Mike Osinski (USA); C, Peter Storr (GBR); M, Irina Maknami (RUS) B, Gabriel Armando (ARG)
1. Kiichi Harada (JPN) on Fairytale S, Noa Co Ltd's 16yo AES gelding by Reve D'Or: 73.425, 72.7, 76.4, 72.625, 72.9, 73.61
2. Nora Batchelder (USA) on Faro SQF, Andrea Whitcomb's 12yo Hanoverian gelding by Fidertanz: 72.175, 71.95, 72.45, 71.125, 71.475, 71.835
3. Akane Kuroki (JPN) on Zuidenwind 1187, her own 16yo KWPN stallion by OO-Seven: 72, 73.075, 69.85, 72.375, 70.15, 71.49
4. Eiren Crawford (CAN) on Godot SSF, Carroll Tolman & Erin Crawford's 9yo KWPN gelding by UB40: 70.575, 69.35, 72.4, 68.75, 69.925, 70.2
5. Nicole Harrington (USA) on Wizard Of Oz, Three Oaks Farm LLC's 14yo Hanoverian gelding by Weltmeyer: 66.55, 65.1, 66.45, 69.375, 66.275, 66.75
6. Krystalann Shingler (CAN) on Fidelio, her own 12yo Oldenburg gelding by Fidertanz: 64.725, 68.225, 64.65, 67.075, 65.575, 66.05
7. Elisabeth Austin (USA) on Steeped In Luck, Keith Douglas' 18yo Irish Draught stallion by Mount Diamond Flag: 64.65, 64.775, 67.75, 67.2, 64.25, 65.725
8. Pamela Aide (USA) on Bon De Niro P, her own 14yo KWPN gelding by Son De Niro: 62.2, 64.5, 62.95, 66.825, 63.8, 64.055
Photo credit: © SusanStickle.com. These images may only be used in relation to this press release and with credit.