By Alice Collins for Wellington International
Ecuador's Julio Mendoza Loor capped an epic week of personal bests to close out the Stillpoint Farm CDIO3* Nations Cup™ during Week 7 of the Adequan® Global Dressage Festival (AGDF) in Wellington, FL. Mendoza Loor claimed the gold medal in the CDIO3* Grand Prix Freestyle with an almost 80% test on his own 12-year-old gelding, Jewel's Goldstrike. The son of Bretton Woods x Watermill Scandic scored three nines for his halts on the way to 79.325%, with three of the five judges awarding the pair over 80%. AGDF 2023, which hosts seven weeks of CDI competition and weekly national competitions, runs through April 2.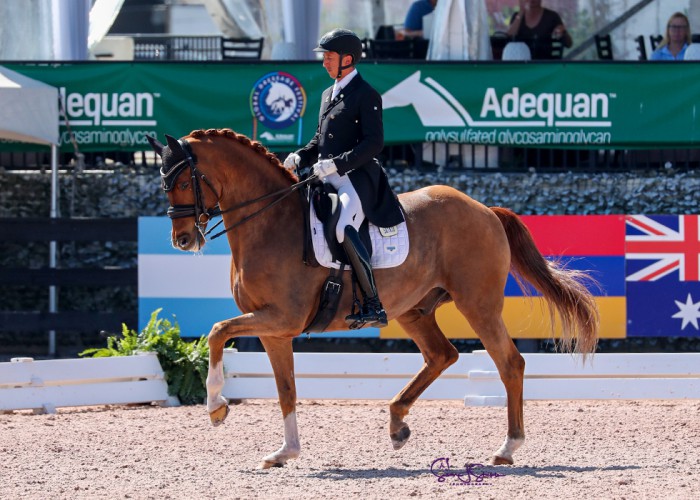 The 26-year-old Anna-Cristina Abbelen (GER) continued her sparkling form at her first ever Wellington show season. She recorded another career high score, of 77.16%, on her own and Silke Abbelen-Mooren's 16-year-old Samarant gelding Sam Donnerhall to finish in silver. Caroline Darcourt (SWE) snuck into third with Caroline Darcourt (Lord Django), just 0.28 percentage points ahead of compatriot Tinne Vilhelmson Silfvén (Devanto).
Mendoza Loor, who is 43, also won the CDIO3* Grand Prix Special on a new personal best earlier in the week. The pair had tremendous small tour success at the Bolivarian Games in 2022 — winning all three tests and leading Ecuador to team gold — but this is only the horse's fourth big tour CDI.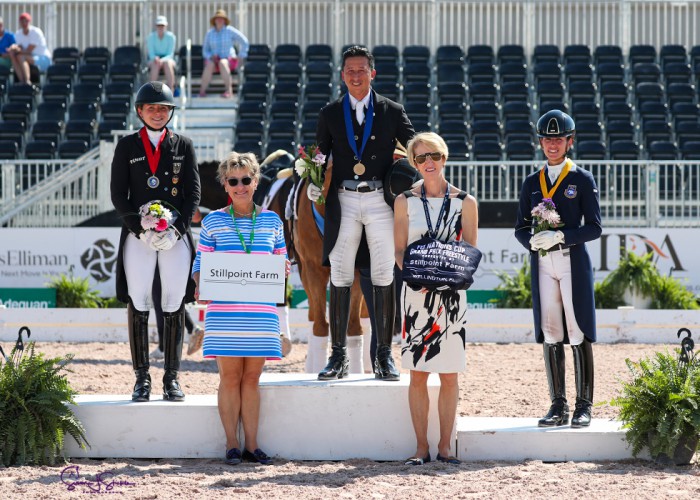 He said of his AGDF 7 freestyle, "It was the feeling of a lifetime, the ride was unbelievable. He is a horse who wants to perform, he wants to be there and to always try harder. He is willing to do everything and more than what I'm asking. I'm so proud of him for how young he is — he's an unbelievable horse. Last year was the first time I competed him here in Wellington, and he won the CDI, and this time he really showed me what he can do and made me so proud."
Mendoza Loor, who is based in Columbus, NC, has owned Jewel's Goldstrike for three years and has discovered the key to the gelding: ample turnout.
"At home he's a horse to leave in his field 24/7. He loves to be in his field, even if it's raining, snowing, sunny, cold, he just loves to be outside — and to hack," added Mendoza Loor, who has his sights set on the Pan Am games in Santiago, Chile in the fall, and then perhaps the 2024 Olympics. "At home I'm working on improving each movement, to make every one stronger and better, and keeping his mind calm and mind and body fit."
'He's a hot tamale to ride'
The gold and silver medalists — both from the USA — in the Stillpoint Farm FEI Nations Cup™ Intermediate I Freestyle laid down new personal bests. The 20-year-old Christian Simonson, who is based in Wellington and trains with Adrienne Lyle, took top honors riding Son Of A Lady to a stonking 78.445%, with a high score from judge at H Christof Umbach of 80.775%. Charlotte Jorst steered Zhaplin Langholt (Glock's Zonik x Stedinger) to 76.205%. Denmark's Alexander Yde Helgstrand picked up the bronze medal on the Benetton Dream son Belantis — a former ride of Germany's Isabell Werth — with 74.665%.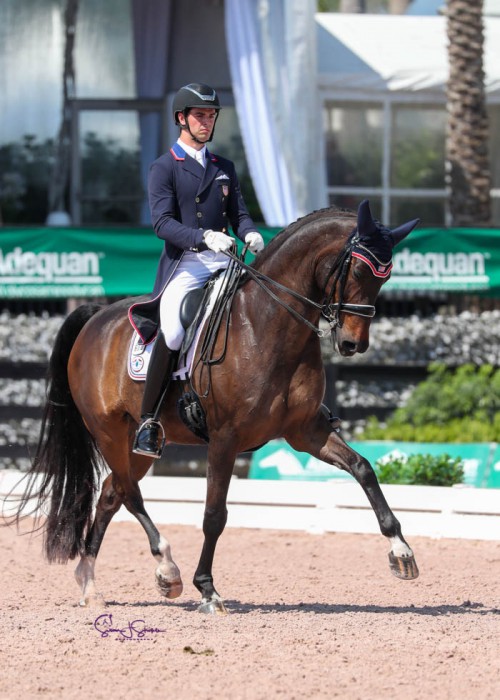 Simonson rode to a freestyle composed for another of his small tour horses, Zeaball Diawind. He has had Son Of A Lady for a year after buying him from Severo Jurado Lopez and competed him very successfully in Young Riders, and this was their second senior small tour international show.
"'Sonny' truly felt amazing for the whole test," he said. "The trot work was so elastic and he really carried himself throughout the whole test, so I could not be more proud of him. He is a hot tamale to ride, and it amazes me how much energy he has.
"He's been an absolute wonder horse. Everything we have given him, he has taken in stride — literally. He is so elastic in every movement you feel like his entire body is moving and, when he collects, he sits so much. He's a total dream to ride."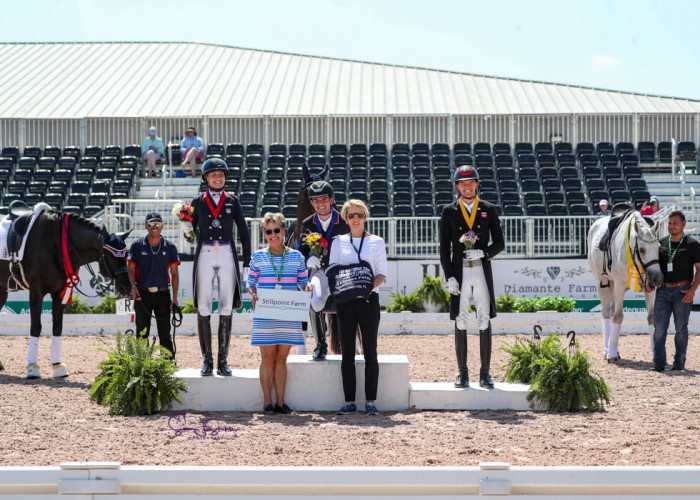 A whole host of firsts 
A high quality field of eight combinations in the Under-25 Grand Prix Freestyle, sponsored by Diamante Farms, provided much to celebrate in dressage's future, with the top five all scoring north of 72%. Leading the all-American podium line-up was 19-year-old Erin Nichols, who rode Premiere Sport Horses' 14-year-old Glock's Johnson gelding Elian Royale to 75.975%. She has only been riding the horse for six months after buying him from Dirk Glitz, — who produced him to the level — and this was the fresh new combination's first freestyle.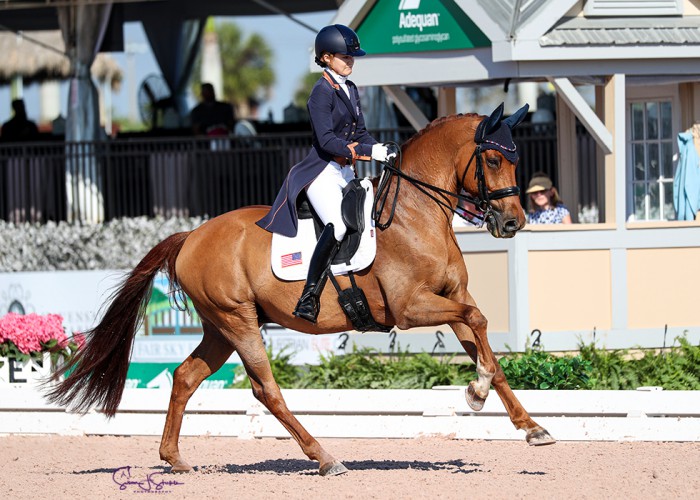 Callie O'Connell, 24, partnered with Eaton H, Ruling Cortes LLC's 14-year-old by Wynton, rode to another huge score of 75.04% to earn the red ribbon, and Benjamin Ebeling filled third with 74.165% on Status Royal OLD.
Nichols, who rode to a Karen Robinson floorplan and soundtrack put together just two weeks ago, said, "My horse felt great, he was right there with me. This was our first time at Global, my first U25 Nations Cup, my first grand prix freestyle and my horse's first freestyle, so to come out with a score like that was absolutely incredible.
"When I first sat on him, I remember we all just went, 'Wow this is a total match.' I really owe a lot of Dirk's training to my success today. To ride, Elian's a very hot horse. He's full of fire, and it's always about keeping him calm," added Nichols, who is aiming for the European under-25 tour.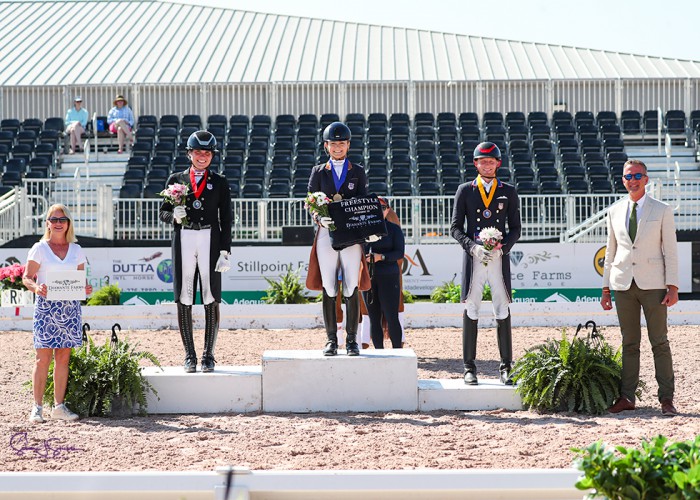 Sunday's action wraps up week seven of the 12-week 2023 AGDF. International competition resumes in a few days with week eight, featuring the Palm Beach Dressage Derby and World Cup™ qualifier (March 2-5), as well as competition at all levels in the national arenas. For more information and results, visit www.globaldressagefestival.com.