For Immediate Release
Alice Collins for Jennifer Wood Media, Inc.
Wellington, FL – March 24, 2022 – A day brimming with grand prix action opened up proceedings in week 11 of the 2022 Adequan® Global Dressage Festival (AGDF) in Wellington, FL. Four winners — two at four-star and two at three-star — were crowned at the level on Thursday, March 24. AGDF, which hosts seven weeks of CDI competition, runs through March 27. This is the final CDI of the 2022 winter circuit.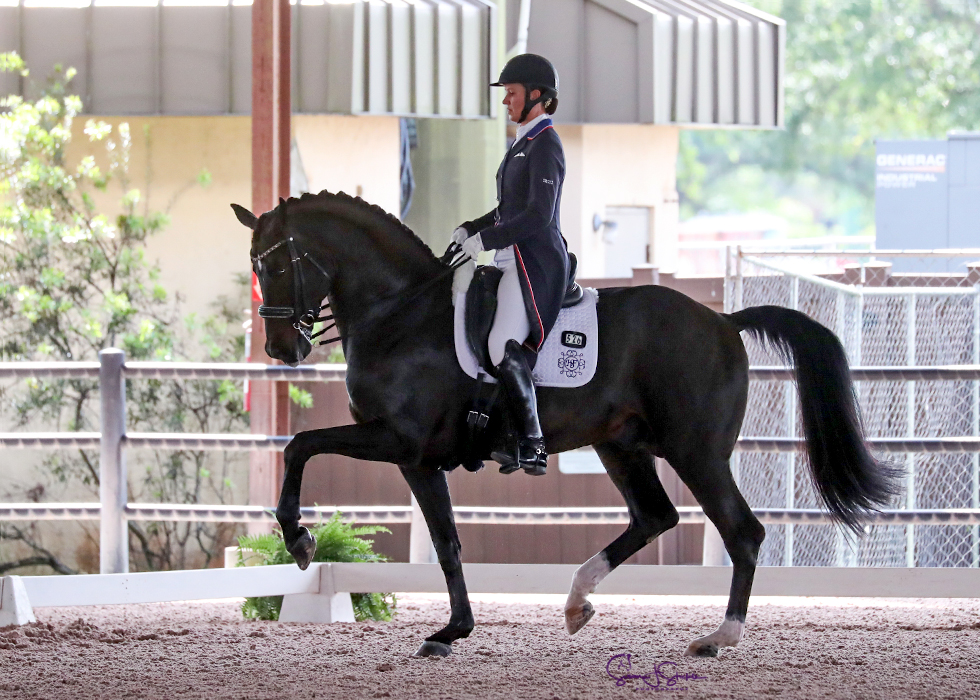 The day's highest score came courtesy of 2020 Tokyo Olympic Games U.S. team silver medalist Adrienne Lyle. She rode Salvino to a 78.566% victory in the Grand Prix CDI4* (for freestyle), presented by Douglas Elliman Real Estate. They commanded many eights, and a sprinkling of nines — for piaffe and in the walk section. This is the pair's second CDI of the year, and they remain unbeaten in all three of their starts since the Olympics, having claimed double glory in five-star week of AGDF 2022.
Fellow Olympians filled the remaining two podium steps. Brittany Fraser-Beaulieu (CAN), who was last to go, snuck into second with a 71.500% ride on her long-time partner All In, while seven-time Swedish Olympian Tinne Vilhelmson Silfvén claimed third with her relatively new ride Devanto (71.261%).
"Salvino's proving to be so consistent," said Lyle of Betsy Juliano's 15-year-old stallion son of Sandro Hit. "His body feels really powerful and full of energy, so I'm thrilled. He's always had a lot of power, but he sometimes struggled with the balance in the trot extensions, so I feel like we're really able to unleash and go full power, which is fun."
The class was moved to the Van Kampen Covered Arena as storms swept the Wellington area.
"I'm thankful that they chose to do this because in this weather, with the thunderstorms and the rain, the last thing we want to do is take a chance on sloppy footing for these horses," remarked Lyle. "The horses have to be able to go in any venue, so it doesn't really matter to me. He's an absolute gentleman who loves to show and loves to be the center of attention."
Lyle will contest the CDI4* freestyle under lights on Friday night, the first time in almost three years that they have ridden to music in a CDI. The last was at Aachen, Germany, in July of 2019, where the pair scored 83.56%.
"I'm looking forward to doing a freestyle tomorrow night, which I haven't done for a long time with him, because all up to Tokyo we were focused on the special because that was the test for the team medal. I'm really excited to ride it here because it's such a fun venue," said the 37-year-old.
Lyle, who is from Idaho and trains with Debbie McDonald, is gunning for a place on the shortlist of riders who will travel to Europe to try to claim a place on the U.S. team at the ECCO FEI World Championships in Denmark in August.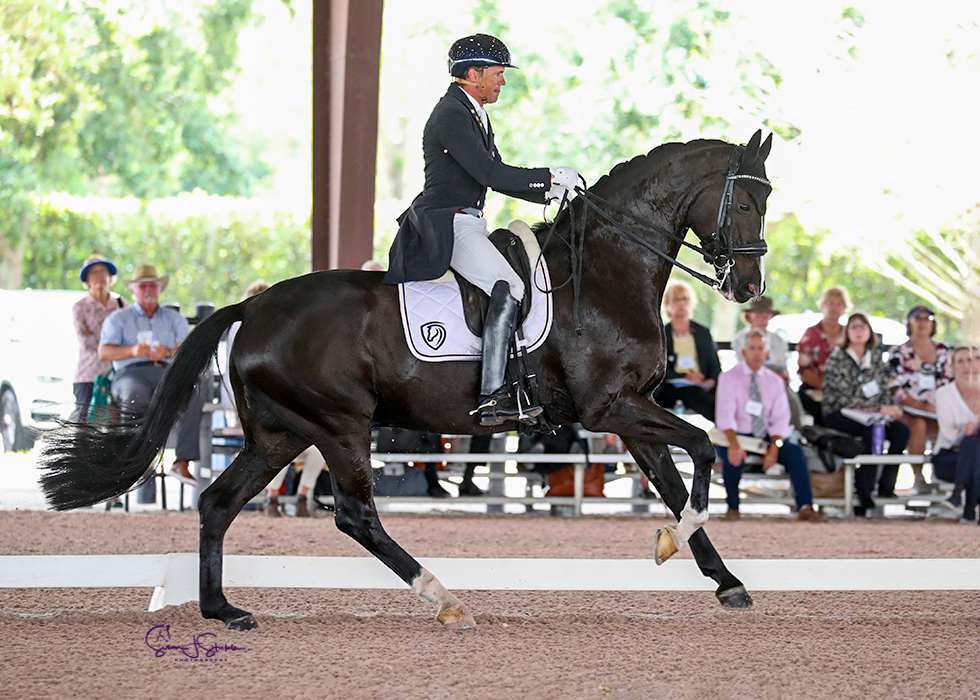 A partnership less than five months in the making emerged triumphant in the Grand Prix CDI4* (for special), presented by The Dutta Corp. Germany's Christoph Koschel topped the class of 10 starters, riding Dünensee to 70.609%, the only plus-70% score in the class. It was also held in the Van Kampen Covered Arena.
"My horse was a little scared getting in there with the judges' tables and everything, so maybe he was not as good to ride like in the Nations Cup, but I had not so many mistakes," said Koschel of the 13-year-old gelding by Dancier.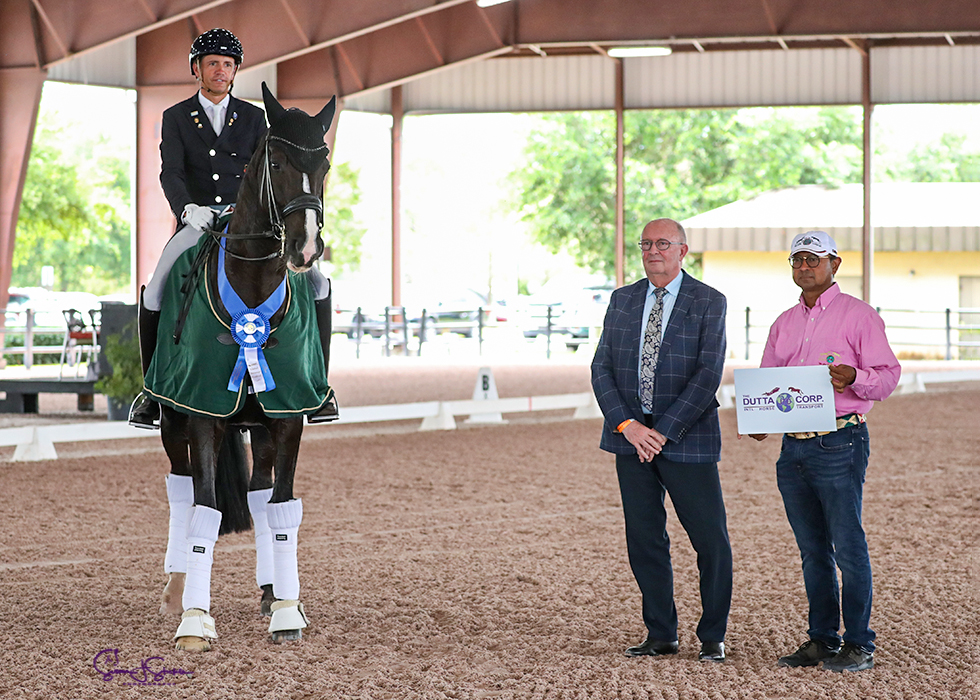 "I was really happy with the piaffe. He wanted to piaffe all the time, but he didn't want to passage so that was a little expensive, otherwise the score would be even higher," he explained. "We are quite a new combination, and I'm very happy that Devon Kane of Diamante Farms has given me the chance to ride this horse. I think it's a great horse for the future."
The horse is for sale, so Koschel will consult with his owners about his next competitive steps.
"First we'll do the Special and then we see if we keep the horse a little longer or if she wants to sell him soon," he explained. "He still needs some show experience and mileage in the ring for sure, but he's really ambitious to do it. He wants to go forward, and he wants to fight for the rider."
The Canadian rider Naïma Moreira Laliberté clinched second place, riding the 15-year-old Statesman to 68.152%. Her compatriot Diane Creech posted 67.457% to claim third aboard Chrevis Christo.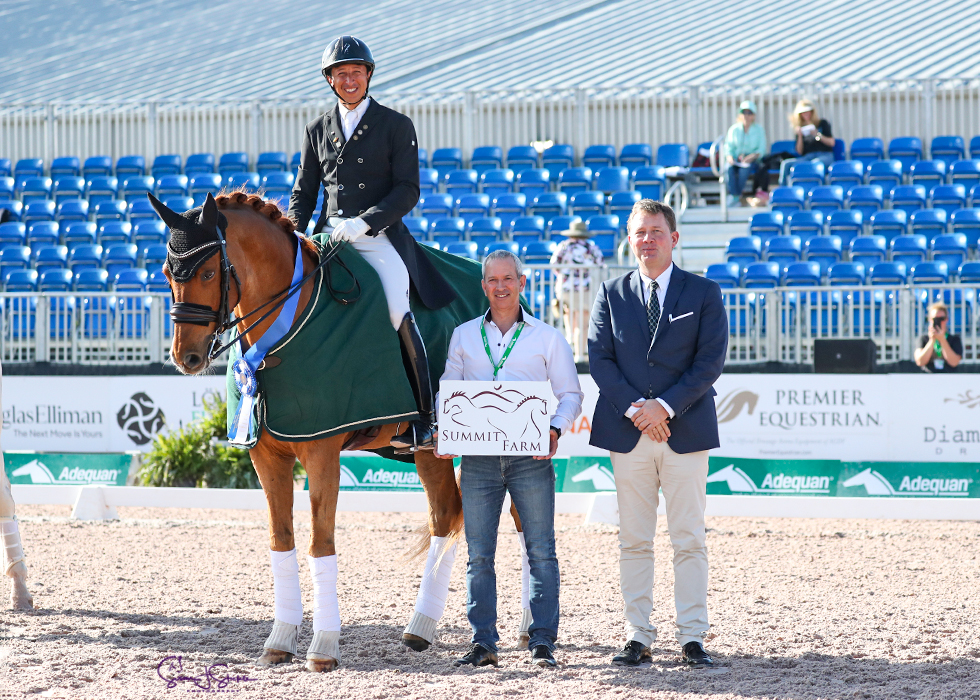 In the Grand Prix CDI3* (for freestyle), presented by Summit Farm, riders from South America took two of the three podium places. Ecuador's Julio Cesar Mendoza Loor posted a new career high score of 72.348% riding Jewel's Goldstrike. The gelding by Bretton Woods was awarded a high mark of 77.7% from British judge Peter Storr and were the unanimous winners across the five judges.
At 11 years old, Jewel's Goldstrike was the equal youngest starter in the class of nine. This was the horse's second ever CDI — the first being in AGDF 10 — and marked his first international win. The horse, who is owned by Mendoza and his wife Jessica, was commended for his high quality piaffe and passage, despite his inexperience.
Christoph Koschel bolstered his successful day, picking up second from final draw on the 12-year-old Lusitano stallion Favorito 11 (67.717%). Colombian rider María Alejandra Aponte González clocked a new personal best of 67.283% on the 18-year-old De Niro son, Duke De Niro, for third.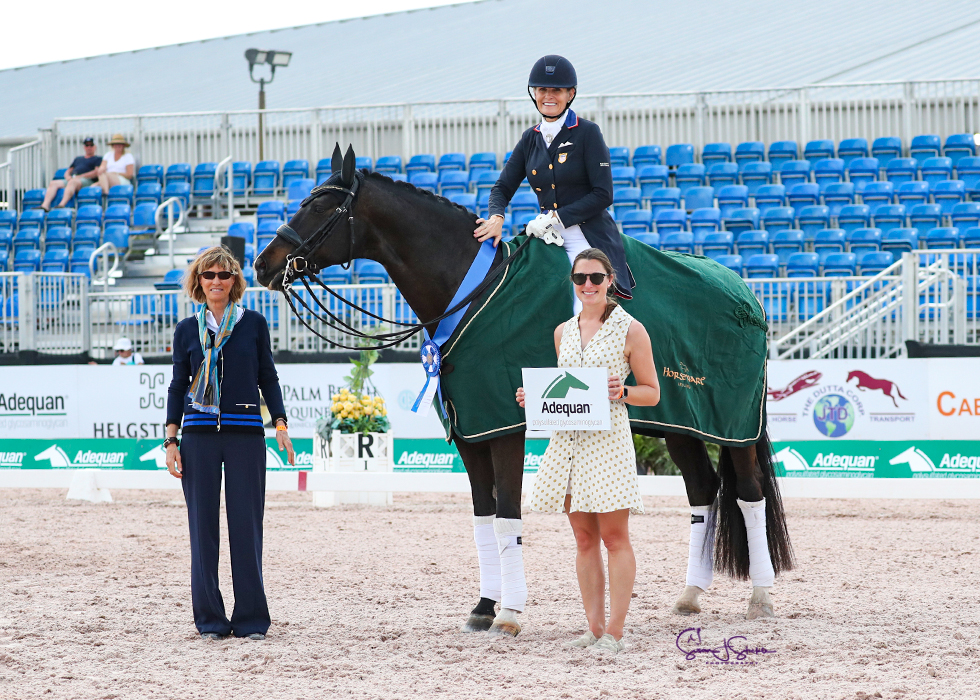 Another unanimous winner posting a personal best scooped the winner's sash in the Grand Prix CDI3* (for special), presented by Adequan®. Ashley Holzer (USA) rode her own 12-year-old Sir Donnerhall mare Valentine to 73.63%. All five judges awarded the pair over 73%. This was the horse's third CDI of the year, and her first win in 2022.
Belgium's Laurence Vanommeslaghe rode her own 15-year-old Blue Hors Hotline gelding Havalon into second with 70.63%. Katie Duerrhammer (USA) rounded out the podium, guiding Paxton, Kylee Lourie's 11-year-old Dante Weltino gelding, to 68.587%.
Action in week 11 of the 2022 AGDF resumes on Friday, March 25, with a jam-packed day and evening of competition. "Friday Night Stars" features the Grand Prix Freestyle CDI4* to music under the lights, presented by Douglas Elliman Real Estate, which kicks off at 7 p.m. Daytime action includes the Grand Prix Freestyle CDI3*, sponsored by The Dutta Corp., which starts at 4 p.m. Also during the day on Friday are no less than four Prix St. Georges classes as well as juniors, young riders, and an under-25 Intermediate II. For more information and results, visit www.globaldressagefestival.com.
Results: FEI Grand Prix CDI4* (for freestyle), presented by Douglas Elliman Real Estate
Place, rider, nationality, horse, horse information: judge E%, judge H%, judge C%, judge M%, judge B%, final score
E, Maarten Van Der Heijden (NED); H, Marlena Gruca Rucinska (POL); C, Stephen Clarke (GBR); M, Thomas Keßler (GER); B, Peter Storr (GBR)
1. Adrienne Lyle (USA) on Salvino, Betsy Juliano LLC's 15yo Hanoverian stallion by Sandro Hit: 78.696, 77.935, 78.37, 76.957, 80.87, 78.566
2. Brittany Fraser-Beaulieu (CAN) on All In, her own & Marc-Andre Beaulieu's 17yo KWPN gelding by Tango: 71.196, 70.761, 71.522, 70.652, 73.37, 71.5
3. Tinne Vilhelmson Silfvén (SWE) on Devanto, Lövsta Stuteri AB's 13yo gelding by De Chirico: 71.63, 70.87, 74.457, 69.457, 69.891, 71.261
4. Sarah Tubman (USA) on First Apple, Summit Farm's 12yo KWPN stallion by Vivaldi: 69.348, 70.87, 73.696, 69.891, 69.13, 70.587
5. Olivia LaGoy-Weltz (USA) on Rassing's Lonoir, her own & Mary McPhail's 18yo Danish Warmblood gelding by De Noir: 70.978, 69.783, 72.283, 67.609, 70.761, 70.283
6. Carly Taylor-Smith (USA) on Rosalut NHF, Nikki Taylor-Smith's 12yo Oldenburg gelding by Rosenthal: 67.391, 68.913, 70.761, 67.174, 69.565, 68.761
7. Jennifer Williams (USA) on Millione, Millione Partners's Danish Warmblood gelding by Milan: 67.065, 67.391, 70.978, 68.37, 67.609, 68.283
8. Paula Matute Guimón (ESP) on Delagronge, her own & Julie McAllister's 14yo Oldenburg stallion by De Niro: 68.804, 67.826, 67.826, 67.174, 68.913, 68.109
9. Alice Tarjan (USA) on Serenade MF, her own 9yo AHS mare by Sir Donnerhall I: 70.109, 67.935, 69.022, 65.87, 66.63, 67.913
10. Pablo Gómez Molina (ESP) on Ulises De Ymas, Yeguada de Ymas S.L., Javier Bacariza & Cristina Danguillecourt's 12yo PRE gelding by Seni Indio: 66.848, 67.283, 67.065, 63.37, 68.913, 66.696
11. Evi Strasser (CAN) on Disney Tyme, her own 14yo Oldenburg gelding by Diamond Hit: 66.413, 64.022, 66.957, 63.37, 64.348, 65.022
12. Amina Bursese (USA) on Fiti AL, her own 18yo PRE stallion by Jondo: 63.587, 63.804, 62.609, 62.717, 61.087, 62.761
Results: FEI Grand Prix CDI4* (for special), presented by The Dutta Corp.
E, Thomas Keßler (GER); H, Marlena Gruca Rucinska (POL); C, Kurt Christensen (DEN); M, Sandra Hotz (USA); B, Maarten Van Der Heijden (NED)
1. Christoph Koschel (GER) on Dünensee, Diamante Farms' 13yo Hanoverian gelding by Dancier: 70.543, 71.087, 71.196, 69.783, 70.435, 70.609
2. Naïma Moreira Laliberté (CAN) on Statesman, KML Inc's 15yo Hanoverian gelding by Sandro Hit: 67.174, 69.348, 67.391, 68.37, 68.478, 68.152
3. Diane Creech (CAN) on Chrevis Christo, her own & Louise Leatherdale's 19yo Danish Warmblood gelding by Chrevi's Cavallo: 66.848, 67.5, 69.022, 68.043, 65.87, 67.457
4. Susan Dutta (USA) on Don Design DC, her own & Tim Dutta's 12yo Hanoverian gelding by Der Designer: 64.565, 69.239, 65.543, 66.087, 69.565, 67
5. Katherine Bateson Chandler (USA) on Alcazar, Jane Forbes Clark's 17yo KWPN gelding by Contango: 65.652, 68.37, 65.217, 67.717, 67.826, 66.956
6. Jan Ebeling (USA) on Bellena, Ann Romney's 12yo Hanoverian mare by Belissimo M: 64.783, 69.565, 69.022, 67.5, 63.37, 66.848
7. Ariana Chia (CAN) on Fiderflame, her own 12yo Oldenburg gelding by Fidertanz: 66.522, 67.391, 64.348, 65.652, 69.783, 66.739
8. Jill Irving (CAN) on Arthur, her own & Windhaven Farm's 17yo KWPN gelding by Jazz: 64.457, 66.522, 66.739, 66.522, 66.63, 66.174
9. Mikala Münter (USA) on Skyfall, her own 14yo Oldenburg gelding by Zardin Firfod: 63.696, 66.848, 68.152, 65.761, 65.435, 65.978
10. Kiichi Harada (JPN) on Sir Galanto, Chiemi Katayama's 17yo Hanoverian gelding by Stedinger: 58.152, 61.739, 61.63, 61.413, 63.804, 61.348