For Immediate Release
Kim Beaudoin for Jennifer Wood Media, Inc.
In the FEI Grand Prix Special CDI4*, presented by Adequan®, Adrienne Lyle (USA) and Salvino reigned supreme once more after riding to another personal best of 80.830% on Saturday,  April 3, at week 12 of the 2021 Adequan® Global Dressage Festival.
"He absolutely met my expectations," said Lyle. "He tried super hard today. We had one little bobble after the left pirouette. I think he just sat really deep in that pirouette and he went to move up to the one tempis, and he got his legs tangled for a split second, but was able to get his head back in the game and pull off the nine [one-tempis] and then the right pirouette. For being as long as it's been since we rode through a Special, I'm very happy with him. To get two scores over 80% this week is everything we were hoping for, but it's a huge relief to get there and I'm very proud of him."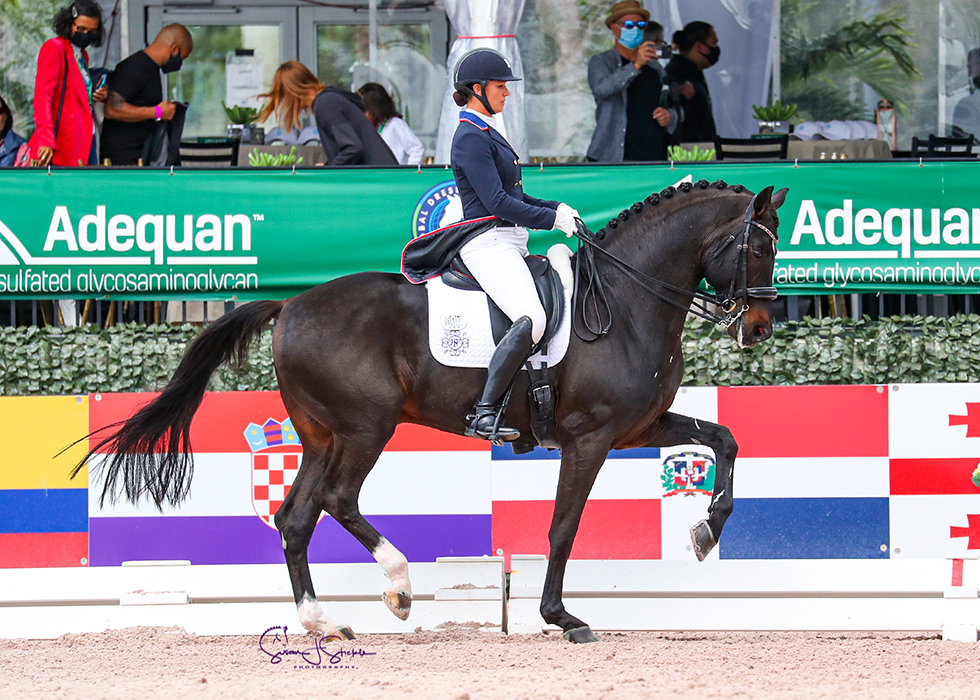 She continued, "His piaffe and passage are always great strengths, and even when turning down centerline after that long test, he's just as fiery and excited as he is to start, and that to me is really important, that he's enjoying it that much."
The pair didn't work on much on their off day between the Grand Prix and the Grand Prix Special, and Lyle explained, "I tried to just stay with trusting the fact that he knows his job after our last ride. Yesterday we just stretched and walked and trotted. I didn't school him on the off-day, and then today we kept the warm-up pretty short because it's such a long test that I didn't want to burn him up too much in warm-up."
Watch the winning ride! ©Richard's Equine Video
After the Special concluded, Lyle was also awarded with a browband created by Robin Brown, in honor of her induction into the 80% Club after her performance in Thursday's Grand Prix CDI 4*, presented by Adequan®. Since Anky Van Grunsven on Salinero became the first rider to ever achieve a score of 80% or higher in the Grand Prix in 2006, only 17 riders have earned entry into the 80% Club that was created by Dressage-News.com to honor the achievement. "It feels surreal to be part of the 80% Club," admitted Lyle. "It gave me goosebumps listening to the presentation, and all of the names on that list, everyone that I've idolized my entire life, everyone that I had posters of up on my wall. It's such an honor to have my name announced with that group."
Second place in the FEI Grand Prix Special CDI4*, presented by Adequan® went to Olivia LaGoy-Weltz (USA) on Rassing's Lonoir, Mary Anne McPhail and Olivia LaGoy-Weltz's 2004 Danish Warmblood gelding by de Noir, who also earned another personal best score with 76.021%. Canada's Naima Moreira Laliberte on Statesman, KML S.a.r.l.'s 2007 Hanoverian stallion by Sandro Hit, rode to another personal best score of 73.170%.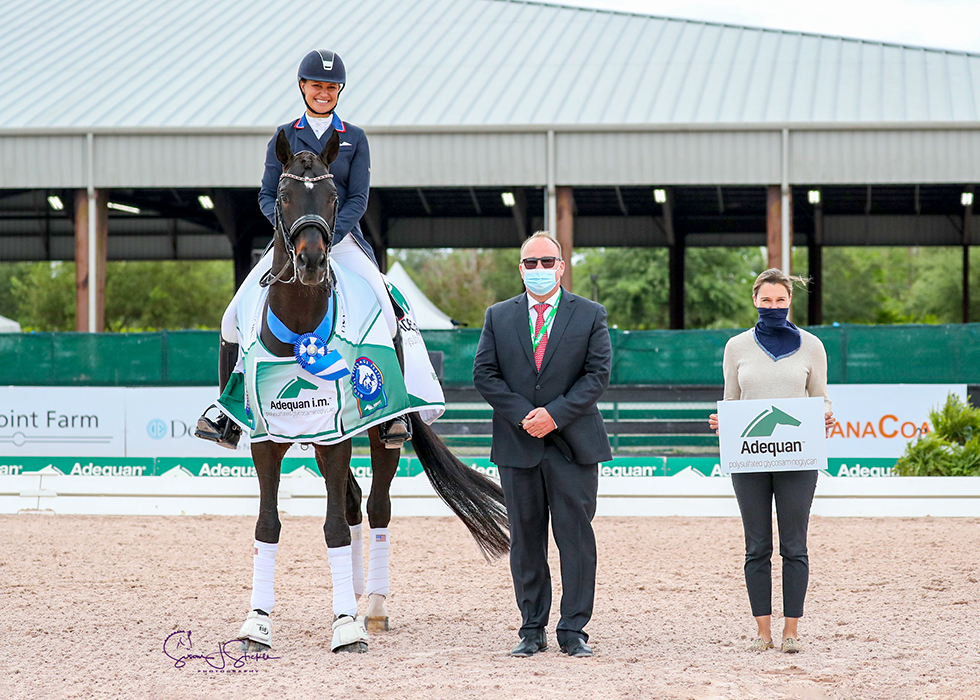 Competition at AGDF 12 will conclude on Sunday, April 4, after a full schedule of classes, including the FEI Grand Prix Freestyle CDI3*, presented by Wellington Equestrian Realty, the FEI Intermediare II CDI3*, and FEI Intermediare I Freestyle CDI3*, before the  Lövsta Future Challenge/Young Horse Grand Prix Series Final , and the Future Challenge/Young Horse Prix St. Georges Series Final beginning at 12:00 p.m. For more information and to see a full list of results, visit www.globaldressagefestival.com.
Photo Credit: © SusanStickle.com. These images may only be used in relation to this press release and with credit.
Video Credit: ©Richard's Equine Video