Say hello to this week's Rider Spotlight, Hope Cooper! Hope represented Team USA in the CDIO U25 Nation's Cup for the second time this year with her mount, Hot Chocolate. Hope discusses her experience in the Nation's Cup and the effect of last year's season being cut short due to COVID-19  on her preparation for this season. Read more below to also hear about Hope's upbringing in the horse world as well as how she prepares mentally and physically for competition!
When did you begin riding and did you always see yourself riding at this level when you were younger?
I started riding in the womb! My mom, Jane Karol, is a Grand Prix rider and trainer and also an Equine Facilitated Psychotherapist (she is a psychotherapist and uses horses as her co-therapist). My mom created Bear Spot Farm and Foundation before I was born and I think she rode every day she could while she was pregnant! The first time I sat on a horse outside of the womb I was a few months old with my mom holding me. All joking aside, I was about 6 years old when I started to ride and began learning about how to take care of my pony. My first pony's name is Orion. He is still alive; he is about 30 now and we still own him. He is retired with one of our older therapy horses named Jake and they live in a giant field with ponds and run-in sheds in Tennessee. When I was about 12, I got the opportunity to ride a pony named Sparrow in the FEI Ponies. He was a bit fresh and we weren't always super competitive at the time, but it was during those years that I learned how much I love horses and dressage!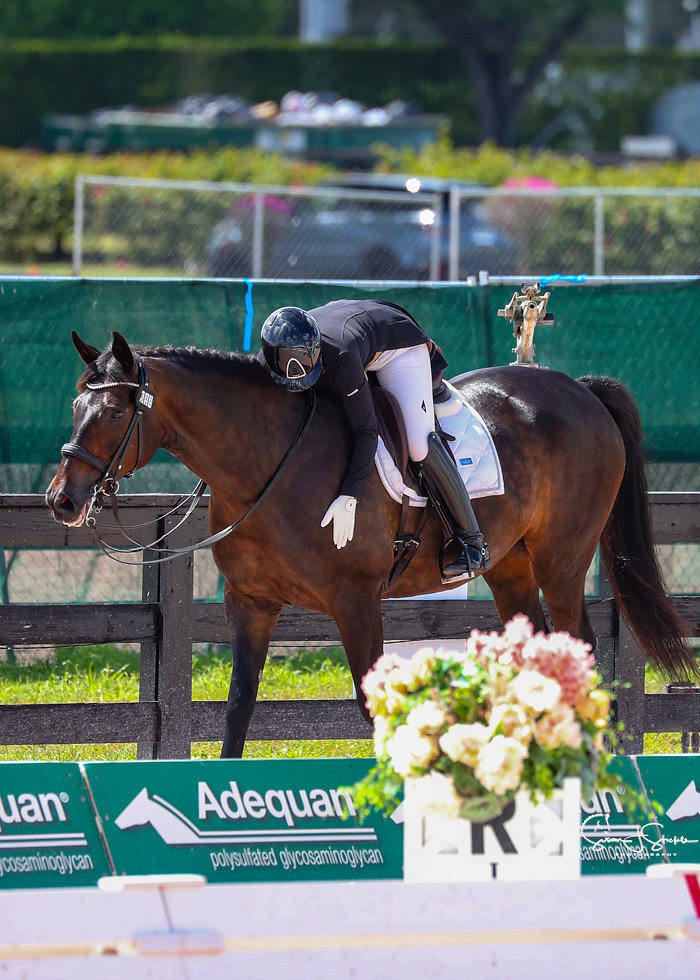 How was your experience at the Nations Cup this year on Team USA?
It was an honor to be asked to be on the CDIO U25 team this year for the second time with Hot Chocolate W. Last year we had a great time as well, but for Chocolate and I, it wasn't our best show. This year I feel like we reached a whole new level in our training and we did some of our best tests at the Nations Cup. We even finished with the individual gold in the U25 Grand Prix!
All the people who were involved in Team USA made it such a wonderful experience to represent our country. The team atmosphere was so supportive. It felt like everyone was cheering on their team members and we were all truly supportive of each other. I was beyond thrilled with Chocolate during the Nations Cup! He gave it his all. It was also a fantastic opportunity to watch the incredible riders on the senior team, and I loved watching my teammates, as well!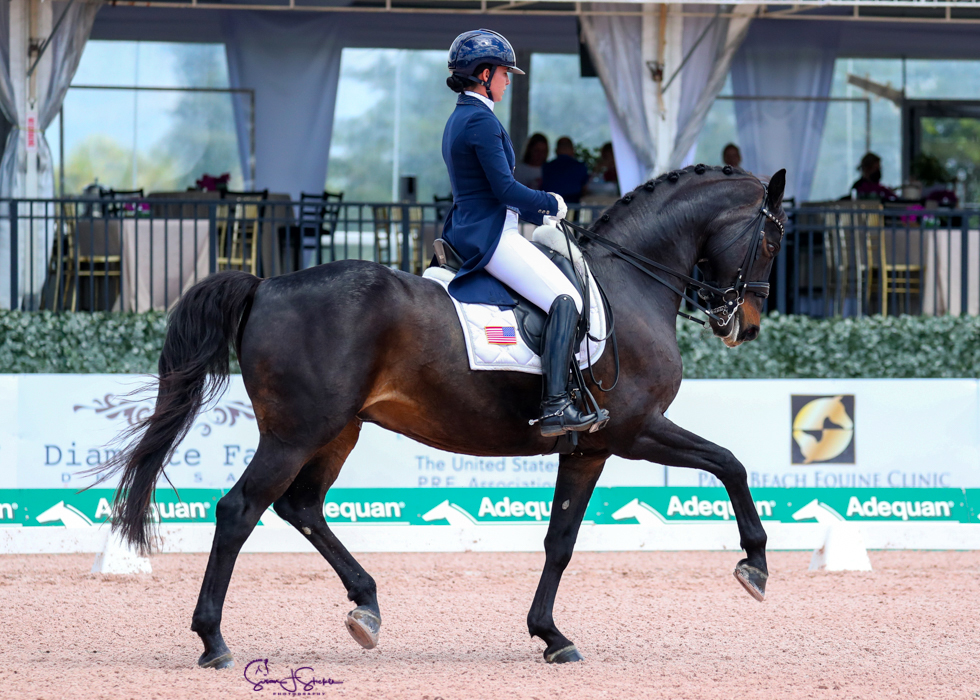 What are your plans for the rest of the year, and what horse are you most excited about?
For the rest of the year, I am planning to give Chocolate and Diamond time for some lighter work and a break from showing until, hopefully, Lamplight and some other shows at the end of the season. While Chocolate and Diamond have a little rest I plan to focus on my mare, Sunshine Tour! We have been working hard towards the open Grand Prix and plan to do a few of those and some U25 as well! I am also hoping to head to Europe in the fall with a few horses to train with my coach, Christoph Koschel, and maybe show a bit there. It is hard to pick one horse I am most excited about. I feel fortunate to be able to learn from and develop all of them. (And certainly, I don't want to choose one – I might hurt the others' feelings. Haha!) If I had to choose, I am both super excited about a very cool young horse I have coming up, and getting in the Open Grand Prix ring with Sunshine, as she is always incredible to be around and to ride.
How do you prepare for a big class, mentally and physically? Do you have any pre-show rituals or "lucky charms?"
I used to get so nervous and still do occasionally, but having an incredible place like Adequan Global Dressage Festival with so many CDI classes and such an inspirational atmosphere has really helped. Just getting in the ring as often as possible and getting practice turning my nerves into excitement has been really useful. All the experience here has made it so that I don't really get as nervous anymore, but if I do feel any nerves I walk my test many, many, many times. Sometimes I even say it out loud to my horse. Humor is always helpful. And the biggest thing for me has been if I get nervous while I'm on to simply halt for a moment and pet my horse. I always do this after the bell rings before we go down centerline because it reminds me I am not going in the ring alone, and that my partner and I have worked hard for this moment and we can do it!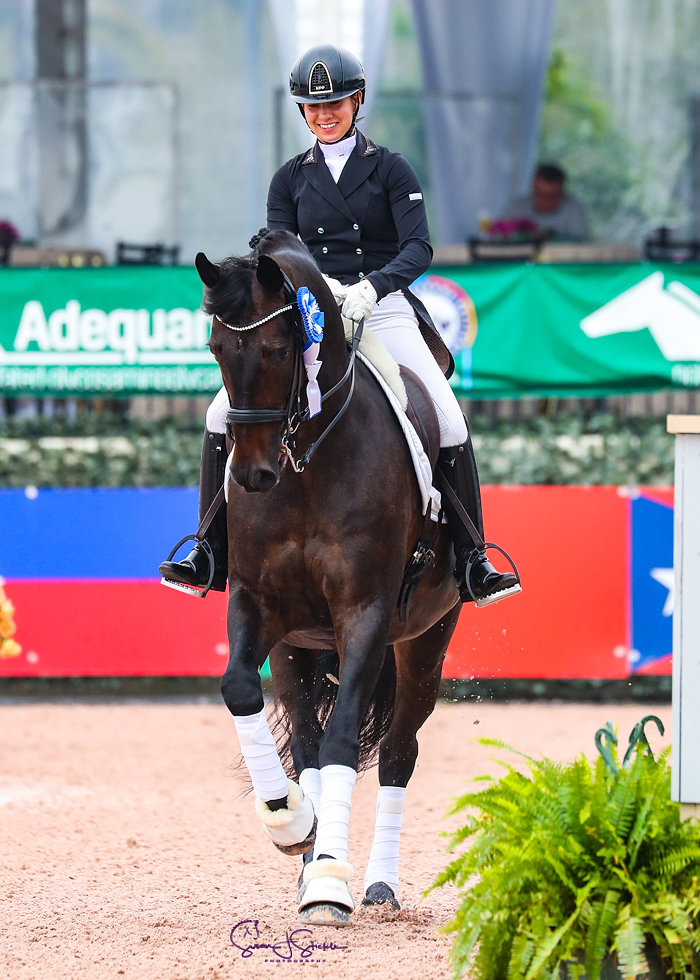 Last year's season was cut short due to COVID-19; how do you think that 'break' has affected this season and your plan for this year?
When the season was cut short Chocolate and I were in a good spot in the rankings and even made it onto the CDIO U25 team at Aachen which would have been incredible! As much as not getting to go to Europe was disappointing, I felt thankful to have healthy humans and horses around me. Plus, it was helpful to have the time to just relax and take the pressure off. I used the summer and fall to work on basics and strengthen my horses. It was kind of like a musician working on scales. We fine-tuned our balance, strength, and thoroughness, and it paid off this season. It was nice to take time to groom them and simply hang out with them. The time in quarantine has totally changed the way I train. I think I'm closer to each horse after changing the quality of our time together. I am glad I learned about how important that closeness is, and yet I was certainly excited to get back in the ring this year!
Thank you, Hope, and we wish you the best in your future endeavors!