Thursday morning at the 2023 Adequan® Global Dressage Festival (AGDF) featured national and international classes during the eighth week of competition at the Palm Beach Dressage Derby. Fifteen combinations kicked off the weekend in style as they set their best foot forward in the Mission Control CDI3* Grand Prix. The class was a win for France as Morgan Barbançon piloted her own 11-year-old KWPN gelding Habana Libre A (ZiZi Top x United) to the unbeatable score of 71.630%.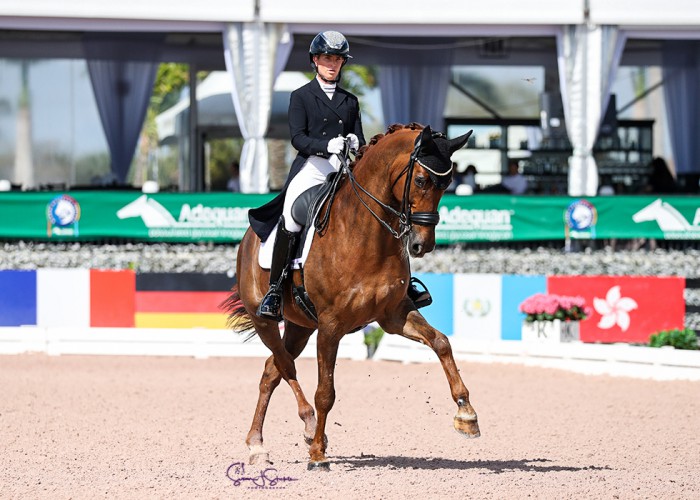 As one of the first riders to perform the halt-salute at X, Jan Ebeling (USA) took the early lead with a score of 69.109% aboard Jubi's Tenacity. Ebeling held the lead across the majority of the class but ultimately settled for the third-place honors with Ann Romney's 13-year-old Danish Warmblood gelding (Tailormade temptation x Blue Hors Don Schufro). Barbançon was the third-to-final entry to compete and shot straight to the top after breaking the 70% mark.
"He is a truly lovely horse to ride because he is always willing to work," gushed Barbançon. "There's not a day I take him out of the stable and feel like he doesn't want to work. He is the best horse I've ever ridden and has all the makings of a top horse; every time in the ring he gets better and better."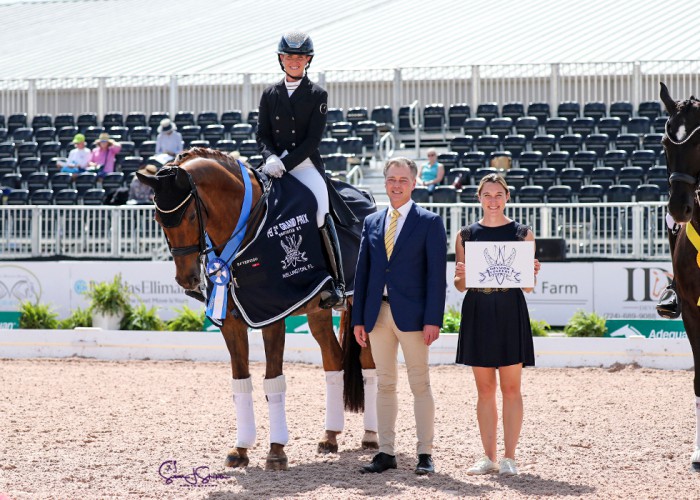 For Barbançon, there will always be things to work on but the progress of her horses and their performance means more to her than the overall score.
"I thought our test today was quite good, but I still need to work on the piaffe for it to be more technically correct," she added. "For me, the most important thing is to present my horses in the best way possible and have a nice, fault-free test. I don't set goals for percentages, and I think if the score is the only thing you care about then you may not truly love the sport. I always feel that good scores will follow if I can make the horses their best."
Codi Harrison (USA) performed the final test of the class and took a late jump into second place after producing a performance worthy of a new personal best score of 70.413% piloting his own 16-year-old Danish Warmblood gelding Katholt's Bossco (Blue Hors Don Schufro x Michellino).
Anna Buffini Makes Trip Well Worth It in IDA Development FEI World Cup Grand Prix
A total of 13 horse-and-rider combinations entered the afternoon's IDA Development FEI World Cup Grand Prix with the top-three placings being awarded to the United States, Canada, and South Korea at the event's completion. As the penultimate competitor in the class, the USA's Anna Buffini made her trip to Wellington, FL, from San Diego, CA, well worth the travel time as she took top honors with an excellent score of 72.500% on FRH Davinia La Douce.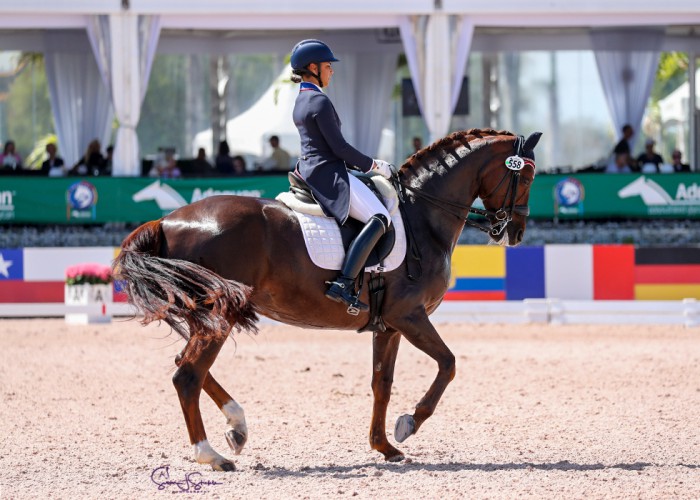 "It was worth the trip, man," laughed Buffini. "It was always our plan to come out here but you never know how it's going to go, so you have to do your best and leave it all out in the arena. It can be hard to make the trip and acclimate them in time for the first show, but she just nailed it today; I was so proud of her.
The coast-to-coast road trip was all part of Buffini's bid to get a spot at the 2023 FEI World Cup™ Final, and she hopes her performance in the Friday Night Grand Prix Freestyle will be enough to get her there.
"The World Cup Finals race has been very difficult so we have to do everything we can tomorrow, but the Freestyle is our favorite so if we can go out there and do what we've done the past few times in California, it could be very competitive," Buffini commented.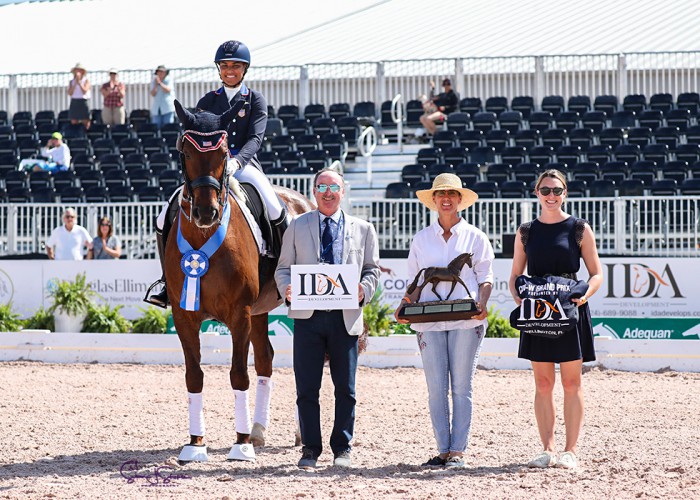 Continuing about her 16-year-old Hanoverian mare, she said, "Her energy level here is fantastic. Her canter work was great today, which is something we've really worked on getting solid recently, her changes were right there and her pirouettes were tight. It's always encouraging to know that there are things to work on but that we are starting out on a high score for us."
Finishing on the second-best score was Chris von Martels and the 14-year-old KWPN gelding Eclips (Apache x Olympic Ferro). The pair produced a test worthy of a 70.174% to don the red ribbon in the lap of honor. Dong Seon Kim of South Korea rounded out the leading three after finishing on a score of 68.435% with the Sportferde Galleria GmbH's 13-year-old Westphalian gelding Galleria's Bohemian (Bordeaux 28 x Samarant).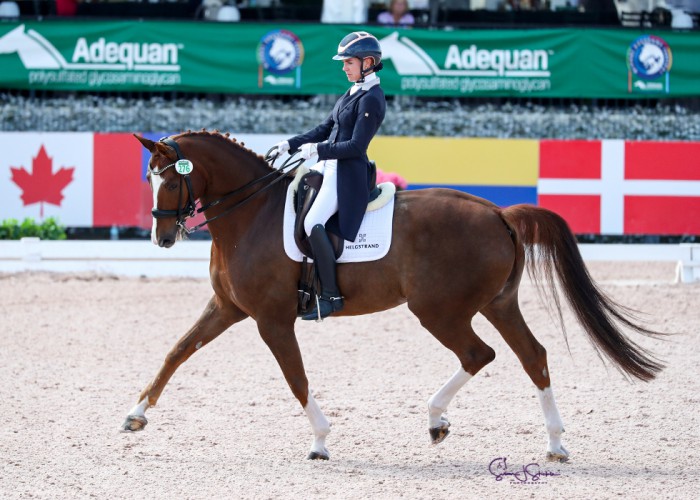 Amanda Perkowski led the final lap of honor for the day in the Buffalo Wild Wings Derby Qualifier Prix St. Georges. The American piloted Atterupgards Belafonte to a score of 70.882% to just narrowly edge out Denmark's Alexander Yde Helgstrand. Helgstrand put forth a performance in the qualifier worthy of a 70.538% aboard Zidan-DN. Americans bookended the podium as Mackenzie Peer put on the yellow sash after earning a 65.097% with Zwingfly.
Dressage resumes on Friday, March 3, with a jam-packed day and evening of competition. "Friday Night Stars" in the evening under the lights features the FEI World Cup™ Grand Prix Freestyle CDI4* to music, presented by IDA Development, as well as the ever-popular Buffalo Wild Wings Palm Beach Derby final, in which riders perform a Prix St. Georges test on an unfamiliar horse, competing head-to-head. For more information and results, visit www.globaldressagefestival.com.