For Immediate Release
Jennifer Wood Media, Inc.
Wellington, FL – October 24, 2019 – The 2020 Adequan® Global Dressage Festival will add to their offerings for young horses competing at the Prix St. Georges and Grand Prix levels with the $15,000 Lövtsa Future Challenge/Young Horse Grand Prix series and the $10,000 Summit Farm Future Challenge/Young Horse Prix St. Georges series. Both series will have qualifiers throughout the (AGDF) circuit, which runs January 8 through March 29 at Equestrian Village at Palm Beach International Equestrian Center in Wellington, FL.
With the aid of dressage journalist and owner Ken Braddick, AGDF launched the Young Horse Series in 2019 and classes are dramatically expanded for 2020. The Lövsta Future Challenge/Young Horse Grand Prix series was organized with the help of seven-time Olympian Tinne Vilhelmson Silfvén, who is the professional rider and trainer for Lövsta Stuteri, based in Sweden and Wellington, FL.
The original Lövsta Future Challenge was set up by Vilhelmson Silfvén and Louise Nathorst in its home country of Sweden as a talent development program in both dressage and show jumping for young grand prix horses and Under 25 riders, giving them the arena and the conditions to advance toward the top level of international sport.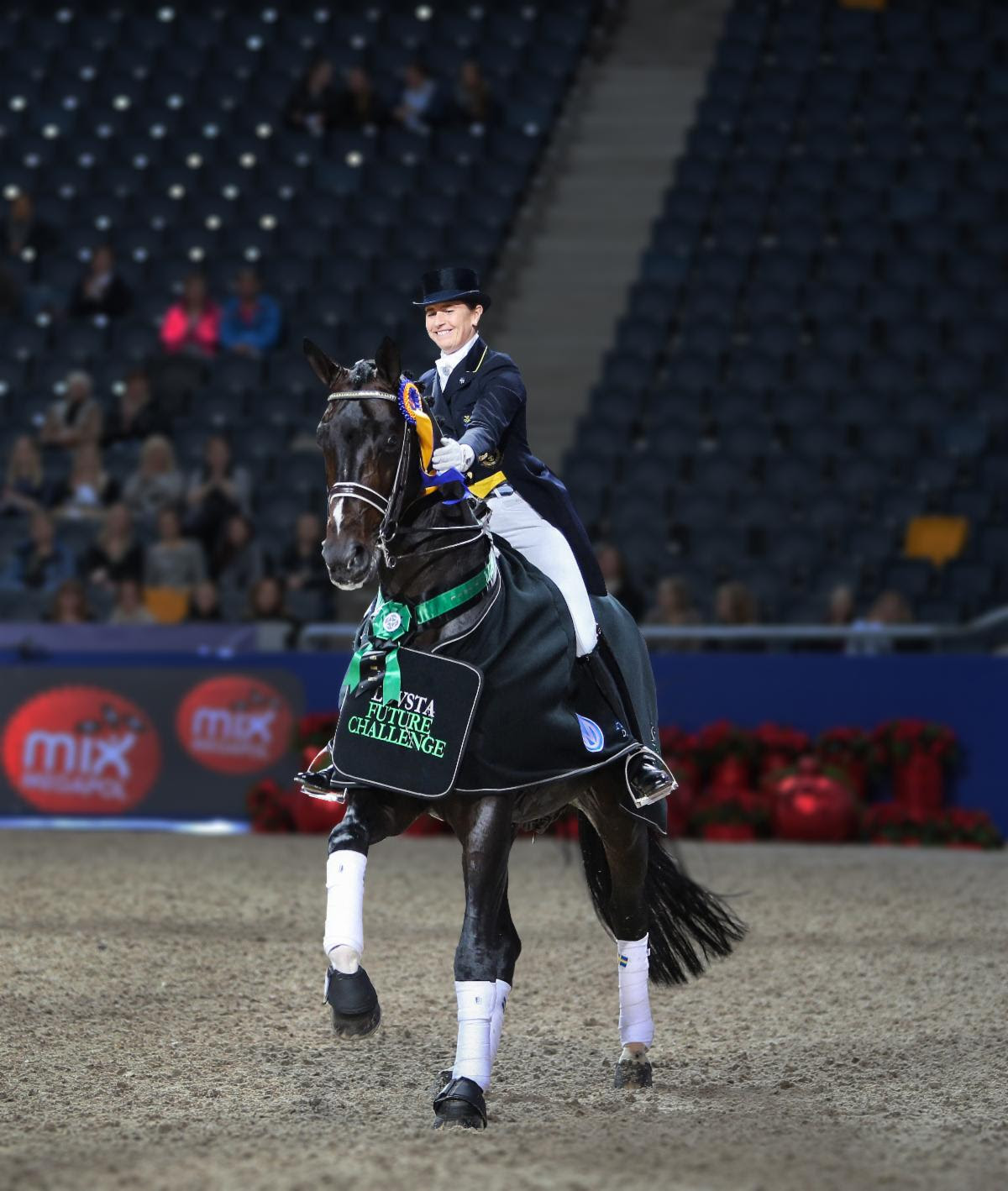 "We not only promote the horses and riders but also the teams behind them, including grooms, trainers, breeders, horse owners, and sponsors," said Vilhelmson Silfvén. "All are incredibly important for developing talent. Lövsta Future Challenge also strives to create forums where riders and equestrian professionals can exchange knowledge and work together towards a sport where the environment and horsemanship are central themes."
Lövsta is now bringing their ideas to AGDF to implement with young grand prix horses in dressage. Vilhelmson Silfvèn said, "We want to give them a platform to develop and with this series help them take the step towards the highest grand prix level. We hope that the interest for educating and producing young grand prix horses will grow. Our goal is that this series will be successful so we can take it to an international level in the future."
The Lövsta Future Challenge series will hold qualifiers for horses age eight to ten years old at AGDF 1, 3, 5, 6, 7, 8, 9, and 10, with the final held during AGDF 12 for $15,000 in prize money. The best horse/rider combination of each qualifying week will qualify for the final, plus two wild cards will be determined for the final. If a horse/rider combination who is already qualified wins more than once, the next placed horse/rider combination of that week will go forward to the final. The test used in the qualifiers is the FEI Intermediate II. 
"The series will give them the routine and hopefully the confidence to take the last step towards the highest grand prix level," said Vilhelmson Silfvén. "We at Lövsta also believe a series like this with a goal of becoming an overall winner will boost both riders and horses and the teams behind them. We believe that one of the most important parts to reach success and growth is to set up goals."
The Summit Farm Future Challenge/Young Horse Prix St. Georges series will have qualifiers in the same weeks for horses age seven to nine years old, with their final also held during AGDF 12, with prize money of $10,000. The two best horse/rider combinations of each qualifying week will qualify for the final, plus two wild cards. The same qualifying applies for those combinations that win more than one qualifier. The test used for the qualifiers and the final is the FEI Prix St. Georges, but in the final, two Prix St. Georges tests will be offered, with one as a warm-up class and the second as the final.
Top dressage rider and trainer Scott Hassler said of the Summit Farm Future Challenge, "A series like this is important because it's one of the most exciting group of horses. Germany's Nürnberger Burg-Pokal Prix St. Georges has shown us what a championship at this level can do. This is the most critical stage in making a grand prix horse – getting them in good hands, competing, and training well to make a grand prix horse."
The United States has developed Prix St. Georges as a national program in recent years, said Hassler, who was involved in creating the program. "Now it's one of our most competitive championships," he noted. "For AGDF to have a prize like this and have a series with a final be available is so exciting and awesome." 
AGDF looks forward to hosting the best and brightest young dressage horses in the world at the 2020 circuit and wishes all competitors the best of luck.