By Alice Collins for Wellington International
International action for the Adequan® Global Dressage Festival (AGDF) 2023 season in Wellington, Florida, wrapped up on Sunday, March 26. The grand champions were crowned in both the Lövsta Future Challenge Young Horse Grand Prix Series and the Buffalo Wild Wings Future Challenge Young Horse Prix St. Georges Series. AGDF 2023, which hosts seven weeks of CDI competition, runs through April 2.
These classes aim to identify and nurture talented, up-and-coming young FEI horses, giving them exposure to benefit their development with the biggest of world stages in mind.
Competition was extremely hot in the small tour ranks, with the top three in the field of eight starters all scoring over 71% — particularly impressive as these are young, green horses at the level.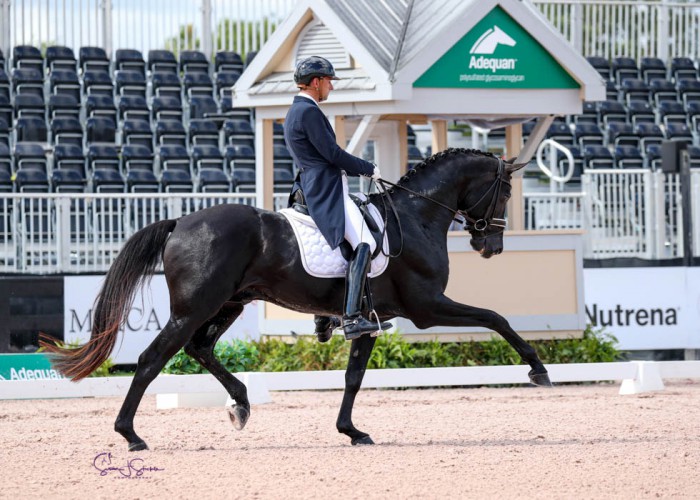 It was the 41-year-old German-born American rider Marcus Orlob who rode Alice Tarjan's JJ Glory Day (by Kastel's Grand Galaxy Win x Deemster) to victory with a commanding 73.705% — including a high score of over 75% from one judge. At seven years old, Glory Day was the youngest horse in the class — the only seven-year-old — and the only stallion. This was just his second ever Prix St. Georges test.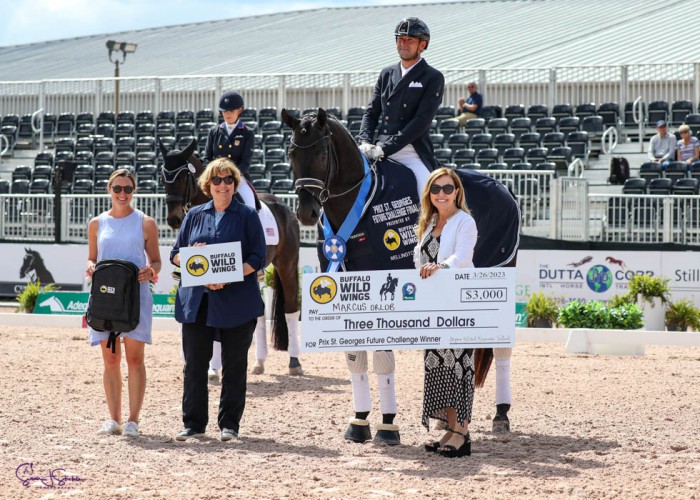 "I've had this horse for three years and since then I'm quite amazed by him," said Orlob, who is based between Annandale, NJ and Loxahatchee, FL. "Every time I ride him it's a joy. He wants to work. I thought a couple weeks ago I would do this just for fun and he was really afraid the first time.
"Now I think he did quite a clean test and the judges seemed to like it, so I'm really happy. The changes are more confirmed [than they were a few weeks ago], and he was more mature, with better balance and straighter."
Orlob and Glory Day have had a highly successful dip into international competition at this year's AGDF, contesting the FEI seven-year-old Preliminary and Final classes earlier in the month, and winning them both with scores over 80%.
He praised the inclusion of these developing horse classes on the show's schedule, adding, "I think it's so important we have classes like this, especially for the younger ones to see the fancy stadium. It can be quite intimidating for the younger horses, but I think the judges are a little more forgiving if the horses are spooking here and there, they don't hold it against you."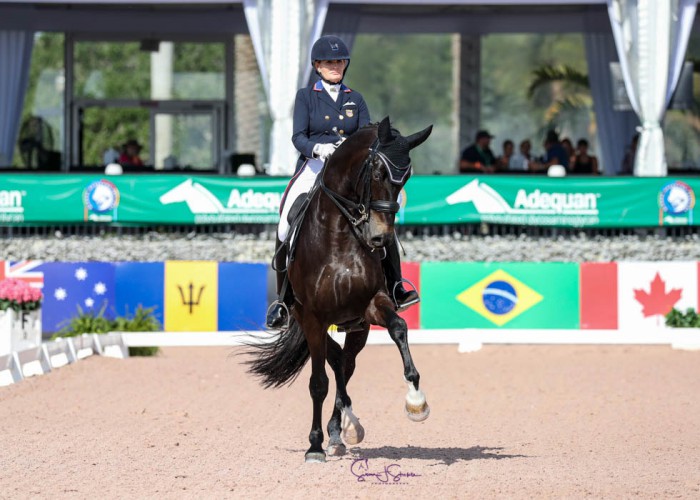 American female athletes Ashley Holzer and Andrea Woodard filled out the podium, with Holzer on a catch ride, Francis (by Franziskus x Weltmeyer) claiming second with 71.617% and Woodard close behind on 71.617% for her ride on Anette Grant's eight-year-old KWPN gelding Kaliber (by Franklin x Rubin Royal OLD).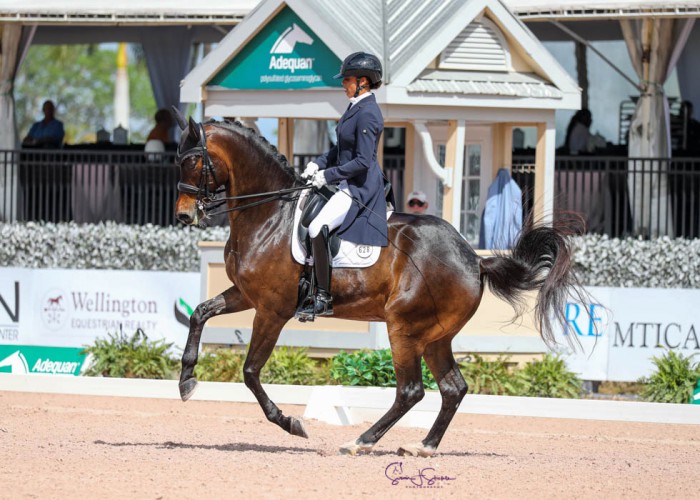 Of the nine-year-old Francis, Holzer said, "It's actually PJ Rizvi's horse, so I'm a bit of a catch rider and she kindly let me ride him in the competition to get him into the big ring. PJ has done an amazing job with him, [demonstrated by] the fact that I can just get on him two days before and go in and show him. I love riding him, he's been so much fun, he's super forward."
Mares Rule Big Tour Final

In the big tour ranks, competitors qualified by riding an Intermediate II test, but for the final they rode the Young Horse Grand Prix test — which was a bit of a surprise for the eventual winner, Bianca Berktold on Imperial, when she double checked the night before.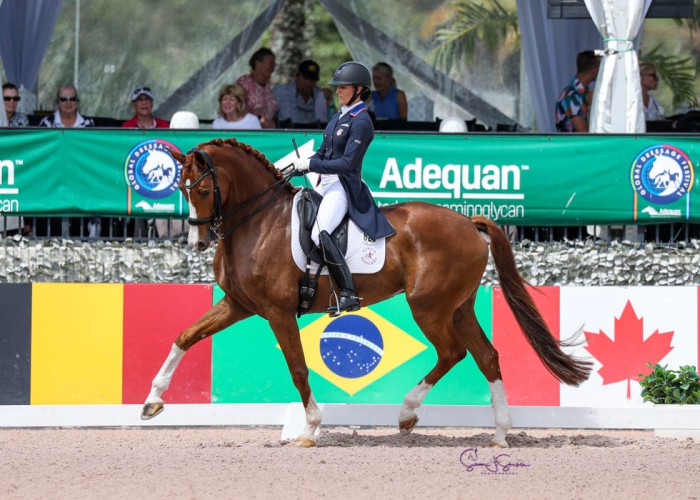 "It's smart to read the emails they send you thoroughly because I thought I was doing a regular Grand Prix, and last night at 8pm I realized it was a young horse Grand Prix and that I'd never ridden a young horse Grand Prix myself and I had to Google it — but Imperial showed up and went in and was amazing."
The 10-year-old mare (by Charmeur x Vivaldi) belongs to Berktold and she has trained her up the levels. The pair, who scored 69.973% to secure this year's title, won five small tour CDI classes at the 2022 edition of AGDF.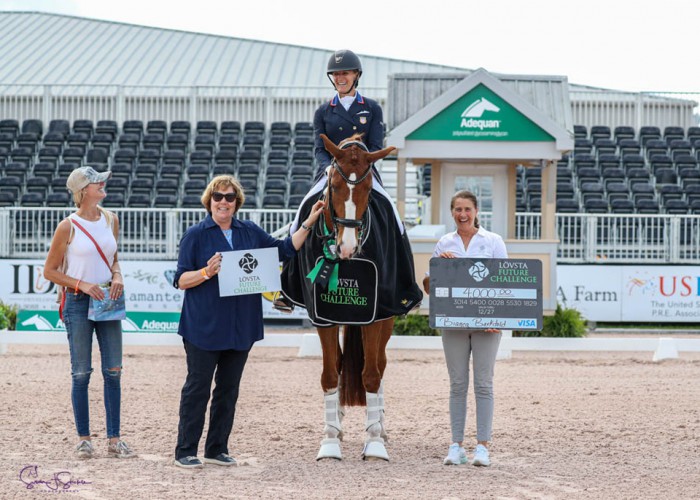 "I've had her since she was two and a half, so it's been a work in progress," added the 40-year-old. "I am so lucky to have her and she's still green at this level, but she's coming together nicely. She really has a talent for piaffe and passage and the lateral work is really easy for her, so it's an incredibly talented horse."
Tarjan switched roles from owner to rider in the big tour Final, piloting her own Desperado NOP x Metal mare, Jane, to the reserve champion title with 68.262%. Ali Potasky and Inxs, her own and Kathy Priest's 10-year-old Everdale x Harmony's Rousseau gelding, took the third spot with 66.867%.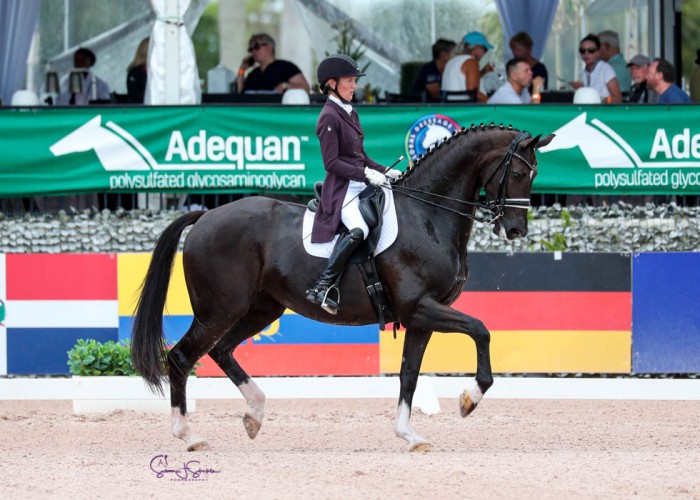 Potasky said, "I am a beginner at this and have never ridden Grand Prix, so I just tried to go in there and pretend I was at home. It's a little harder than the I-2, but he's really comfortable in the stadium, so everything that goes on in there is pretty much training and just about getting him and I together to get more experience at the level.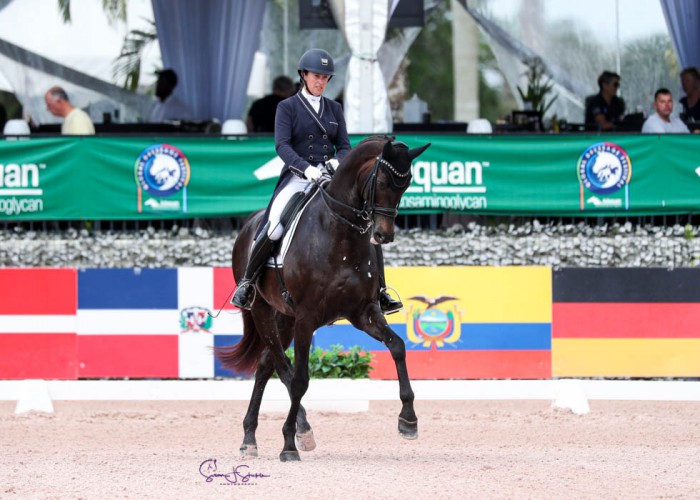 "We found him in Holland as a six-year-old and I could only afford part of him — the cheaper half — and my boss Kathy helped me after we realized he was better than a sales horse," explained Potasky. "She bought the other half for me. He's had some struggles in the beginning being too hot and it took me a while, but once I got a couple years under our belts it improved. He's got everything for the top if I can just figure out how to do it."
Tinne Vilhelmson-Silfvén of class sponsor Lövsta added, "The whole reason that Lövsta Future Challenge exists is because we want to give the sport of dressage a push and try to help it to develop. What we want to achieve is new horses and riders coming out to build to CDI, not just to go into the international arena, but to have the chance to do this medium tour to make the transition up to Grand Prix easier, and to advance the sport."
Sunday's action marks the conclusion of the international 2023 AGDF season, but national competition resumes next week, in AGDF 12. For more information and results, visit www.globaldressagefestival.com.
Click for full results from the Buffalo Wild Wings Future Challenge Young Horse Prix St. Georges Series Final
Click for full results from the Lövsta Future Challenge Young Horse Grand Prix Series Final