For Immediate Release
Alice Collins for Jennifer Wood Media, Inc.
Wellington, FL — February 7, 2018 — The FEI Grand Prix CDI3*, presented by Wellington Equestrian Realty, marked a watershed moment for the winner, the Dominican Republic's Yvonne Losos de Muñiz. Her performance with Foco Loco W was worlds apart from their 2016 Adequan® Global Dressage Festival (AGDF) experience at Palm Beach International Equestrian Center (PBIEC) in Wellington, Florida, where they were eliminated in their first grand prix test. The stunning turnaround highlighted the first day of the fifth week of AGDF, which hosts CDI5*, 3* and 1* competition through Sunday, February 11.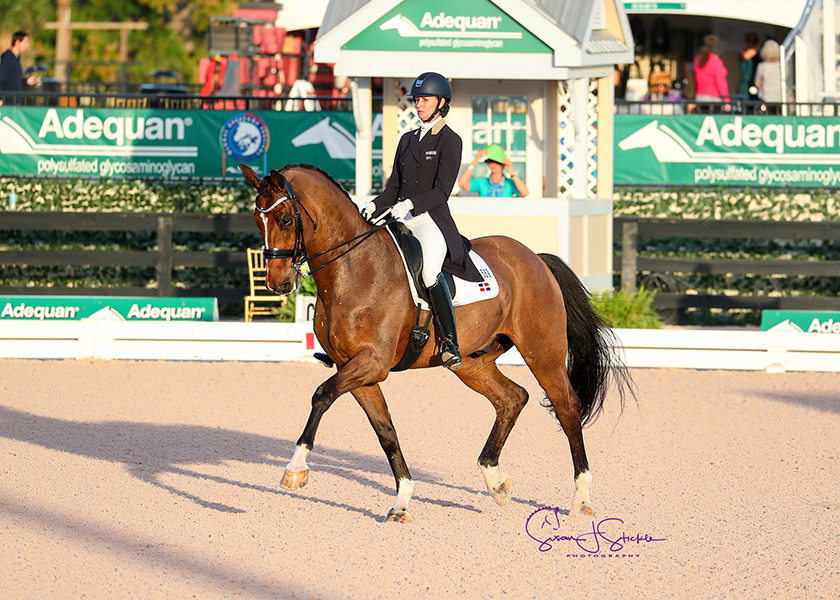 For this test, there were no wobbles and the pair logged 71.087% — the only combination out of 15 to score over 70% — in the class, which served as a qualifier for Friday afternoon's three-star freestyle to music. It was the horse's first ever international win.
Losos de Muñiz, who first sat on Foco Loco three years ago while she was visiting a yard to look at another horse, had major spooking issues with him in the ring between 2014 and the 2016 Rio Olympics, and despite the horse's talent, their scores hovered around the low 60s.
"When I got him I had all the faith in the world in him," explained Losos de Muñiz, who spends summers in Northern Spain and winters in Florida. "He was super difficult and I wasn't able to manage him. He was an orphan foal, and some of his problems could stem from that."
She sent him to Danish Olympian Andreas Helgstrand's barn for a couple of weeks to sell, but when she visited and rode him again, Helgstrand told her that he didn't understand why she wanted to sell him and wouldn't be able to find a more talented replacement horse, so she should persevere. Losos de Muñiz decided not to sell him, and spent five months in Spain getting to know — and trust — him again. After Spain's Borja Carrascosa competed the 13-year-old Belgian warmblood gelding after the Rio Olympics — proving that he was capable of over 70% — Losos de Muñiz took over the competitive reins once again, and has scored over 70% in all three of the horse's international grand prix tests.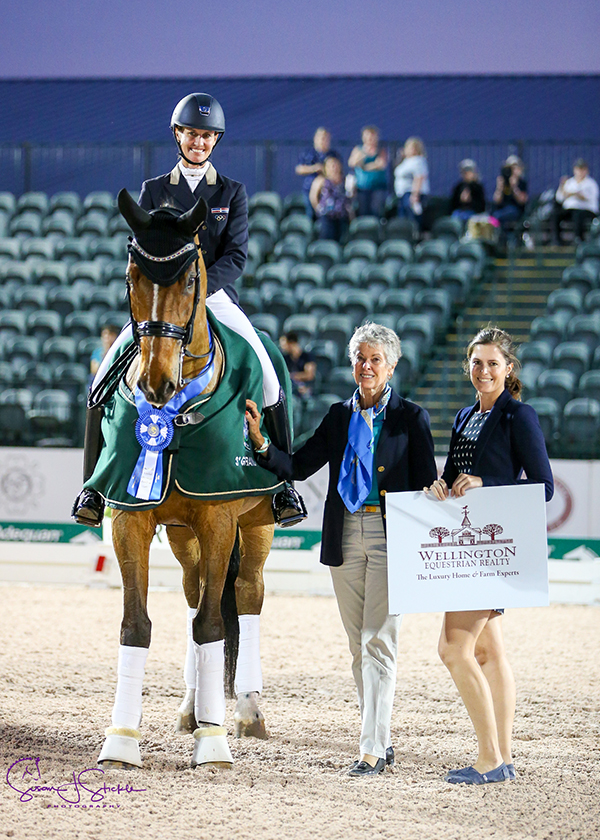 "This win was better than making the Olympics," said Losos de Muñiz, 50. "When I landed that last halt from the sky high passage, I knew we'd nailed it. We've had so many problems over the last few years, but he stayed with me in there. I was stubborn to stick with him, but there's no better feeling than knowing that I was right to keep going. He has so much power it's hard to describe and, when you can control it, it's a pretty amazing feeling."
Losos de Muñiz plans to campaign Foco Loco at the next CDI in Wellington in two weeks.
"I really want to confirm that this wasn't just a fluke," she added.
In the Prix St Georges CDI3*, presented by Rowan O'Riley, only one combination achieved the magic 70%: Jennifer Baumert (USA) and Handsome, a 13-year-old Hanoverian gelding by Hochadel x Weltmeyer. Their 71.118% was in a league of its own and topped the 13-strong class with relative ease. The horse, Handsome, is owned by Elizabeth 'Betsy' Juliano, who also owns Adrienne Lyle's top ride, Salvino.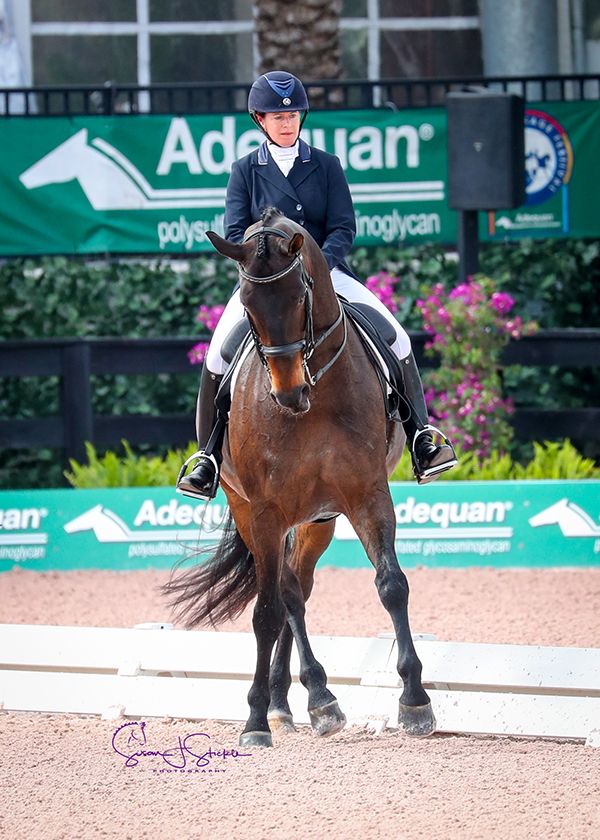 Baumert and Handsome have a busy week ahead, as they will also contest the three-star intermediate 1 and intermediate 1 freestyle classes in the next few days. The pair is so far unbeaten in their three starts at this year's AGDF.
The jam-packed fifth week of the 2018 AGDF continues on Thursday with six CDI classes, including three international grand prix classes — with two of them being five-star and boasting extraordinary talent. The 12-week circuit continues through March 31 at the Palm Beach International Equestrian Center.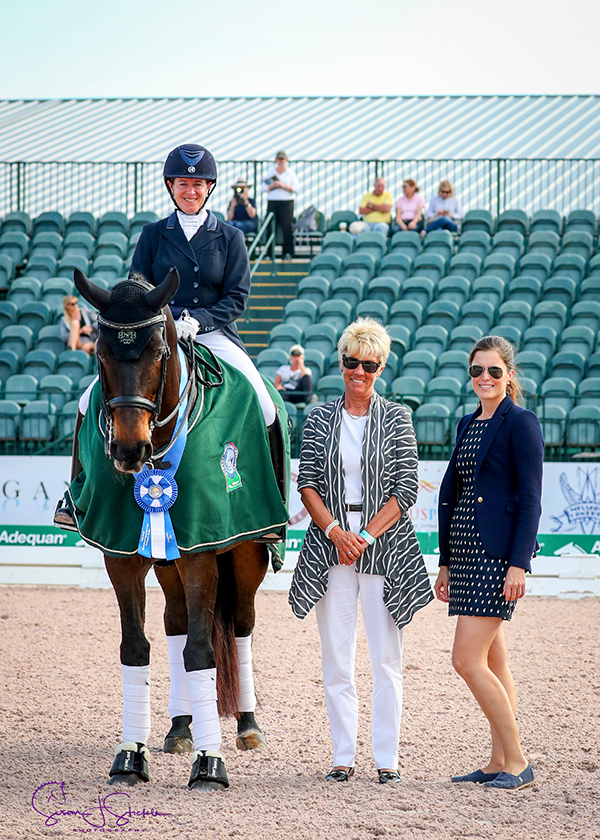 Results
Place, rider, nationality, horse, horse information: judge E%, judge H%, judge C%, judge M%, judge B%, total
FEI Grand Prix CDI3*, presented by Wellington Equestrian Realty
E, Vincenzo Truppa (ITA); H, Katrina Wuest (GER); C, Susan Hoevenaars (AUS); M, William Warren (USA); B, Hans-Christian Matthiesen (DEN)
Yvonne Losos de Muñiz (DOM) on Foco Loco-W, her own 13yo Belgian warmblood gelding by Sierappel x Wendekreis: 70.652, 70.109, 73.261, 71.087, 70.326, 71.087%.
Juan Matute Guimon (ESP) on Don Diego Ymas, Juan Matute's 15yo Hanoverian gelding by Don Frederico x Wolkenstein II: 66.957, 71.957, 69.239, 69.891, 67.391, 69.087%.
Megan Lane (CAN) on San D'Or, Deer Ridge Equestrian's 12yo Westfalian gelding by Sandro Hit x Cocktail: 68.913, 69.783, 68.152, 66.739, 66.304, 67.978%.
Beatrice Marienau (USA) on Stefano 8, her own 19yo KWPN gelding by Gribaldi x Actueel: 66.739, 70.109, 70, 65.761, 64.783, 67.478%.
Megan Gardner (USA) on Zaffier, Karen Newsom's 14yo KWPN mare by Special D x Renovo: 65.87, 68.043, 66.957, 67.065, 63.696, 66.326%.
Karen Lipp (USA) on Whitney, Kathleen Oldford's Hanoverian mare by White Star x Grand Cru: 66.739, 65.978, 67.935, 65.978, 64.348, 66.196%.
Christer Egerstrom (CRC) on Bello Oriente, his own 14yo Oldenburg gelding by Bellissimo M x Donnerhall: 62.826, 66.848, 62.717, 64.239, 63.913, 64.109.
Pamela Aide (USA) on Bon De Niro P, her own 12yo KWPN gelding by Son De Niro x Ferro.Photo Credit: ©SusanJStickle. These images may only be used in relation to this press release and with credit.