For Immediate Release
Alice Collins for Jennifer Wood Media, Inc.
Wellington, FL – January 29, 2022 – Week three of the 2022 Adequan® Global Dressage Festival (AGDF) in Wellington, FL, continued to bring out personal best performances despite unusually cool and windy conditions. AGDF, which hosts seven weeks of CDI competition, runs through April 3.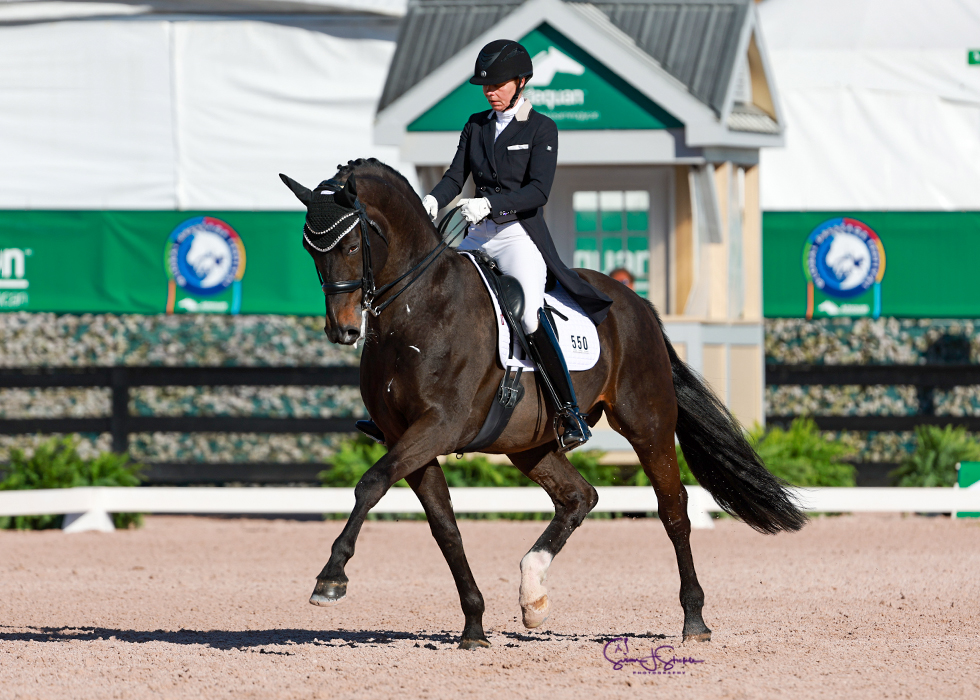 The day's top class, the Grand Prix Special CDI4*, presented by Harmony Sporthorses, was a tussle between the on-form Susan Pape (GBR) and the seven-time Swedish Olympian Tinne Vilhelmson Silfvén. The judges found them hard to split, with two favoring Vilhelmson Silfvén and three putting Pape in the lead with a final score of 72.341%. Ultimately it was Pape and Harmony's Eclectisch who triumphed after an error of course and moments of tension capped Vilhelmson Silfvén's score on Devanto to 70.660%. USA rider Susan Dutta rounded out the podium with 68.787% on Figeac DC.
Watch Susan Pape's winning test. ©Richard's Equine Video
Pape posted yet another personal best with her own and Harmony Amateur Sports Foundation's stallion Harmony's Eclectisch, having already done so in her qualifying grand prix. Before this week, the son of Zenon had not won a CDI test at Grand Prix level, but he was on top form to take two winner's rugs in AGDF 3.
"I thought the test today was really good," said the 60-year-old. "Eclectisch gave me a really good feeling. He was really in front of me and focused. I had one little hiccup at the end of the two-tempis, but that's always the rider. He was really super."
Lots of eights on Pape's score sheet throughout the rest of the test helped keep the score buoyant despite the mistake.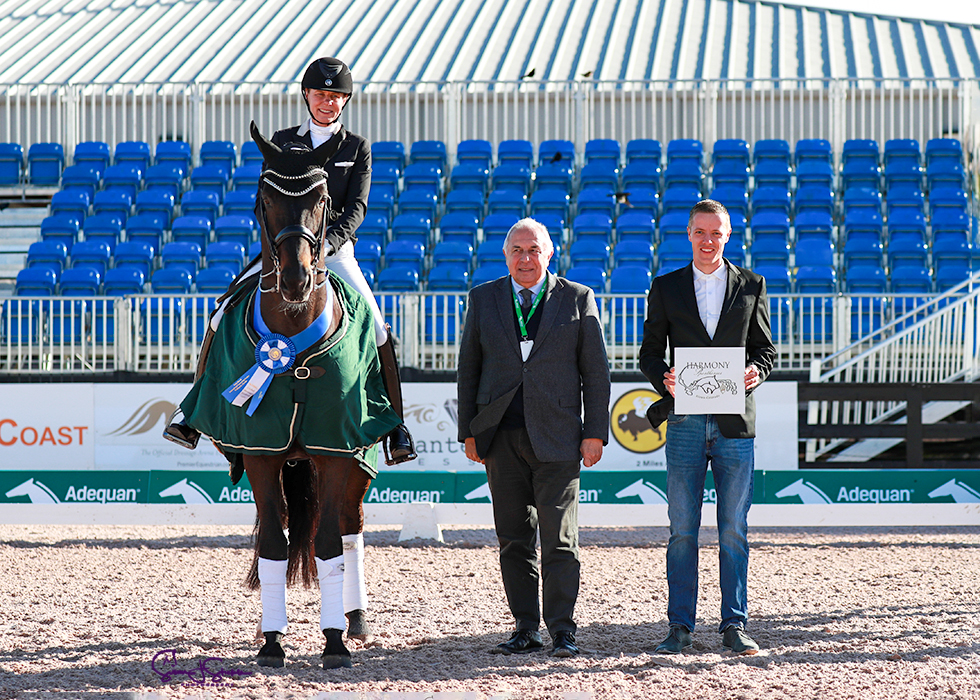 "He has fluid half-passes, he has very good canter work, and expressive passage," she enthused of the 13-year-old, whose next show will be the five star in AGDF 7. "The piaffe is maybe his weakest point at the moment, but he's still maturing and getting there. He's built quite upright; he's a typical Dutch horse with a high neck and that's the way he goes."
Pape made it five wins from five starts with her two horses across AGDF 3.
"This was such an incredible week for me, quite amazing," she said. "It's never happened before, not that I can think of. It's been really wonderful, and also really nice being able to ride with people in the grandstand."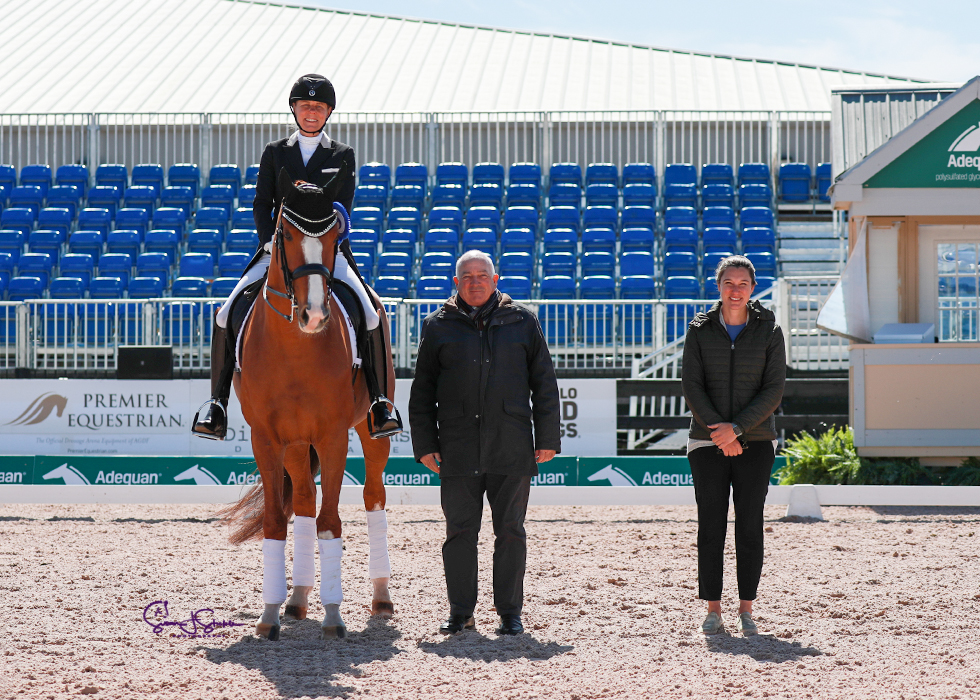 Her other win on Saturday came courtesy of Harmony's Giulilanta in the Intermediate I CDI1*. A test peppered with eights helped hand victory to the 11-year-old Jazz daughter whom Pape co-owns with Harmony Amateur Sports Foundation.
Harmony's Giulilanta has an impeccable record this season having won all four of her CDI starts with plus-70% scores. Of the nine starters it was the in-form Ali Potasky who got closest to Pape's winning 72.177%, claiming second with 69.588% on Inxs.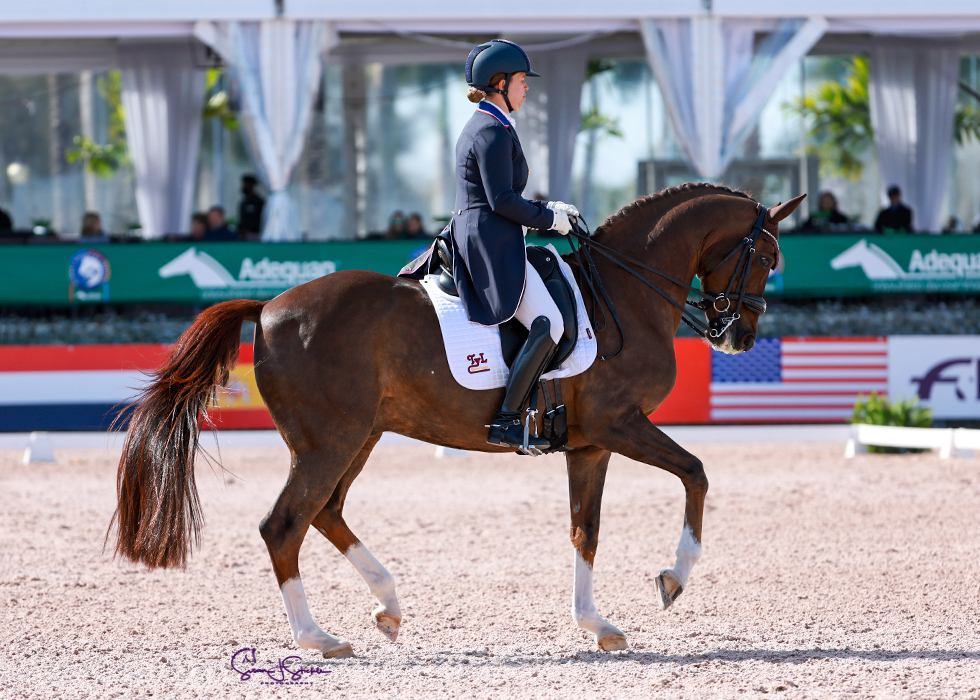 In the Grand Prix Special CDI3*, presented by ProElite®, it was last to go of the nine starters, Katie Duerrhammer (USA), who captured the winner's sash with 71.510%. Quartett, Kylee Lourie's 14-year-old gelding by Quaterback, started international grand prix level a year ago, and this was the pair's first big tour win.
It was tight at the top in a class brimming with young horse power. Fellow American rider Alice Tarjan posted 70.659% on Donatella M at the 11-year-old mare's first CDI, while third-placed Canadian Pia Fortmüller — winner of Thursday's qualifying grand prix — scored 70.255%. Fortmüller's mount Frieda, also 11, was contesting CDI Grand Prix for the first time.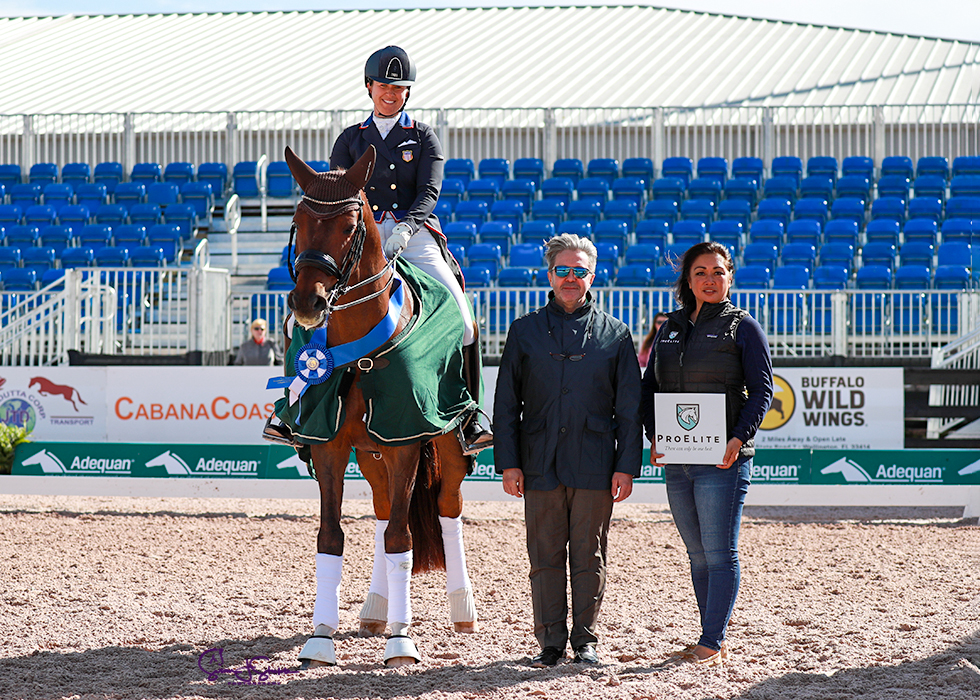 AGDF 3 concludes on Sunday, with action at Small Tour, an amateur grand prix, and the day's two showcase classes for developing horses, the Summit Farm Future Challenge Prix St. Georges and the Lövsta Future Challenge Intermediate II. For more information and results, visit www.globaldressagefestival.com.
Results: Grand Prix Special CDI4*, presented by Harmony Sporthorses
Place, rider, nationality, horse, horse information: judge E%, judge H%, judge C%, judge M%, judge B%, final score
E, Mariano Santos Redondo (ESP); H, Yuri Romanov (RUS); C, Jacques van Daele (BEL); M, Janet Foy (USA); B, Thomas Lang (AUT)
1. Susan Pape (GBR) on Harmony's Eclectisch, her own & Harmony Amateur Sports' 13yo KWPN stallion by Zenon: 71.064, 72.660, 72.766, 72.979, 72.234, 72.341
2. Tinne Vilhelmson Silfvén (SWE) on Devanto, Lövsta Stuteri AB's 13yo gelding by De Chirico: 73.000, 73.213, 68.638, 70.660, 67.787, 70.660
3. Susan Dutta (USA) on Figeac DC, her own & Tim Dutta's 13yo Oldenburg gelding by Fackeltanz OLD: 68.404, 69.255, 68.298, 68.936, 69.043, 68.787
4. Kevin Kohmann (USA) on Dinamico, his own 12yo Oldenburg gelding by Dylano: 67.553, 67.447, 68.298, 67.128, 66.915, 67.468
5. Diane Creech (CAN) on Chrevis Christo, her own & Louise Leatherdale's 19yo Danish Warmblood gelding by Chrevi's Cavallo: 66.064, 67.447, 64.043, 65.426, 63.617, 65.319