For Immediate Release
Kim Beaudoin for Jennifer Wood Media, Inc.
Wellington, FL – April 1, 2021 – The Adequan® Global Dressage Festival continued on Thursday, April 1, marking a top placing for the USA's Adrienne Lyle and Salvino in the FEI Grand Prix for Special CDI4*, presented by Adequan®. The final week of the 2021 AGDF concludes on Sunday, April 4. Free live streaming and on-demand of select classes are available to view at globaldressagefestival.com.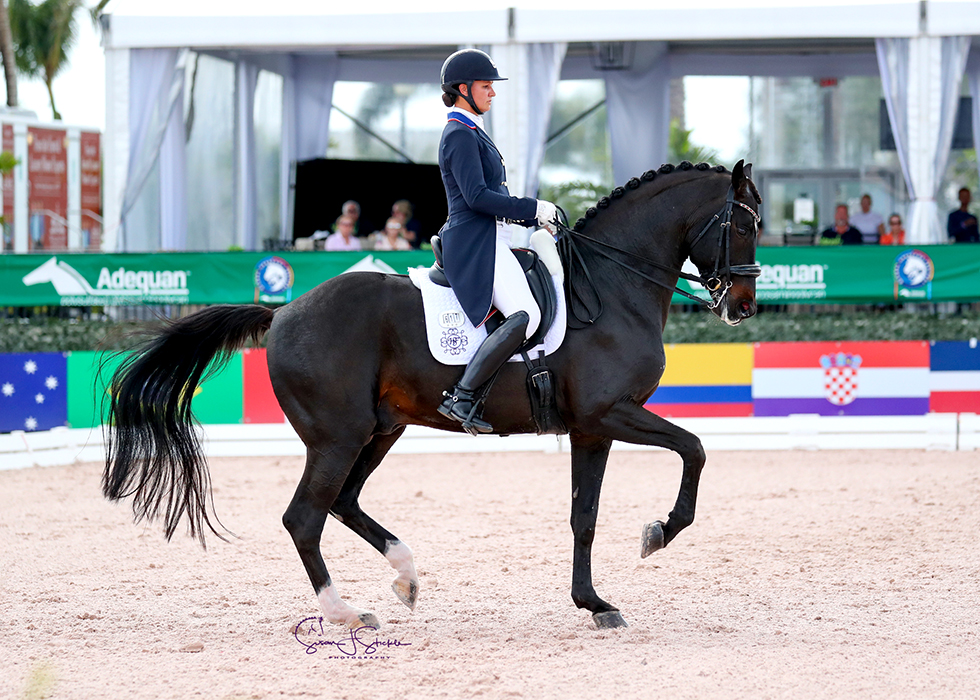 It was Betsy Juliano LLC's 2007 Hanoverian stallion by Sandro Hit that concluded the day with the highest honors in the International Stadium at Palm Beach International Equestrian Center's (PBIEC) Equestrian Village, highlighting the stallion's return to competition for the first time in over a year.
"It felt amazing," began Lyle. "He just never ceases to amaze me with his heart; that horse has a bigger heart than any animal on this planet I think. He's just proven time and time again that he'll be there when I need him to be there, if we listen to him and don't overdo it. We waited to come out last year until later in the season and it worked, so we decided to wait again this year, and so far it's off to a good start. Hopefully we can put in a few more performances like that leading up to the summer."
Watch the winning ride! ©Richard's Equine Video
The pair put in an outstanding performance, ending the ride with a personal best score of 80.065%. "He felt really fit and fresh," explained Lyle, "and was even squealing a little going around the outside of the ring like he was really fired up. I like him to be in that spot where he's really excited to go in there."
She continued, "I actually started crying after the ride, which I hardly ever do. He didn't put a foot out of place, and he's so amazing. I could tell he was excited and fresh. We haven't been in there in over a year, and when he went down centerline, he focused and knew it was time to put everything aside. He really knows how to be there for you, and not many horses are like that. You don't get to sit on many of those in a lifetime."
Lyle has already had a successful season with her other grand prix mount, Harmony's Duval, and now plans to campaign Salvino for a chance to represent the USA at the Tokyo Olympics this summer.

"I am really lucky because I have two grand prix horses," she stated, "so I myself don't feel rusty even with his time away… Debbie and Betsy and I are all on the same page in the sense that he's proven that less is more, and you have to stick to your gut. It's hard sometimes when you're sitting at home, you're still six months away from the show, and you want to be working on things, but you have to tell yourself no, just keep him fit and happy and he'll be there when you go to the ring. So far it's proven true."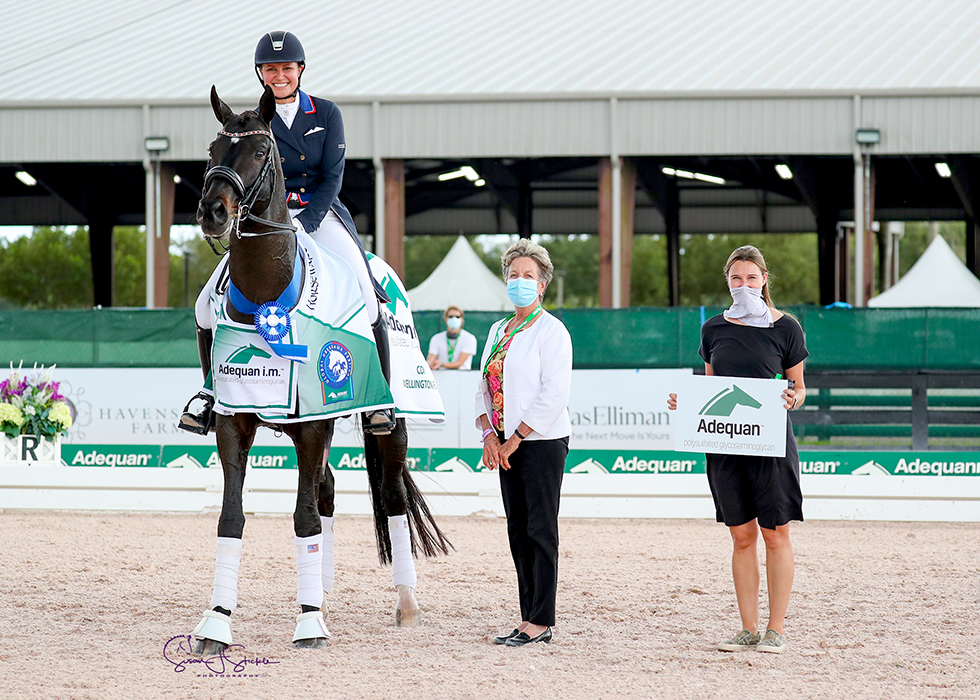 Once AGDF concludes, the pair, now based year-round in Wellington, will head to Tryon International Equestrian Center in North Carolina to compete in the newly upgraded CDI4*. "We're planning on going to Tryon," she remarked, "and then if that goes well, hopefully we'll be named to the shortlist for the selection trials. For us, because those are [in Wellington], not much will change for him and that's nice. It will be a good test because it will be similar heat to Tokyo. If we can have that advantage over some of the other European countries, I think we're smart to utilize that."
Second place in the FEI Grand Prix for Special CDI4*, presented by Adequan® went to Olivia LaGoy-Weltz (USA) on Rassing's Lonoir, Mary Anne McPhail and Olivia LaGoy-Weltz's 2004 Danish Warmblood gelding by de Noir, who also earned a personal best score with 76.152%. Canada's Naima Moreira Laliberte on Statesman, KML S.a.r.l.'s 2007 Hanoverian stallion by Sandro Hit, rode to a personal best score of 72.500%.
The FEI Grand Prix for Special CDI3*, presented by Ashley Holzer of Southgate Farm with long time friends and co-sponsors P.J. Rizvi and Dr. Diane Fellows, was topped by Susan Dutta (USA) on Figeac DC, Tim and Susan Dutta's 2009 Oldenburg gelding by Fackeltanz, with a 70.630%. Second place was awarded to Jessica Howington (USA) on her own 2007 KWPN mare, Cavalia, by Sir Donnerhall I, riding to a score of 68.522%. Third place was captured by another USA rider, Alice Tarjan, aboard her own 2010 Hanoverian mare by Christ, receiving a 67.457%.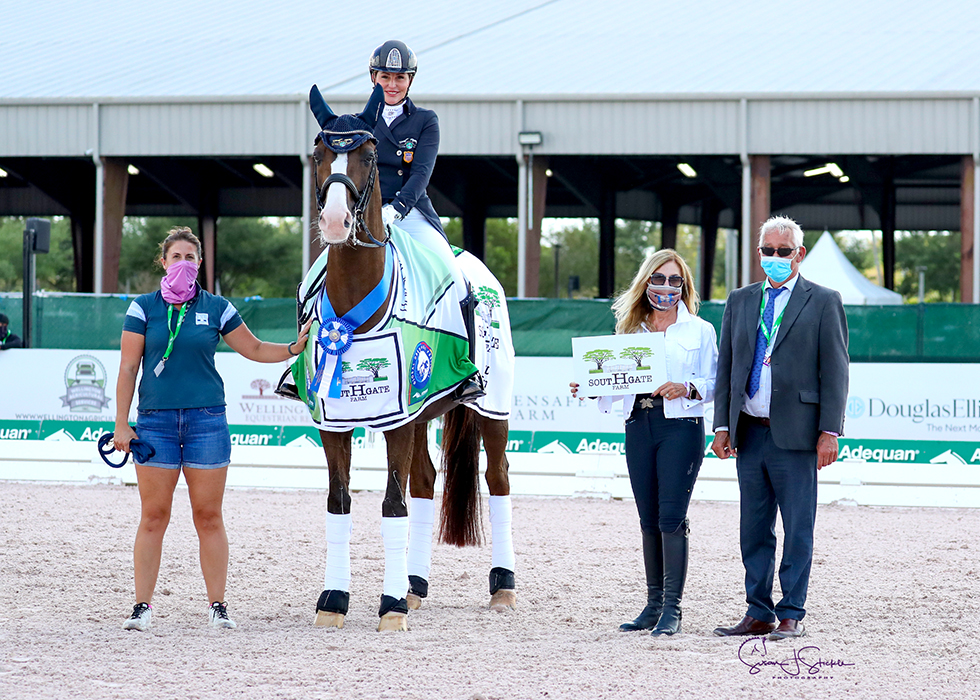 In the FEI Intermediaire I CDI3*, Dongseon Kim (KOR) rode his own Lord Nunes, a 2012 Rheinlander stallion by Lord Loxley I, to another successful day of competition after coming off of a win in yesterday's FEI Prix St. Georges CDI3*. The pair earned a 69.382% to win the class. Second place went to Elaine Cordia Van Reesema (USA) on her own 2010 KWPN gelding, Fellow (Amazing Star), earning a 66.441%. Third went to Spain's Paula Matute Guimon on Legacy's Walentino, Deborah Ann Berger's 2005 Hanoverian gelding by White Star, with 65.676%.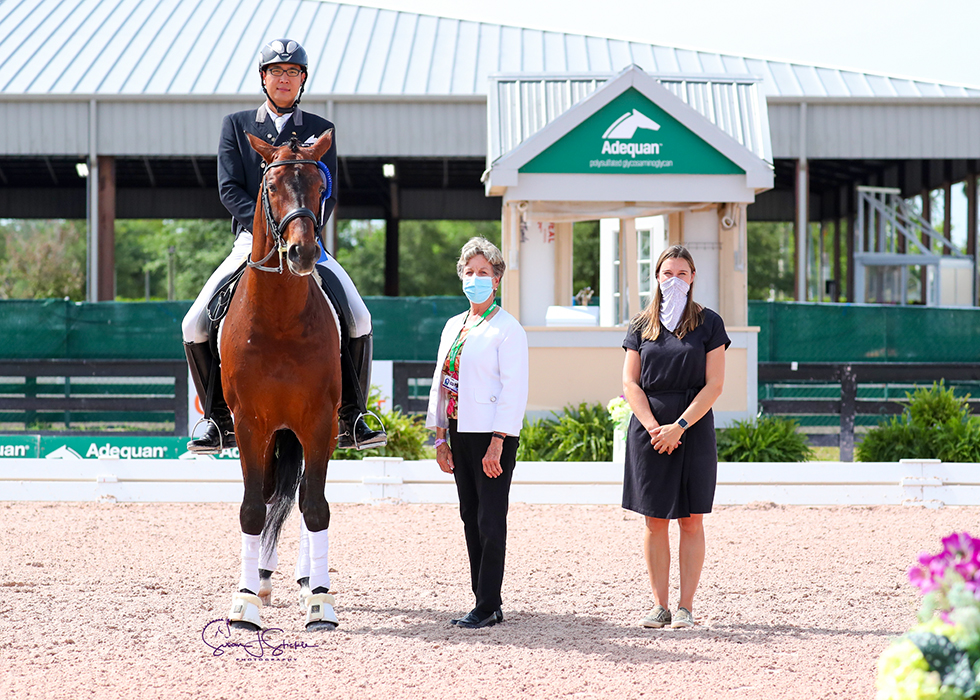 Competition at AGDF 12 will continue tomorrow with a full schedule of classes, including the FEI Intermediaire I CDI1*, FEI Grand Prix Special CDI3*, presented by Southgate Farm, and the FEI Grand Prix for Freestyle CDI3*, presented by Wellington Equestrian Realty, followed by the FEI Grand Prix for Freestyle CDI4*, presented by Douglas Elliman Real Estate beginning at 4:40 p.m. For more information and to see a full list of results, visit www.globaldressagefestival.com.
Final Results: FEI Grand Prix CDI4* for Special, presented by Adequan®:
Place, rider, nationality, horse, horse information: judge E%, judge H%, judge C%, judge M%, judge B%; final score
E, Magnus Ringmark (SWE); H, Michael Osinski (USA); C, Jane Weatherwax (USA); M, Stephen Clarke (GBR); B, Cesar Torrente (COL)

1. Adrienne Lyle (USA) on Salvino, Betsy Juliano LLC's 2007 Hannoverian stallion by Sandro Hit: 78.478, 80.543, 79.891, 83.261, 78.152; 80.065%
2. Olivia LaGoy-Weltz (USA) on Rassing's Lonoir, Mary Anne McPhail and Olivia LaGoy-Weltz's 2004 Danish Warmblood gelding by de Noir: 76.630, 76.087, 75.870, 76.957, 75.217; 76.152%
3. Naima Moreira Laliberte (CAN) on Statesman, KML S.a.r.l.'s 2007 Hanoverian stallion by Sandro Hit: 71.739, 71.957, 74.457, 73.370, 70.978; 72.500%
4. Chris Von Martels (CAN) on Eclips, Barbara Soederhuizen and Chris Von Martels 2009 KWPN gelding by Apache: 70.435, 70.326, 73.043, 73.478, 72.065; 71.869%
5. Susan Dutta (USA) on Don Design DC, Susan and Tim Dutta's 2010 Hannoverian gelding by Der Designer:71.522, 71.196, 71.630, 71.522, 70.109; 71.196%
6. Benjamin Ebeling (USA) on Illuster Van De Kampert, Amy Roberts Ebeling and Sasha Cutter for  Nuvolari Holdings LLC's 2008 Belgian Warmblood gelding by Speilberg: 70.978, 70.978, 71.630, 70.543, 70.109; 70.848%
7. Diane Creech (CAN) on Chrevi's Christo, Louise Leatherdale and Diane Creech's 2003 Danish warmblood gelding by Chrevi's Cavallo: 69.130, 70.217, 71.630, 73.370, 69.022; 70.674%
8. Catherine Haddad-Staller (USA) on Frankie, her own 2009 Hanoverian mare by Florencio 2: 70.109, 69.022, 69.130, 71.196, 62.239; 69.739%
9. Jan Ebeling (USA) on Indeed, Vantage Equestrian Group II LLC's 2008 Danish Warmblood mare by Hofrat: 67.717, 68.478, 70.000, 70.978, 66.522; 68.739%
Photo Credit: © SusanStickle. These images may only be used in relation to this press release and with credit.
Video Credit: ©Richard's Equine Video