For Immediate Release
Kim Beaudoin for Jennifer Wood Media, Inc.
Wellington, FL – April 3, 2021 – It was Yvonne Losos De Muñiz (DOM) and Aquamarijn who notched another victory on Saturday, April 3, at the Adequan® Global Dressage Festival (AGDF), this time in the FEI Grand Prix Freestyle CDI 4*, presented by Douglas Elliman Real Estate, after riding to yet another personal best score of 80.745%.The final week of the 2021 AGDF concludes tomorrow, Sunday, April 4. Free live streaming and on-demand of select classes are available to view at globaldressagefestival.com.
Click here to read the article on Adrienne Lyle and Salvino winning the FEI Grand Prix Special CDI4*,  presented by Adequan® with over 80%!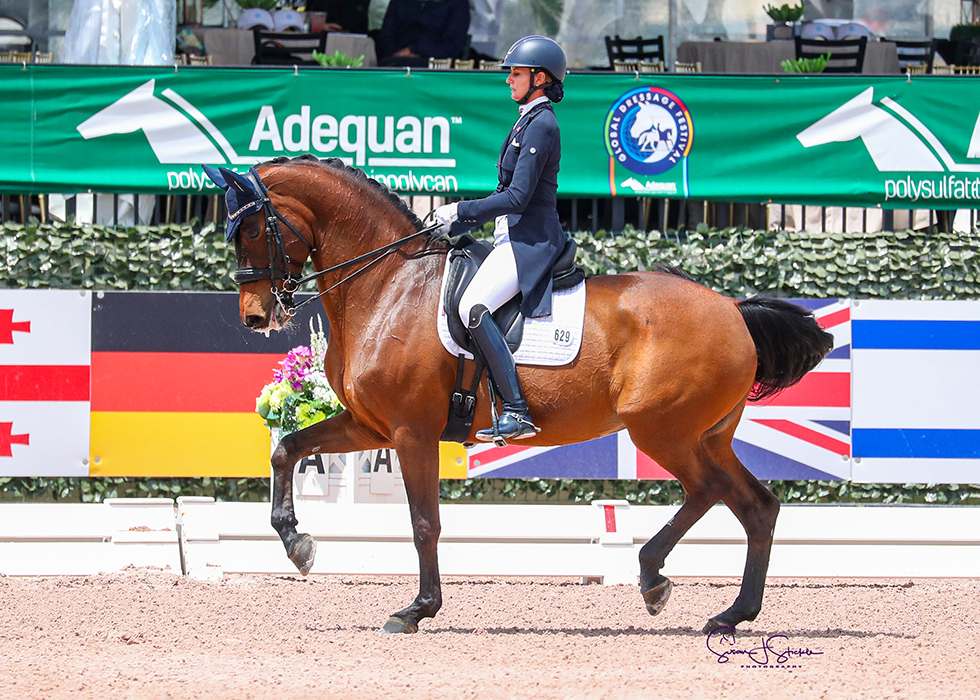 "Right now I think I'm still on cloud nine," said Losos De Muñiz after her performance with the  2005 KWPN mare by United. "The whole week has been incredible. As I mentioned yesterday, I am incredibly satisfied in knowing that the training is working, that I'm on and she's on."
She continued, "I'm thrilled where I ended up. I've reached all of my personal goals, and right now I'm exactly where I wanted to be going into this next part of training while setting up for the Olympics, so I'm going to go on vacation now! This season I made my freestyle more difficult, and there was a period of time once or twice after riding it that I have been tempted to back off and tone it down, but I knew that if I could ride it at home then I could ride it here. I just needed to figure out the amount of pressure where, when, and how, and today I figured it out. We nailed it, and it was such a cool feeling going down that center line, and I just wanted to cheer the whole way. It's really an amazing feeling when you're at that point with your equine partner; there is no other feeling in the world. It's pretty amazing."
Watch the winning freestyle ride! Brought to you by Premier Equestrian
©Richard's Equine Video
Losos De Muñiz also credited the quality and atmosphere of the AGDF venue saying, "The atmosphere here [at AGDF] is amazing, and while I know that there are other incredible venues out there, I think that this venue here offers us so much in every aspect. I couldn't ask for a better place to compete throughout the winter."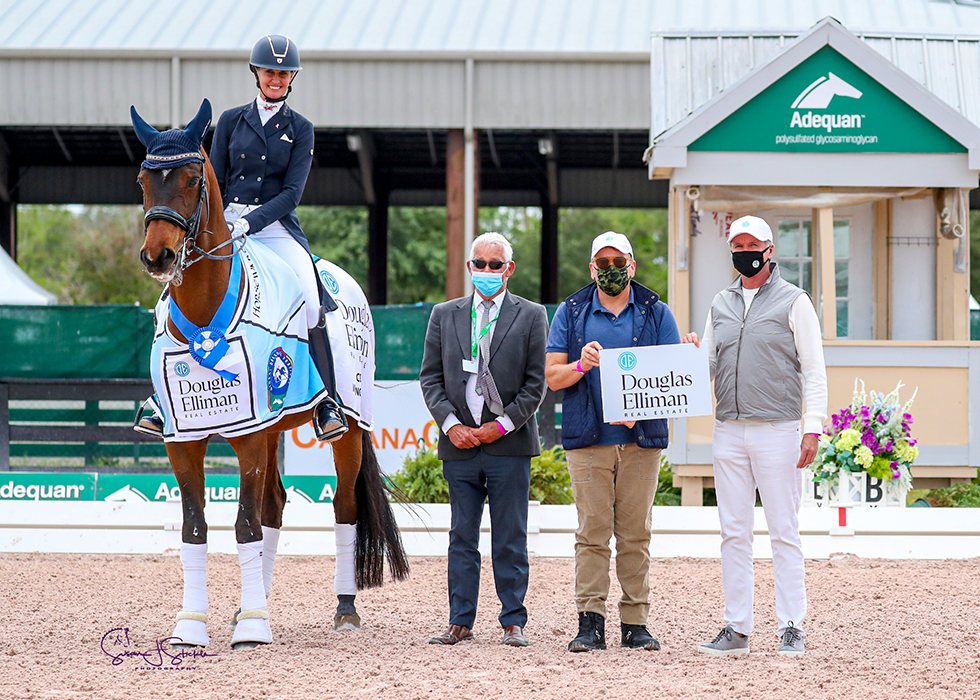 Judge at C Stephen Clarke of Great Britain awarded the pair's performance with an 81.100% and said, "It was quite easy [to decide that this was the winning ride]. It was exciting to watch, beautiful horse, beautiful rider, beautiful music. It didn't make our jobs too difficult. [The test] was difficult and very artistic, and there weren't really any mistakes or problems, just many, many highlights. It was a super class, at a wonderful show, and we're all very, very lucky to be here."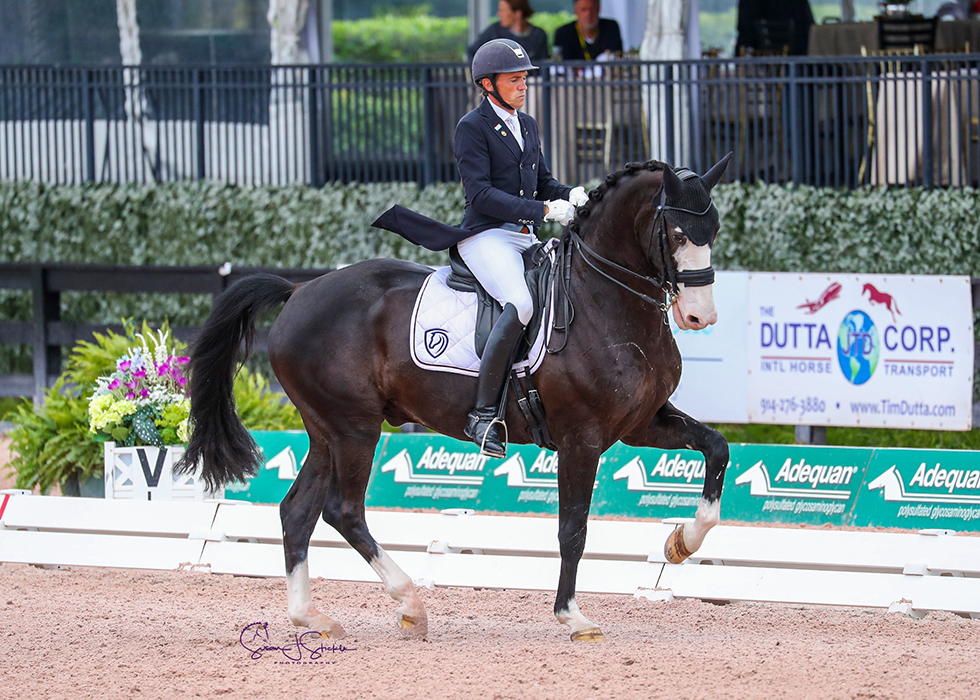 Scott Durkin, President and COO of longtime Palm Beach International Equestrian Center (PBIEC) sponsor Douglas Elliman Real Estate, noted the company's enthusiasm for supporting top equestrian sport. "For us, we follow our clients," he explained. "I happen to be a dressage rider, so when I became President of Douglas Elliman Real Estate, I said it's time to move some of our sponsorship to the dressage arena. I think that being surrounded by the best in the world is paramount to us because we find the best homes for the best people in the world. It's a great partnership. Seeing Yvonne coming down centerline, I turned to my non-dressage colleagues and said 'Ok, that is someone who is destined to win this.' For us it's thrilling, but we love the community here in Wellington. It's really like no other place in the world, and it's very special. We have been sponsoring across the street at WEF for a long time, and now we're happy to be sponsoring here and will continue to do so."

AGDF Director of Sport Thomas Baur concluded by saying, "I would just like to say thank you to everyone involved in making this season a success. Thank you to the riders, the owners, the grooms, the sponsors, the officials, our staff here; it was a great season even with all of the events going on in the world, so I am happy with all of it."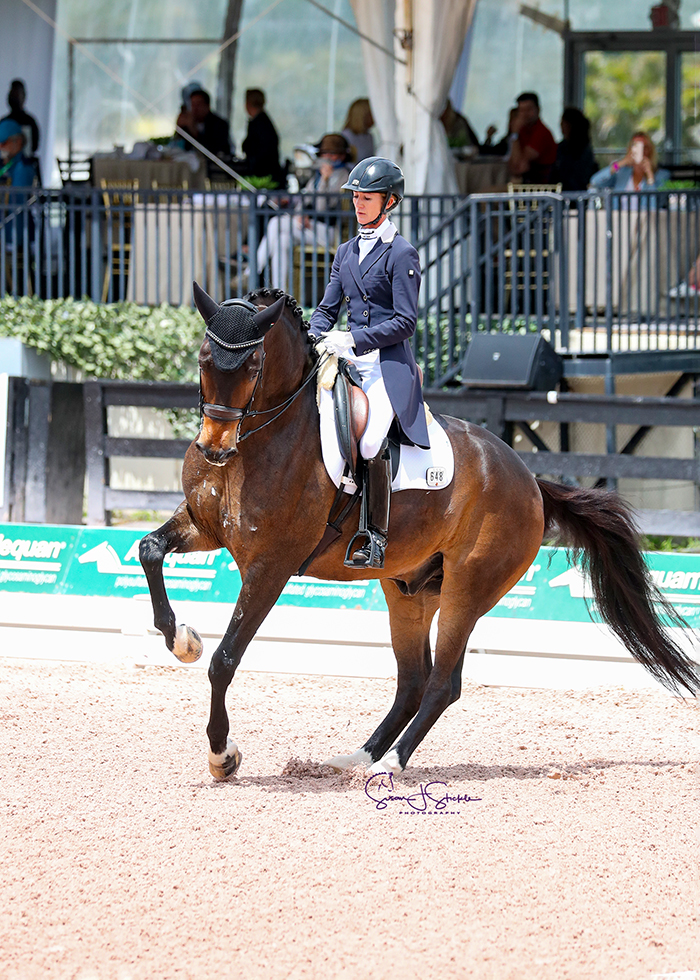 Second place in the FEI Grand Prix Freestyle CDI 4*, presented by Douglas Elliman Real Estate was awarded to Christoph Koschel (GER) on Eaton Unitechno, Unitechno, Inc.'s 2009 KWPN gelding by Wynton, with a personal best score of 76.805%, while third was rounded out by Kelly Layne (AUS) on Samhitas, Kelly Layne and Nori Maezawa's 2009 Oldenburg gelding by Sir Donnerhall I, with 72.895%.
Competition at AGDF 12 will conclude tomorrow after a full schedule of classes, including the FEI Grand Prix Freestyle CDI3*, presented by Wellington Equestrian Realty, the FEI Intermediare II CDI3*, and FEI Intermediare I Freestyle CDI3*, before the  Lövsta Future Challenge/Young Horse Grand Prix Series Final , and the Future Challenge/Young Horse Prix St. Georges Series Final beginning at 12:00 p.m. For more information and to see a full list of results, visit www.globaldressagefestival.com.
Final Results: FEI Grand Freestyle CDI4*, presented by Douglas Elliman Real Estate:
Place, rider, nationality, horse, horse information: judge E%, judge H%, judge C%, judge M%, judge B%; final score
E, Jane Weatherwax (USA); H, Michael Osinski (USA); C, Stephen Clarke (GBR); M, Magnus Ringmark (SWE); B, Cesar Torrente (COL)
1. Yvonne Losos De Muñiz (DOM) on Aquamarijn, her own 2005 KWPN mare by United: 83.100, 78.400, 81.100, 80.250, 80.875; 80.745%
2. Christoph Koschel (GER) on Eaton Unitechno, Unitechno, Inc.'s 2009 KWPN gelding by Wynton: 79.000, 77.000, 78.150, 75.925, 73.950; 76.805%
3. Kelly Layne (AUS) on Samhitas, Kelly Layne and Nori Maezawa's 2009 Oldenburg gelding by Sir Donnerhall I: 77.425, 73.975, 72.650, 69.975, 70.450; 72.895%
4. Sahar Daniel Hirosh (ISR) on Whitman, Jane Suwalsky's 2003 KWPN gelding by Rhodium: 72.625, 71.525, 68.650, 67.000, 67.350; 69.430%
Photo Credit: © SusanStickle.com. These images may only be used in relation to this press release and with credit.
Video Credit: ©Richard's Equine Video