For Immediate Release
Alice Collins for Jennifer Wood Media, Inc.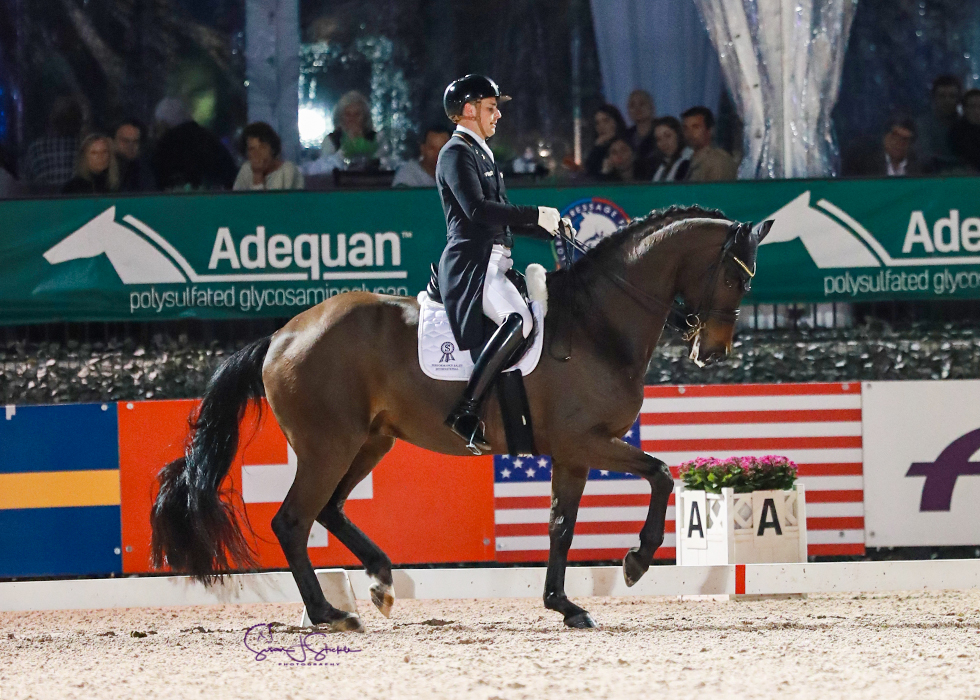 Wellington, FL – January 14, 2022 – The first "Friday Night Stars" evening freestyle of the 2022 Adequan® Global Dressage Festival (AGDF) in Wellington, Florida, did not disappoint. The highlight class of week one, the FEI World Cup™ Grand Prix Freestyle, presented by Lövsta Stuteri, produced top-drawer dressage, personal bests galore, and a winning score of over 81%. AGDF, which hosts seven weeks of CDI competition, runs through April 3.
Click to watch Frederic Wandre's winning test. © Richard's Equine Video
The 34-year-old German rider Frederic Wandres pulled off another powerful, supple, and enchanting performance for 81.065% aboard Elena Knyaginicheva and Sergey Knyaginichev's 12-year-old Bordeaux gelding Bluetooth OLD, who only started international grand prix in the spring of 2021.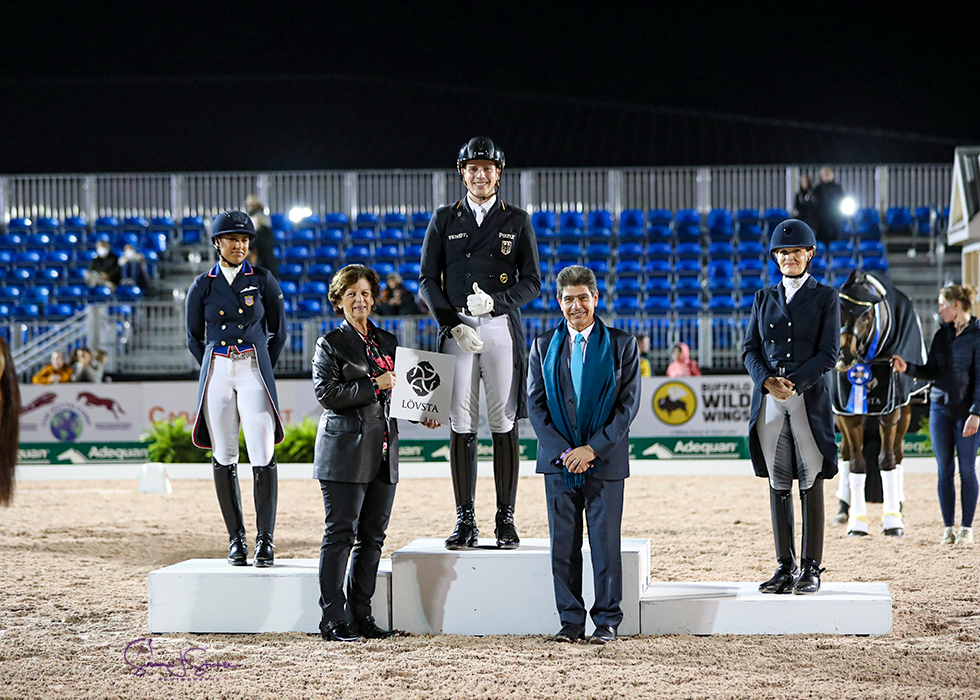 As in the previous day's World Cup™ Grand Prix, Anna Buffini (USA) rode her own FRH Davinia La Douce, by Don Frederico, into second place, and Ashley Holzer (USA) finished third on Dr. Diane Fellows's Hochadel mare Havanna 145 (77.25%).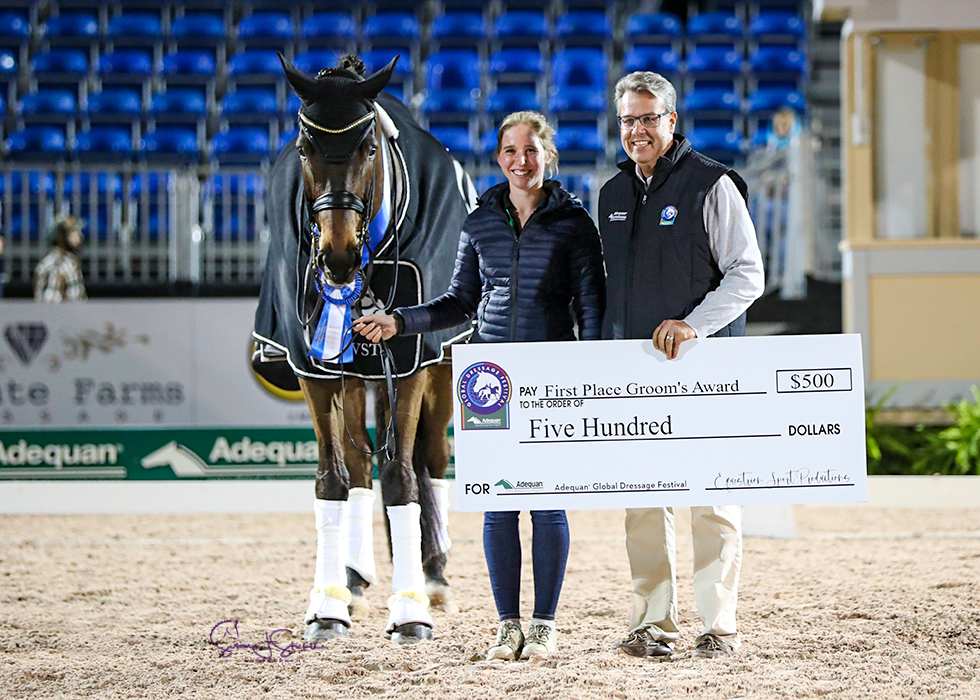 "I felt super tonight," said Wandres, who also topped the Grand Prix and whose freestyle was made by Michael Erdmann. "My best score was 79% in Aachen in the four-star CDI, but today 81% is really something fantastic and incredible.
"Bluetooth is still a little bit green here and there, but he has still not had 10 international grands prix on his board, so he's a young one. I'm super happy that he's in that atmosphere and really delivering that kind of super results."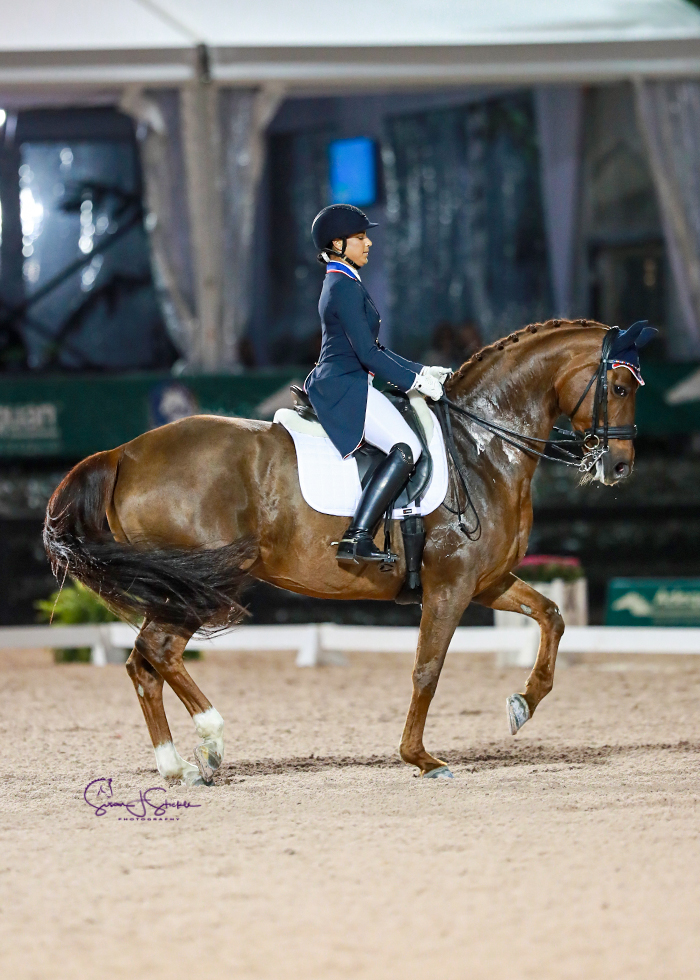 Buffini, who is only in her second year of grand prix, logged a personal best of 78.485%, with one judge awarding over 80%. Buffini sings her own lyrics on her freestyle music.
"I really came into this season with not a lot of expectations, and I still haven't had the mare long," she said. "We upped our degree of difficulty to 10 a few weeks ago because we knew we needed to be harder, and to come out here and do what she did was incredible."
Marie Medosi and Taylor Kade, who made Steffen Peters' music for "Rave Horse" that went viral during the Tokyo Olympics, did Buffini's music, and she created the choreography with her trainer Guenter Seidel.
The 27-year-old praised FRH Davinia La Douce, saying: "She's so expressive when she clocks out her passage, and she goes in those extended canters. She's not a huge mare, she's not the biggest-moving mare, and she gives absolutely everything she can every single time."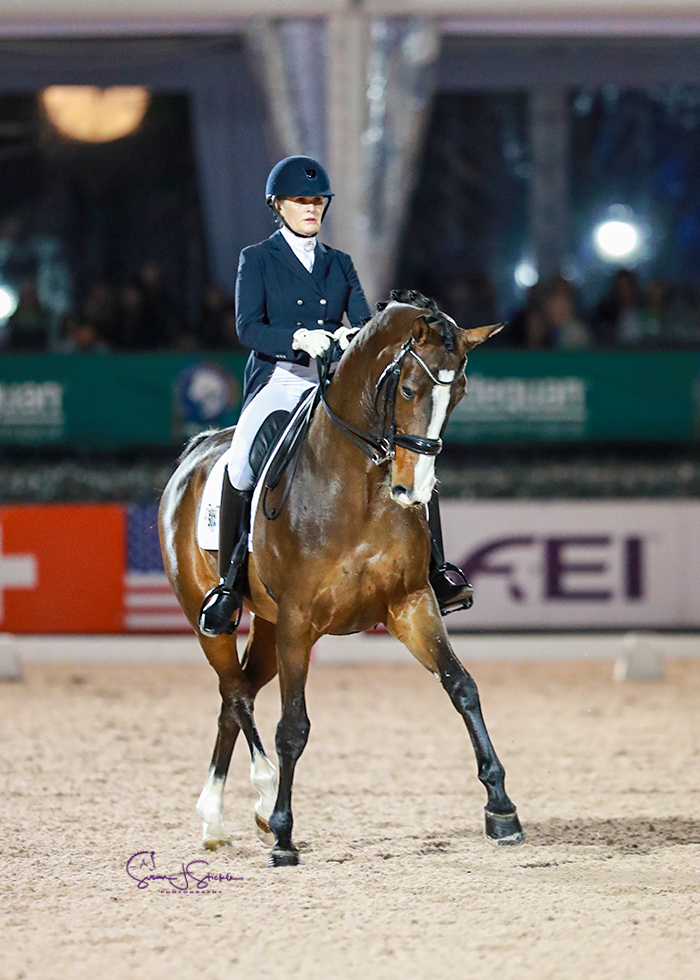 Ashley Holzer, 58, controlled Havanna 145's energy admirably to finish third.
"She's very lit up by the atmosphere, but I think it speaks volumes to the fact that she went in the ring and tried her heart out," said Holzer, who competed for Canada at four Olympics before switching her nationality.
"The only mistake she made was completely my mistake, trying a little too much. She's just showing me this year how much she's trying, and to feel your horse try that hard — especially when they're feeling the tension of the spectators — speaks volumes," added Holzer, who rode to a Tom Hunt compilation based on the song "Havana" by Camila Cabello.
Antonia Ax:son Johnson of class sponsor Lövsta Stuteri said: "Last year we struggled with no audience and it's been really difficult. When we walked in today and there was all the usual noise, plus even more, it was really unbelievable. We've been coming here for so many years and seeing that everything is so vibrant again, it's really exciting because we need this for the sport of dressage, for our horses, and for ourselves. It was terrific."
AGDF Director of Sport Thomas Baur was similarly delighted to welcome hustle and bustle back to the venue.
"We had a fantastic opening night, and there's more to come with another six Friday nights," he said. "I'd like to thank Antonia for her support, and we are looking forward to the Lövsta Future Challenge on Sunday to see the young grand prix horses, the next generation. It will be an exciting season."
Judge at C, Colombian Cesar Torrente, was impressed by the quality on show. "We saw amazing sport today," he said. "All three top riders showed really good riding. The first-place horse had amazing gaits and was very expressive in the passage-piaffe tour and was fault free. It was wonderful to see this good riding, good dressage at the beginning of the season."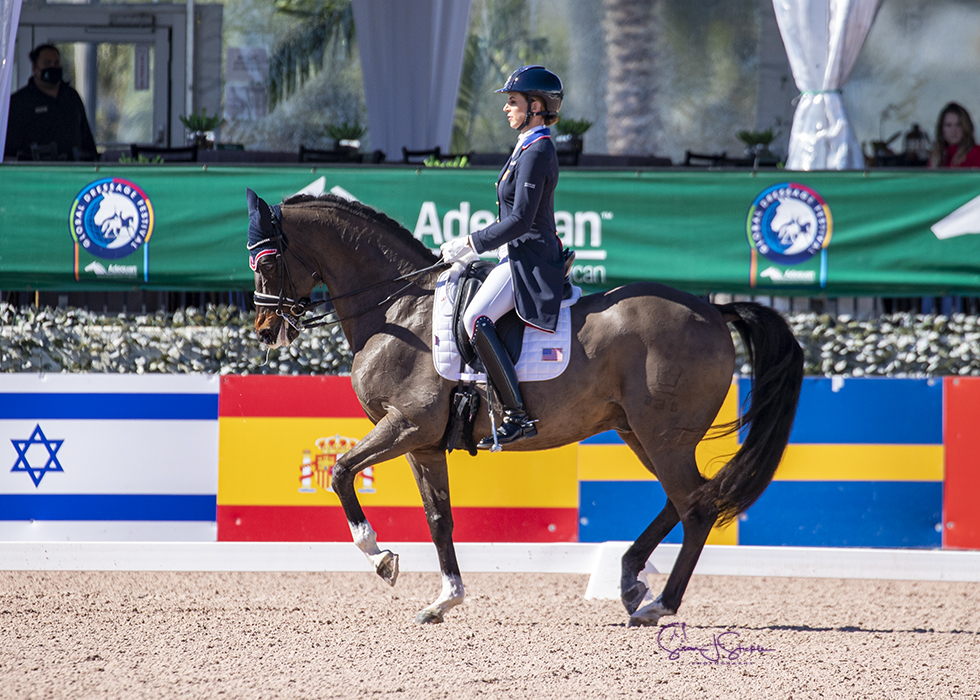 It was nip and tuck in a high-quality tussle for the top spot in the Grand Prix Freestyle CDI4*, presented by CabanaCoast. Both Jennifer Williams (USA) and Susan Pape (GBR) scored over 77%, but it was the previous day's victor, Williams, who emerged triumphant once again, taking her prize-money earnings to $5,500 in 24 hours.
Riding the 19-year-old gelding Millione, who is six years older than any of his challengers, Williams pulled off a career-high score of 77.175% — with Pape trailing by just 0.17 percentage points aboard Harmony's Eclectisch. This was the second career personal best set by the Millione Partners' gelding Millione, by Milan, in two days.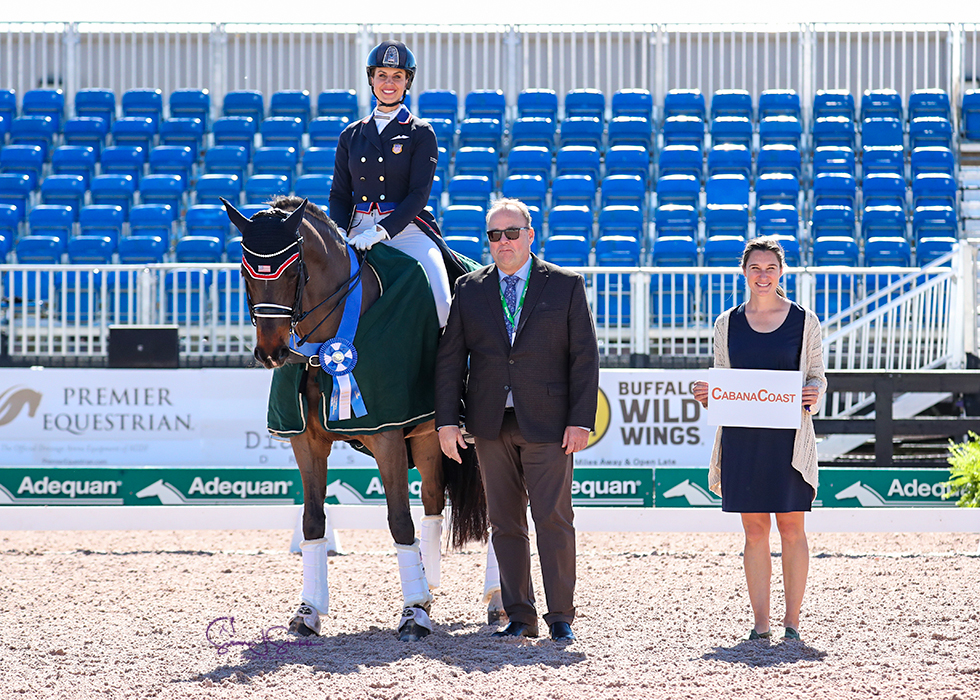 "He gave me the feeling again that I could relax and push things more forward and more soft," said Williams, who had never won a CDI test at AGDF until this, their third season. "He was a bit more excited than I was expecting, so I had to ride him a bit safe. I could feel that if I went one step too quickly, I might get a canter transition in my trot and passage half-passes."
Their viking-themed music — chosen because Millione is a Danish Warmblood — was put together by Karen Robinson of Applause Dressage and, although Williams has ridden to it a handful of times, she tweaked it for Friday's victory.
"We added a bit more time in the pirouettes and then took a little bit of time down the final centerline," she explained. "We ended with piaffe to the halt, so that was new, and I think he enjoyed that. He gets pretty spicy and ready to go on that last centerline, so that worked out well.
"Last year I was the bridesmaid many times, and I was still very proud of him then," continued the rider from Olympia, Washington. "But today I was mistake free, and I felt like he could shine through in the harmony this time, so then to win on top of that is pretty special."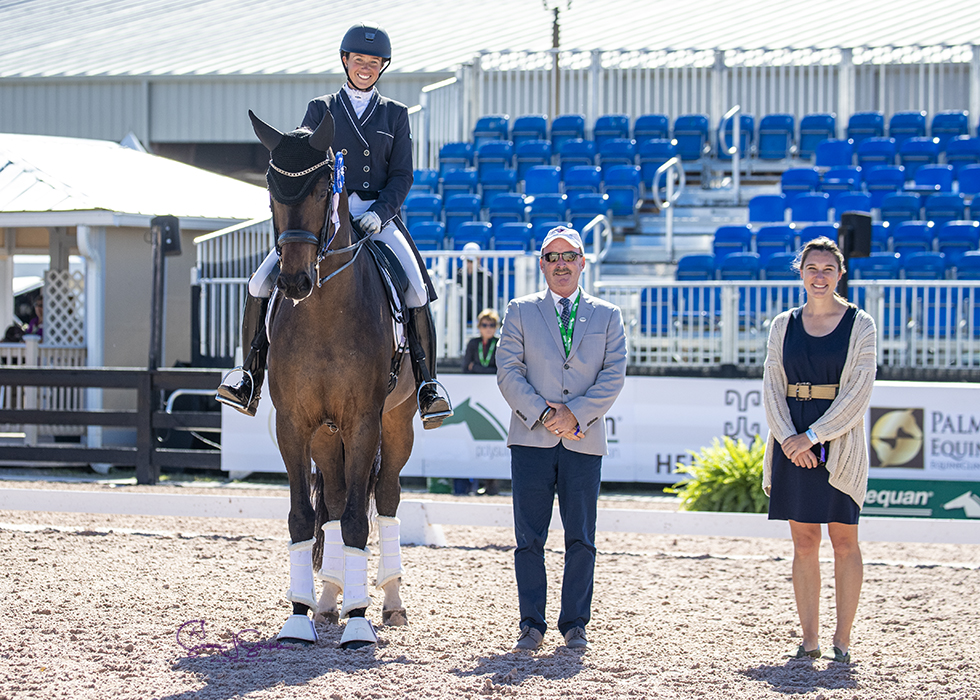 The USA's Ali Potasky made it two wins from two small tour starts this week on Kathy Priest's nine-year-old, Irintha. They topped the two-star Intermediate I CDI2* with 69.677%, with judge at C, William Warren (USA), awarding almost 72%. This is the Everdale mare's first-ever international show.
Dressage classes resume on Saturday morning, starting with the FEI Young Rider Individual test and featuring under-25, Amateur, small tour, and big tour action, including the Grand Prix Special CDI4*, presented by Palm Beach Equine Clinic.
For more information and results, visit www.globaldressagefestival.com.
Results: FEI World Cup™ Dressage Grand Prix Freestyle, presented by Lövsta Stuteri
E, Cesar Torrente (COL); H, Maria Colliander (FIN); C, Magnus Ringmark (LUX); M, William Warren (USA); B, Agnieszka Majewska (POL)
Place, rider, nationality, horse, horse information: judge E%, judge H%, judge C%, judge M%, judge B%, final score
1. Frederic Wandres (GER) on Bluetooth OLD, Elena Knyaginicheva and Sergey Knyaginichev's 12yo Oldenburg gelding by Bordeaux: 83.1, 81.05, 80.925, 82.025, 78.225, 81.065
2. Anna Buffini (USA) on FRH Davinia La Douce, her own 15yo Hanoverian mare by Don Frederico: 78.9, 76.125, 78.65, 78.1, 80.65, 78.485
3. Ashley Holzer (USA) on Havanna 145, Diane Fellows's 15yo Hanoverian mare by Hochadel: 77.225, 76.95, 77.9, 77.175, 77, 77.25
4. Codi Harrison (USA) on Katholt's Bossco, his own 15yo Danish Warmblood gelding by Don Schufro: 73.825, 74.775, 75.575, 72.875, 73.65, 74.14
5. Jan Ebeling (USA) on Status Royal OLD, Ann Romney's 12yo Oldenburg gelding by Statesman OLD: 74.025, 70.925, 76.25, 73.175, 73.125, 73.5
6. Katie Duerrhammer (USA) on Quartett, Kylee Lourie's 14yo DSP gelding by Quaterback: 71.25, 73.35, 72.825, 73.925, 75.3, 73.33
7. Paula Matute Guimón (ESP) on Delagronge, her own 14yo Oldenburg stallion by De Niro: 71.625, 69.8, 75.125, 72.625, 72.275, 72.29
8. Mikala Münter (USA) on Salsa Hit, Paul Bint's 13yo Oldenburg gelding by Samba Hit III: 69.175, 69.1, 72.425, 74.85, 70.425, 71.195
9. Evi Strasser (CAN) on Déjà Vu Tyme, her own 15yo Hanoverian gelding by Dauphin: 63.425, 64.875, 62.425, 66.325, 67.25, 64.86
10. Missy Gilliland (USA) on Toledano XXXI, her own 14yo PRE gelding by Ambicioso XV: 62.3, 63, 59.95, 64.85, 68.35, 63.69