For Immediate Release
Kim Beaudoin for Jennifer Wood Media, Inc.
Wellington, FL – February 13, 2021 – Canada's Lindsay Kellock and Sebastien notched a victory today in the FEI Grand Prix CDI 3* Special, presented by CabanaCoast, topping a class of 13 competitive horse-and-rider combinations. Week five of the 2021 Adequan® Global Dressage Festival (AGDF) concludes on Sunday, February 14, at the Palm Beach International Equestrian Center (PBIEC) in Wellington, FL. The circuit hosts 10 weeks of international and national dressage competition until April 4. Free live streaming and on-demand of select classes are available to view at  globaldressagefestival.com.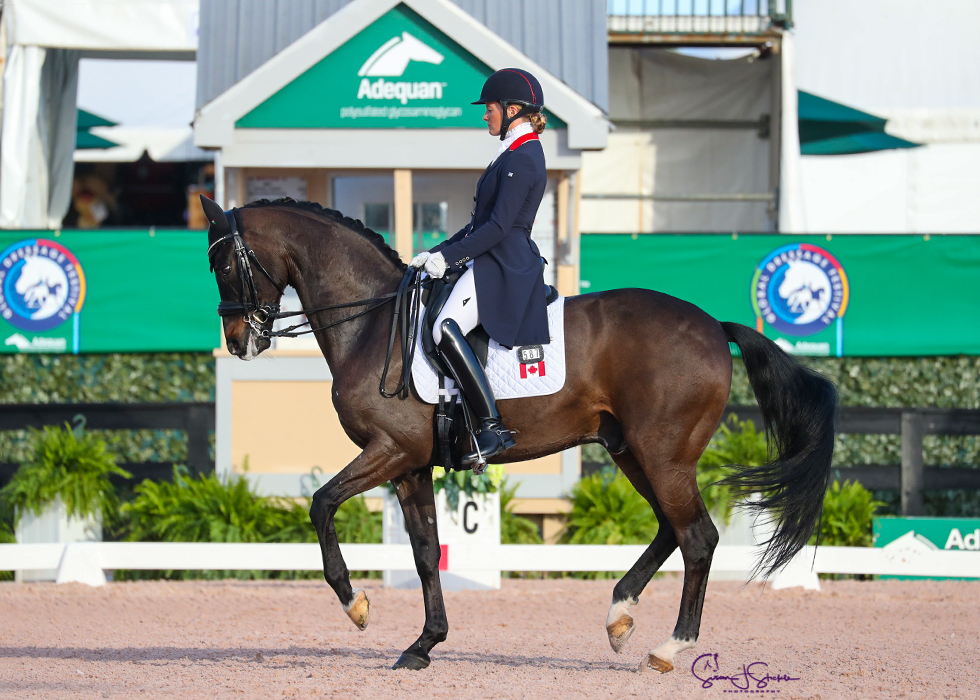 Kellock and the 2006 Rheinlander gelding by Sandro Hit, owned by Enterprise Farm Equestrian LLC and Lindsay Kellock, received a 73.319% from the judges, concluding a momentous weekend for the duo.
"I had more confidence going in today based on his performance in the Grand Prix on Thursday," Kellock began. "He went in and really tried his heart out and gave me a good feeling, which then gave me confidence to ride him a bit more in the ring today. Normally I'm like, 'Oh, can I do this? Maybe I can push this button?' but today he just felt so great. I was able to really ride him, take a deep breath, and I think that showed a lot more with those higher scores."
Click here to watch the winning ride!©Richard's Equine Video
Though the pair didn't enter an international competition arena for almost 10 months, they spent their time at home perfecting the basics and working on their overall performance together.
"[2020 was] a very unfortunate year in many ways," Kellock explained, "but it was a positive for my horse because he was still green last year. I was really able to work through the training [last] summer and then getting back to work with Ashley [Holzer] in November, ramping up the training then, and having the time to work on weaknesses from last year has been huge for us. We've worked really hard at that all summer."
The pair posted a personal best score in the Grand Prix on Thursday with a 72.326% and came back today to earn yet another. "I can't describe the feeling; it's amazing," Kellock admitted. "I couldn't be happier, and I'm speechless. The horse is an incredible horse, and I'm glad that I'm finally able to bring that out in him."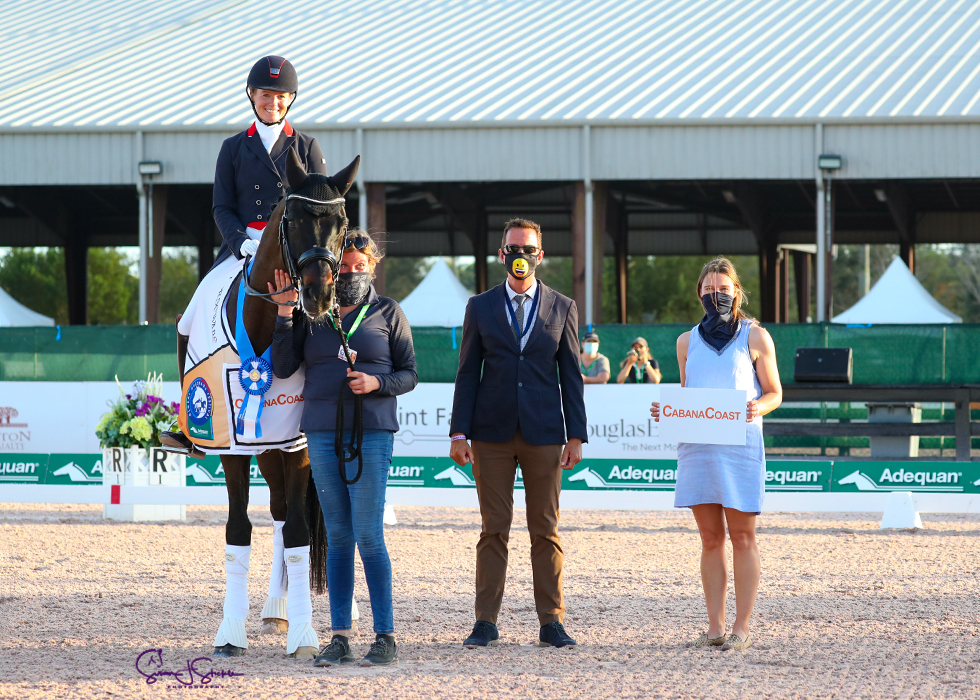 With Tokyo being their main goal for the year, Kellock will play the rest of the season by ear and focus on what's best for her mount. "I'm going to go show-to-show with him," she concluded. "The big plan is to qualify for the Olympics, so I'm going to see how he's feeling. I think I'd like to do the five star and then after that we'll see."
Second place in the FEI Grand Prix CDI 3* Special, presented by CabanaCoast went to the USA's Jennifer Williams on Millione, a 2003 Danish Warmblood gelding by Milan owned by Millione Partners LLC, with 71.979%. Great Britain's Susan Pape rounded out the top three with Harmony's Eclectisch, Susan Pape and Harmony Sporthorse's 2009 KWPN stallion by Zenon, earning a 71.489%.
Earlier in the day, Luuk Mourtis (NED) and Harmony Sporthorses' 2009 Hanoverian gelding by Don Primus, Harmony's Don't Stop The Feeling, topped the FEI Intermediare I CDI 1* with a 72.235%. Second place was awarded to Jodie Kelly-Baxley (USA) and her own Grayton Beach, a 2001 KWPN gelding by Negro, with a 71.206%. Third place went to Jennifer Wetterau (USA) and her own Hartog, a 2012 KWPN gelding by Apache, earning a 70.971%.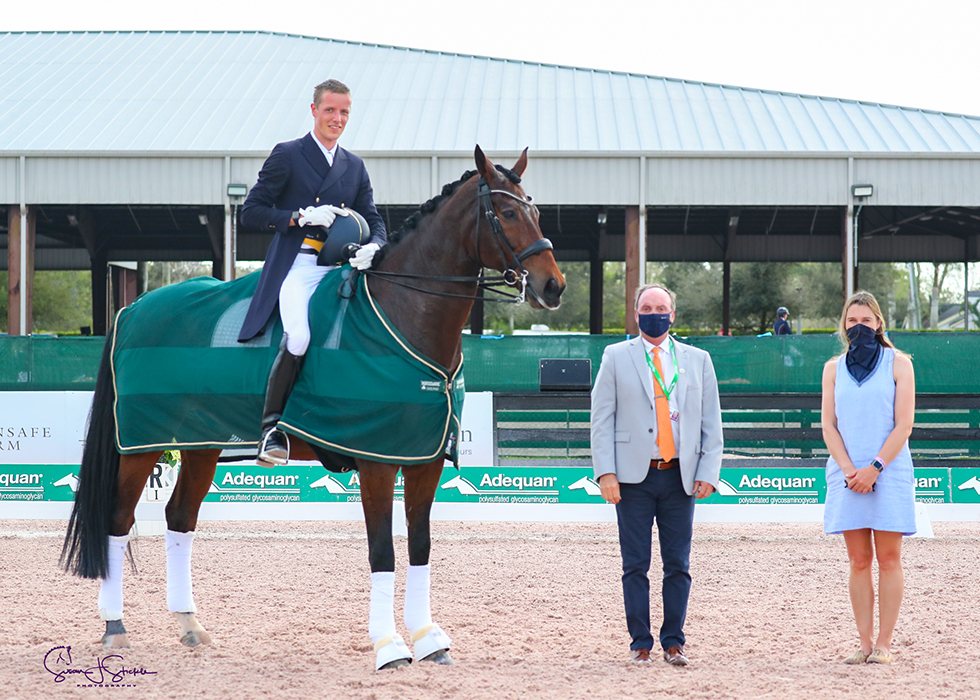 In the FEI Intermediare A CDI 3*, Mikala Münter (USA) took home the victory with Skyfall, her own 2008 Oldenburg gelding by Zardin Firfod, with 67.235%.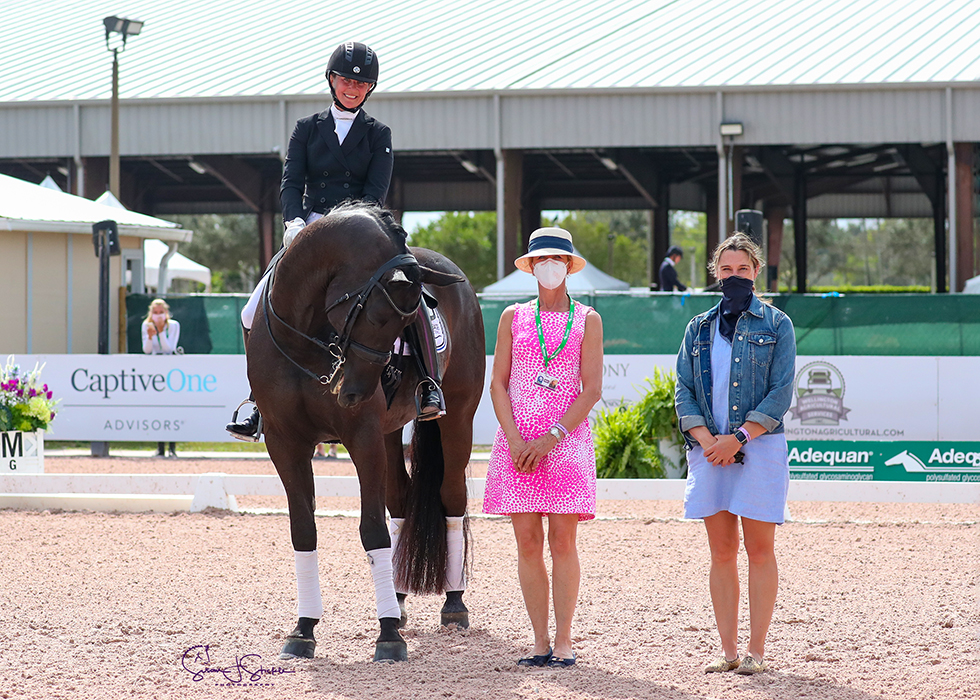 Competition at AGDF 5 will conclude tomorrow after a full schedule of classes, including the FEI Intermediaire II CDI 3*, FEI Intermediare I Freestyle CDI 3*, and the FEI Grand Prix Freestyle CDI-W presented by Helgstrand Dressage, beginning at 11:20 a.m. For more information and to see a full list of results, visit www.globaldressagefestival.com.
Results FEI Grand Prix Special CDI 3*, presented by CabanaCoast:
Place, rider, nationality, horse, horse information: judge E%, judge H%, judge C%, judge M%, judge B%; final score
E, Henning Lehrmann (GER); H, Agnieszka Majewska (POL); C, Christoph Umbach (LUX); M, Claudia Thaler (AUT); B, Gabriela Valerianova (CZE)
1. Lindsay Kellock (CAN) on Sebastien, Enterprise Farm Equestrian LLC, and Lindsay Kellock's 2006 Rheinlander gelding by Sandro Hit:  72.447, 73.191, 72.660, 74.468, 73.830; 73.319%
2. Jennifer Williams (USA) on Millione, Millione Partners LLC's 2003 Danish Warmblood gelding by Milan: 72.766, 71.596, 70.745, 73.723, 71.065; 71.979%
3. Susan Pape (GBR) on Harmony's Eclectisch, Susan Pape and Harmony Sporthorse's 2009 KWPN stallion by Zenon: 71.809, 69.787, 72.660,  70.106, 73.085; 71.489%
4. Jill Irving (CAN) on Arthur, Windhaven's 2005 KWPN gelding by Jazz: 67.766, 69.894, 69.255, 71.489, 70.000; 69.681%|
5. Jessica Howington (USA) on Cavalia, her own 2007 KWPN mare by Sir Donnerhall I: 70.426, 72.128, 67.234, 70.957, 67.553; 69.660%
6. Mette Rosencrantz (USA) on Dzeko, Cory Walkey, Mette Rosencrantz, and Robin Cathey's 2006 Oldenburg stallion by Dimaggio: 65.957, 67.234, 67.553, 70.106, 68.085; 67.787%
7. Diane Creech (CAN) on Chrevi's Christo, Diane Creech and Louise Leatherdale's 2003 Danish Warmblood gelding by Chrevi's Cavallo: 67.766, 65.745, 67.128, 67.447, 66.596; 66.936%
8. Dawn White-O'Connor (USA) on Bailarino, Four Winds Farm's 2008 Oldenburg gelding by Breitling W: 66.489, 63.936, 62.234, 67.234, 67.447; 65.468%
9. MikalaMünter (USA) on Salsa Hit, Cara Broderick and Mikala Münter's 2009 Oldenburg gelding by Samba Hit: 66.064, 64.255, 65.532, 65.319, 63.511; 64.936%
10. Reese Koffler-Standfield (USA) on Bingo, Kik L Courtelis and Reese Koffler-Standfield's 2006 KWPN gelding by Goodtimes: 64.702, 61.404, 62.255, 64.170, 62.362; 62.979%
Photo credit: © SusanStickle. These images may only be used in relation to this press release and with credit.
Video Credit: ©Richard's Equine Video