For Immediate Release
Kim Beaudoin for Jennifer Wood Media, Inc.
Wellington, FL – March 20, 2021 –The Adequan® Global Dressage Festival (AGDF) continued on Saturday, March 20, with a second victory of the week for the USA's Sabine Schut-Kery and Sanceo, this time in the FEI Grand Prix Special CDI3*, presented by Iron Spring Farm. The tenth week of AGDF concludes on Sunday, March 21, and the circuit hosts 10 weeks of international and national dressage competition until April 4. Free live streaming and on-demand of select classes are available to view at GlobalDressageFestival.com.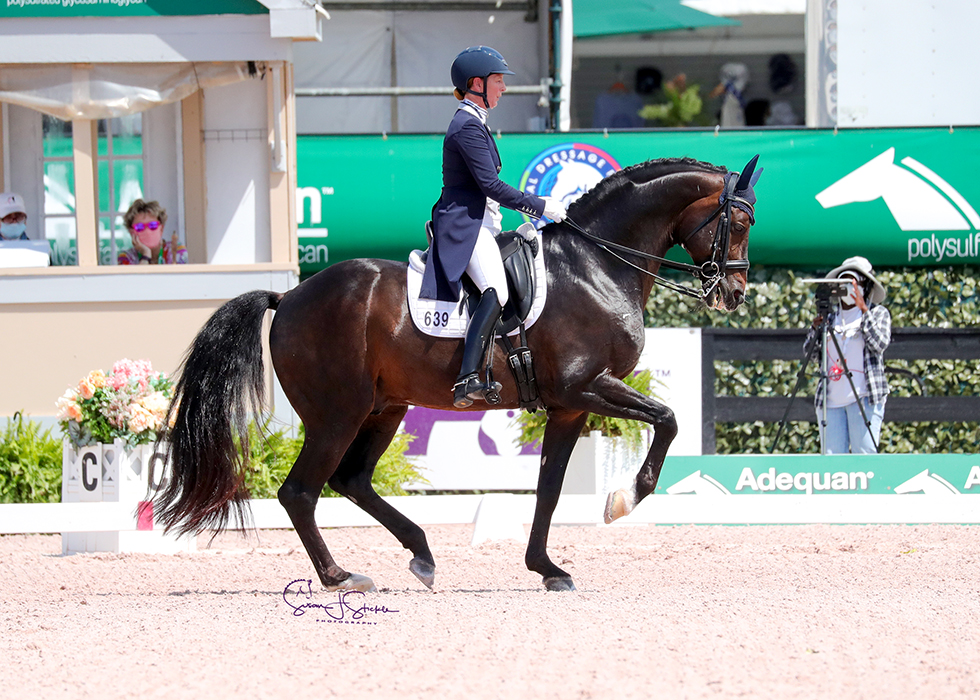 Schut-Kery rode Sanceo, Alice Womble's 2006 Hanoverian stallion by San Remo, to a score of 75.660%, topping the competitive class by over two percentage points.
"Of course it's amazing," she remarked, "I don't even know what to say! My heart always goes to Sanceo for pulling it off. I felt that there were some things that I could've done better today as I was riding, but then I also tried to just stay focused and make sure that I didn't start making other mistakes. It really felt so amazing. He is always with me and always pulls it off. Obviously he can have a strong day with a high score, and a lower day, and so can I."
The pair has won every class that they've competed in this season, coming all the way from California to test their talents and marking a few personal best scores along the way. Schut-Kery summarized, "It's been amazing to be able to be here and compete, especially with so many places still shut down. I'm so grateful to be able to keep going. Especially for me – having a horse that is peaking in his age and in his training – to be able to come out here and compete, that's wonderful. To be here surrounded by our [ USA Dressage team] coaches with so much access to the wonderful vets, farriers, the entire high performance environment here, it is a unique place, and I'm grateful to be able to come here."
Schut-Kery and the gelding will now head back to the west coast after their busy season. "I do feel like it's time for a little break," she said. "The horses do their job so well, but getting excited does put a little more performance pressure on them. I think he is ready to go home and relax for a while before we get back to it."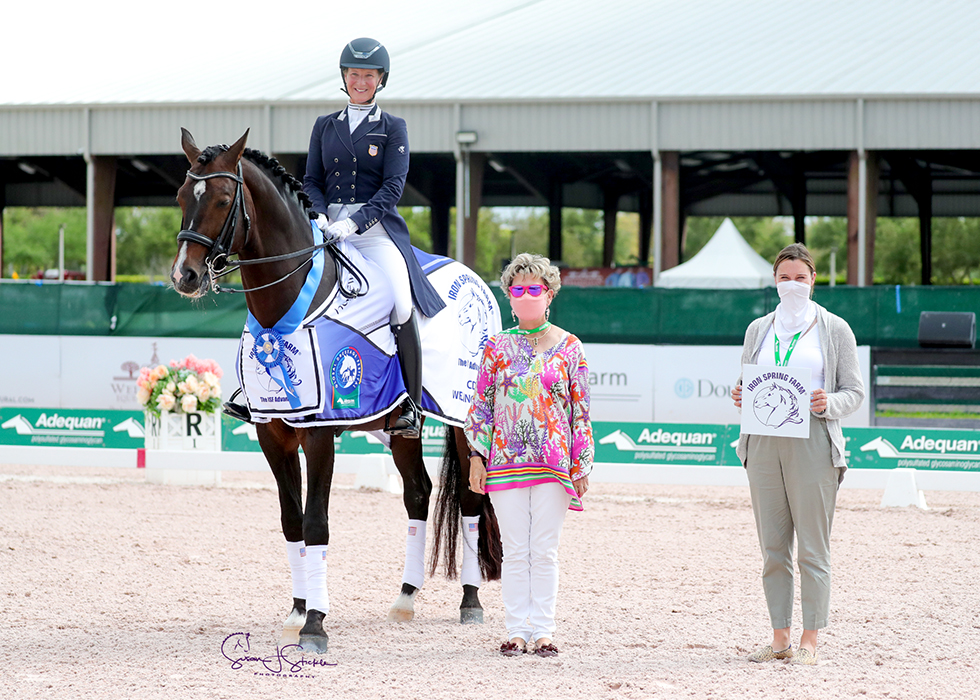 Second place in the FEI Grand Prix Special CDI3*, presented by Iron Spring Farm went to another West Coast rider, the USA's Nick Wagman on Beverly Jean Gepfer's 2008 KWPN gelding by Johnson TN, Don John, with a 73.340%. Third was rounded out by west coaster Anna Buffini (USA) on her own FRH Davinia la Douce, a 2007 Hannoverian mare by Don Frederico, with 69.936%.
In the FEI Intermediaire A CDI3*l,  Karen Pavicic (CRO) piloted the 2012 Hanoverian gelding by Totilas, Totem, owned by Pavicic and Thomas Baur, to the victory with a 69.794%. Second went to Canada's Pia Fortmuller on Frieda, Lars Busch and Pia Fortmuller's 2011 Hanoverian mare by Furstenball OLD, with 69.206%. Third was awarded to Nicole Levy (USA) and her own 2013 KWPN gelding by Bretton Woods, Imposant MC, with 61.853%.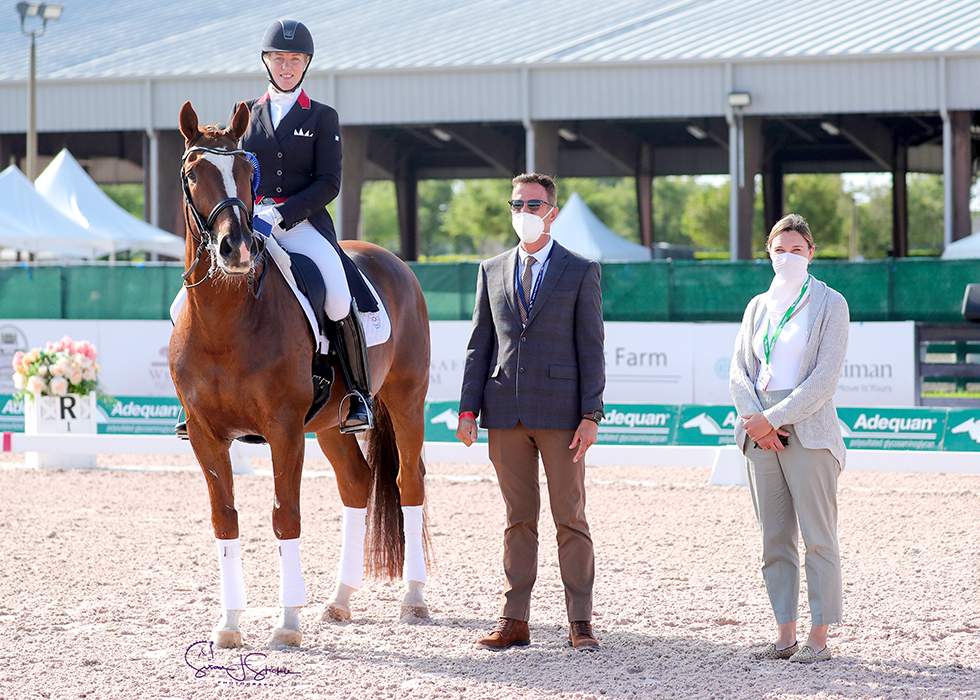 The FEI Intermediaire I CDI1* welcomed a win for the USA's Dawn White-O'Connor, who rode Hudson M, Akiko Yamazaki and Four Winds Farm's 2012 Hanoverian gelding by Cadans M, to the blue with a 73.294%. Emily Donaldson (USA) rode Audi, her own 2005 KWPN gelding by Sir Sinclair, to second with a 66.794%.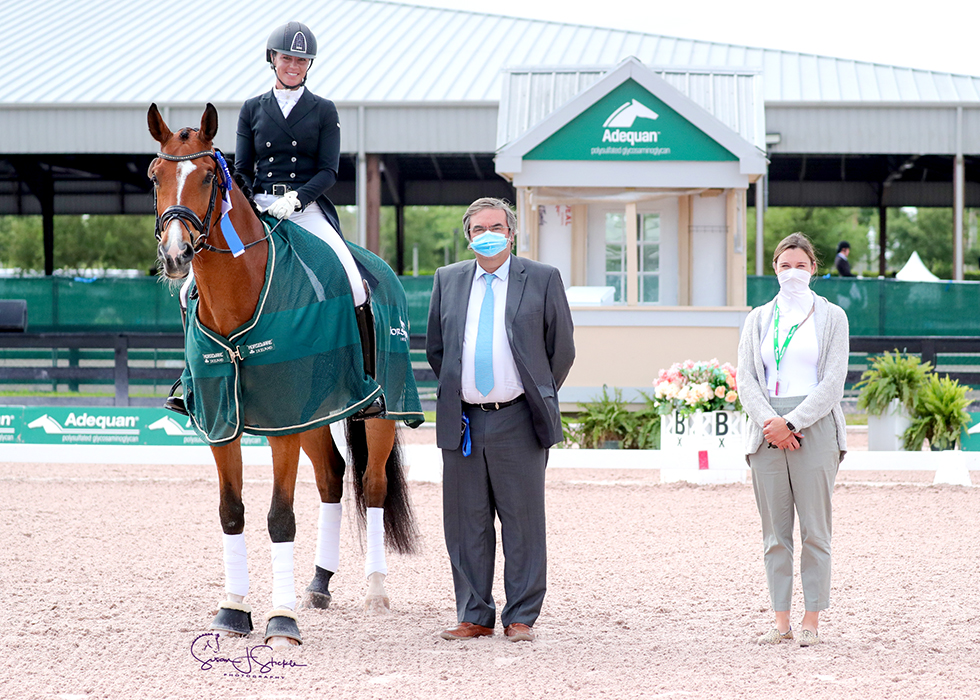 Competition at AGDF will conclude tomorrow after a full schedule of classes, including the FEI Intermediaire II CDI3*, the FEI Intermediaire I Freestyle CDI3*, presented by Horseware Ireland, and the Lövsta Intermediaire II, part of the Lövsta Future Challenge Young Horse Grand Prix Series, beginning at 12:00 p.m. For more information and to see a full list of results, visit www.globaldressagefestival.com.
Results
Place, rider, nationality, horse, horse information: judge E%, judge H%, judge C%, judge M%, judge B%; final score
FEI Grand Prix Special CDI3*, presented by Iron Spring Farm:
E, Thomas Kessler (GER); H, Mariette Sanders van Gansewinkel (NED); C, Janet Foy (USA); M, Stephen Clarke (GBR); B, Carlos Lopez (POR)
1. Sabine Schut-Kery (USA) on Sanceo, Alice Womble's 2006 Hanoverian stallion by San Remo: 72.660, 77.447, 75.851, 77.128, 75.213; 75.660%
2. Nick Wagman (USA) on Don John, Beverly Jean Gepfer's 2008 KWPN gelding by Johnson TN: 74.255, 73.830, 73.085, 74.149, 71.383; 73.340%
3. Anna Buffini (USA) on FRH Davinia la Douce, her own 2007 Hannoverian mare by Don Frederico: 67.447, 70.745, 71.809, 71.277, 68.404; 69.936%
4. Katie Johnson (USA) on Quartett, Kylee Lourie's 2008 Brandenburg gelding by Quarterback: 70.957, 68.085, 67.872, 71.489, 70.851; 69.851%
5. Susan Dutta (USA) on Don Design DC, Susan and Tim Dutta's 2010 Hannoverian gelding by Der Designer: 69.574, 69.255, 70.532, 68.298, 66.915; 68.915%
6. Catherine Haddad-Staller (USA) on Frankie, her own 2009 Hanoverian mare by Florencio 2: 70.319, 66.596, 67.553, 69.787, 67.340; 68.319%
7. Alice Tarjan (USA) on Candescent, her own 2010 Hanoverian mare by Christ: 68.617, 67.872, 68.723, 69.255, 66.064; 68.106%
8. Jessica Howington (USA) on Cavalia, her own 2007 KWPN mare by Sir Donnerhall: 66.383, 70.532, 66.702, 69.362, 66.702; 67.936%
9. Pablo Gomez Molina (ESP) on Ulises de Ymas, Yeguada De Ymas S.L. & Cristina Danguillecourt's 2010 PRE gelding by Seni Indio: 65.851, 67.979, 67.766, 70.957, 65.319; 67.574%
10. Mikala Munter (USA) on Salsa Hit, Cara Broderick and Mikala Munter's 2009 Oldenburg gelding by Samba Hit III: 65.532, 67.128, 66.064, 67.979, 65.213; 66.383%
Photo credit: © SusanStickle. These images may only be used in relation to this press release and with credit.
Video Credit: ©Richard's Equine Video