For Immediate Release
Kim Beaudoin for Jennifer Wood Media, Inc.
Wellington, FL – March 15, 2021 – Perrigo CPEDI3* competition presented by Adequan® and Nutrena® concluded on Sunday, March 14, at week nine of the Adequan® Global Dressage Festival (AGDF), with an impressive win for the U.S. team and a world record-breaking score of 83.334% for 2021 Whitney Stone Cup award winner Roxanne Trunnell (USA) in the FEI Para Individual Test Grade I. AGDF 9 hosted CPEDI3* as well as national competition, and AGDF 10 continues on March 17-21 with CDIO3* and the anticipated Stillpoint Farm FEI Nations Cup CDIO3*.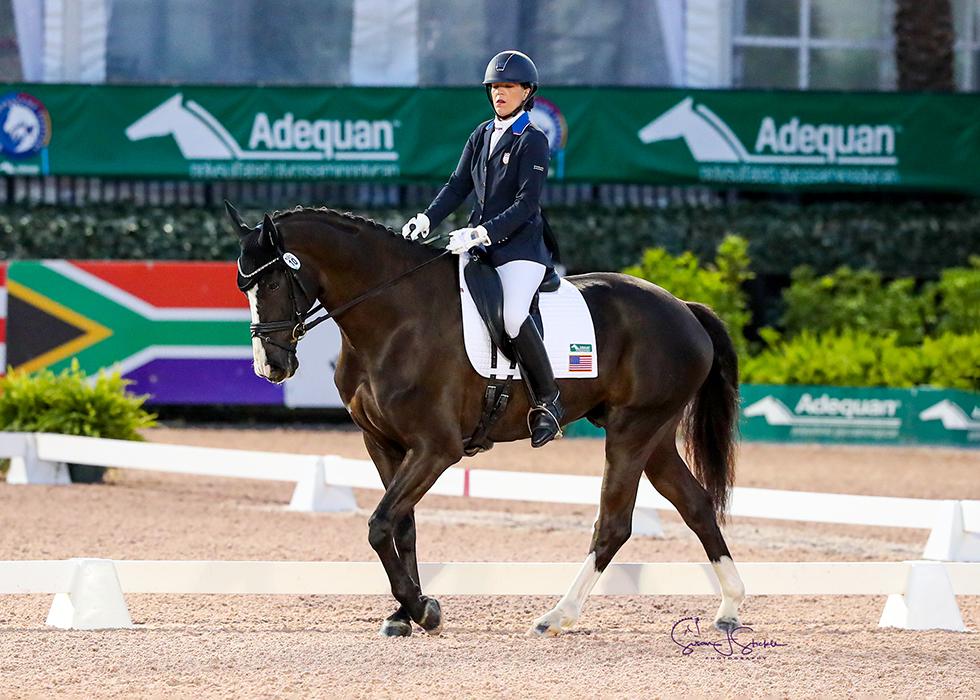 Trunnell and Karin Flint's 2012 Hanoverian gelding, Dolton (Danone I), have been partnered together for over two years and are currently sitting atop the FEI Para Dressage World Individual Ranking list, as well as the FEI Para Dressage World Individual Ranking-Grade I, and the FEI Para Dressage Paralympic Individual Ranking list. Trunnell and Dalton also posted strong scores of 80.119% in the Team Test and 83.500% in the Freestyle Test.
Of her world record-breaking score, Trunnell said, "It feels great to break a world record. Dolton is a very nice horse, and I am proud of him."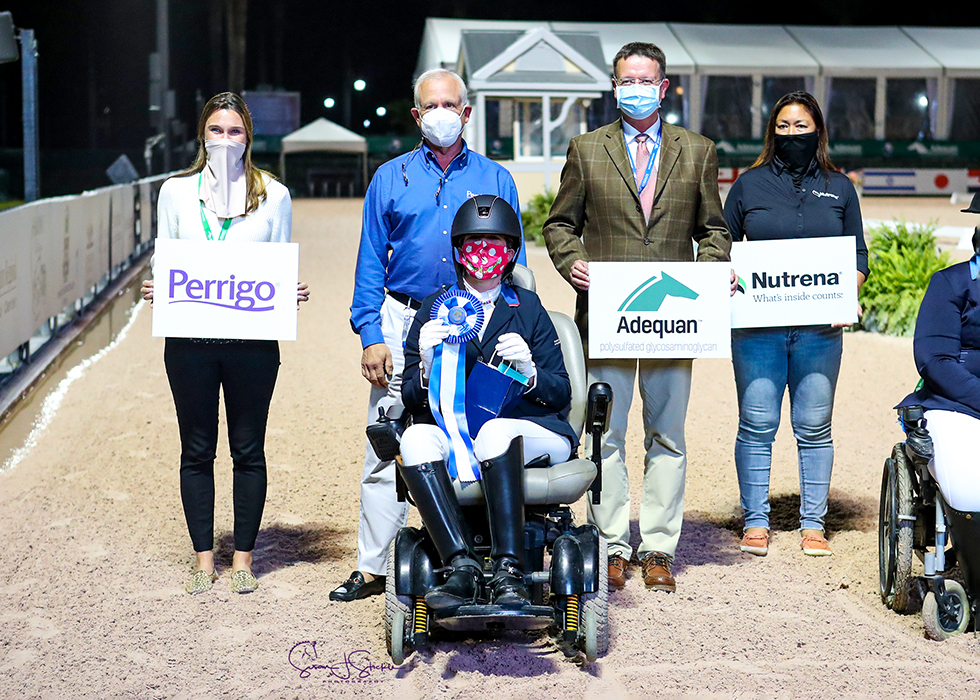 Next up, the combination will head to the June CPEDI in Tryon, like many other North American para dressage riders hoping to make it onto teams for the Tokyo Paralympics. Trunnell noted, "I am looking forward to Tryon. Dolton really likes to compete there, and Tokyo will be fun if we get selected for the team."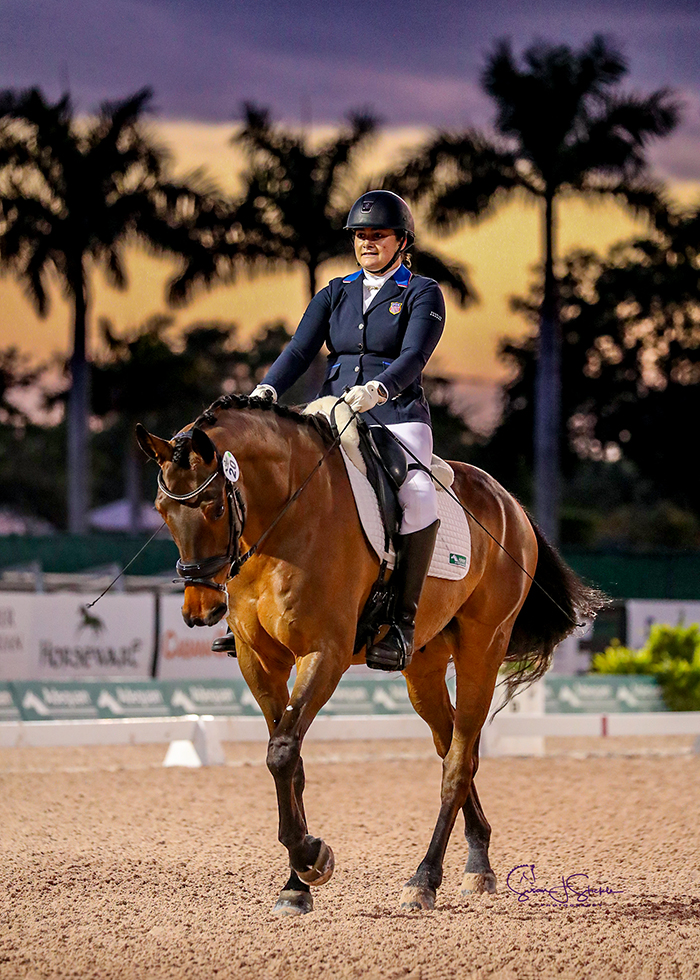 The USA's Beatrice de Lavalette earned victories on Saturday and Sunday in the FEI Para Individual and Freestyle Grade II Perrigo CPEDI3*, presented by Adequan® and Nutrena, riding Elizabeth and Nicholas de Lavalette's 2007 KWPN gelding by Dreamcatcher, Clarc. The duo completed their week atop the Freestyle with a score of 75.645%. The winner of the FEI Para Team Test Grade II was Alanna Flax-Clark on El Paso.
"The first two days were a bit tricky for us," admitted de Lavalette. "Clarc was nervous in the ring, but today I was able to work through it with him in the warmup, and it really paid off in the show ring."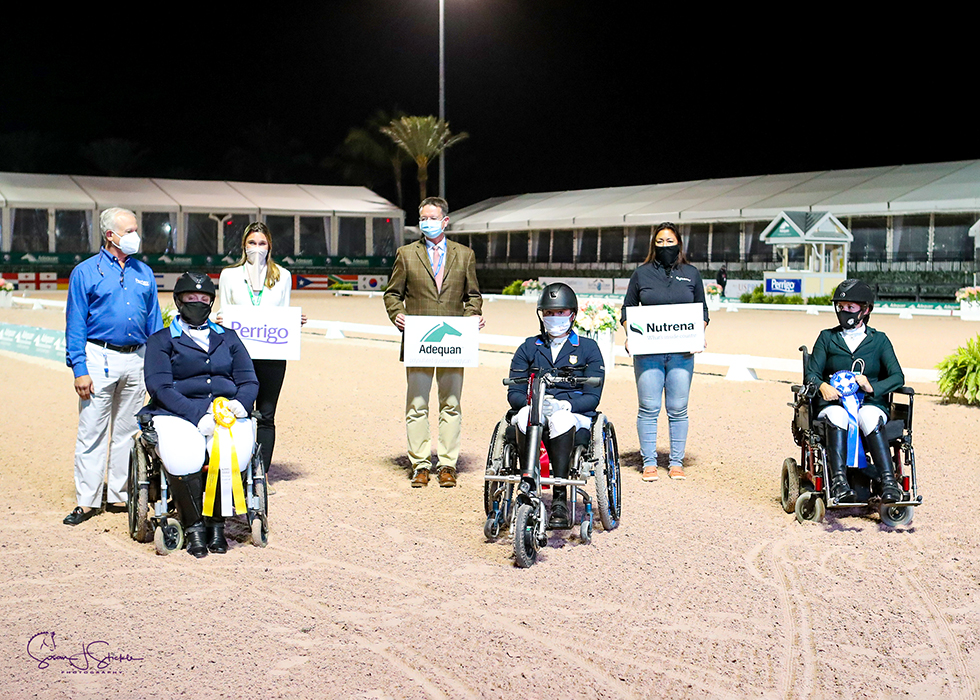 The pair rode to a musical freestyle composed of music from the "Aquaman" soundtrack, which de Lavalette chose after watching the movie. "I am a big fan of the DC Universe," she said, "and I was watching the Aquaman movie and thought it would be the perfect music for a freestyle. It works well with my horse, along with our floorplan."
The FEI Grade III Level of the Perrigo CPEDI3*, presented by Adequan® and Nutrena, was dominated by Canada's Lauren Barwick, who earned blue ribbons in the Team, Individual, and Freestyle classes throughout the weekend, ending with a score of 77.656% in the Freestyle on Sunday.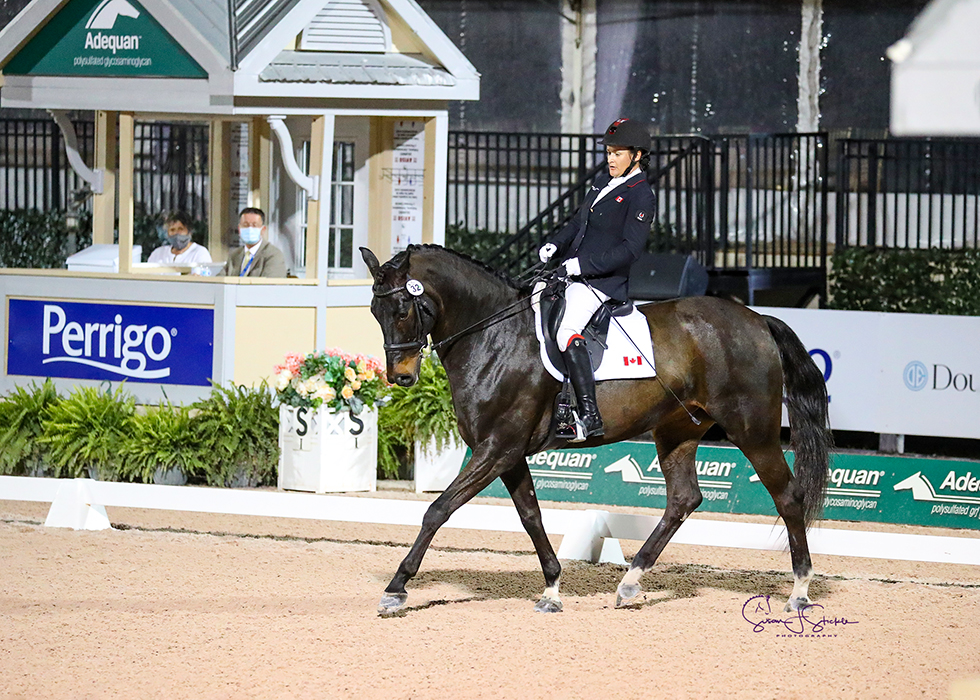 "It's been a longtime since I've gone three for three," began Barwick. "Rebecca Hart (USA) is such a phenomenal competitor and has such great horses. She makes you work for everything in the arena. Her horse is just so competitive that it makes me want to be a better rider, and I know that I have to work for everything in there."
Barwick piloted Lee Garrod's 2012 Westphalian by Spirit of Westfalia, Sandrino, throughout the weekend, and has only been partnered with the gelding for just over a year. "We are still getting to know each other and trust each other," she explained. "My plan moving forward is the event in Tryon and then hopefully Tokyo. This horse was acquired by Lee, my sponsor, for the main purpose of competing in Tokyo for Team Canada. So, we will go to Tryon and hopefully be selected for our country's team."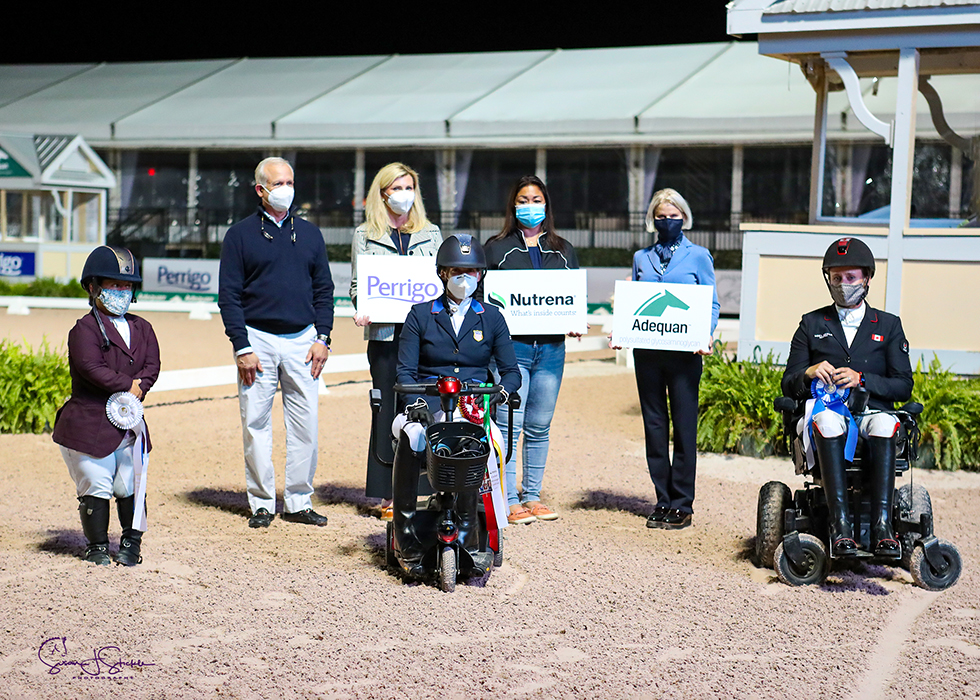 Kate Shoemaker (USA) and Kate, Craig, and Deena Shoemaker's 2007 Hanoverian gelding by Sandro Hit, Solitaer 40, had a successful weekend of their own, earning top scores in the FEI Para Team, Individual, and Freestyle Grade IV Perrigo CPEDI3*, presented by Adequan® and Nutrena.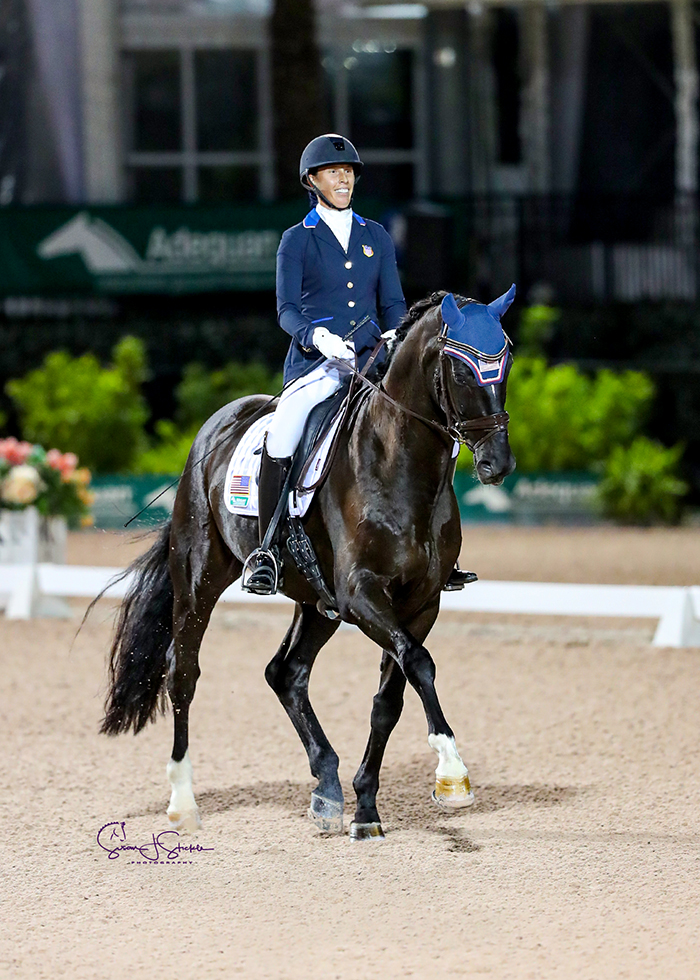 Finishing the week with a score of 77.442% in the Freestyle, Shoemaker revealed that she was pleased with the weekend as a whole and noted that the pair's hard work paid off in the ring.
"It's been a really breakthrough week for my horse and I," she said. "We've been working on finding the next level within the gaits at home, and this is the first time that we've really seen that reflected in the show arena, so I was really excited that he was able to give that to me. The feeling was just incredible throughout the weekend. To finish on the freestyle with such a top score was really rewarding, and I'm just really happy with it all overall!"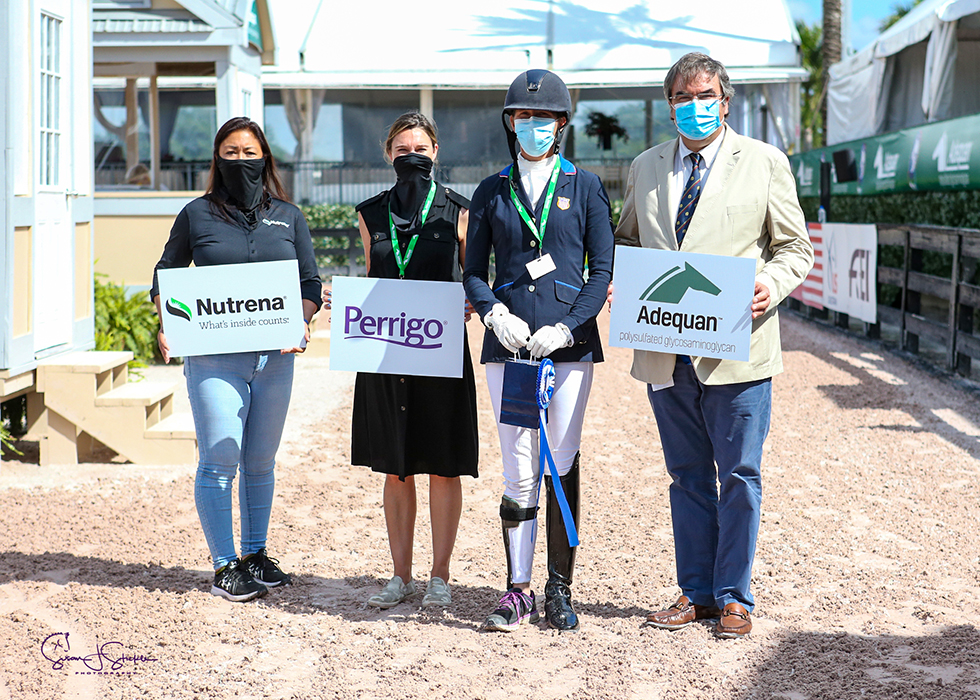 The pair will now work their way to the next CPEDI in Tryon, North Carolina, this summer, with the hope to make it onto the USA Paralympic dressage team. "Tryon is our next step for sure," continued Shoemaker. "It's a mandatory outing for team selections, so that is next up. We are really hoping that we can continue this positive trend and show the judges and the selectors that we are on track for a position for Tokyo, not just for the team but to be at the top of the sport. That's my goal."
Grade V saw victories across the board for the USA's Cynthia Screnci, who concluded her weekend with her own Eragon VF, a 2009 KWPN gelding by Don Romantic, by earning a 66.742% in the FEI Para Freestyle Grade V Perrigo CPEDI3*, presented by Adequan® and Nutrena.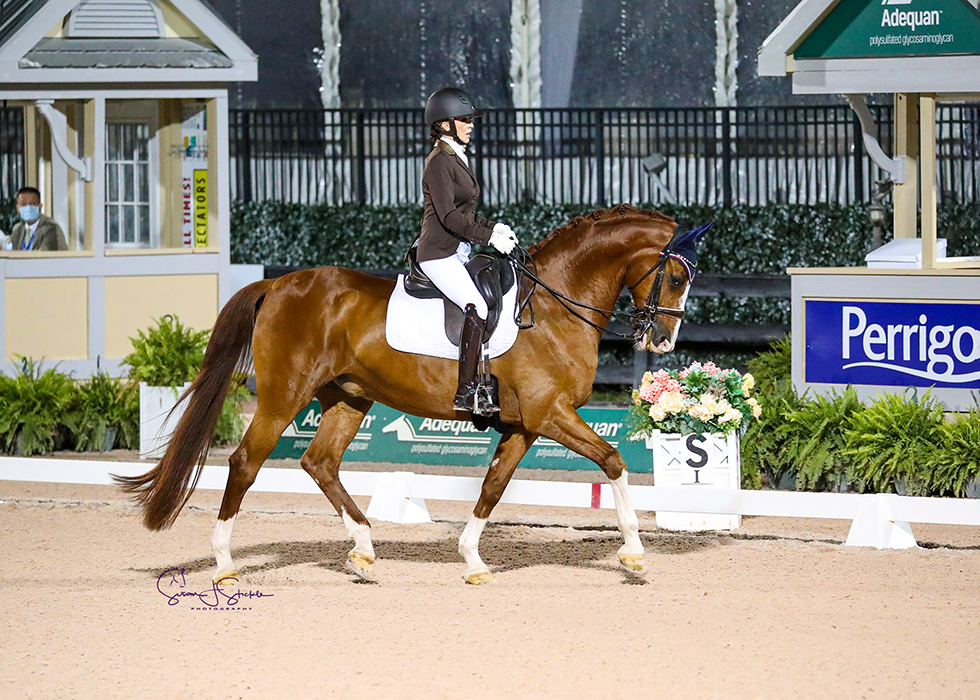 "Our weekend started a bit rough," explained Screnci, "but we were able to correct that on Saturday, and our rides were very solid for the rest of the weekend. We are very excited about it. We've continued to increase our education, and we're really excited that we have a good chunk of time between now and June (Tryon Team Event) to really hone in on our skills and fine tune the things that need to be fine-tuned. Overall, we're happy with the progress!"
Screnci is currently training with 2019 Pan American Games silver medalist Jennifer Baumert and is looking forward to continuing her education with her mount. "We started training with Jennifer Baumert about three weeks ago," she said, "and she's been an incredible teacher so far. What a difference already in our performance, and we are eager to continue that relationship and grow."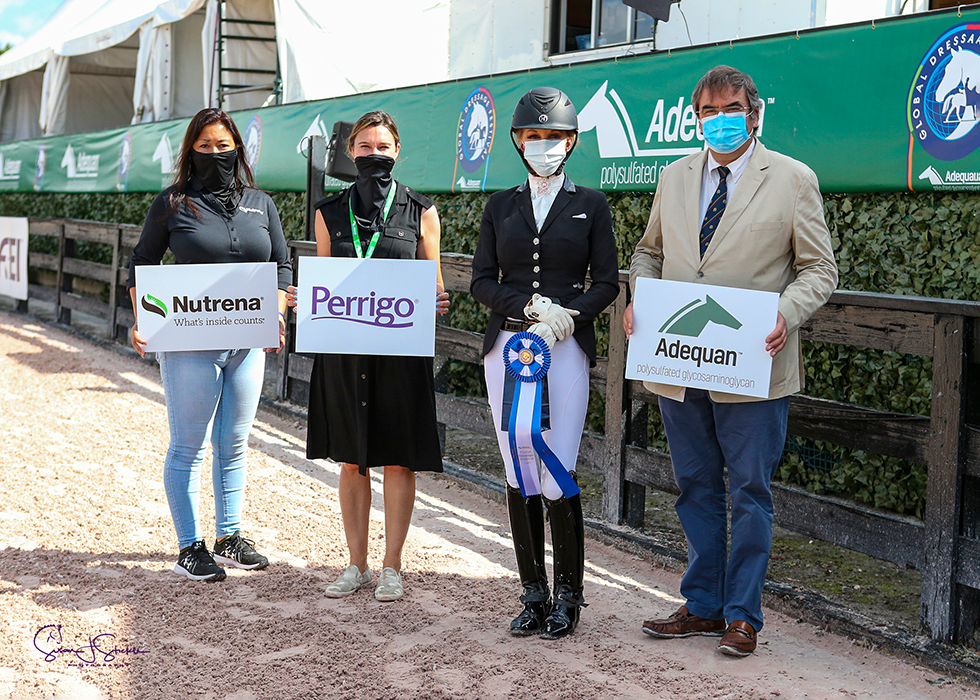 Lehua Custer Welcomes Win in National Grand Prix at AGDF 9
In national competition at AGDF 9, the USA's Lehua Custer posted a win in the FEI Grand Prix on Saturday, March 13. Custer rode F.J. Ramzes, Wendy Sasser's 2010 KWPN gelding by Juventus, to first place after earning a score of 69.456% from the judge at C.
"I felt like I focused on making him rideable throughout our test," said Custer, "so we didn't nail every movement the way that I wanted to. It's so important to school him and to make him the horse that I know I can do that with. I trust him so much and know every detail, so now it's just about finding that brilliance within the power without letting him take over."
Custer and Sasser picked the gelding out as a yearling, and the U.S. bred KWPN has come up the levels with the 42-year-old as his guide. "He was actually bred at Cornell University; his sire and his dam were both donated to the University by Iron Spring Farm," explained Custer. "They use the mares and stallions as a part of their veterinary program, and we picked him from a woman who had purchased him from the University."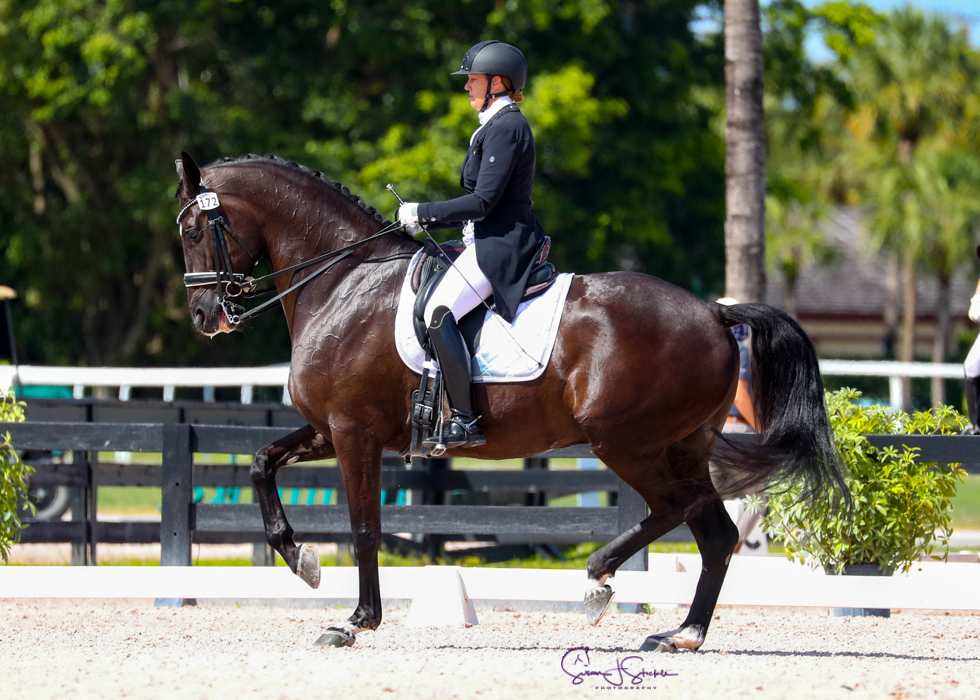 She continued, "The intention was for his owner Wendy to eventually take over the ride, but she kept entering us in competitions even after I got the foundation under him. I feel really lucky to continue to ride him and compete. We've moved up the levels, and it's nice to be here now. We started schooling a bit of Grand Prix last spring, but then things got shifted around with COVID, so we decided to just take our time with things."
Custer does not have a set schedule for the gelding and concluded by explaining that she will let him decide if he is fit for the international ring when the time comes.
"We are just so thrilled that he's gone from a yearling to competing here at AGDF," she expressed. "It's huge for us. I moved here to Wellington from California so we could get him more experience. He's a very large horse, almost 18hh, and up until he was seven, he wasn't being trained for the big ring. He is quite rideable, and we are just taking our time with him. He's really willing and energetic, and so I just make sure he stays under control. We are going to let him tell us if he is capable of going into the international arena. He's got a lot of strengths that would carry us into that realm successfully, but we are going to go one step at a time."
Second place in the FEI Grand Prix went to Michael Bragdell (USA) and Faberge Blue, William Mitchelson's 2010 KWPN gelding by Contango with a 68.913%. Third went to Susanne Hamilton (USA) and her own Lesath, a 2009 Hanoverian gelding by Legat, scoring 68.478%.
Friday's FEI Prix St. Georges class awarded a victory to the USA's Sarah Daehnert and her own 2009 KWPN gelding by Vivaldi, Evander 3, after the pair earned a 74.411%. Second place was captured by Kelly Layne (AUS) aboard Anne Barrett's 2012 Hanoverian by Quarterback, Que Jolie, with 72.794%. Bianca Tota (USA) earned third riding Westerberg, her own 2008 Danish Warmblood gelding by Welser, with 72.794%.
On Sunday, Chase Shipka (USA) was the champion in the FEI Grand Prix 16-25 "Brentina Cup" USEF Qualifier, riding her own Gladstone Zee T, a 2011 KWPN gelding by Apache, to a 68.653%. Natalie Pai (USA) rode Melanie Pai's 2008 Selle Francais mare by Quite Easy I, Utopie D'Ouilly, to a score of 68.589% for second place. Spain's Paula Matute Guimon claimed third with Delagronge, Carolin Mallmann's 2008 Oldenburg by De Niro, finishing their ride on a 67.948%.
The Lövsta Future Challenge/Young Horse Grand Prix Series welcomed a win for Alice Tarjan (USA) on Serenade MF, her own 2013 Hanoverian mare by Sir Donnerhall, earning a 74.191%. Katie Johnson (USA) and Paxton, Kylee Lourie's 2011 Westphalian gelding by Dante Weltino OLD, received second place with 72.499%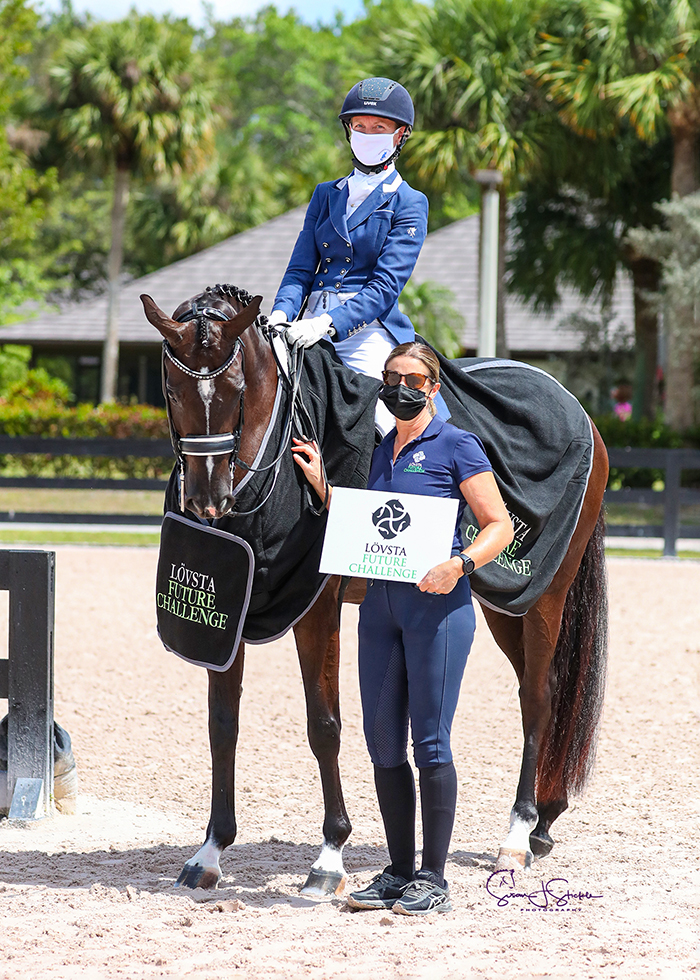 In the Future Challenge/Young Horse Prix St. Georges Series, Karen Lipp (USA) topped the leaderboard with Infinity, her own 2013 KWPN gelding by Dream Boy N.O.P., with a 69.484%. Second place went to Lindsay Kellock (CAN) and Tu Le Merite, Lisa Apa's 2012 Hanoverian gelding by Totilas, riding to 68.896%. Kelly Layne (AUS) claimed third with Que Jolie, Anne Barrett's 2012 Hanoverian by Quarterback, on 68.676%.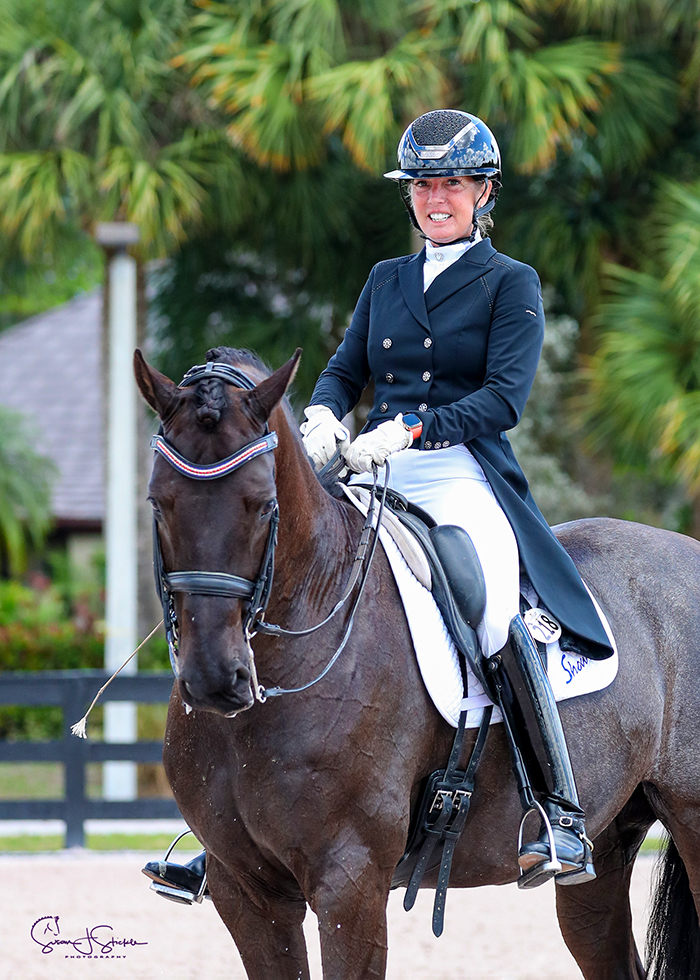 Competition returns on March 17-21 for AGDF 10, featuring the Stillpoint Farm FEI Nations Cup CDIO3*, FEI Grand Prix and Grand Prix Freestyle CDI3*, presented by Wellington Regional Medical Center, FEI Grand Prix and Grand Prix Special CDI3*, presented by Iron Spring Farm, Small Tour CDI3*, presented by Horseware Ireland, and the CDIO U25, presented by Diamante Farms, as well as national competition. For more information and to see a full list of results, visit www.globaldressagefestival.com.
Photo credit: © SusanStickle. These images may only be used in relation to this press release and with credit.