For Immediate Release
Kim Beaudoin for Jennifer Wood Media, Inc.
Wellington, FL – February 28, 2021 – Week seven of the 2021 Adequan® Global Dressage Festival (AGDF) concluded on Sunday, February 28, with a win for USA's Benjamin Ebeling on Illuster Van De Kampert in the FEI Grand Prix Special CDI3*, presented by Hygain Feeds.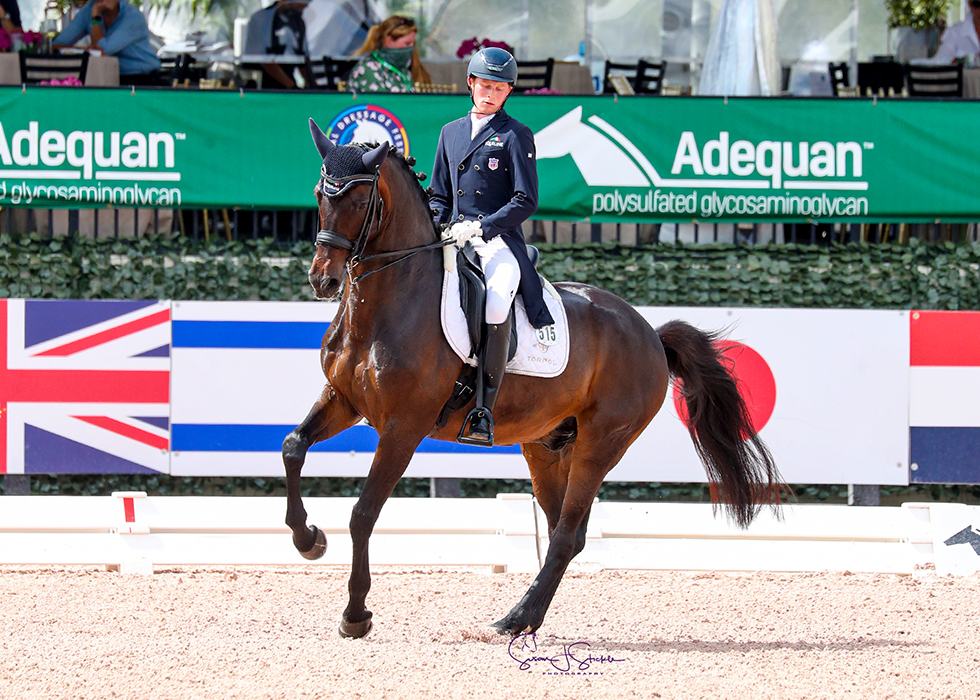 Ebeling and Illuster Van De Kampert, Amy Roberts Ebeling and Nuvolari Holdings, LLC's 2008 Belgian Warmblood gelding by Spielberg, topped the competitive class with a score of 75.170%, almost five full points ahead of the second place score.
"It's really a testament to my coaches and the team behind me," expressed Ebeling. "For me, it's really important to give thanks to them. They help me so much day to day, and I wouldn't be here without them."
The high score was also a personal best for Ebeling and the gelding, their second of the week after placing first in Friday's FEI Grand Prix CDI3* with a 73.326%. "Today was the most comfortable that Illuster has felt in that arena," said Ebeling. "Of course, it's a big atmosphere for any horse, but he's naturally a hot horse. The arena can be a bit of a challenge for him. Every time we go in there he's settling down and for me mentally, that's a big win."
Watch the winning ride!©Richard's Equine Video
He continued, "Today his strength was definitely in the canter work. The first trot half-pass I was very happy with, and that last centerline is always so fun to ride too."
The pair made their senior international Grand Prix debut at AGDF this season after competing in the Under 25 division and have notched several top placings since, with the day's Special marking their third big tour win.
Proving that hard work pays off, the team also has several eyes on them as they are coached by Ebeling's father, Olympian Jan Ebeling, Japanese dressage team coach Christoph Koschel, and also receive help from retired five-star judge Gary Rockwell and former USA dressage team coach Robert Dover.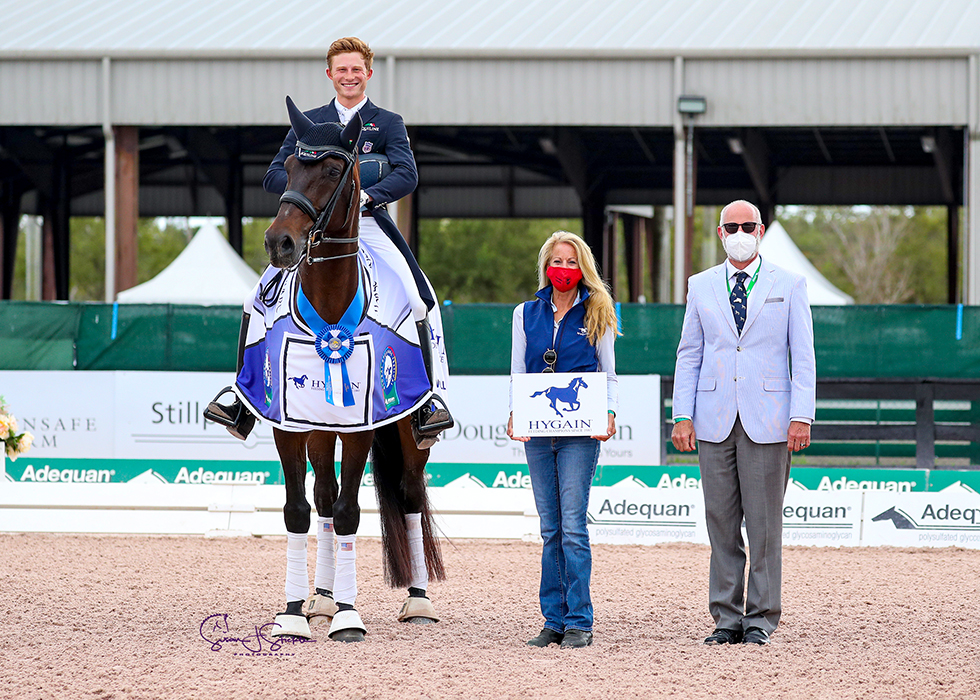 Ebeling explained, "Usually I'm talking to Robert Dover the night before a test, and one thing that he's always telling me is maintaining a good connection with power and collection. It's something that we talk about often, and I really feel like I brought that into the arena today."
Second place in the FEI Grand Prix Special CDI3*, presented by Hygain Feeds, was awarded to Susan Dutta (USA) on Don Design DC, Susan and Tim Dutta's 2010 Hanoverian gelding by Der Designer with 70.893%. Anna Buffini (USA) on FRH Davinia la Douce, her own 2007 Hanoverian mare by Don Frederico, took third place honors with 70.702%.
In the FEI Intermediaire II CDI3*, Germany's Frederic Wandres took top honors abord Terry Lan's 2011 Oldenburg gelding by Blue Hors Hotline, Hot Hit 3, with a 74.588%. Second went to Mathilde Blais Tetreault (CAN) and Fedor, Laurence Blais Tetreault's 2010 KWPN gelding by Johnson TN, with 70.059%. Pia Fortmuller rounded out the top three with Frieda, Lars Busch and Pia Fortmuller's 2011 Hanoverian mare by Furstenball OLD, with 69.853%.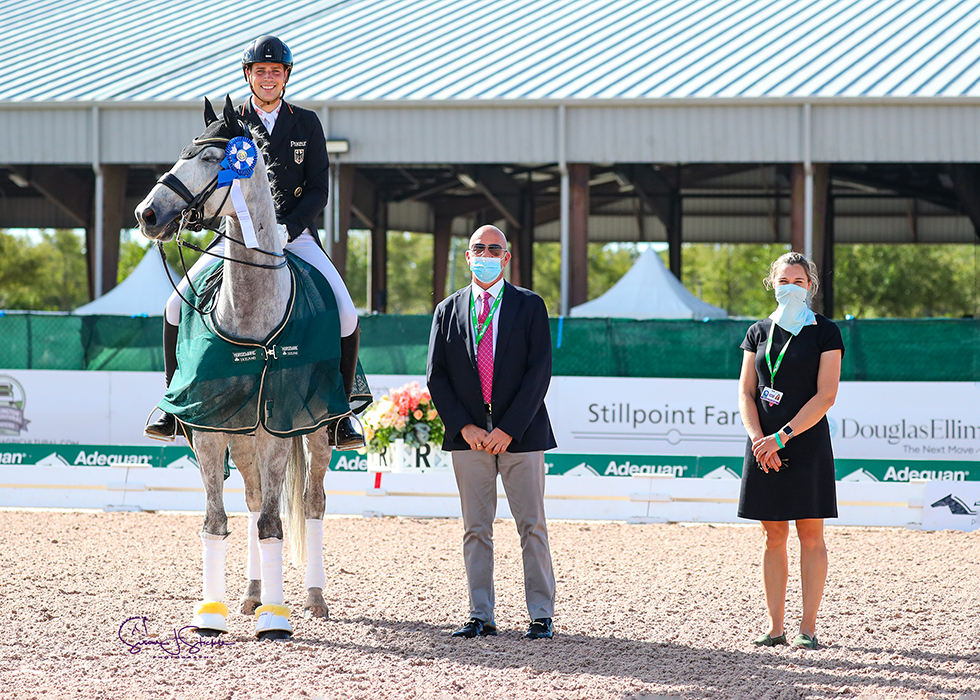 In the FEI Intermediaire I Freestyle CDI3*, presented by Donato Farms, Canada's Alexandra Reid earned first place with Flynn, Elaine Cordia Van Reesema's 2010 Danish Warmblood gelding by Wynton, with 73.295%. Dongseon Kim (KOR) took home second place on his own Lord Nunes, a 2012 Rheinlander stallion by Lord Loxley I, with 72.590%. Third place went to Michael Klimke (GER) on Domino 957, Uwe Kappel's 2012 Westphalian mare by Den Haag 12, with 70.290%.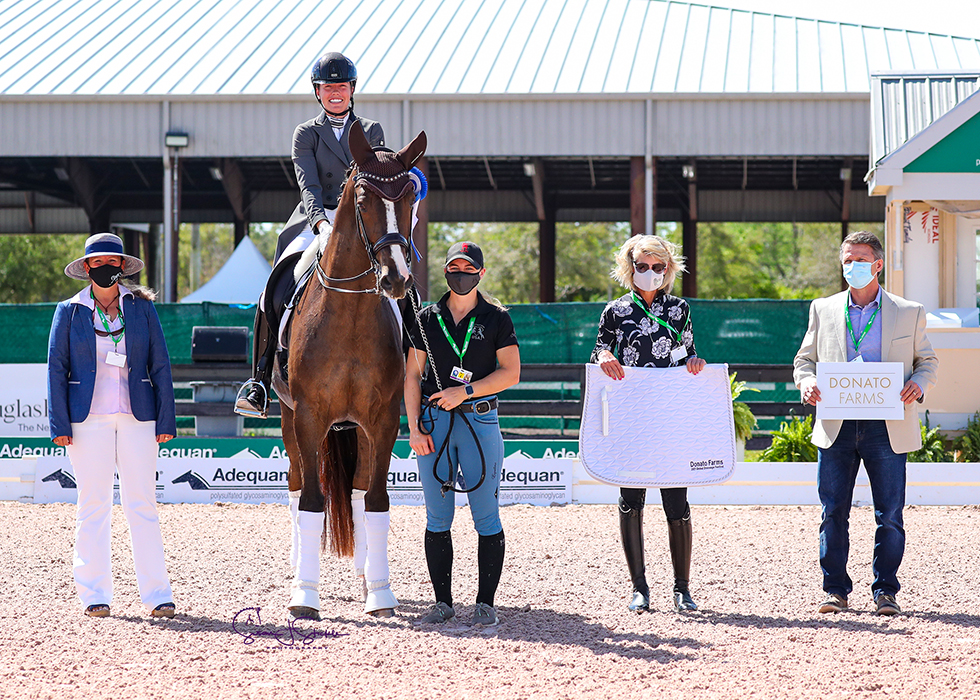 The Lövsta Future Challenge/Young Horse Grand Prix Series sported a win for Jennifer Hoffman (USA) and Rondoro Noblesse, Wolfgang Himsl and Hoffman's 2011 Austrian Warmblood Stallion by Rosengold, on 72.720%. Second place went to Karen Pavicic (CRO) and her own 2012 Hanoverian gelding by Totilas, Totem, with 72.132%. USA's Catherine Haddad Staller was awarded third place honors piloting Barbie Asplundh's 2011 KWPN gelding by Chameur, Gorgeous, riding to a score of 69.852%.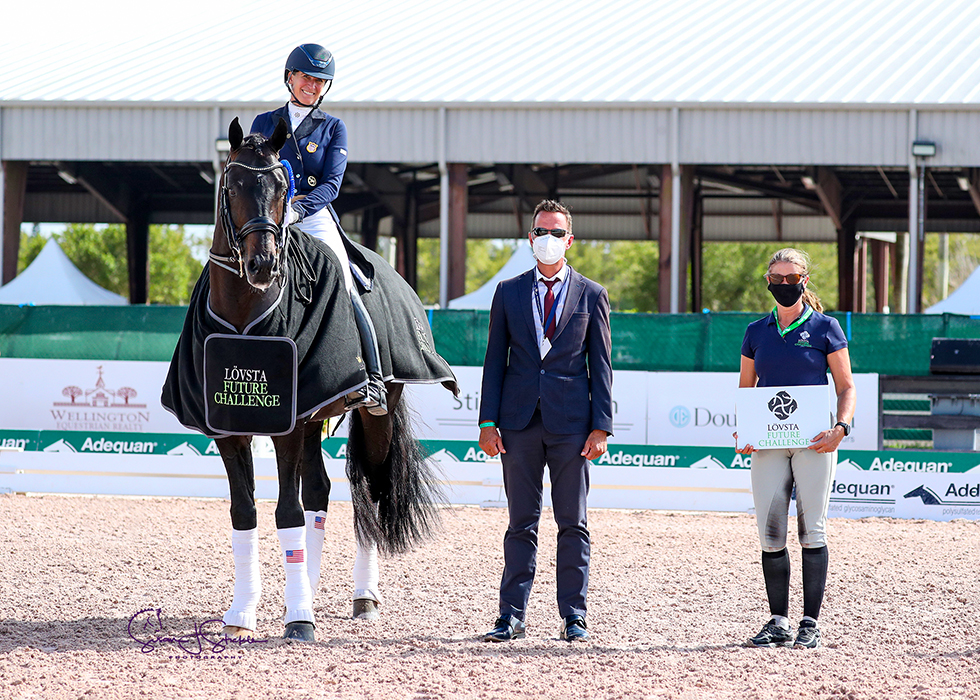 In the Future Challenge/Young Horse Prix St. Georges Series, Marcus Orlob (USA) rode Finn Torres, Carolina Zapf's 2012 Oldenburg gelding by Fernando Torres, to top honors with a 69.043%. Second place went to Canada's Brittany Fraser-Beaulieu on Harmonium, Johanne Dube's 2012 KWPN gelding by Jazz, with 68.088%.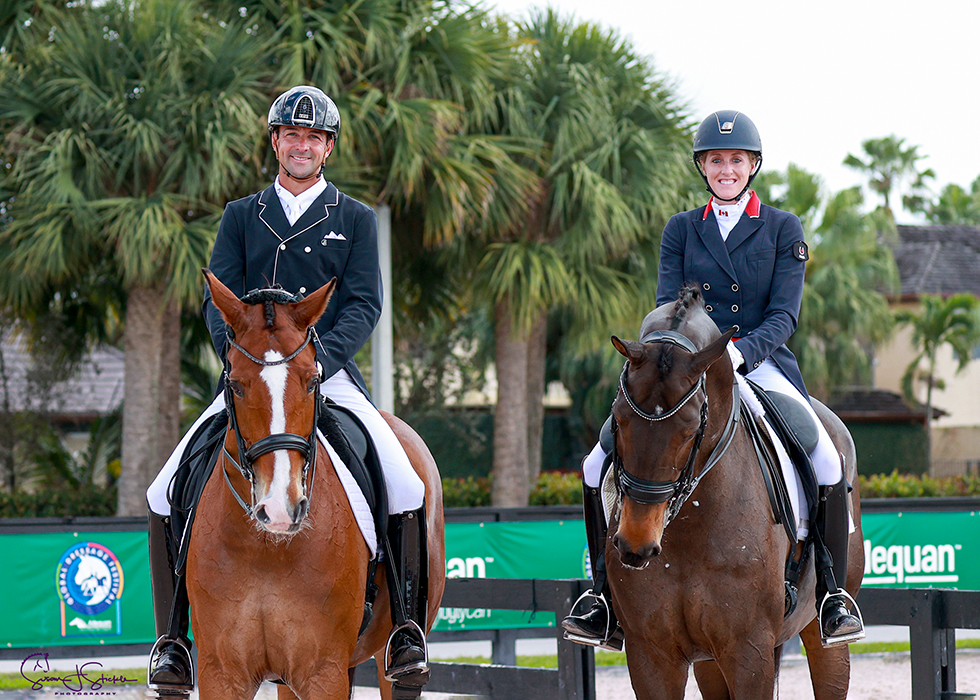 Competition at AGDF will resume with AGDF 8 on March 4-7 for the Palm Beach Dressage Derby. Competition highlights will include FEI Grand Prix and Grand Prix Freestyle CDI-W, presented by Wellington Agricultural Services; FEI Grand Prix and Grand Prix Special CDI3*, presented by The Dutta Corp.; Small Tour CDI3*,;Small Tour CDI 1*; and the 2020 Florida International Youth Dressage Championships, as well as national competition. For more information and to see a full list of results, visit www.globaldressagefestival.com.
Final Results FEI Grand Prix Special CDI3*, presented by Hygain Feeds:
Place, rider, nationality, horse, horse information: judge E%, judge H%, judge C%, judge M%, judge B%; final score
E, Cesar Torrente (COL); H, Agnieszka Majewska (POL); C, Peter Storr (GBR); C, Christoph Umbach (LUX); M, Michael Osinski (USA); B, Kari McClain (USA)
1. Benjamin Ebeling (USA) on Illuster Van De Kampert, Amy Roberts Ebeling and Nuvolari Holdings, LLC's 2008 Belgian Warmblood gelding by Spielberg: 75.638, 75.957, 74.149, 74.574, 75.532; 75.170%
2. Susan Dutta (USA) on Don Design DC, Susan and Tim Dutta's 2010 Hannoverian gelding by Der Designer: 71.915, 68.723, 79.106, 73.085, 70.638; 70.893%
3. Anna Buffini (USA) on FRH Davinia la Douce, her own 2007 Hannoverian mare by Don Frederico: 68.191, 71.383, 71.277, 70.213, 72.447; 70.702%.
4. Nick Wagman (USA) on Ferano, Elizabeth Keadle's 2010 Dutch Warmblood gelding by Scandic: 70.426, 69.681, 72.234, 70.319, 69.255; 70.383%
5. Mette Rosencrantz (USA) on Dzeko, Cory Walkey, Mette Rosencrantz, and Robin Cathey's 2006 Oldenburg stallion by Dimaggio: 68.511, 70.426, 70.106, 70.213, 68.191; 69.489%
6. Sarah Lockman (USA) on First Apple, Summit Farm's 2010 KWPN stallion by Vivaldi: 69.043, 71.596, 68.830, 71.702, 65.106; 69.255%
7. Ariana Chia (CAN) on Fiderflame, her own 2010 Oldeburg gelding by Fidertanz: 67.660, 69.255, 67.234, 70.106, 67.979; 68.447%
8. Katie Johnson (USA) on Quartett, Kylee Lourie's 2008 Brandenburg gelding by Quarterback: 65.213, 67.872, 67.979, 65.213, 66.064; 66.468%
9. Mikala Munter (USA) on Salsa Hit, Cara Broderick and Mikala Munter's 2009 Oldenburg gelding by Samba Hit III: 65.638, 66.277, 62.766, 67.660, 65.851; 65.638%
10. Maria Alejandra Aponte Gonzalez (COL) on Duke De Niro, her own 2004 Hanoverian gelding by De Niro: 64.043, 63.830, 62.021, 63.830, 62.660; 63.277%
Photo credit: © SusanStickle. These images may only be used in relation to this press release and with credit.
Video Credit: ©Richard's Equine Video