Six years ago, if you had told Michele Bandinu that he would be competing to earn scores for the World Equestrian Games™ Tryon 2018, he probably would have chuckled at you. He wouldn't have called you crazy, because he seems to be the determined kind, someone who doesn't turn down a challenge or let fear stand in his way. But, he may have chuckled.
Bandidu, a grade IV Para-Equestrian Dressage rider, sat on a horse for the first time over twenty-five years ago, when his wife asked him to go for an afternoon trail ride. From the moment he climbed onto that first horse, he was hooked. A stone mason by trade, Bandinu devoted his life to his family and his work, growing a company that employed over 45 people and held an impressive number of large business accounts. After throwing horses into the mix, his life was non-stop, but that was just the way he liked it.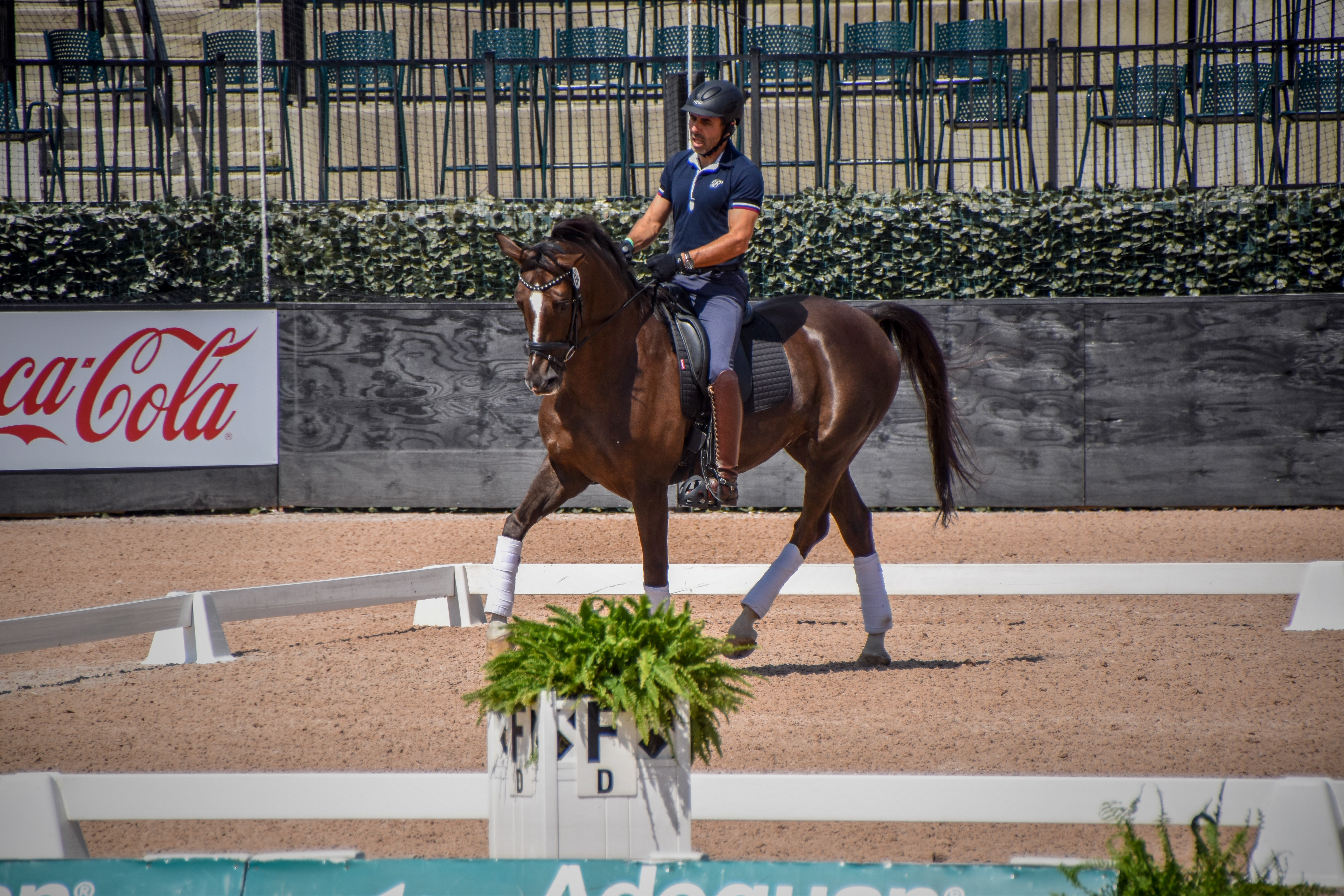 One morning in 2011, Bandinu decided to head to the motocross track to spend some quality time with his son. unbeknownst to him at the moment, tragedy was about to strike. That day, Bandinu was in a terrible accident, crashing the bike, ultimately leaving him with a L-1 burst fracture with 80% spinal cord compression. The pain that endured post-accident was indescribable, and Bandinu was left with two steel rods and eight screws in his back, along with no feeling in his feet and left leg. Even today, after years of physical therapy, Bandinu still suffers from terrible nerve pain from the waist down and uses crutches to help support him when he walks.
After his accident, Bandinu was desperate to get back in the saddle. Giving up wasn't an option, and despite hesitation from doctors, the former FEI competitor set out to find his way back into the tack.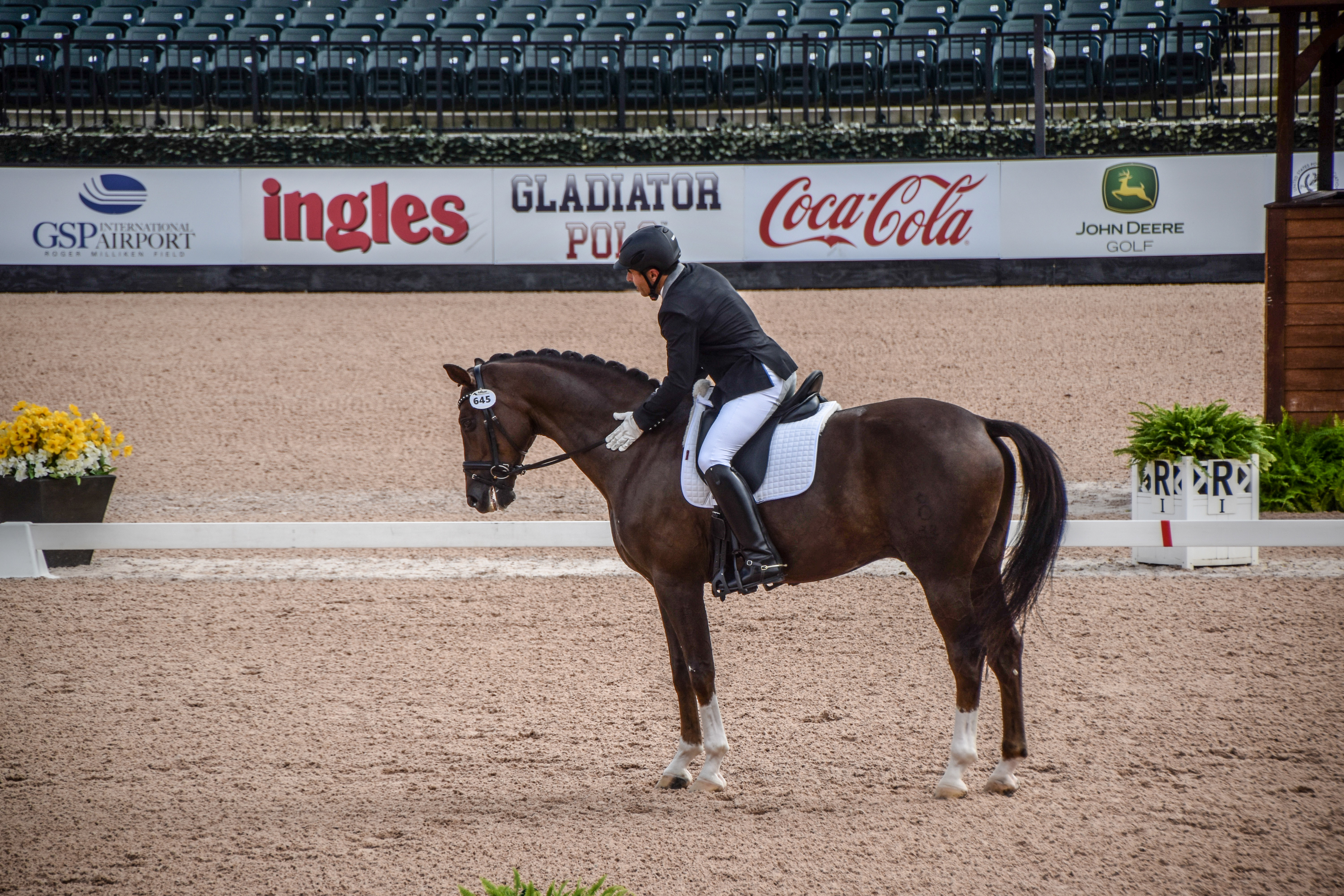 Six years ago, if you had told Ryan Torkelli that he would be coaching a Grade IV Para-Equestrian competing to earn scores for the World Equestrian Games™ Tryon 2018, he probably would have chuckled at you. Not because he is mean natured, but simply because an opportunity like that had never surfaced near him. He wouldn't have called you crazy, because he seems to have an overall focus of creating better horse people, regardless of gender, age, or disability. But, he may have chuckled nonetheless.
Torkelli is one half of Torkelli Walker Dressage, a business that he started with his long-time partner Thomas Walker. Torkelli, a native of Canada, is a Grand Prix trainer and competitor. The now-California-based professional spent 13 years riding and training in Europe with some dressage greats including Rudolf Zeilinger, Dieter and Dodo Laugks, Arthur Kottas-Heldenberg, Jürgen Koschel and Morten Thomsen.
Four years ago, Torkelli and Walker made the decision to leave Europe and head to the United States. "I didn't know anyone here," commented Torkelli, "I had never lived in the United States before. Michele was one of the first people that I got in contact with and was one of my first clients here." The duo quickly hit it off, and Torkelli took on the task of coaching Bandinu. He continued, "I had never trained a para-athlete before. I was really nervous, I wasn't sure what to say or really how to approach it at first."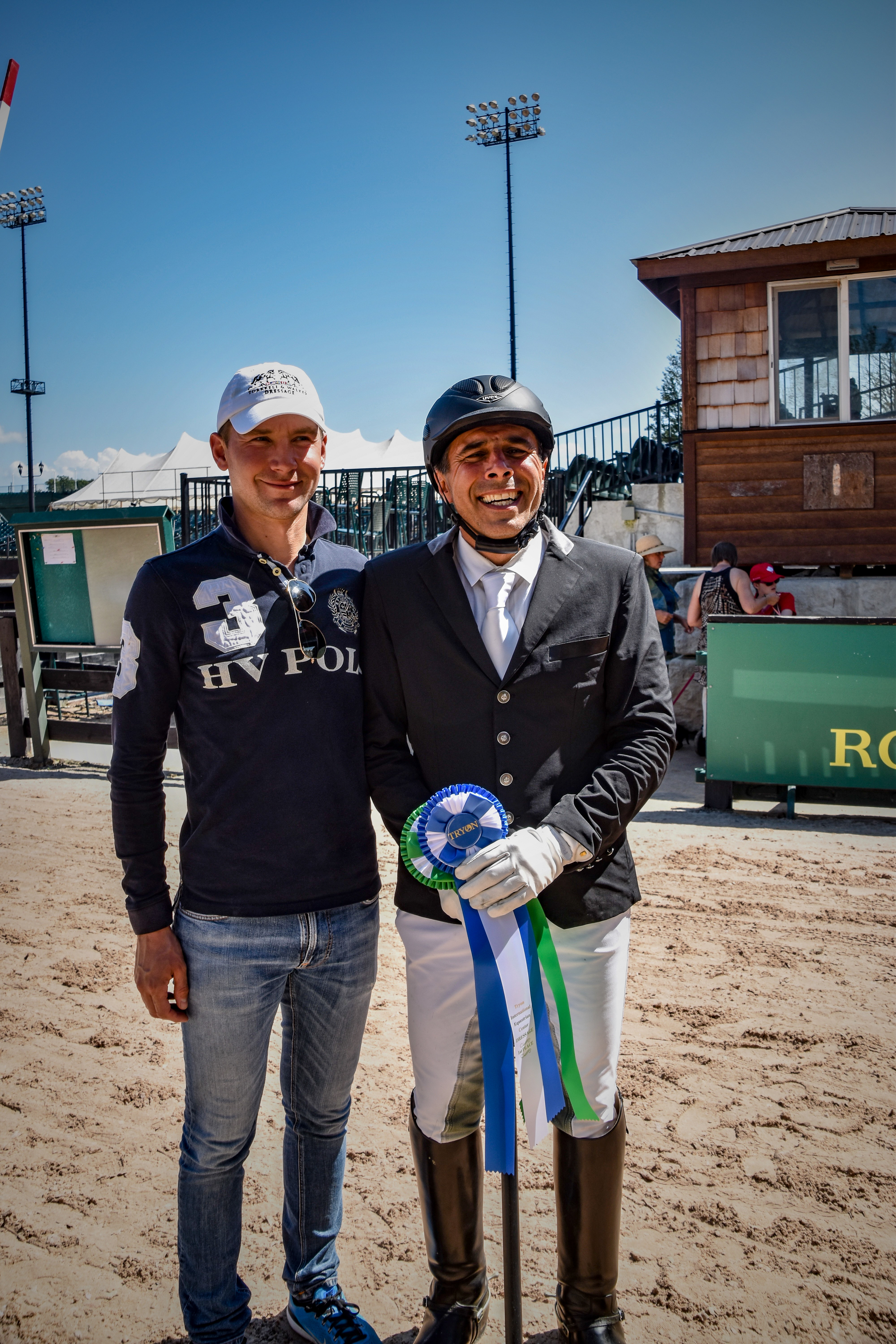 Despite his hesitation, Torkelli quickly set out to work with Bandinu, and the two became fast friends. "Everyone has a goal and we all work toward that at Torkelli Walker Dressage," said Torkelli. "We are trying to be the best we can be, and make the most successful equestrians. Our barn isn't one where you just come in and your horse is tacked and you ride and leave, people have to be hands on and they have to love their horse and they have to care for them themselves. It's important that they know every aspect of the sport, not just getting on and going for a ride.
It's important to me as a trainer because you have to have that connection with your horse, and you can't really develop that in any other way. You have to spend time with it and care for it and groom it, and know every detail about them."
Bandinu was attracted to the effort put in by clients and trainers alike at Torkelli Walker Dressage. "That's what makes this sport so enjoyable," he described, "when you get to be around people who really care for their horses and want to spend time with them. There shouldn't be any drama, it's just being surrounded by down-to-earth people who just have this common thread of loving horses and spending their time with them. It makes them better riders and your thought process changes I think."
Perhaps the most refreshing thing for Bandinu was that from the beginning, Torkelli trained and held him to the same standard as any of his other clients. "You learn how to ride and how to get a horse through," explained Torkelli. "You learn how to train a horse. A horse doesn't know the difference between an amateur and a professional. Everybody has to learn it all, it doesn't matter at our farm if you're a para-rider, or an able-bodied rider. You learn how to ride and communicate with the horse in the best way you can. I don't teach Michele any differently than I teach anybody else, in that regard."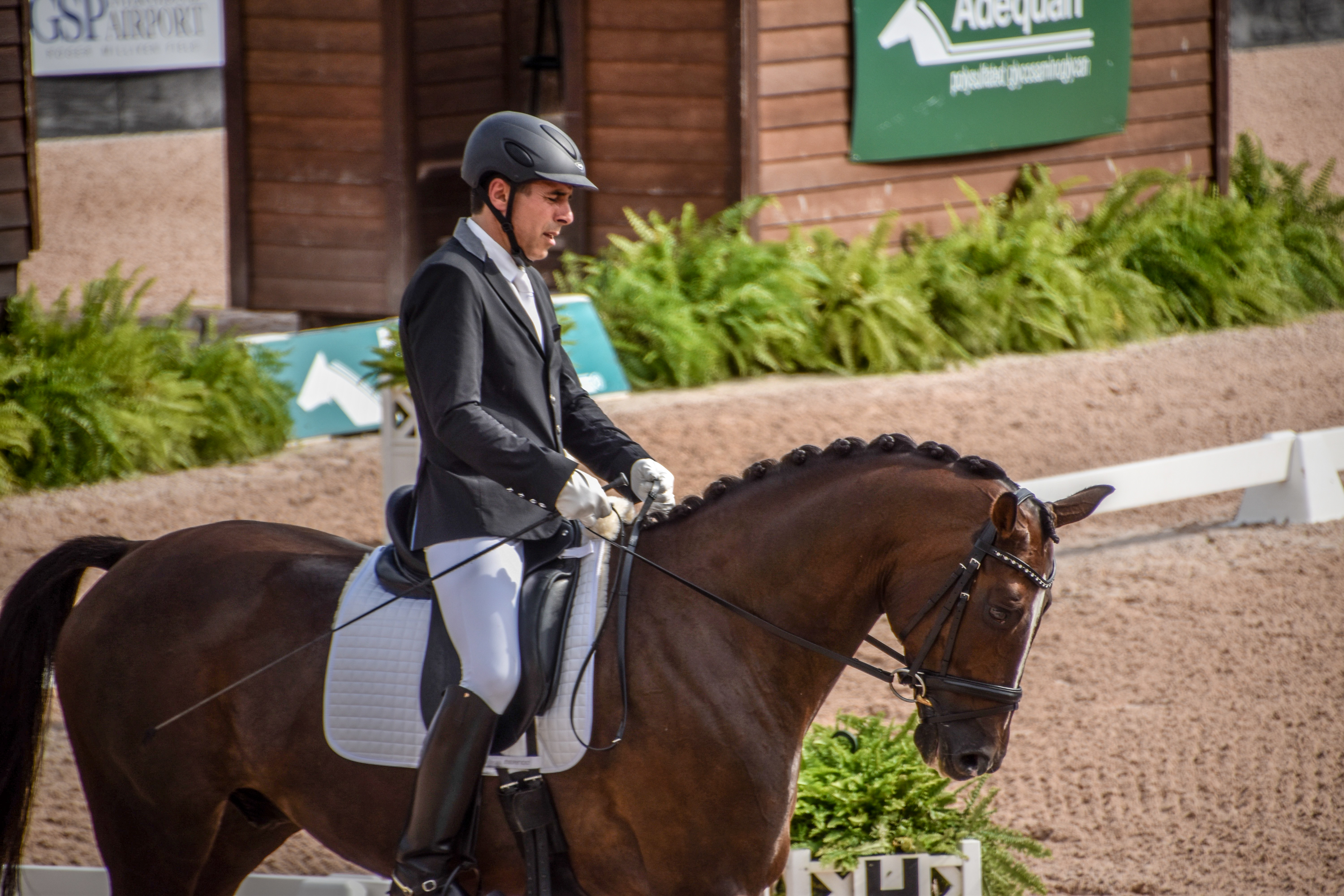 With patience and time, Bandinu has become a successful competitor in the dressage arena once again. This fall, when we first met him, he was competing at the 2017 USEF National Para-Dressage Championships, at Tryon International Equestrian Center in Tryon, North Carolina. Warm and full of energy, Bandinu was eager to discuss his hopes for the future, and the progress that he has made over the course of these six years. It's getting better," he said.  "In the beginning, I had no strength to put my leg back at all. So, if the horse threw his butt out of line, I couldn't reach back there.  It was a dance trying to find other ways for Ryan to tell me how to make those adjustments, if I can't do it the way he would, or if I get worn out fairly quickly."
Torkelli added, "I know what his disability is, but I don't know what he feels or how his seat works, or how his legs really work in regard to how much he can feel… The dialog has to be there to know. Michele is good about saying 'ok, I can't do that.' Or 'I can't put my leg on like that.' There has been a lot of trial and error."
Despite minor setbacks, the pair continues on. Bandinu joked, "I'm very stubborn. It's one of those things that he [Torkelli] also has to deal with!" Using that stubbornness as an asset, there is no doubt that Bandinu will continue to take the para-dressage world by storm.
Bandinu concluded, "I have two eight-inch rods in my back, and It's not a thought that I dwell on too much. If I do, I might as well stay home. You can't let fear stop you, the horses are worth it."
The man is living proof that when you truly love something, the only option is to press on.