In 2014, Adrienne Lyle took a step back from the international competition arena after retiring her longtime partner and 2012 Olympic mount, Wizard. The 1999 Oldenburg gelding (Weltmeyer x Pica x Classiker) was a large part of the young Lyle's success, earning her champion honors in the Brentina Cup at USEF National Championships in 2008, a spot on the 2012 United State Olympic Dressage Team, as well as a spot at the 2014 FEI World Equestrian Games™.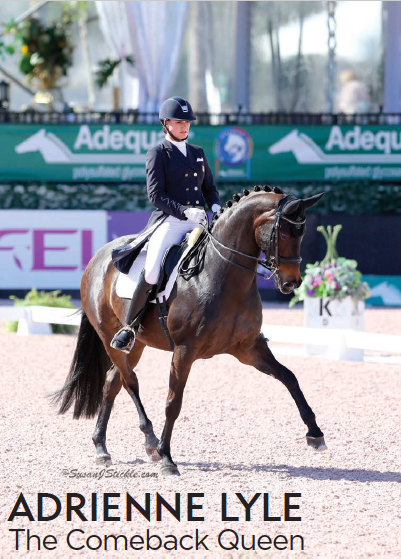 Lyle credits much of her knowledge to her first big-name mount. "Wizard was a very hot-headed horse, and he was always very reactive," she said. "He took a lot of tact to ride and keep together, so I learned how to manage whatever kind of horse I was dealing with on that day. He was not an even, flat-line personality type. He really taught me to be in tune with what he was telling me and to act accordingly."
After a three-year hiatus, Lyle returned to the international stage this past winter at the Adequan® Global Dressage Festival, introducing her newest FEI Grand Prix mount, Salvino, to the dressage world. Lyle and the 2007 Hanoverian stallion (Sandro Hit x Dynastie x Donnerhall) owned by Betsy Juliano, rode straight to the top, achieving top honors in their first FEI CDI 3* Grand Prix Special together.
Lyle commented, "Everyone was kind of wondering where Salvino actually was after we bought him, because he stayed home for a year training. I personally think that it's so important when you get a new horse into your system, that you give them the time to learn your system, exactly the way you want it, from the ground up."
She continued, "Even though he wasn't a baby when we got him, every rider is a little different, so we had to take the time to help Salvino understand exactly what we wanted from him. I think if you rush that, you just end up stressing them out or putting them in a situation where they get frustrated. I'm glad that we sat that year out and created a strong relationship because it proved to be very effective for him."
Lyle's unwavering patience did not go un-rewarded, as she also welcomed two new talents to the Small Tour arena. In the spring of 2017 Lyle piloted three horses at the USDF Festival of Champions. Horizon, a 2007 Oldenburg mare (Hotline x Revue x Don Schfro), also owned by Betsy Juliano, ended up securing champion honors in Small Tour, and Harmony's Duval, a 2008 Dutch Warmblood gelding (Rousseau x Uptown Girl x Riverman), owned by Duval Partners LLC., came in third overall in the Small Tour. Lyle also rode Salvino in the Grand Prix and he ended the Championships with the reserve champion placing in the Large Tour division.
"AGDF is such an incredible place to show," exclaimed Lyle. "The ring has such a great atmosphere to it. It was wonderful to get back in there. Even when Wizard was still competing, we were getting young horses and bringing them along, breaking them, and starting them. It takes years of putting in the work, even though nobody sees what is going on. You kind of disappear out of the spotlight for a while. It was really great to come back with three strong, high quality horses."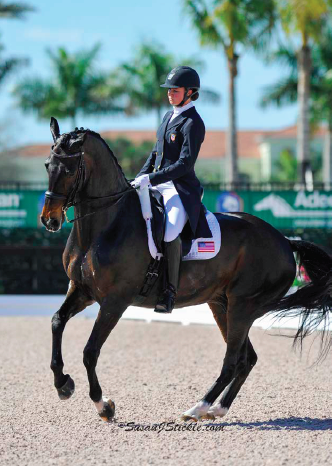 After Gladstone, Salvino and Lyle headed to Europe for their first major abroad tour together. "We did Rotterdam as an individual. I had no plans on doing a team competition because this was his first European Tour and we'd only done one other CDI before in Wellington," explained Lyle. "But he was really quite good, he rose to the occasion and ended up being named to the U.S. Nations Cup™ team for Aachen. I waffled back and forth about whether or not I wanted to do that with him for his first season at Grand Prix, but I decided that he really proved that he was ready for it. He was amazing there, and ended up being the second highest placing horse on our team behind Laura Graves and Verdades. He handled the whole thing like an old pro."
Lyle concluded, "This coming year, our goal with Salvino is to try to get a spot on the team for the FEI World Equestrian Games™. I think that he came out last year and in his third CDI ever, helped the team get the Silver medal at Aachen. He has a strong foundational base and we were able to go right into those bigger environments and electric atmosphere, all because we had a good understanding of each other. He didn't feel overwhelmed or stressed out. What we have with him is strong and I am confident that it will only get better with time and patience."
Entering the 2018 season with an incredibly talented lineup of top horses, with more emerging through the pipeline, Adrienne Lyle has proven once again that with a little patience, hard work, and dedication, success is inevitable and turns her focus once again to impressing on the sport's biggest stages.
This piece was originally featured in the 2018 AGDF Souvenir Program. Photos courtesy of Sue Stickle.